5 must-visit European Christmas markets to ring in the yuletide cheer
From quaint celebrations set in Unesco World Heritage sites to massive fairs complete with rides, these European Christmas markets are packed with local culture and character.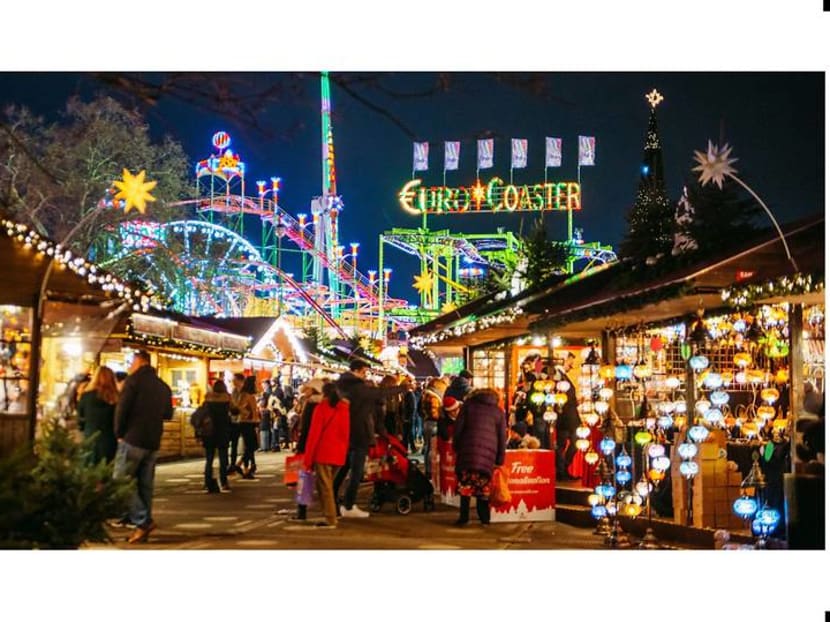 The aromas of mulled wine, gingerbread cookies, cinnamon sticks and chestnuts roasting on a open fire; the peal of church bells, the refrain of carollers and trumpet fanfare from a nearby church: There's nothing quite like a Christmas market in Europe. Here are five of the best ones to soak up the festive spirit in style.
BRUSSELS, BELGIUM
What Brussels Winter Wonders
When November 30 to January 6
With its nightly sound and light show throwing dazzling visuals onto the facades of Gothic buildings such as Grand Place and Place Sainte-Catherine, the Brussels Christmas Market is nothing short of a theatrical masterpiece. Extending from this Unesco World Heritage Site are rows upon rows of stands where you can find a giddying array of international fare and fashion. Think Mongolian clothing and Canadian maple syrup. Don't miss local specialities such as tartiflette, a sinful dish of potatoes layered with cheese, lard and onions, fluffy waffles, oysters with champagne and Belgian's beloved Abbey beer. Beyond the feasts, the market also features an ice-skating rink, a Ferris wheel, and other carnival rides for the restless.  
Where to stay Luxuriate in the elegant The Manos Premier, with its Neo-Classical columns, Louis XV furniture and Alhambra-inspired Turkish hammam. 
FRANKFURT, GERMANY
What Frankfurt Christmas Market
When November 25 to December 22
Dating back to 1393 and stretching from the central Hauptwache plaza to the banks of River Main, this is one of Germany's oldest and largest Christmas markets. Though it may not have as many craft stalls as other markets in Germany, it compensates for this in atmosphere – with the peal of church bells, the rousing refrain of carollers and trumpet fanfare from the nearby church dancing in the chilly air. Against a backdrop of historic half-timbered houses that abut the main square, more than 200 stalls offer local festive treats such as mulled apple wine, Bethmannchen Christmas cookies with marzipan and almonds, and grilled sausages. Adding to the whimsical charm are a giant fir and a double-storey carousel with carved wooden horses.
Where to stay Base yourself in the spacious, 48 sqm one-bedroom apartment at the Citadines City Centre Frankfurt, which is situated close to Romerberg Square's Christmas markets. It comes equipped with a kitchenette, where you can prepare a Yuletide feast for the family. 
LONDON, UK
What Angels Christmas Market
When November 21 to January 5
The young ones will delight in this market in Hyde Park Winter Wonderland, which is part of a carnival boasting a sprawling outdoor ice-skating rink and over a hundred rides and attractions including an acrobatic circus. Within the market itself, more than 100 wooden chalets brim with everything from clothing and jewellery to an extensive selection of international beers paired with char-grilled bites. Watch a blacksmith and ice sculptor at work, or take part in a rope ladder climbing competition for a cash prize. Then wander out onto the fairgrounds, which resembles a larger-than-life bazaar with its panoply of street food vendors and themed watering holes – previous editions of the event have featured a DJ-backed bar on a carousel.
Where to stay Art and a dash of quirk take centre stage at The Dixon, which occupies a former Magistrate's Court and Police Station. The boutique property's design touches – including a chandelier with glass handcuffs – are a wink at its past, while its contemporary art pieces firmly place it in the present.
PARIS, FRANCE 
What Le Marche de Noel de La Defense
When November 21 to December 21
Presided over by strikingly modern skyscrapers in the heart of the business district, Paris' largest Christmas market in Esplanade de la Defense is spread over an area of more than 10,000 sqm. While it lacks the rustic ambience of a traditional Christmas market, the quality and quantity of goods and cuisines proffered here make it a must-visit for shoppers and foodies alike. Sift through speciality items such as finely tooled leather goods from Morocco, antique books and intricate nativity figurines at the market's more than 300 stalls. In between purchases, fuel up on steaming plates of paella, Corsican sausages and gooey melted raclette cheese. Sweet treats include candies from the south of France and freshly baked gingerbread, which will surely appeal to the kids – as will the multiple Santas and petting pen with miniature donkeys.  
Where to stay Stretch out in oversized furniture while soaking in cinematic views of the Eiffel Tower at the recently refurbished, Haussmann style Hotel Grand Powers.
SALZBURG, AUSTRIA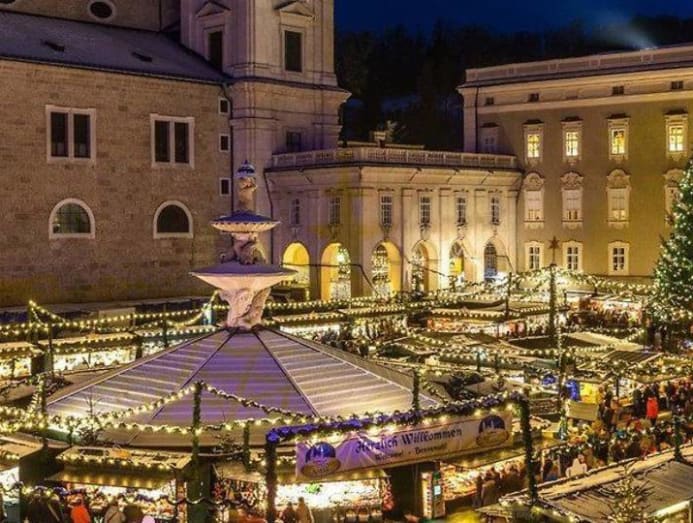 What Salzburg Christkindlmarkt
When November 22 to December 26 
Nothing spells festive magic quite like this market, with its squat, snow-dusted wooden stalls set in the heart of the Unesco World Heritage-listed Old City. From its daily sing-alongs to choral concerts and traditional wind music wafting from the Carillon Tower, this is the place that would melt the heart of Ebenezer Scrooge. Not to mention, the performances by the "Christ Child" and his angels and the town's horse-drawn carriages. Dating back to the 15th century, the market has around 100 stalls offering exquisite handcrafted wooden toys, incense and ornaments, along with festive delicacies such as Bauernkrapfen (fried pastries) and chestnuts freshly roasted on an open fire. Don't miss their Jagatea (tea laced with rum), the perfect winter libation. 
Where to stay With its grand marble staircase, crystal chandeliers and romantic views of the Old Town's spires, Hotel Sacher Salzburg is the word on Old World opulence.