Hotel 81 founder Choo Chong Ngen and his daughter Carolyn on going global
The Singaporean billionaire and his daughter are taking Worldwide Hotels into a new phase of expansion, including a four-star, 20-storey hotel on Club Street come 2021.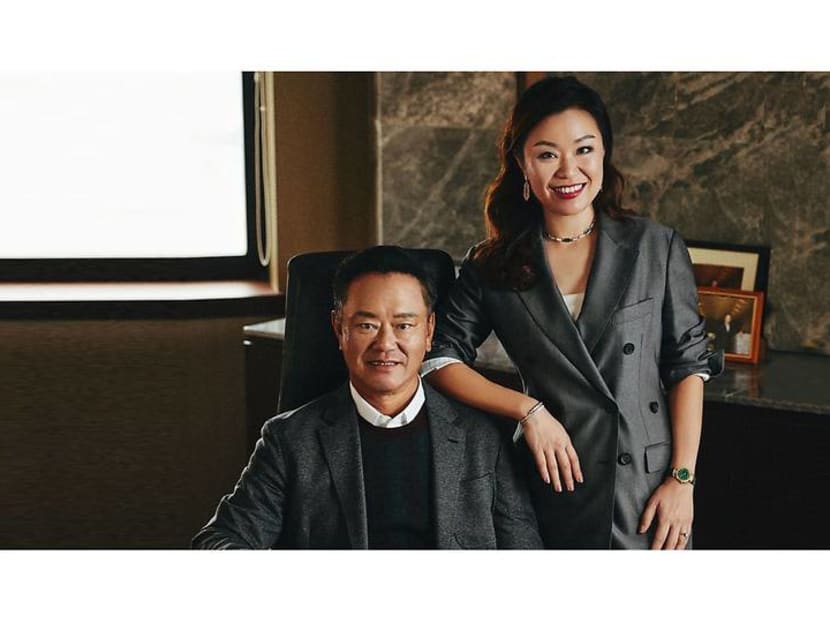 The rags-to-riches story of hotelier Choo Chong Ngen is well-known. A kampong boy from Hougang, he is one of seven children born to a carpenter and a housewife, and his entrepreneurial streak surfaced early. When he was 10, he began selling ice cream to earn his own pocket money. At 14, he became a fishmonger to help his family make ends meet; by 17, he had set up his own textile stall in a market.
Earnings from that business and a bank loan enabled him to buy his first property – a strata‑titled shop unit in Katong Shopping Centre. More shop units followed. Soon, he started developing apartment buildings.
WORKING HIS WAY UP
In 1993, inspired by a stay at a salaryman hotel in Japan, he launched the first Hotel 81. That endeavour has since grown into Singapore's largest budget hotel chain, and Hotel 81 is now one of six hotel brands in his portfolio, the others being Value Hotel, Venue Hotel, V Hotel, Hotel Boss and Hotel Mi. These add up to 38 hotels in Singapore, whose over 6,500 rooms amount to about 10 per cent of the country's total hotel inventory. Choo debuted on the Forbes Singapore's Richest list in 2012, and this year ranks tenth on the same list.
Choo has a very matter-of-fact take on this trajectory of achievement. "I had seen other people buy their own shops, and I thought it was better to pay loan instalments for a shop that belonged to me than to pay rent," he said of his textile days. He applied a similar mathematical logic to his property investments. "After the first shop unit, I bought another one as soon as I had more money, and used the rental income to pay the loan instalments."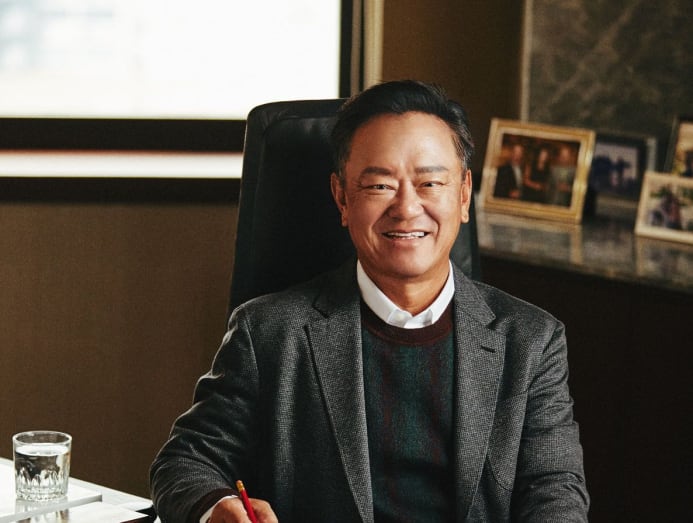 GIVING BACK TO SOCIETY
But this brisk narration belies his astute boldness; after all, not every textile stall owner ends up building a multibillion-dollar fortune, to say the least. Was he worried when making those first big investments, and did he ask anyone for advice? "No, I made my own decisions," he replied. These days, as an established entrepreneur, he is the one doling out the advice. To his eight grandchildren, he offered this counsel: "I tell them to study hard. I didn't have the chance to go to university, but 50 years ago you could still make it. Now, you can't survive without an education."
Choo's philanthropic efforts reflect this belief. He has donated S$2 million each to the Nanyang Technological University (NTU), Singapore Institute of Technology, Singapore Management University and National University of Singapore. Through the Worldwide Hotels-Choo Chong Ngen Foundation (set up under Credit Suisse's SymAsia Foundation), he gave S$2.5 million to five polytechnics in 2017 and S$2 million to the ITE Education Fund in 2018. All these donations funded bursaries for financially needy students at these institutions.
"I want students whose parents cannot afford their school fees to have the chance to further their education," he explained. When he meets these bursary recipients, Choo never fails to remind them to apply themselves to their studies. "Otherwise, life will be hard."
One of these bursary recipients is Ivan Tan, a Singapore Polytechnic student who shares how the support has eased the financial burden for his mother, the sole family breadwinner supporting him and his younger sister. Another bursary recipient, ITE student Lazarus Ching, said: "The financial assistance has helped a lot. I am now able to cope with my daily needs and transport fares, and I can work less part-time."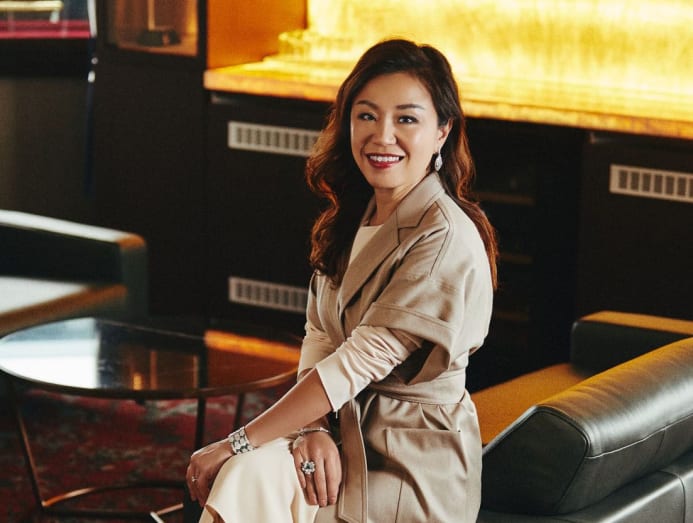 WALKING IN HER FATHER'S FOOTSTEPS
Carolyn, the second of Choo's four children, is a member of NBS' alumni advisory board. She graduated from NTU in 1999 with a bachelor's degree (First Class Honours) in Business Administration – a course of study she had decided on after her father suggested that she look into the management of people. 
After graduating, she joined a bank, where she worked at a heartland retail branch and advised customers on housing loans at show flats, before moving into commercial financing and then the bank's regional office. Carolyn remembers those three years fondly. "I was working with many people who were my age, so the social integration was very strong. We had a lot of fun."
Her original plan was to spend at least 10 years in banking. She shared a "common understanding" with her father that she would join the family business eventually, "but he was supportive of me working outside first", she said. "It's always good to gain experience."
By 2002, however, Choo felt that "it was time for her to come into the company and help me". At that point, the business comprised 12 Hotel 81 properties, and the management team was very lean. On the heels of the 1997 Asian financial crisis, the market then was still depressed, and they had a few developments that were half‑completed and facing financing difficulties due to issues with business partners.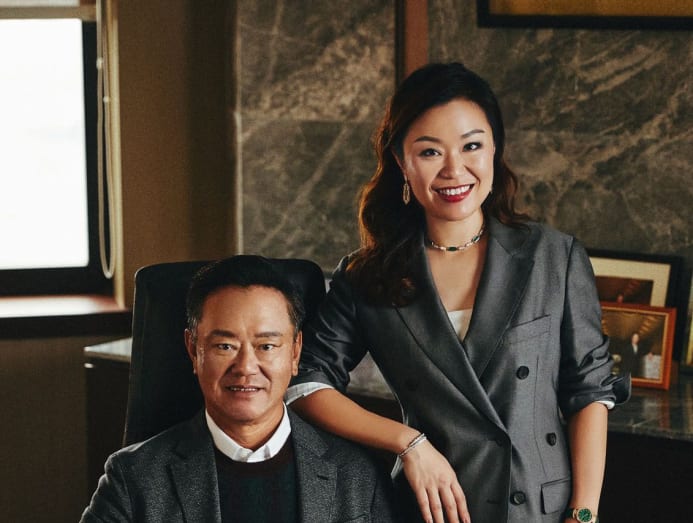 SEEING HER FATHER AS A ROLE MODEL
"My immediate priority was to build up our financial foundation," said Carolyn, who also has a Master of Professional Accounting degree from the Singapore Management University. As the company's financial controller, her banking experience was obviously an asset, but there were other adjustments she had to face. "Going into a family business can be a very lonely process," she confided. In a leadership position, "the kind of connection you have with the people you work with is totally different".
But she was able to find a support network in her family, particularly her father. "My dad has always been my role model. It's very comforting to know that whenever I meet any roadblocks in life, I can turn to him for advice," said Carolyn. "He's not critical, he just shares his perspective. I'm very grateful for his trust and support, and I admire his steadfastness and strategic vision. He knows very clearly what he wants."
During times of economic turbulence, for instance, "he always advises us to think long-term", she noted. In fact, their shift into a multi-brand company was seeded during such challenging periods. In 2002, they took full ownership of a Bencoolen property, later redeveloping it into Hotel Mi; after the global financial crisis in 2008, they acquired a Lavender property that eventually became a V Hotel. These new brands help to capture new market segments, said Choo.
NEW DEVELOPMENTS
In 2018 – 25 years after the first Hotel 81 opened – the six hotel brands he launched in Singapore were consolidated under a new holding company, Worldwide Hotels. Choo is its group chairman, while Carolyn is the CEO and managing director, and two of her siblings are currently deployed in different departments.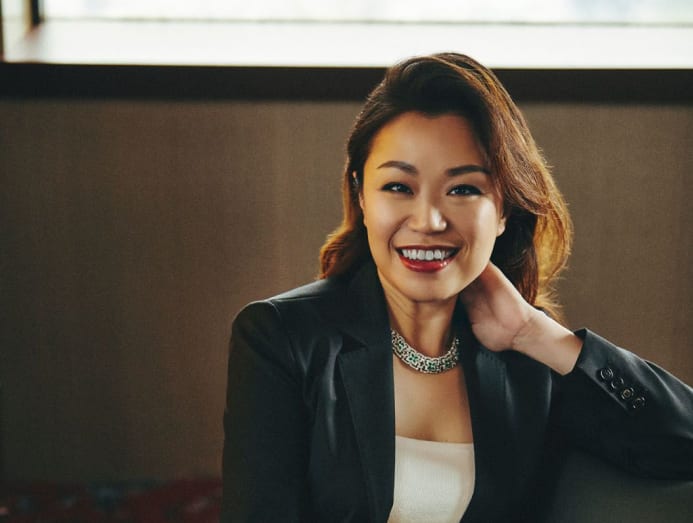 Earlier this year, the company successfully bid for a Club Street site, and plans to launch a new brand at this prime location in 2021, with a four-star 20-storey hotel with over 900 rooms. "Mid-tier is our strength and our niche, and that is what we are focused on," said Carolyn. "We want to position this as the group's landmark hotel. The design will capture the rich historical influence and vibrant urban fabric of Chinatown, and appeal to both corporate and leisure guests."
Brand refreshment exercises are also in the works for the Hotel Mi and Venue Hotel properties. The former will soon feature a showcase of works by Singaporean artists. The latter are located in heritage neighbourhood Joo Chiat, and "we want to play up the idea of experiential travel by highlighting Joo Chiat's food, and beautifully conserved architecture". 
The group's ambitions also extend beyond Singapore. "The incorporation of Worldwide Hotels marks our transition to a second phase, one of overseas expansion," said Carolyn. To date, the company owns eight hotels in Japan, South Korea, Malaysia, Australia and Thailand, which are run by external operators such as Travelodge. "We are targeting to own 20 hotels overseas by the time we celebrate our 30th anniversary."
To achieve this goal, the company is focused on building a better corporate profile to woo business partners and talent. At some point, it may transition into managing its overseas assets.
"At the moment, we don't have the scale to manage these properties ourselves, so working with external operators is more cost-effective," said Carolyn. But housing these properties under Worldwide's own hotel brands would be a more valuable long-term proposition. "Maybe that's a goal our third- and fourth-generation leaders can work on in the third phase of the company's growth." 
Becoming such a global company will require "an organisational culture that acts as a glue among staff", said assistant professor Stephanie Pougnet-Rozan, whose focus areas at Swiss hospitality management school Ecole Hoteliere de Lausanne (EHL) include management and human capital. "The company's brand would have to have a global positioning in terms of corporate values and staff management practices that would be shared in all business units, but there might be adjustments to local contexts."
"My dad has always been my role model. It's very comforting to know that whenever I meet any roadblocks in life, I can turn to him for advice" – Carolyn Choo
HOTEL 81, THE BRAND THAT STARTED IT ALL
Demian Hodari, associate professor of strategic management at EHL, also points out that investing in real estate (which is an expensive asset-heavy strategy) and operating hotels are actually two distinct areas that require different skills. If the company masters both, however, that could give it an edge in attracting talent. "They may be able to leverage the fact that they own and operate hotels to entice people who want to work not only on the operational side of the business, but also want the opportunity to move into the real estate side. Asset‑light firms that don't own their own properties cannot do this."
While having so many different brands spread across relatively few hotels brings a risk of brand dilution, he noted that Worldwide's steadfast focus on the mid-tier and economy sectors is a strength. "They are able to allocate most, if not all, of their resources to becoming strong competitors in these areas. This is unlike many other multi‑branded hotel companies that compete in sectors ranging from luxury all the way to budget."
Amid all this talk of growth, one might wonder about the outlook for Hotel 81, the brand that started it all. "It's definitely an asset," said Carolyn. "It's our most well-known brand, and it offers great value in terms of competitive prices. It's a very significant player in Singapore's hotel market."
That said, with 28 properties across this small island, Hotel 81 has reached a saturation point here, and there are no plans to bring the brand overseas. With his first hotel brand staying local, Choo will be applying his brisk logic to the business of building a global portfolio. "I'm looking for central locations and beautiful prices," he said. "If the prices suit me, I'll buy." As always, he knows exactly what he wants.