Rain or shine, here are 10 ways to decorate your balcony, patio or garden
Embrace the heat around the year with our edit of furniture for your garden, patio and poolside.
Life in the city may be fast-paced, but even in the concrete jungle, there is still one connection we always seek – to be in touch with nature. A great way to enable this is through bringing elements of the outdoors into your home and maximising the use of your outdoor space.
"In terms of floor area ratio, balconies in relation to living areas in apartments are getting bigger," observed Kelvin Gan, design director of KGID. He advises designing these areas as an extension of the living room – a balcony can be transformed into an indoor-outdoor dining area, with the help of screens or blinds that can be lowered when needed.
Robin Tan, principal architect of Wallflower Architecture + Design, agreed that such spaces can still be made functional even in the context of humid weather. "Indoor-outdoor spaces should have good cross-ventilation, as well as the option to be enclosed when needed, while a comfortable outdoor space is protected from intense direct sunlight and torrential rain," he said.
Other details to consider include roof eaves for shelter and a ceiling fan to help keep your balcony or terrace area breezy. Consider also longevity and maintenance. "Generally, aluminium and homogeneous tiles for flooring perform well," said Tan. "Select quality furniture pieces that can withstand outdoor conditions."
A well-considered spatial flow from the interior to the exterior can improve your use of an outdoor space. "Raise the flooring height of the outdoor area to be level with the living room," said Gan. "Raised flooring or decking also helps to conceal electrical wiring for outdoor lighting and other features." Not only does this blur the indoor-outdoor boundaries for a more seamless look, it accommodates more guests when you entertain.
Create a beautiful space that celebrates the great outdoors with these inspiring collections.
DO THE TWIST
The Tosca collection from Tribu will add intriguing texture to your design scheme. Comprising foam mousse encased in knitted neutral-tone textiles, the braided detailing is weather-resistant and soft to the touch. Mix and match within the range of various seating options, which include a daybed, lounger, sofas and chairs as well as tables for a cohesive and elegant space.
Available from Xtra
CULINARY COMPANION
Entertain in style by the pool with the Kettal Outdoor Kitchen. Made of aluminium, it conveys functional simplicity with its sliding Ceppo di Gre stone worktop panels and efficient use of space. Available in 30 colours, it is fitted with a ceramic hob, plumbing and electricity connections; it can also accommodate a fridge or wine cabinet. A matching trolley serves as a support table and storage. 
Available from Xtra
GARDEN PARTY
Named after the vibrant Parisian neighbourhood where its designers Ronan and Erwan Bouroullec are based, the Belleville dining range from Vitra is the epitome of chic utilitarianism. Inspired by classic bistro furniture, the table has cast aluminium legs with a powder-coated finish, while the chair's plastic structural frame and seat add to its fuss-free aesthetic.
Available from W. Atelier; Vitra is located at Tan Boon Liat Building, #14-08 
BRIGHT IDEA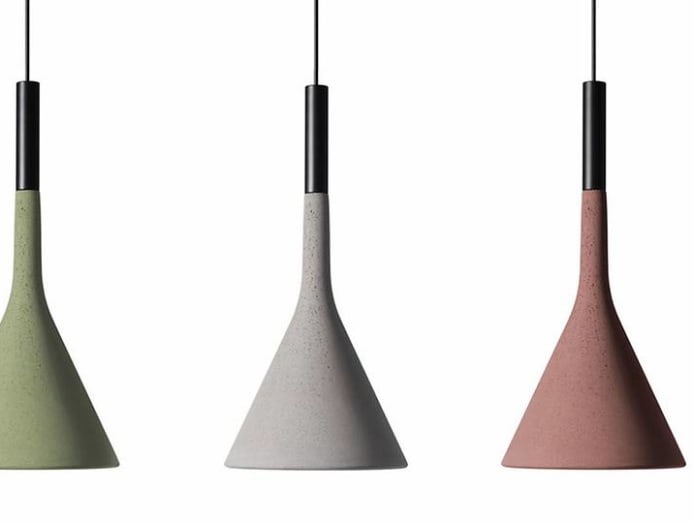 The Aplomb pendant lamp from Italian specialist Foscarini features a sturdy concrete shade and a compact design. Even though it's made from a hardy and rigid material, the lamp has a sculptural aesthetic with minimal thickness for a clean-lined, contemporary look. The inverted funnel form of the lamp also directs light to precisely where you want it.
Available from Xtra
KEEP IT NEAT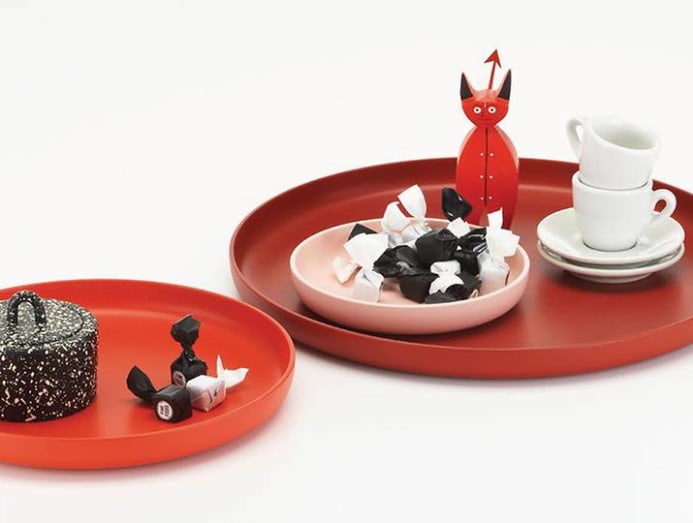 The Vitra Trays have an understated appearance inspired by Jasper Morrison's "super normal" philosophy, which shifts the focus away from the visual aspects of an object to emphasise its ease of use. Available in shades of red or green, these practical accessories have balanced proportions and can be used individually or as a set of three.
Available from W. Atelier; Vitra is located at Tan Boon Liat Building, #14-08 
FLEXIBLE FEAT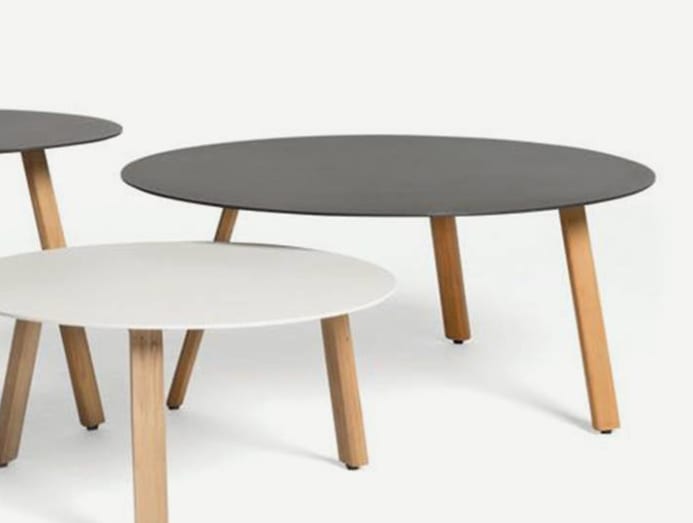 Provide ample space for drinks with your guests, with the Diphano Easy Fit collection of small tables, which come in various shapes, sizes and materials. Thanks to its slim profile and lightweight design, the tables are easy to move around to suit different setting and furniture configurations. 
Available from Danish Design Co
TACTILE TOUCH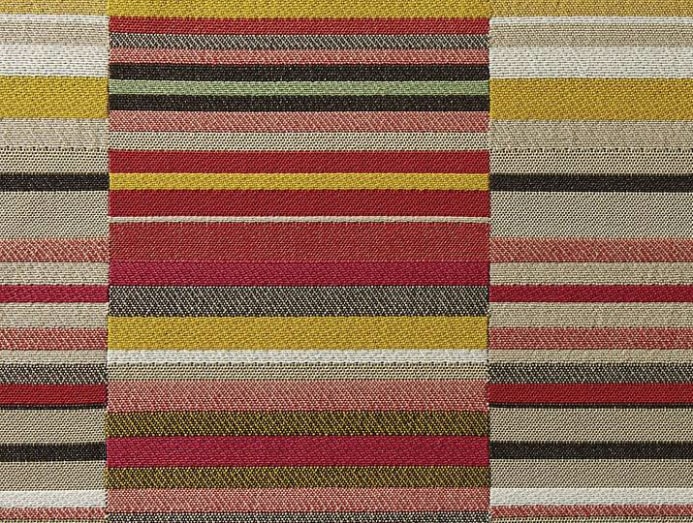 Sporting fashionable patterns with the visual appeal of indoor fabrics, the Sun Lounge outdoor fabrics from Zimmer+Rohde are able to withstand light and UV damage, as well as discolouration from chlorinated water, saltwater and sunscreen. The collection includes textured weave, subtle jacquard, bright prints and leather-look designs, all made to complement myriad styles.
Available from Cetec
SUN SHIELD
Keep your terrace in the shade when needed with the Lapure terrace cover from Belgian brand Renson. The retractable roof features a powder-coated minimalist design that is water-resistant and wind-proof. It's supported on discreet aluminium columns that can be fitted to an existing wall and can be concealed when it is not in use.
Available from MC2
TRAVEL THE WORLD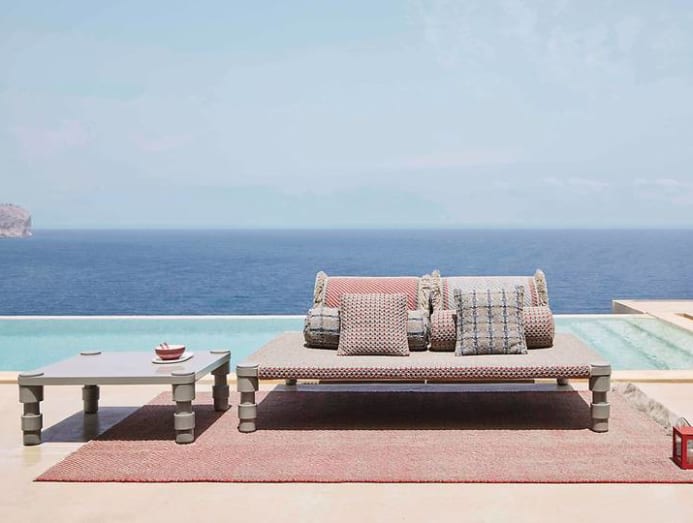 Designed by famed architect and industrial designer Patricia Urquiola, the Garden Layers outdoor range from Gan was inspired by the designer's trips to India. The collection comprises rugs, mats, roll pillows, cushions, Indian beds and side tables, which can be arranged in numerous ways; it also features geometric motifs and fringing.
Available from P5
STRUCTURED BEAUTY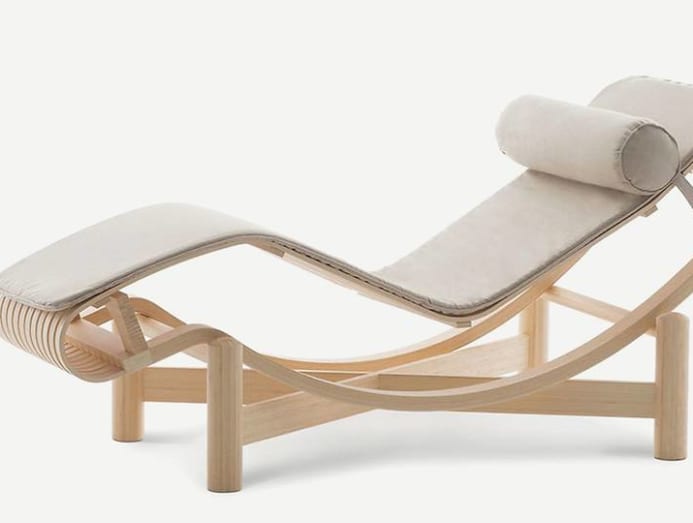 Kick back in style with the Cassina 522 Tokyo chaise longue. It features a delicate yet sturdy solid wood frame that integrates 12 curved strips connected by satin brass studs. Topped with a mattress with water-draining, stain- and mould-resistant upholstery, it's available in different colours and looks great both indoors and outdoors.
Available from Space Furniture
A version of this story first appeared in Singapore Tatler Homes.