What's it like to stay in an Irish castle? We check into the Adare Manor
After a multi-million dollar renovation, one of Ireland's most historic mansions in Limerick is back bigger and better.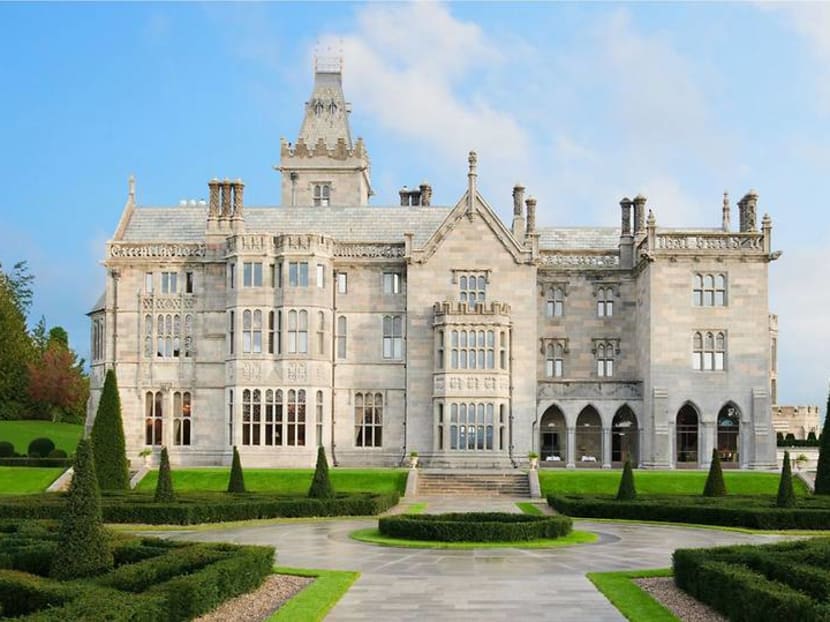 I've always wondered what it was like to live in a castle, and a stay at Adare Manor in County Limerick, Ireland, is probably as close as I can get to living out any romantic novel fantasies. After all, the property – once known as Adare House – did actually belong to a noble family, and we have the second Earl of Dunraven and his wife, Lady Caroline, to thank for the beautiful Neo-Gothic structure. The entire estate took about thirty years to build, and it remained the family home of the Dunravens till it was sold in the 1980s and converted into the Adare Manor Hotel and Golf Resort.
Not too long after Irish racehorse tycoon JP McManus bought over the property in 2015, the hotel closed and underwent another two-year-long renovation to include an entire wing of rooms and events spaces, as well as an 18-hole championship golf course. Pains were taken to ensure the modern addition was built with the same local limestone used in the original building, so that the entire property would look cohesive as a whole.
Barely a couple of months after its re-opening, Adare Manor was awarded Hotel of the Year in 2018 by Virtuoso, a global network of travel industry insiders. Given this impressive accolade, I could not wait to discover the charming property for myself.
FIRST IMPRESSIONS
About a 90-min car ride from Cork Airport, the journey to the hotel is a scenic one, with endless rolling hills in the distance. But even after taking in all that gorgeous Irish countryside, nothing quite prepares one for the first glimpse of Adare Manor.
Cool grey limestone peeks through a shroud of green, a bubbling brook, and the ruins of a 13th century castle, greeting guests when they first enter the estate. As the car slowly pulled up the driveway and the signature lancet arches came into view, I started to understand why this labour of love took almost three decades to complete.
Check-in is done in the Great Hall, and there's a lot to take in, from the incredibly high ceilings to the crackling fireplace and the staircase with ravens carved into it (a nod to the raven in Dunraven). Though everything is certainly grand, there's also a sense that you're being warmly welcomed into someone's home, which we are told, was precisely the brief given to the interior designers and architects.
DO NOT DISTURB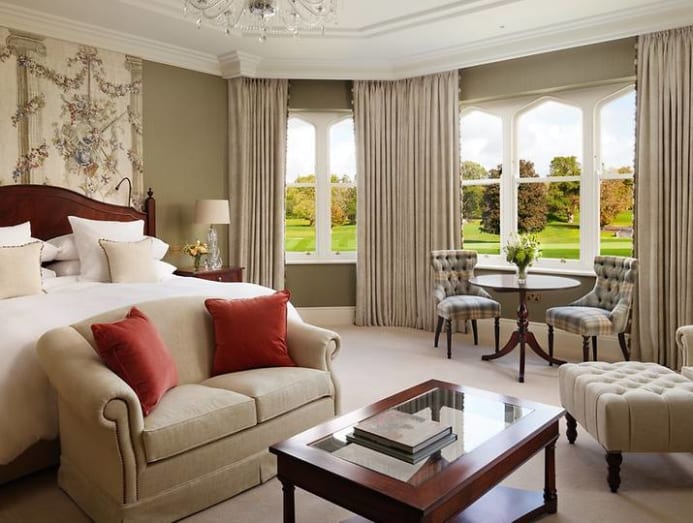 At 55sqm, the generously-sized Stateroom is large enough to house a king-sized bed, a sitting area, a study table and a marble bathroom with a double vanity, bathtub and shower area. Most of the furnishings were inspired by the Georgian period, and clad in luxe beautiful fabrics and mahogany, once again evoked the sense of homeliness. Oil paintings (and in some rooms, 19th century etchings) adorn the walls and there's even a fireplace to keep you warm on chilly days.
THE EXTRAS
Besides hitting the green, there's plenty to get up to during your stay at Adare Manor. From falconry to clay pigeon shooting, the outdoorsy experiences would be novel for any city dweller.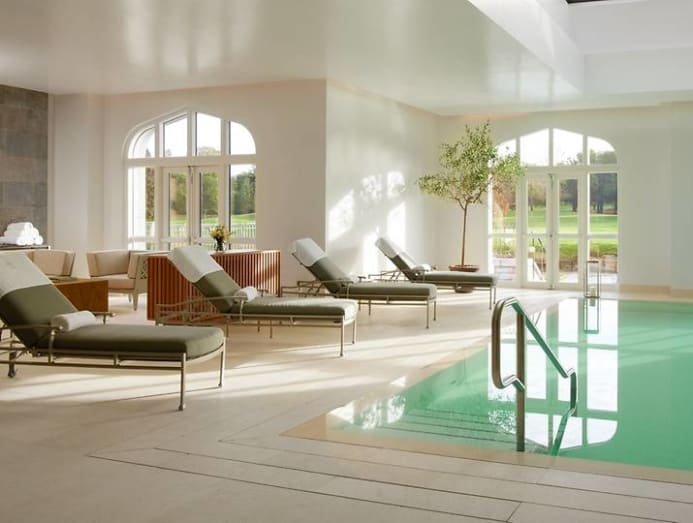 If sporting activities are not your cup of tea, a must-visit is the La Mer Spa for a pampering afternoon, or take a leisurely stroll down to Adare Village to marvel at the pretty thatched-roof cottages. Deemed one of Ireland's most photogenic spots, it has even been designated by the government as a heritage town.
FOOD AND DRINK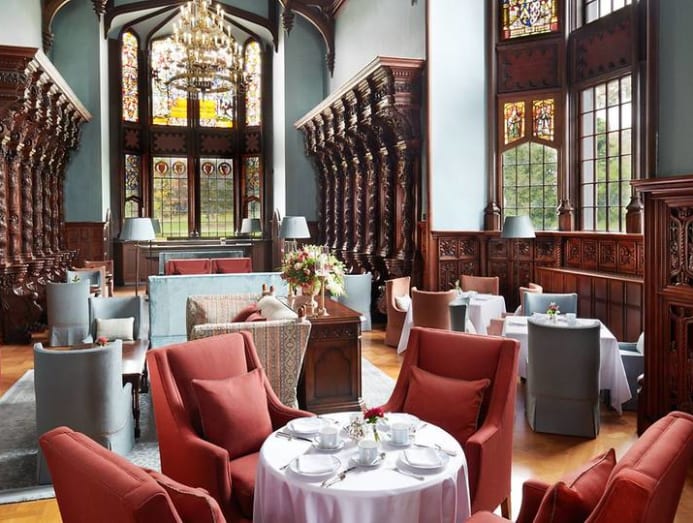 It's hard to go hungry while you're staying at Adare Manor. There are five F&B establishments within the property, including: The Gallery, where a sumptuous buffet breakfast is served daily (for adventurous foodies, do give the black sausage a try); The Drawing Room, where light meals can be had; The Carriage House, where prime cuts of beef are the pride of the kitchen; The Tack Room, a bar; and, The Oak Room, a fine-dining restaurant.
Helmed by head chef Mike Tweedie – who's worked in the kitchens of one Michelin star Lucknam Park in Bath and two Michelin star Gidleigh Park – the menu at The Oak Room unabashedly celebrates Ireland's gems but at the same time, is innovative and full of culinary surprises. For example, to start, the langoustine ravioli with basil and Thai spiced broth had a decidedly Asian influence, but a light hand with the spices perfectly showcased the freshness of the seafood, while the squab pigeon with artichoke and truffle jus (enjoyed in the kitchen at chef Tweedie's invitation) was meaty and moreish, yet delicate in its taste and presentation.
FOR WHISKEY LOVERS
Whiskey lovers, you must pop by The Tack Room. Formerly a servant's hall, the converted bar has a speakeasy-like appeal, with lush leather seats and bronze finishings.
Housing more than 100 rare bottles, from the finest Scotch to Japanese, and of course, Irish whiskies, you'll also find the Adare Manor Midleton Very Rare Single Cask Irish Whiskey here. Created in collaboration with County Cork brand Midleton Very Rare, the single-cask Irish whiskey – which goes for €2,000 (S$3,053) a pop – is made from malted and unmalted barley and left to mature for 23 years in an oak barrel.