An apartment above ION Orchard: Designed for families, brimming with Italian flair
The work of Topic Design Studio, this apartment at The Orchard Residences pairs elegant, well-crafted Italian furniture with glamorous accents.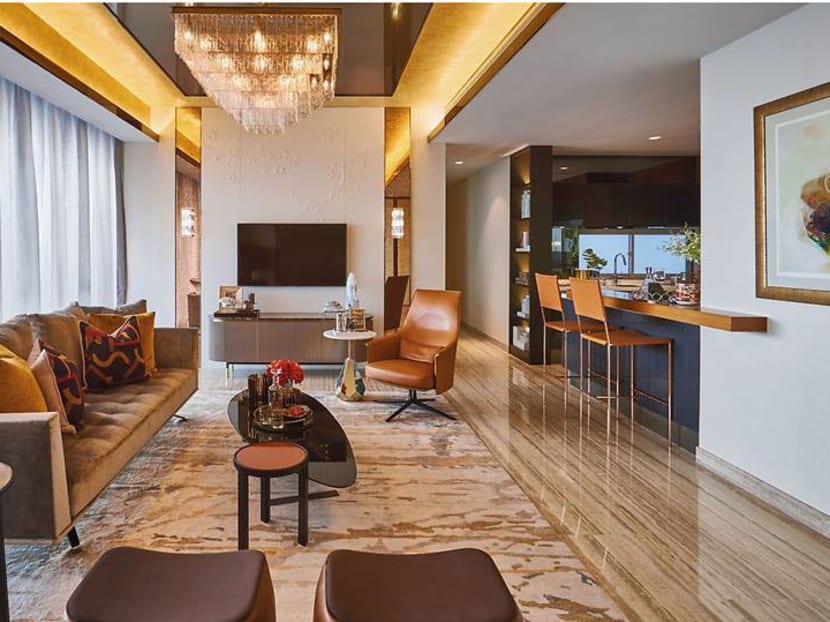 Crafting a show apartment that stands out from a sea of luxurious homes requires a creative eye and a meticulous attention to detail. For this three-bedroom unit in The Orchard Residences, Topic Design Studio was tasked to deliver an apartment that was timeless, elegant and luxurious, within the short period of three months.
"One of the main concerns of the client was how we could create a design that was different from the rest of the showflats," said Tan Sze Ling, principal designer of Topic Design Studio, who worked on the project together with interior designer Darrion Loo. "Timeless elegance and comfort were what the client had emphasised. We decided to introduce unique bespoke pieces and Italian designer furniture to match the apartment's prestigious location, building on the theme of elegant luxury and tailoring the spaces to appeal to families."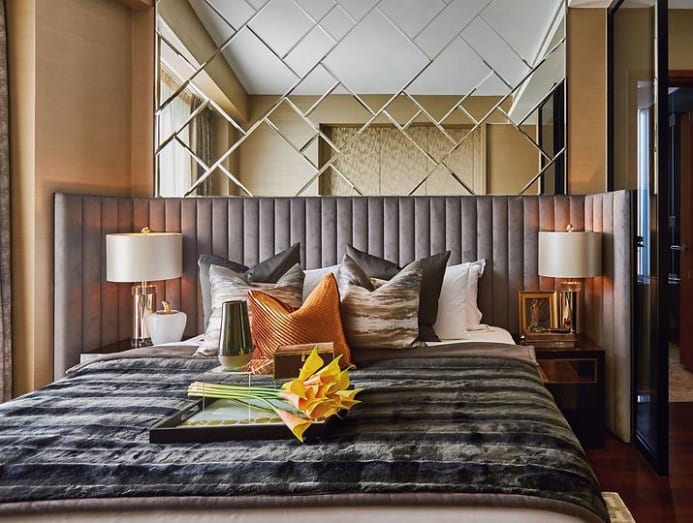 To bring the concept to life, the designers incorporated a colourful array of materials and textures into the 2,174 sq. ft. apartment. "Topic Design Studio has always been an interior firm with an eye for detail," expressed Tan. "We pay a lot of attention to the refined look of the work and how proportions and colours contribute to the visual appeal of a space."
Firstly, warm lighting, neutral tones, and bespoke elements – including the custom-made leather panels – create an elegant backdrop for each space. Taking centrestage in the different spaces is an eclectic array of furnishings featuring rich tones and artistic textures to create an inviting yet bold look. "We decided to take a risk by building a strong colour palette for each room, which adds character to the apartment as a whole," said Tan.
The living room makes an uplifting first impression with its glamorous ceiling and a large patterned rug anchoring the space. An array of seats, ranging from a plush sofa to leather chairs, creates a relaxed yet luxurious ambience.
Adjacent to the living room is the dining area; a sleek, intimate space flanked by a row of tinted mirrors and leather panels. "Creating an illusion of a bigger area in this compact space was crucial," explained Tan. To this end, bronze mirrored panels were installed in the dining area, enhancing the sense of space. As a finishing touch, two art pieces add pops of colour against the clean-lined furniture.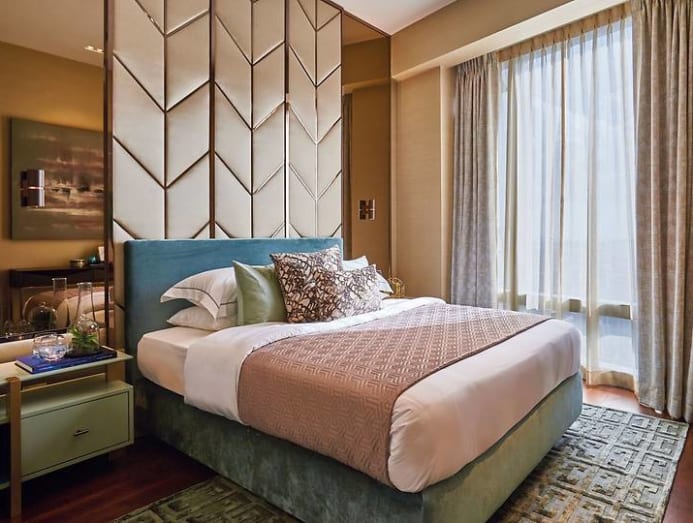 The design firm crafted unique concepts for each room, while retaining visual cohesiveness via recurring motifs and colours.
"Like the idea of a family – where each person is an individual yet makes up a complete unit when they come together – the different rooms complement one other by retaining similar details," said Tan. One of the apartment's most charming spots is a study area that's adjacent to the balcony. The space is animated with exuberant patterns, sculptural pieces, and a cushion with a geometric pattern.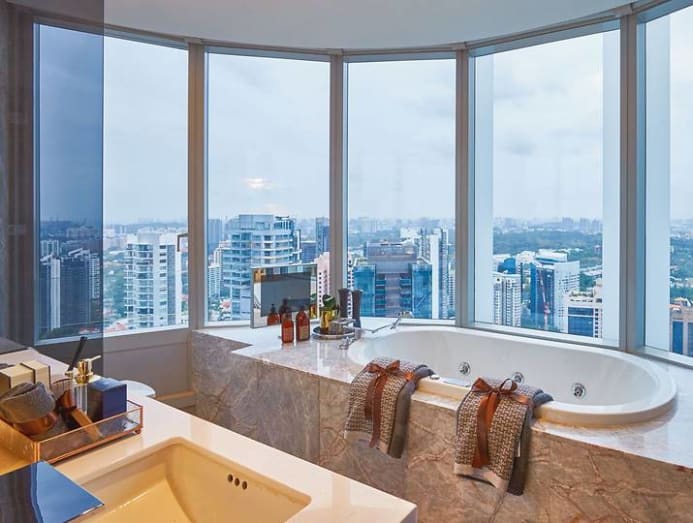 In the master bedroom, the designers have combined furnishings in metallic hues with a bespoke fabric panel and a diamond-cut mirrored wall to frame both ends of the bed. The master bathroom, which boasts a bird's-eye view of the neighbourhood, features a bathtub set within a marble block.
The end result is a bold apartment that makes a strong first impression. "It was gratifying to see the owner admiring the details and workmanship," said Tan, reflecting on the completed project.