5 ways to understand and break down the concept of sustainability
CNA Luxury and Generation T co-hosted the very first Gen.T Table last week to discuss sustainability in the context of business, the environment and society.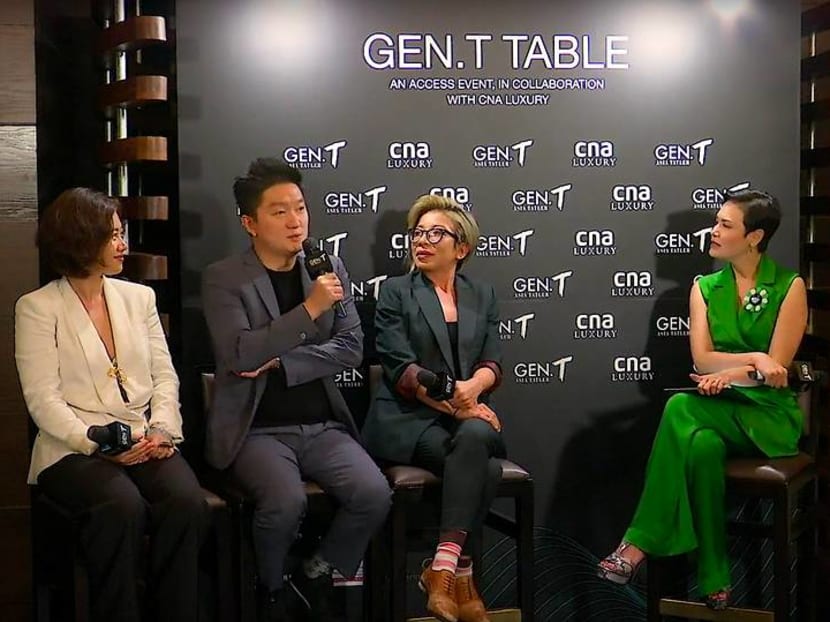 Sustainability is currently one of the most commonly used buzzwords. But do we know exactly what it means or entails? According to Lexico Dictionaries, it is defined as "the ability to be maintained at a certain rate or level", and it includes not just environmental sustainability – arguably the most popular area of discussion now – but also business and social sustainability.
In a bid to go deeper into the concept, and promote awareness of its different aspects, Generation T and CNA Luxury co-hosted the very first Gen.T Table, during which a lively panel discussion on the topic took place.
Three panellists were involved in the conversation, including Gen.T 2017 honourees Pocket Sun and Tan Szue Hann, as well as Tatler Tribe member, Pat Law. CNA's award-winning news presenter Glenda Chong was the moderator for the evening. Here were some of the evening's most noteworthy takeaways.
CNA Luxury and Generation T co-hosted the very first Gen.T Table last week to discuss sustainability in the context of business, the environment and society.
1. TO BUILD A SUSTAINABLE BUSINESS IS TO BE FUTURE-READY
A priority of business leaders and owners is making sure that their company has a healthy profit margin. But what about the survival of their business in the long term? According to Pat Law, it is highly dependent on promoting a work culture that embraces curiosity, creativity, openness and failure, if it comes.
She shared an anecdote of one of her past clients: "I had a client who was a leading force in the mobile phone market, before Apple was even big. I was in a meeting with them when Apple announced that it was coming up with a smartphone that didn't have a keypad – it was the iPhone. My clients laughed because they didn't think that Apple would make it big with this product. But look at what Apple has become! 
When I think back, I realised that this was Apple thinking ahead of the crowd and daring to make a risky investment – and it paid off. So I feel that for a business to be sustainable, leaders need to always want to find out what's next for their company and what they have to do to get there before anyone else."
2. INVESTING IN SUSTAINABILITY IS A NATURAL PROGRESSION
In a 2014 survey by Glass Packaging Institute, it was reported that millennials believe they have more at stake than any other generation with regard to health and the environment. As a result, we are seeing this younger generation exhibiting different consumption habits from their predecessors, including moving away from single-use plastics, actively seeking out ethical and sustainable experiences such as eco-conscious holidays, and supporting the use of renewable energy.
In the same vein, Pocket Sun posited that "the next generation of brands will see environmental and social sustainability almost as a default option. I feel the idea of Corporate Social Responsibility (CSR) will eventually cease to exist as these two concepts will no longer be something that's an extra part of what you do as a company, but part of who you are."
3. PUTTING IN PLACE GREENER PRACTICES DOESN'T NECESSARILY MEAN BAD NEWS FOR PROFITS
According to Tan Szue Hann, the economic well-being of a company can benefit from it operating more consciously and responsibly. 
"Like what Pocket said, sustainability goes beyond CSR. Everyone assumes that sustainability is about cultural values, like how many trees you want to hug or how much of the planet you want to save, and they also think that these values don't jive with the economic needs of a business. However, I believe it's possible for a company to reap monetary rewards when it invests in more sustainable or greener practices. For example, a company can consider obtaining materials from sustainable sources directly instead or cut down the excesses in its supply chain. This will allow it to economise, which translates into cost savings."
4. CREATE A SUSTAINABLE PRODUCT THAT PEOPLE WANT OR DIDN'T KNOW THEY NEEDED
Although sustainability is an effective marketing tool for companies to use in order to garner attention from their target audience, it is crucial for a company's product and/or service to first provide a user experience that is not only relevant, but also appealing and seamless.
"The longevity of its business is greatly dependent on its ability to create new products and solutions that consumers didn't think they needed, and making sure it has recurring customers," said Tan.
"The only way to do so is to ensure that the design and quality of its products and/or services. It's got to be a (well-thought-out) product that makes people want to come back for more. For instance, a farmer's fish could be sustainably farmed, but if it doesn't taste good, no one's going to come back for it. In addition to this, a product has to answer a need or want. Let's take architecture as an example. Some likely questions modern-day consumers would include, is this building going to be a nice place to be in, is its design going to stand the test of time, is it 'Instagrammable'? All this need to be addressed before a company thinks about talking about sustainability."
5. NURTURE CONSCIOUS THINKERS FROM A YOUNG AGE
As the issue of sustainability becomes increasingly pressing, particularly with the rising effects of climate change, there's a greater need to educate not just the current generation about it, but the ones to come as well. 
For the three panellists, the teaching should start early. "Children typically take everything as the truth and the absolute truth, so the way we talk about sustainability to them is really important," said Tan.
"I think it's a great idea to introduce them to issues such as climate change and global waste in a simplified form; to teach them what their role is on the planet and what they'll be doing in their whole life cycle. By doing this, you aren't necessarily nurturing tree huggers or environmentalists, but you're definitely going to develop children who will grow up thinking about everything that they consume and how they can be part of the whole process of creating a better world."