Weekend veg out: Vegetarian food that's available for delivery in Singapore
Meat-free alternatives for a more balanced diet and a healthier post-circuit breaker you.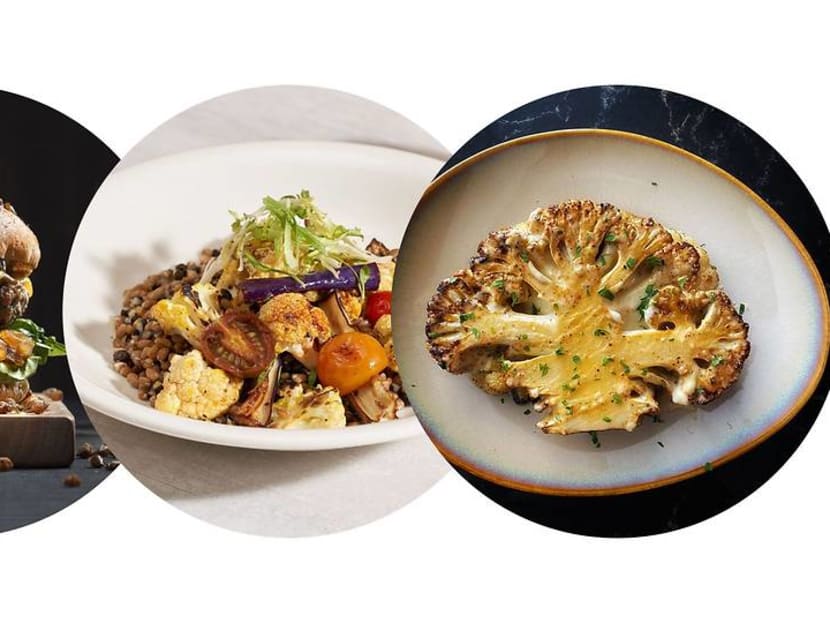 Six weeks into the circuit breaker and perhaps a few kilograms heavier from binge-eating, you might be wondering how to survive three more weeks of impulsive eating. A healthier diet is a good place to start. If you've been meaning to give a vegetarian diet a go, now's the perfect time to do it.
Of course, you have the option of preparing your own meal at home. But if you want to enjoy having chefs whip up a delectable meal, here are several notable restaurants from which you can order in your healthful fixes.
ARTEMIS GRILL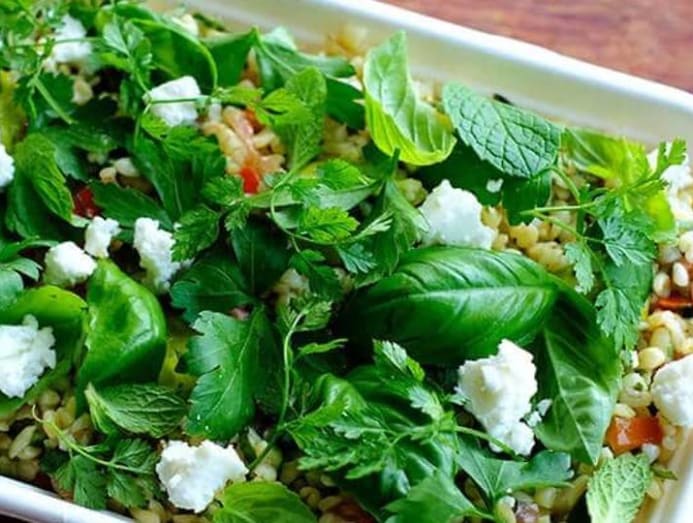 Greens are your best friend, which is why executive chef Oliver Hyde's delivery menu consists of mostly delicious grains and salads. Fans of kale can have this studded with apple slices, caramelised hazelnuts, crumbled feta cheese and dill. Best enjoyed with the people you're quarantining with, why not include the tabbouleh salad of bulgur wheat, mixed herbs and lemon juice, as well as the spicy roasted vegetables. 
Click here to order
BLUE JASMINE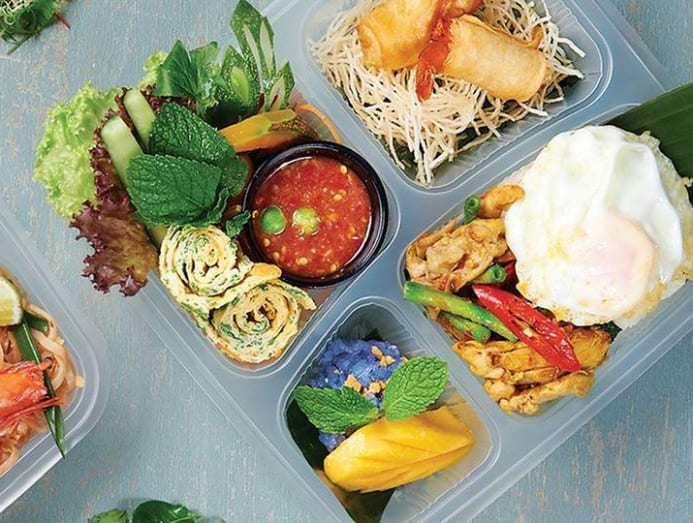 Take a break from the restaurant's usual hits of chicken curry and tom yum seafood, and give its vegetarian offerings a go. Opt for the a la carte menu if you prefer to build your own feast; make sure you include the crunchy fried seasonal vegetables with tofu, and a vegetarian version of the pad thai. Instead of seafood or meat, the chef uses chai poh (preserved radish) tossed with assorted vegetables and tamarind sauce.
Also, save the hassle of planning your lunch menu and have one of the bento sets. The Heura red curry set is a good start, featuring plant-based chicken bathed in a rich and flavourful base, piqued with sweet and sour notes from the use of pineapples, grapes and lychees. Or, choose the Omn! basil kaprao set, comprising housemade basil paste cooked with OmniMeat, snake beans, sliced chilli and sweet basil leaves. Both sets come with jasmine rice and, for dessert, mango sticky rice.
Blue Jasmine, 6824 8851; hello [at] bluejasmine.com.sg ()
BUONA TERRA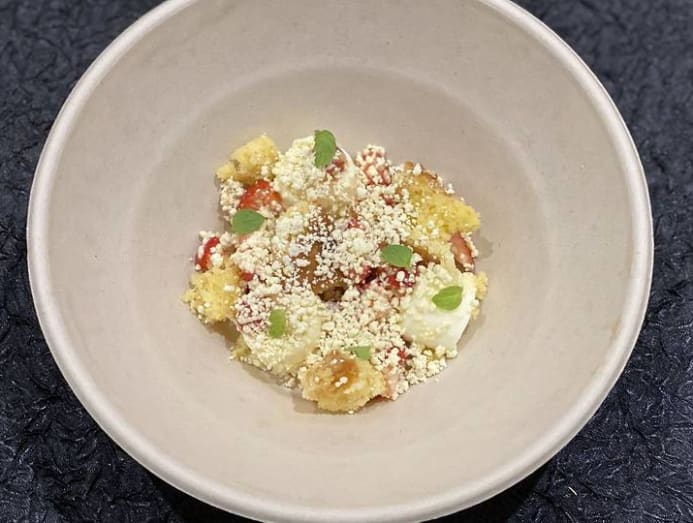 What's a stay-at-home feast without desserts, right? Chef Denis Lucchi's olive oil cake with strawberries is a traditional recipe from his hometown. It's also as decadent as it is guilt-free. Squares of olive oil sponge cake are combined with sweet white and red strawberries from Japan, yoghurt panna cotta, olive oil powder, and strawberry-and-lemon gel. It's garnished with micro mint leaves for a refreshing touch. 
Click here to order
CULINA BISTRO
A lighter lunch calls for the restaurant's kabocha pumpkin salad. Other than the generous chunks of pumpkin, this one-bowl-meal is brimming with crisp leafy greens, quinoa, spinach, cashew nuts and yoghurt. 
Click here to order
LEVEL33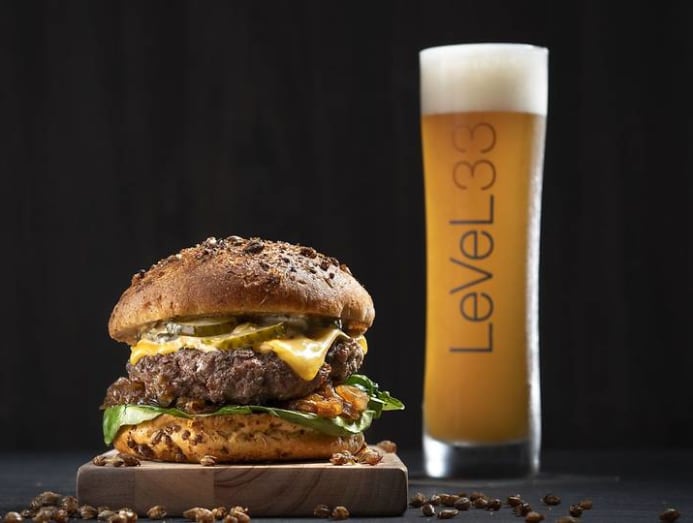 It's hard to resist the temptation of executive chef ArChan Chan's burgers. But if you're taking a break from meats, it's a good idea to opt the no-less-delicious Brewery Veggie Burger. The secret to its deliciousness lies in its juicy patty – a hearty ensemble of aromatics, grains, button mushrooms, sweet potato and spent grain. What's more, it's stacked with gooey cheddar cheese, zingy gherkins, caramelised onions and chipotle mayo. 
Click here to order
LUMO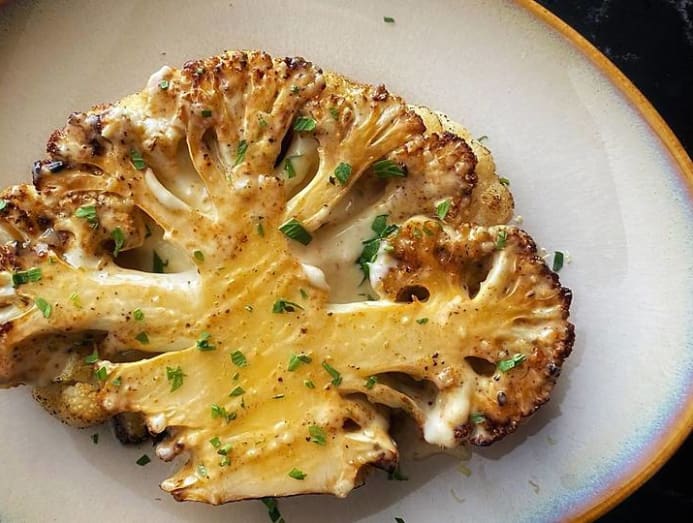 It's a pity that many gourmands weren't able to dine at this restaurant and bar, as it opened just before the circuit breaker measures were implemented. That said, the team is now offering its signature dishes for delivery, including their enhanced version of the roasted cauliflower steak. The cruciferous vegetable is cooked to a crunchy texture, and its flavour enhanced with a light coating of Japanese togarashi aioli and a squeeze of lemon juice. 
Click here to order
PRELUDIO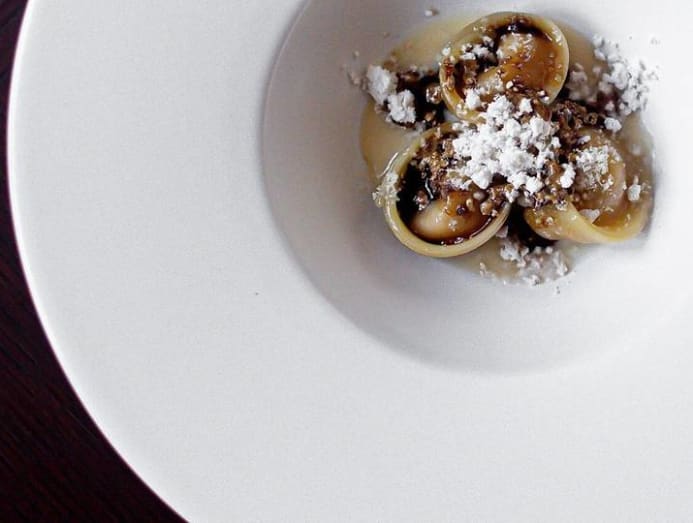 Chef Fernando Arevalo's concise menu of cakes, pastries and bread bundles also includes the classic dish, La Cortina, that was first featured in the restaurant's previous Monochrome chapter. The meat-free agnolotti is loaded with sweet and silky butternut squash, and served with a rich parmesan sauce. It's topped with almond snow and aged balsamic vinegar. Each order comes with detailed instructions on assembling the dish, just like how Arevalo plates it at the restaurant. 
Click here to order
SPRMRKT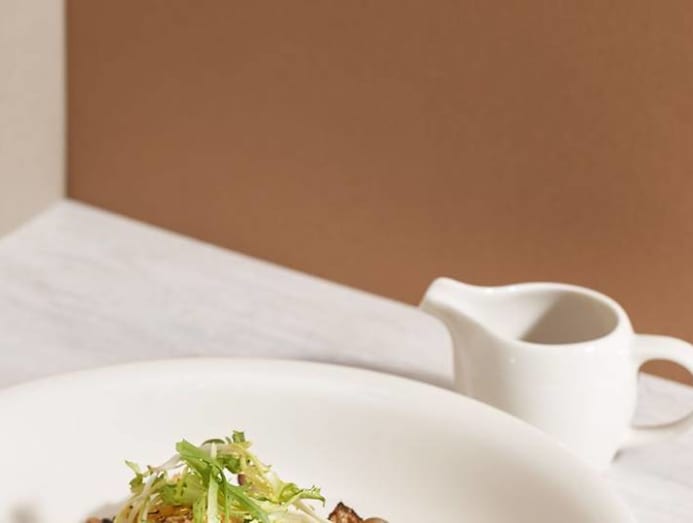 When you're just too busy with work, what you need is a quick and easy lunch fix prepared by a chef. So, why not have head chef Marc Wee's healthy and palatable grain bowls delivered to your home? The black barley grain bowl is ideal if you need to load up on proteins and nutrients, as it's jam-packed with farro beans, black barley, roasted cauliflower, blistered tomato. It's also dressed in a sweet wild honey dressing. 
Click here to order 
SUMMERLONG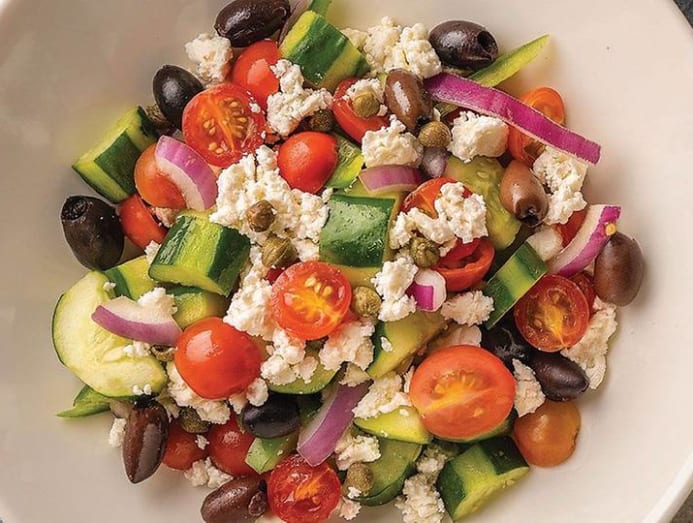 Being cooped up in your home, you might be craving the fresh and bright flavours of Greek and Mediterranean cuisines. Thankfully, the chefs here have curated a Pelican on the Move menu, which brings the popular hits of the region to your dining table.
The summer bowl is a popular choice, as it can easily be customised to cater to your vegetarian preferences. Choose the summer salad or the Greek salad as your base, then toss in either the saffron rice or quinoa, and wild mushrooms to make it more filling. It's not a Greek meal without pita, and here, the flat bread comes with flavourful dips like cauliflower hummus and tzatziki. 
Click here to order
TABLESCAPE RESTAURANT & BAR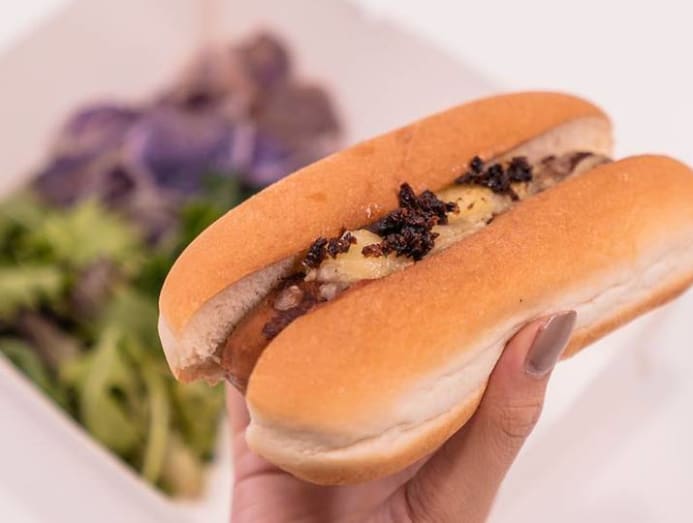 Fact is, it's always a good idea to include more greens in your diet, but especially so during the circuit breaker period. That's why the culinary team here has partnered with Green Monday to create the Green Menu, for takeaway. For Italian offerings sans meat, the pizza margherita with a thin and crisp crust is laden with tomato sauce, Daiya (plant-based) cheese and fresh basil leaves, while the spaghetti "bolognese" is instead tossed with tomato sauce and vegetable ragu.
Other Western favourites given a healthy twist include an alternative to the classic sausage sandwich. This version uses flavoursome Beyond Sausage that's paired with spicy sauteed kale, Daiya cheese, tomatoes and bird's eye chilli. 
Click here to order