6 tips to keep your hair and scalp healthy and happy
A healthier head of hair starts with caring for your scalp, says Yun Nam Hair Care.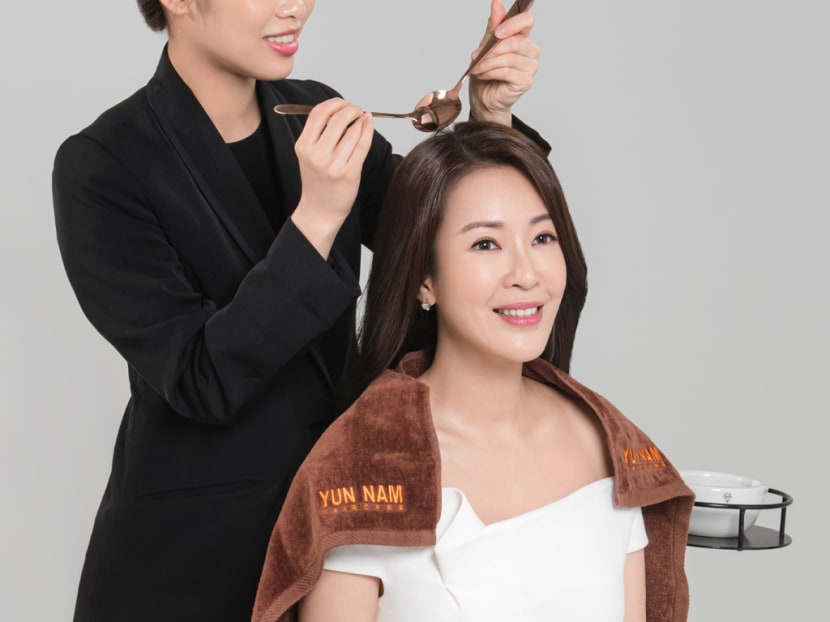 Everyone knows that sunscreen is necessary to protect your skin from harmful ultraviolet (UV) rays. But did you know that UV rays can damage your hair as well?
Overexposure to the sun can result in hair thinning and brittleness, while sunburn can irritate your scalp. Just ask actress Jesseca Liu, whose scalp tends to be red and sensitive, especially after long outdoor shoots. "When I return to my hometown in Langkawi, my scalp can be susceptible to sunburn," she added.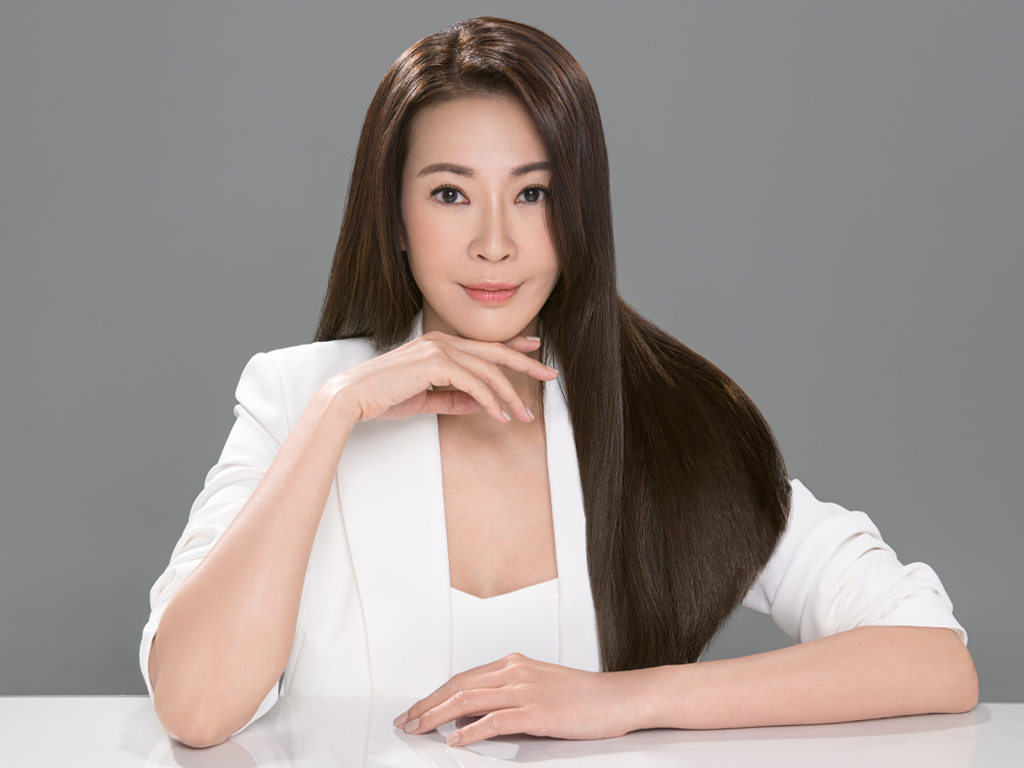 The sun is not the only culprit that can harm your scalp and hair. Many factors, some of which are by-products of our modern lifestyles, can be detrimental to your crowning glory. External factors include Singapore's tropical climate (which may lead to an oily scalp), over-washing of one's hair, using excessive hairspray or wax, and undergoing chemical treatments like bleaching, dyeing or rebonding one too many times.
Internal factors include medication, stress, diet and weight loss, which can sometimes be accompanied by a dry scalp and hair loss. There are also biological factors such as hormonal changes – during menopause or post-partum, for example – and genetics, which might result in male pattern hair loss or prematurely grey hair. Left untreated, these conditions may deteriorate and become irreversible. 
To keep your mane full and shiny, seeking professional help early is important. Boasting an established clientele including celebrities like Liu and fellow artiste Dennis Chew, as well as content creator Mongchin Yeoh (Mongabong), local brand Yun Nam Hair Care has over 38 years of experience in treating hair and scalp issues. Yun Nam Hair Care specialist John Lee offers tips on what your hair and scalp need to be healthy and happy.
TIP #1: EAT FOR YOUR SCALP, NOT JUST YOUR STOMACH
"As the saying goes, you are what you eat," said Mr Lee. "A healthy balanced diet – such as one that adheres to Health Promotion Board guidelines – is crucial for scalp and hair health."
During a busy workday, it's far too easy to grab a burger and fries, or scoff down a greasy dish from the nearest coffeeshop. However, a diet that is high in sugar or fat can lead to an oily scalp. Try replacing soft drinks with plain water, and high-fat treats like chips and doughnuts with vegetable sticks, hummus and raw nuts.
TIP #2: KEEP STRESS AT BAY
For popular deejay, host and actor Chew, a packed work schedule resulted in stress and lack of sleep, and that affected his hair health.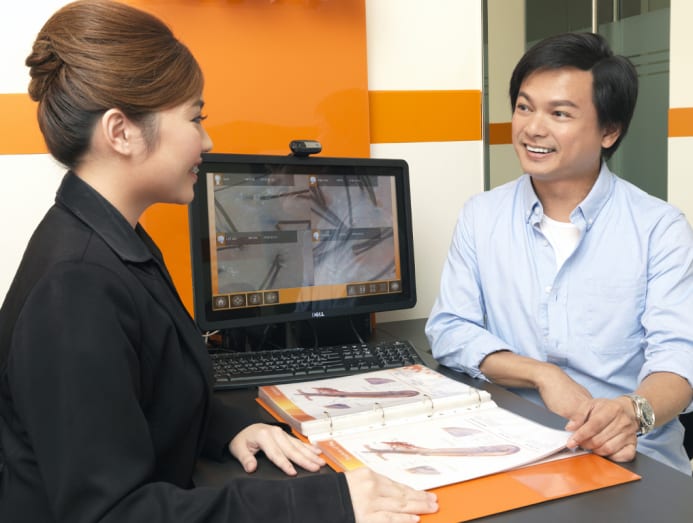 "I eventually developed an oily scalp that caused hair loss," he said. "Initially, I didn't pay much attention to it, but as I continued filming the drama 118, more people noticed that my hair condition was worsening. My hair was becoming thinner and my hairline was receding."
According to Mr Lee, stress can lead to a reduced nutritional supply to one's hair and increased free radical production. This results in a shortened hair cycle and increased hair loss.
Making time for a little pampering can make a big difference to your stress levels – and your hair, as Liu discovered. Regular appointments at Yun Nam Hair Care are an essential part of her self-care routine. "Every visit is an opportunity for me to unwind and take a breather from my hectic life. The treatment process is very relaxing and my scalp always feels clean and refreshed after treatment. My hair also feels softer and stronger," she said.
TIP #3: PROTECT YOUR SCALP THE WAY YOU PROTECT YOUR SKIN
Just like how you protect your skin with sunscreen, you need to do the same for your hair and scalp.
There are many sun protection products for scalp and hair that come in mists, oils and serums, so if you're a beach body, remember to factor them into your routine. If you're planning to be out in the sun the whole day, use a hat with UV protection where possible.
TIP #4: PAY ATTENTION TO YOUR SCALP
How you wash your hair matters, advised Mr Lee, who pointed out that lathering your hair with shampoo without also cleansing your scalp will cause dead skin, sebum and dust to build up. When that happens, you may experience an itchy scalp that can be accompanied by dandruff, acne and increased hair loss.
"The scalp and hair share a close-knit relationship as hair follicles are found in the epidermis and dermis layer of the skin," he explained. "Simply put, healthy scalp equals healthy hair."
He added that an unhealthy scalp is linked to inflammatory skin conditions such as eczema, seborrheic dermatitis and folliculitis. "The inflammation, together with accelerated shedding of the skin and scratching, may lead to damage of the hair follicles, shortened hair growth and increased hair loss."
TIP #5: GET HELP FROM HERBS
If you want a natural, safe and chemical-free solution to healthy hair, Mr Lee recommends that you turn to a qualified hair consultant for advice.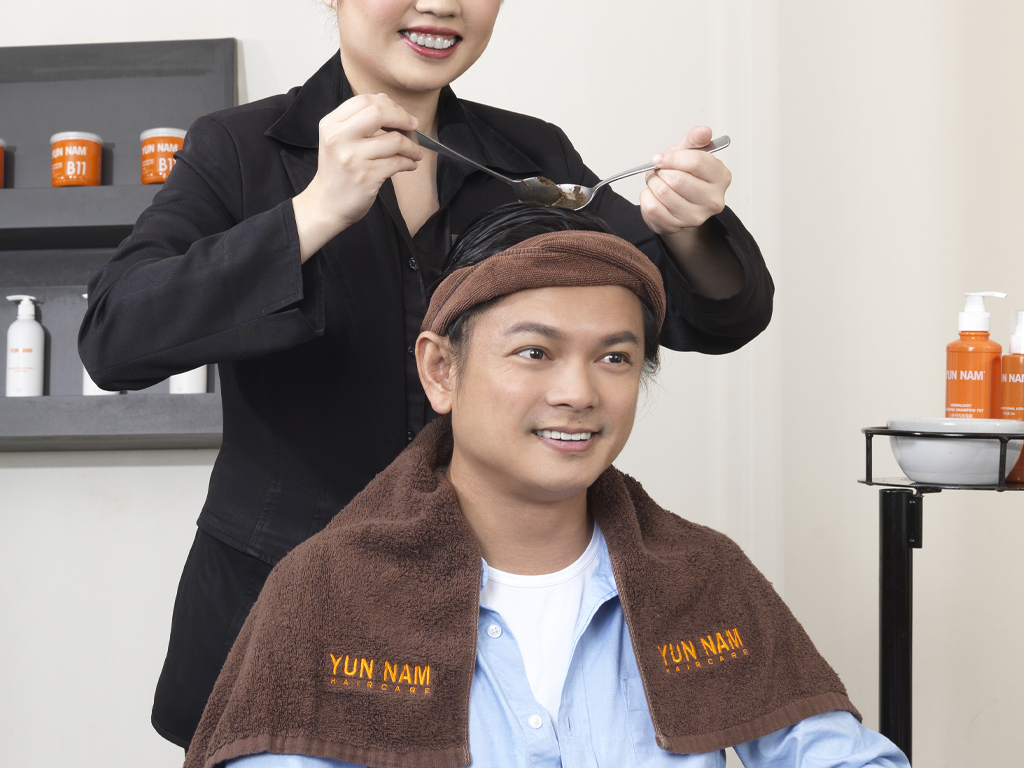 He said: "A hair consultant needs to determine the condition and cause before formulating a customised treatment plan. At Yun Nam, we use a variety of herbs, with the three signature ones being ginseng, angelica and polygonum. For example, ginseng is recommended for a person with a dry scalp and hair loss that is attributed to a weak constitution or poor nourishment, but not for someone with an oily scalp and hair loss due to a diet high in fat or sugar."
For those who aren't fans of the bitter taste of traditional Chinese herbs, there's no need to hold your nose and swallow any concoctions. Yun Nam Hair Care's topical application ensures that customers not only avoid the unpleasant taste, but also minimises the risk of systemic drug interactions when customers are on medication for other conditions.
TIP #6: DON'T WAIT UNTIL IT'S TOO LATE TO SEEK HELP
If you notice hair loss, thinning or other issues, it's best to seek treatment before the problem worsens.
"We have a limited number of hair cycles per lifetime. Seek help early when the follicles are still viable, and when the regeneration capabilities of the skin and hair tissues are still at their peak," advised Mr Lee.
If you want help for your hair, but are wary of committing to a treatment package, look for an established provider that offers trial treatments and has good reviews.
"Research the company – find out how many years it has been around, the awards it has won, and what customers are saying," said Mr Lee. "Yun Nam's trial treatment also offers potential customers a great opportunity to experience the outlet's environment and the treatment itself."
Yun Nam Hair Care is currently offering a S$28 trial for its FASTGro Hair Care treatment, which uses Chinese herbs to stimulate and nourish hair follicles in order to restore scalp health and boost hair growth. The trial price is inclusive of a computerised hair follicle scan and analysis that help to pinpoint the root cause of hair and scalp issues.
Contact Yun Nam Hair Care for a trial session of FASTGro at S$28 (usual price S$300) and get a free hair care kit (worth S$88), exclusive to CNA readers. This promotion is for new customers aged 18 and above only. Terms and conditions apply.