7 experiences in Fiji you'll not find anywhere else
When in search of the unique, 333 islands may have the answer.
What is it about new experiences that excite us? Researchers reveal that engaging in novel activity is potentially rewarding as it naturally triggers the release of dopamine. Simply put: We feel good when we try something new. And it seems that Singaporeans are already onto this hack.
Prior to the pandemic, Singaporeans were already an adventurous bunch who enjoyed seeking out new destinations and activities. Earlier this year, Tripadvisor found that locals were looking forward to "escaping day-to-day life" and that almost half (48 per cent) want something unique on their next trip.
For those gunning for the new and unfamiliar, a trip to Fiji could tick all the boxes. The archipelago offers dazzling scenes of pantone-perfect hues as well as a rich spectrum of cultural experiences. To get you started, here are seven exclusive experiences you'll find only in Fiji.
1. TAKE PART IN A VILLAGE VISIT
When guests arrive at a village, they are greeted by way of the i-sevusevu. This customary ceremony usually takes place in a bure (meeting hall) where guests present kava – the root of a local pepper plant – to the village chief to seek permission to enter the village. This culminates in a communal sharing of a brew made from the gift.
The exchange provides visitors an opportunity to get up close and personal with local customs. Learn from guides the meaning of ceremonial chants and movements and how they symbolise respect and blessings. Partake in this intriguing ritual at the Fiji Culture Village in Nadi, where you can also do the cobo, the Fijian stylised form of clapping, and explore the grounds with friendly locals.
2. SAIL ON A DRUA
The drua is a double-hull traditional sailing boat unique to the south-western Pacific Islands. Known back in the day for their speed and agility, these powerful vessels once dominated the South Seas. Cutting through the waters in the drua is a window into its mighty past.
With The Drua Experience, guests are welcome to have a go at steering under the watchful eye of a local navigator. For the ultimate in relaxation, opt for a day out at sea and bask on the boat's deck or cool off with a quick dip in the crystal-clear waters.
3. COOK UP A FIJIAN STORM
Discovering a destination through its cuisine is as pleasurable as it is edifying. Nanuku Resort's produce-to-pot Fijian Food Safari does this and more. Kicking things off, guests are brought to a market to learn about, and pick out, freshly harvested local produce. Gungho cooks can even try their hand at catching mud crabs while balancing on the bilibili, a bamboo raft. Back at the resort's kitchen, pick up traditional cooking techniques to put together a meal of kokoda (Fijian ceviche) and lovo (underground oven) dishes. 
Even if you're not staying at Nanuku, most other resorts have their own event nights where you can try out lovo cooking. Learn how to wrap seasoned meats and seafood in beautiful woven coconut leaves before popping them into the underground oven for baking.
4. GO FROM DESERT TO RAINFOREST IN AN HOUR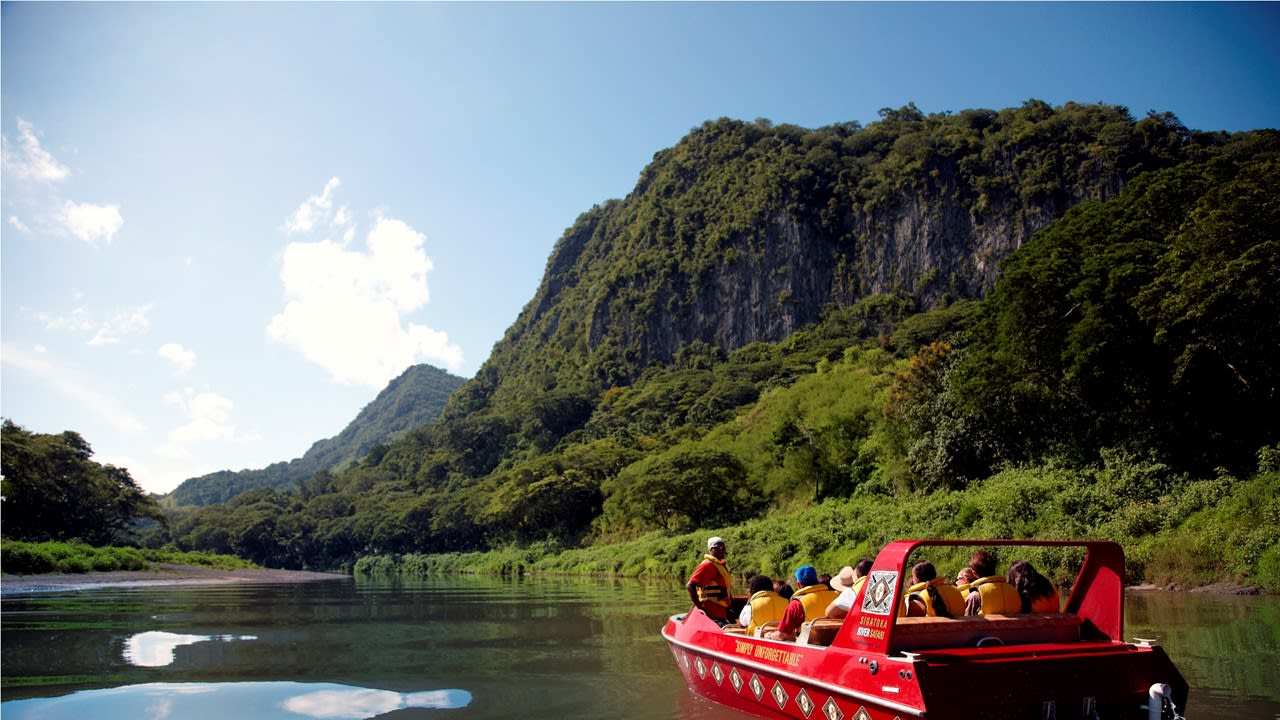 Two contrasting landscapes await at Sigatoka Sand Dunes National Park. On one side, the vast undulating desert-like sandscape with dunes reaching heights of 60m makes for perfect sandboarding and National Geographic-worthy shots. On the other, behold spectacular views of rugged landscapes and verdant rainforests, with pottery villages tucked in its fringes.
Another unique experience on the Sigatoka River lies nearby. For a spot of local folklore immersion, hop on the Sigatoka River Safari and experience a day in the life of a kaiviti (indigenous Fijian) as you make stops at Fijian villages.
5. WITNESS A FIREWALKING CEREMONY, FIJIAN-STYLE
Beqa, a picturesque island south of Fiji, is known for its alluring lagoon and diving spots. It is also home to the Sawau, descendants of a warrior named Tuinaiviqalita (Chief Fisherman). Legend has it that Tuinaiviqalita put his hands in a hole in one of two streams that flowed through the mountains and caught a spirit god. In exchange for its release, the spirit god promised him a plethora of rewards but Tuinaiviqalita remained unmoved. However, when the offer of power to walk over fire was put on the table, the warrior finally acquiesced.
You, too, can now be a witness to this gift of mastery over fire celebrated with traditional firewalking rituals. Marvel as men from the Sawau tribe prepare a pit of hot river rocks that are heated till white and then walk on the stones without pain or injury.
6. RELAX WITH A BANANA LEAF BODY WRAP IN A JUNGLE
Fijian massages go the whole nine yards with a multi-sensory experience that brings guests to another level of bliss.
At the Koro Sun's Rainforest Spa, guests are invited to leave the cares of the world behind at its lush doorstep. Settle into the calming sanctuary and be soothed by the sounds of trickling streams and calling birds. Its signature Banana Leaf Body Wrap is much sought after for its detoxifying properties. The Rainforest Spa also prides itself for using only ingredients that are natural and homegrown.
Over at the Matamanoa Resort, guests are spirited away to cosy private spa huts with panoramic views of the coast. Try its pampering sea-to-skin treatments that include locally harvested nama (a unique species of seaweed) for a superb afterglow.
7. OBSERVE EXOTIC WILDLIFE
Fiji has a thriving natural environment and much of its biodiversity is unique to the island. Head down to Kula Wild Adventure Park – Fiji's biggest adventure park – for an intimate experience with local flora and fauna. You'll be able to interact with rare species such as the critically endangered Fijian crested iguana, or even hold gentle reptiles like the Pacific boa and banded iguana in your hands. Admire the vibrant plumage of local birds such as the kula, before moving on to explore the park's other attractions.
If you have a strong connection to the ocean and marine wildlife, swimming with manta rays at Yasawa and Kadavu could be a bucket-list activity. Visit Fiji between May and October for your best chance to swim alongside these elegant sea creatures.
For an inspired holiday like no other, head on down to Fiji.
Be rewarded for your curiosity with a holiday in Fiji. Contact your travel agents today or plan for it online.