Aches and pain be gone with gentle steam heat therapy
MegRhythm aims to patch you up with its innovative thermal solution.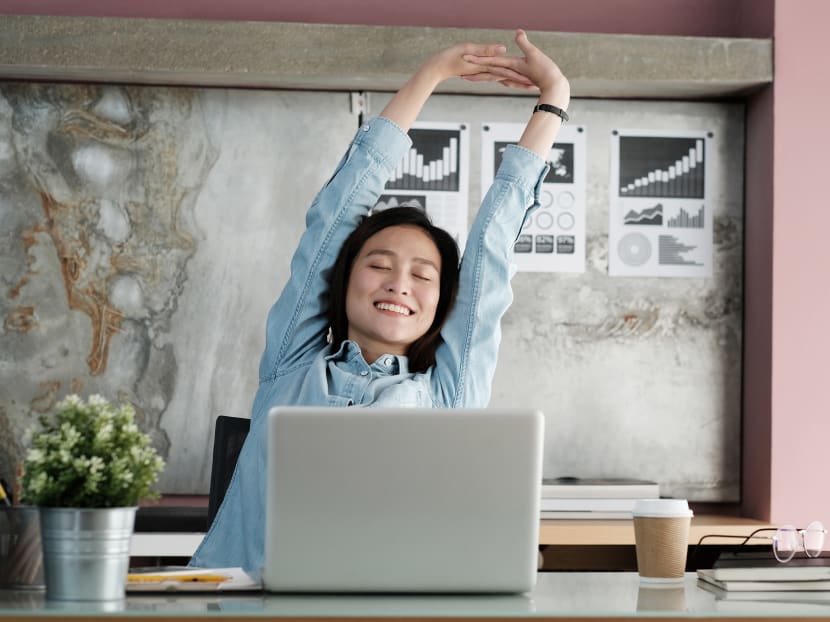 As new ways of work came into play after the onset of COVID-19, a slew of adjustment issues followed hot on its heels, with workers scrambling to find conducive spots at home to set up work stations.
A-year-and-a-half into the pivot, still not everyone has the luxury of owning an ergonomic chair or an adjustable desk for those work-from-home days. Bad habits such as working long hours slouched in a chair (or sofa) can take its toll. This can manifest as pain in the neck, shoulder and back areas. The prolonged tension may cause blood vessels to contract over time, hindering circulation and leading to chronic lethargy. 
While there's a proclivity to remain sedentary, deliberate effort should be made to move around while working from home. In fact, Mayo Clinic recommends taking a break from sitting every 30 minutes. 
For moments when you want to feel better stat, try the new MegRhythm Steam Thermo Patch range. Manufactured in Japan, the product uses steam heat innovation to alleviate aches where you feel it most. Well-received by consumers, MegRhythm currently tops sales in the thermo patch market in Japan*. 
POSTURE PAINS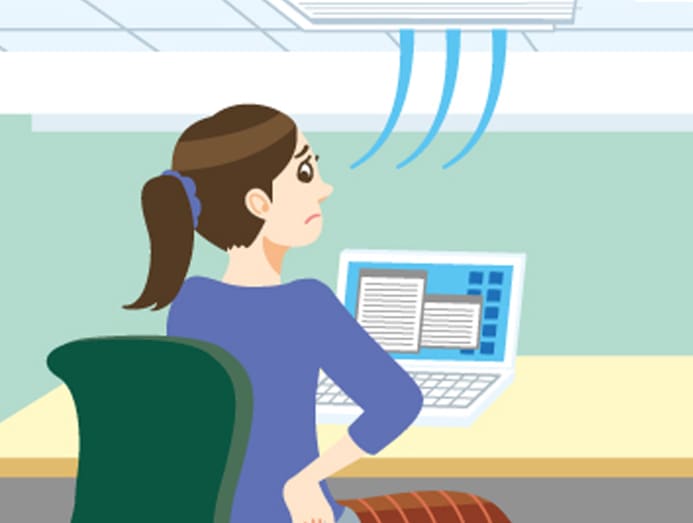 Whether you're hard at work at the desk, bent over doing housework, or carrying your child, the lightweight MegRhythm Steam Thermo Patch Shoulder & Lower Back stays on, releasing a soothing warmth to nurse aches from five to eight hours.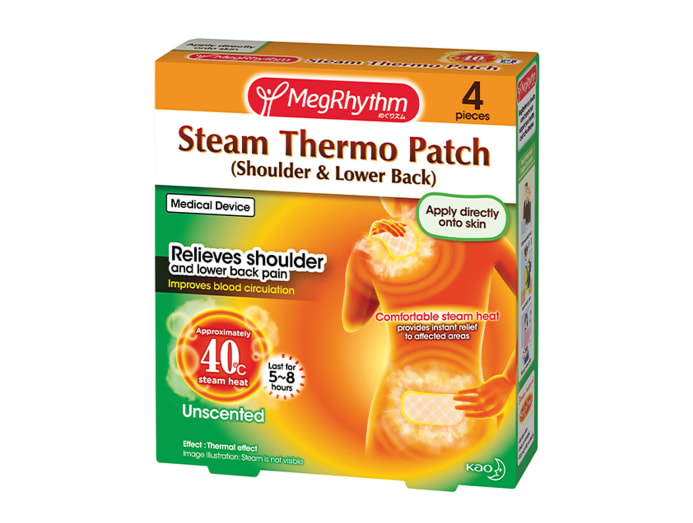 The game-changing therapy works by imbuing key areas with moist warmth from steam heat. According to Japanese researchers working in collaboration with Personal Health Care Products Research, Kao Corporation, steam heat patches are superior to traditional dry heat patches because steam heat penetrates more deeply into muscle tissue to help ease pain and stiffness by improving blood circulation. 
The steam thermal heat from MegRhythm patches is calibrated to a steady 40 degrees Celsius – just the right temperature to stay comfortable while enjoying sustained benefits. And unlike analgesic adhesives, the thermo patches are non-medicated and odourless, so users can stick them on with peace of mind.
Whether you're a Zoom meeting marathoner, gym enthusiast or domestic god(dess), the MegRhythm Steam Thermo Patch can make going the distance that much more comfortable and achievable. 
MEGRHYTHM STEAM THERMO PATCH FOR WOMEN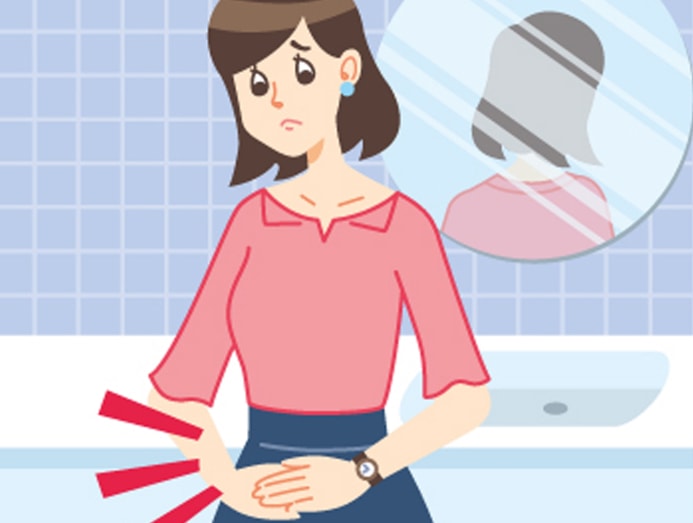 Human bodies have rhythms of their own. From the ultradian cycle that governs peak energy patterns to the circadian cycle that influences our sleep-wake hours, everyone's internal body clock is different. For ladies, there's an extra cycle to deal with – the menstrual cycle. 
A large proportion of women dread 'that time of the month'. Many of them suffer from painful cramps just before or during their menstrual periods, while others also suffer from lower back pain. A condition known as dysmenorrhoea inflicts pain so debilitating that some women are not able to go about their usual activities. 
In a study published in The Journal of Obstetrics and Gynaecology Research, 63 per cent of participants experienced relief from abdominal and lumbar pains after using a combination of steam and heat therapy on the localised area.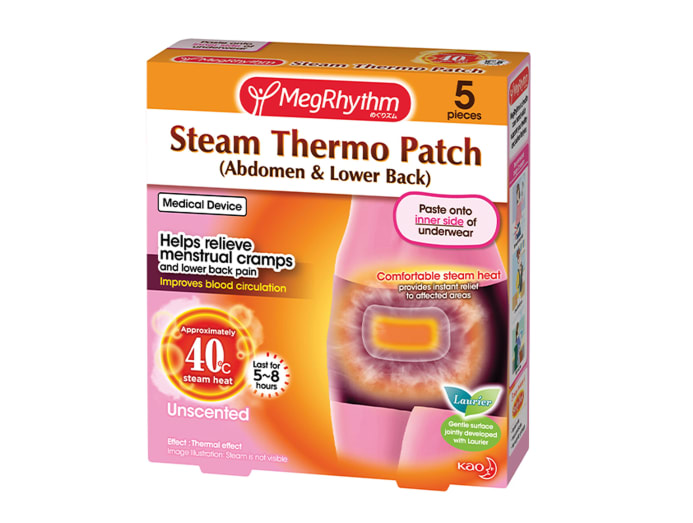 The MegRhythm Steam Thermo Patch for Abdomen & Lower Back is a discreet, thermal heat-based solution to menstrual-related discomfort, and is made of a soft mesh fabric that has been jointly developed with Laurier, a leading sanitary protection brand in Singapore. The slim patch adheres to your underwear with the soft mesh in contact with delicate skin at the abdomen, delivering steam heat for soothing relief, on days you need it most. 
ON-THE-GO HEAT RELIEF
Designed for convenience, the MegRhythm Steam Thermo Patch is compact enough to be kept in your purse, bag or pocket and brought anywhere. 
For a spot of steam heat therapy, open the packet and the patch will start warming itself to release steam heat of about 40 degrees Celsius. Remove the adhesive strips and apply the therapeutic patch to the desired area and let it work its magic.
Both versions of the MegRhythm Steam Thermo Patch are available at major pharmacies, supermarkets and Japanese retail stores. 
Experience relief for your shoulders with free samples of the MegRhythm Steam Thermo Patch.
*Based on Intage SRI+ Thermo Patch Market Jan 2017 – Jul 2021, total sales value.