Bring the joy of coffee to your home with a special festive bundle from L'OR
Holiday get-togethers just got more enjoyable, thanks to the capsule machine bundle from the French coffee maker.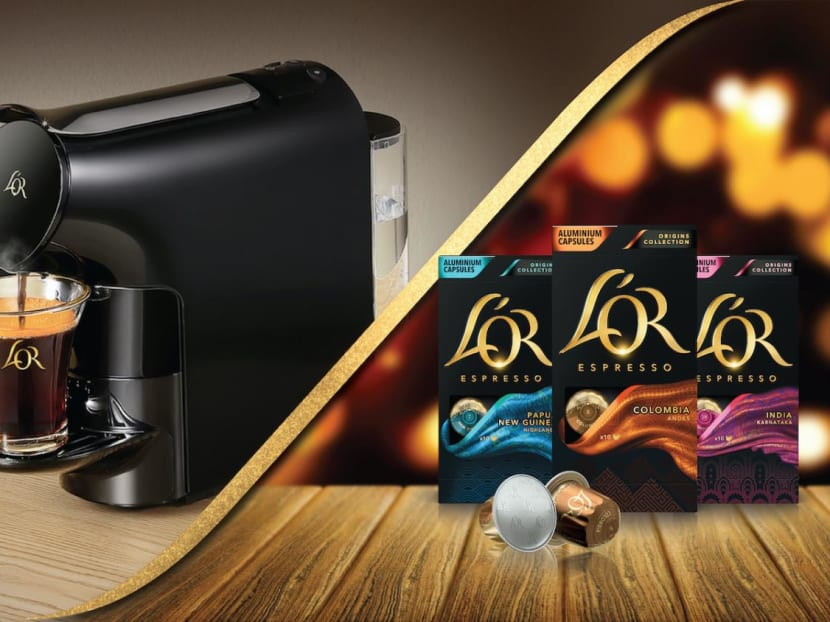 With the holiday season dawning, many of us are looking forward to meeting up with cherished friends and family. Some go to great lengths to be the ultimate host, sprucing up the home with jolly decorations and creating a flawless dinner menu that ends with decadent dessert and perfectly brewed coffee. Then, there are the gift exchanges: A thoughtful gift sparks joy but choosing one that's as functional as it is beautiful can sometimes be challenging.
French coffee maker L'OR might just have what you need this festive season. The brand believes in the stirring experience of a good cup – one that makes us pause as our senses take in the intense aromas and rich flavours. Shared with loved ones, the experience fosters bonding.
Just in time for the holiday get-togethers, L'OR is introducing a special festive bundle with a coffee capsule machine dedicated to producing professional brews. Now, you can enjoy an elevated coffee experience at home with your guests, without hassle. What's more, the bundle makes a wonderful Christmas gift for that coffee-loving friend.
BRINGING HOME THE WAY OF FINE COFFEE
For the longest time, having instant coffee meant scooping granules into a mug and dissolving them in hot water. Today, the capsule machine and coffee pods – invented by Swiss entrepreneur Eric Favre in 1975 – have taken over in a big way.
When Favre was researching the science behind the making of a good cup of espresso, he found the extraction process to be key. The best baristas, he discovered, would aerate coffee in short intervals. Combined with water and coffee oils, the oxidation creates a robust, aromatic cup of coffee. Thus, the capsule and capsule machine, replicating this same process, were born.
The science gave L'OR the opportunity to launch nine flavours in a capsule range, each speaking to a different kind of connoisseur. Using 100 per cent Arabica beans, the Ristretto, for instance, brings forth an expressive, fresh character and a complex, spicy aroma. The equally popular Onyx is a spicy blend with a mildly bitter cocoa finish, granted body and strength with the addition of Robusta beans.
Those who love the distinctive taste of different terroirs can go for the single-origin series. Three countries are represented here: Papua New Guinea with its pronounced fruity taste and sweet, woody aroma; Colombia for a rich character and exceptional length at the finish, and India, a bold presentation of cocoa and caramel blended with fruity and spicy flavours.
These remarkable profiles are L'OR's way of inspiring one to fully embrace the coffee experience. Now, when you buy any 15 boxes of L'OR capsules, you get a complimentary L'OR Mini Coffee Machine.
The machine has a compact design that belies its full functionality. With standard espresso and lungo options, it delivers a bold and intense cup in less than 30 seconds, simply with a push of a button. An unlike many other models its size, it has an additional function to dispense hot water – perfect for those times when you need tea or hot cocoa.
With this limited bundle, adding a gourmet cup to your routine is a breeze, whether it's for that quick morning buzz or afternoon charge-up. It's also an effortless way to deliver a professional brew to guests.
A CUP FOR EVERYONE
Created in France in 1992, L'OR has made a successful foray into overseas markets with its portfolio of capsules, instant mixes and beans. Its passion in providing a wide spectrum of coffee to suit every need has helped the brand find favour among consumers the world over.
From bean to brew, L'OR is also committed to sustainability. At every step of the coffee-making process, decisions are made with the consideration of improving living conditions of the farmers and their families as well as care for the precious natural coffee habitat. Every L'OR espresso blend is made using ethical coffee production methods certified by Rainforest Alliance's Sustainable Agriculture Programme, ensuring that the benefits go from farmer to you.
In addition, L'OR uses recyclable aluminium for its capsule pods – an infinitely recyclable material that contributes to lower carbon emissions. The aluminium hermetic seal has another perk: It works like a dream at keeping moisture, bacteria, oxygen and light from the coffee grounds, locking in the coffee's authentic profile and ensuring prolonged freshness.
Taste the difference in each cup, regardless of capsule, bean or mix. Explore the aromatic tangy citrus and velvety smooth sophistication of roasted whole Arabica beans with L'OR Crema Absolu Profond, or opt for a quick dose of cream and intensity with L'OR Essenso premix instant coffee.
Whichever you choose, take a moment to savour the moment. Alone, it's an act of self-nourishment. Shared, the communal enjoyment bonds.
Get a free L'OR Mini Coffee Machine when you buy 15 boxes of L'OR capsules at S$109. The festive bundle can be ordered at FairPrice online and RedMart. L'OR products are also available at leading supermarkets and e-commerce platforms.
Capsules are compatible with Nespresso* original coffee machines. *Trademark of a third party not related to JACOBS DOUWE EGBERTS.