Celebrating a momentous occasion with a venerable whisky expression
The Royal Salute 30-Year-Old Key to the Kingdom is a compelling blend of high-aged whiskies that captures time-honoured tradition.
Symbols can be powerful. A single object or event can encapsulate stories and narratives of a different place and time, and remind one of enduring traditions.
The Ceremony of the Keys – held every year at the gates of Holyrood Palace, Edinburgh – is a long-standing occasion that welcomes the visit of Queen Elizabeth II to Scotland in a week-long residency in July. This observance since her accession in 1952 captures the deep relationship between the two countries – one that has spanned decades and is celebrated with this moment.
Because there's a drink for every occasion, Royal Salute has crafted a new expression to mark this time-honoured tradition. Produced by Strathisla Distillery (the oldest working distillery in the Scotland Highlands), the luxury whisky brand is no stranger to delivering commemorative blends – it created one for the Queen's coronation in 1953 and recently celebrated the Queen's Platinum Jubilee with a limited-edition decanter set.
The Royal Salute 30-Year-Old Key to the Kingdom is pitched nicely between its youngest bottle at 21 years old and its oldest at 38, and forms part of the label's core permanent collection. Under the skilful guidance of master blender Sandy Hyslop, it gets its distinct character from rare, aged casks – the youngest being 21 – for a compelling blend rich with symbolism.
A SIP OF ROYAL LEGACY

There's no better way to celebrate the special relationship with the monarchy than with the exceptional craft of its makers. From cask to bottle to box, the 30-Year-Old Key to the Kingdom demonstrates their dedication to perfection.
"With a unique connectivity to British royalty as part of Royal Salute's heritage, we wanted the 30-Year-Old Key to the Kingdom to capture the very special connection between crown and country," explained Hyslop. "The occasion is one of the longest-running ceremonies in the British monarchy, carrying symbolic meanings related to freedom and honour, which is why we were inspired to blend this new expression to celebrate this momentous ceremony."
Adhering to the brand's legacy, the Royal Salute team hand-picked varying prized whiskies from the whole of Scotland – all aged a minimum of 30 years – to attain an expression that speaks of its lineage. And the discovery process was just as remarkable, said Hyslop.
"It was very enjoyable sampling our extensive inventory of high-aged whiskies," Hyslop admitted. "It surprised me how many formulations were required to obtain the perfect nuance of smoke while maintaining the Royal Salute signature style and opulent character."
A REGAL DELIVERY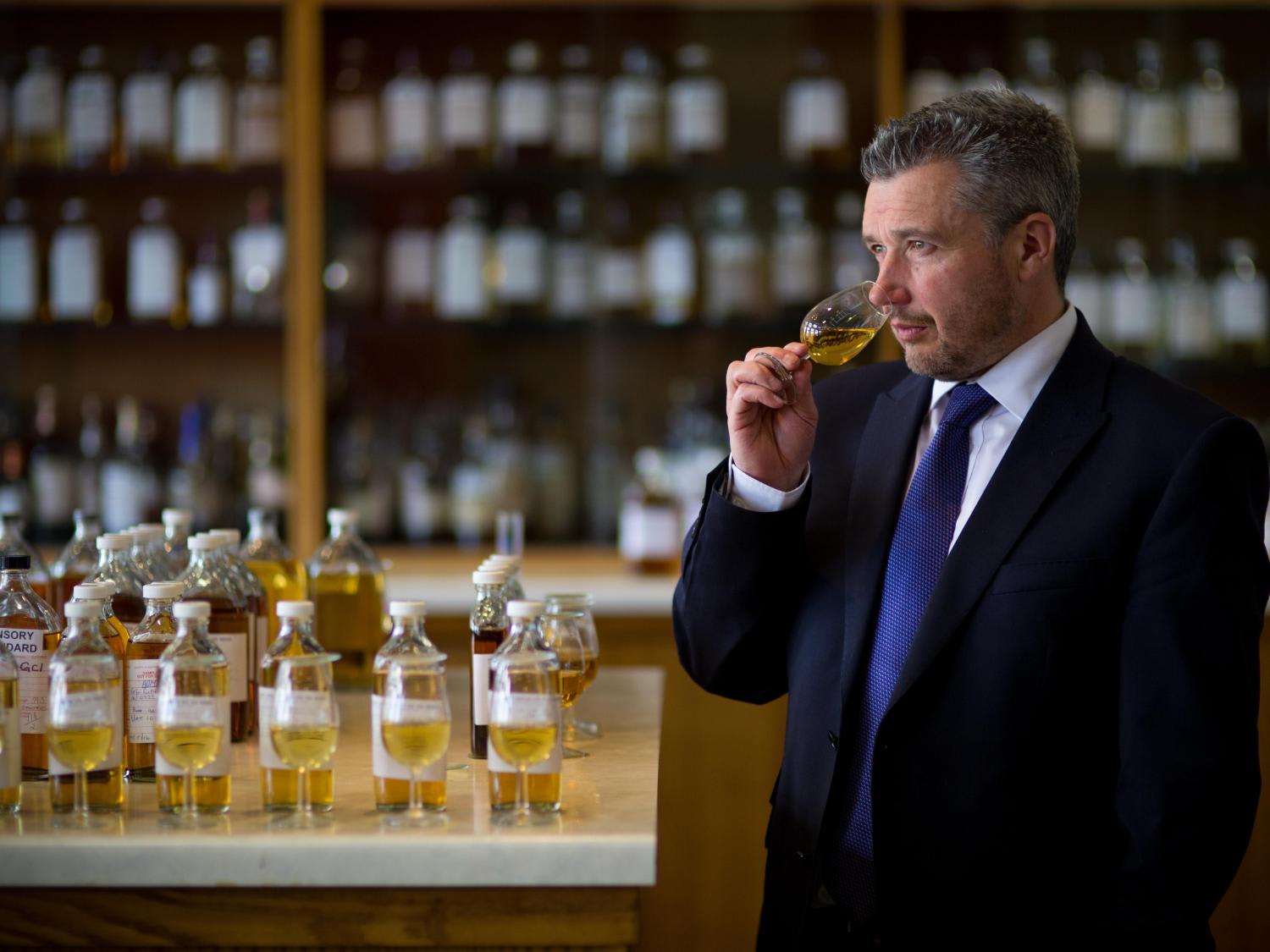 The challenge for master blenders like Hyslop is to design an expression that expertly balances the authentic profile of each unique cask and whiskey. His final showing is one alive with fruit, spice and smoke.
"The whiskies used for this expression give the blend a luxuriously sweet and fruity profile, enriched with warming spiced notes and subtle hints of smokiness," he said. "On the nose, it is initially sweet and fruity, with notes of ripe, juicy pears, blood orange and thick-set honey. These give way to toasted oak, dried red currants and subtle wisps of bonfire smoke."
A bottle this fine requires a fitting home. The artisans at Royal Salute have rendered a presentation box that befits the majestic bottle – a noble green housing with discoverable elements alluding to the officials present at the handing over of the keys.
A CELEBRATION FOR EVERYONE
The occasion might be held in Scotland, but everyone can be part of the celebration. Indeed, for Hyslop, the invitation is for all who wish to welcome memorable moments among family and friends – especially if they "enjoy and value the astounding craftsmanship" that goes into Scotch whisky.
When approaching such precious drams, one might be apprehensive of how best to enjoy that first sip. The master blender's advice couldn't be simpler.
"I recommend enjoying it in its purest form, poured into a tumbler or nosing glass at room temperature," he said. "Much like all blends within Royal Salute's portfolio, the first step to enjoying the Royal Salute 30-Year-Old Key to the Kingdom is to nose it first, allowing your senses to be engaged and elevating the taste experience to follow."
Partake in this momentous occasion with an expression just as noble. Contact Royal Salute to reserve your bottle.