December in the park: Seek out this garden oasis for your year-end staycation
Enjoy a rejuvenating escape at the new Parkroyal Collection Marina Bay. Brought to you by Parkroyal Collection Marina Bay.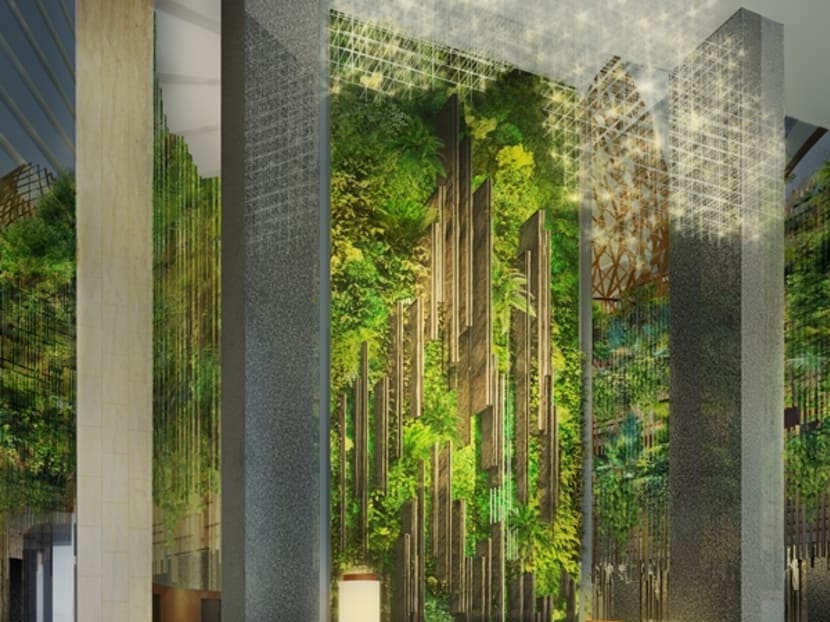 You consider yourself somewhat of an explorer, an intrepid seeker of new experiences. And even in a garden city like Singapore, one would call a lush sanctuary within concrete walls an unexpected find.
Today, Parkroyal Collection Marina Bay reopens its doors and beckons. Discover its transformation – a meeting of design and nature, with verdant greens, sculptural woods and seas of stars. 
Similar to the success of hotel-in-a-garden Parkroyal Collection Pickering, which was recently named World's Leading Green City Hotel at the World Travel Awards 2020, the newest member situated beside Marina Square mall elicits the same kind of splendour, courtesy of their same DNA. It is an exuberant play on the original, but this time, it's a garden-in-a-hotel, and the indoor oasis includes flourishes of cinematic architecture by renowned American neo-futuristic architect John Portman.
It's plush meets lush – a formula designed with thought for the guests and environment alike.
A GREEN HEART
Step into the new Parkroyal Collection Marina Bay and you'll instantly recognise the adherence to its core brand pillars of iconic design and sustainability.
Experience otherworldly presentations, like the 13m-tall moss-themed centrepiece at the reception offering a calming welcome. Or walk among a forest of sculptural accents tucked in 370sqm of lush gardens and planter walls, featuring over 2,400 trees, scrubs and ground covers that serve as natural air purifiers. Find yourself immersed in cosy sanctuaries and nooks, all designed for peaceful respite.
Parkroyal Collection's green statement goes beyond the verdant walls. As the brand continues to innovate in its sustainable approaches, you'll stay knowing you've kept your carbon footprint small. Find filtered water in rooms instead of single-use plastic bottles, with recycling bins available throughout the hotel. Other eco-conscious practices include the use of premium biodegradable toiletries as well as motion sensors in guest rooms to reduce energy consumption. Guests can also enjoy e-concierge services – using a QR code that links to a chat, guests can order room service, make housekeeping requests and get hotel information.
So retreat to your room comfortably – a newly-refurbished space bathed in natural light and soothing neutral colours, then extend your gaze beyond for that stunning surprise. Every guest can luxuriate in sweeping views of the Marina Bay, Suntec or The Padang, right at their own personal open balcony.
SEE YOU STARRY-EYED
When night falls, a sparkling surprise emerges at the pool. Float among glittering stars at the hotel's new mineral water swimming pool, fired up by 1,380 fibre optic lights, and gaze upon the mirror of stars above. It's a relaxing evening activity, best paired with a cocktail at the poolside bar.
Continuing the celestial theme, make an impression with guests when you hold an event at the Garden Ballroom. The pillar-less venue draws attention with a profiled timber ceiling, carrying a constellation of 3,000 stars – a dramatic display for a wedding march. Business events will enjoy the 9.2m-wide high-definition LED wall and two LED screens, for presentations that truly impress.
Come January 2021, the Atrium Ballroom will be completed at level five. This venue opens up to a private cocktail area overlooking the atrium gardens with iconic nested pods – ideal for elegant soirees that seek originality.
THAT COMPLETE HOLIDAY
Those seeking to escape for the year-end can do so without their passports. Parkroyal Collection Marina Bay is offering a Garden Escapade package. Guests can choose one of four exclusive experiences to pair with their stay, with each designed to take one away on a different garden adventure.
If you have young children, go for Family Fun. Your room comes with a tent, an extra bed, kid's amenities as well as activities like sand art for some quality bonding. Oh, and there's unlimited ice-cream. 
For those who haven't visited the Flower Dome and Cloud Forest at Gardens by the Bay, choosing the Day Out option grants a pair of tickets to the attractions.
Those who prefer to maximise their time spent at the hotel can pick Tipples and Nibbles or Pavilion Picnic. The first offers evening cocktails for two and a platter of snacks prepared for your in-room enjoyment, with a late check-out at 3pm. The second lays out a pretty picnic within the striking sculptural pavilions in the Atrium – a photogenic opportunity that satisfies all senses.
The Garden Escapade package includes 15-per-cent savings off room rates, as well as in-room breakfast or at Peppermint. What's more, guests enjoy 50-per-cent off dining at the three refreshed dining venues. 
Peach Blossoms is the hotel stalwart with a loyal clientele. Serving modern Cantonese, the delectable menu by award-winning Chef Edward Chong can only be described as culinary art. 
At Peppermint (formerly Aquamarine), expect a delicious farm-to-table experience with sustainable and locally-sourced produce. The energetic and open space melts into the greenery of the hotel, with dining sections that look like human-sized terrariums. 
And lastly, the Atrium Lounge is the gorgeously decorated heart of the hotel – a sunlit garden oasis that serves fresh barista brews and high-tea sets by day, and doles out 90 whisky labels along with crafted cocktails at night.
The destination hotel sits on the pulse of things, a mere stone's throw from shopping malls and some of Singapore's most iconic attractions and museums. However you spend your staycation, it's always a rejuvenative escape with Parkroyal Collection Marina Bay.