Discover the joys of slow travel and rejuvenate yourself with Tasmania's natural gifts
Relax and recharge on a family-friendly road trip along the island state's east coast, which offers an abundance of natural wonders and outdoor adventures.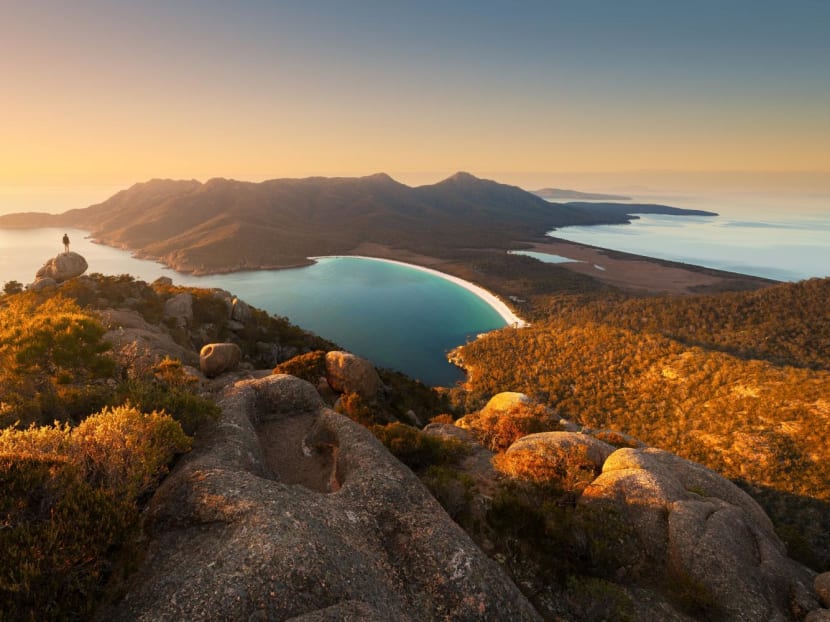 Perched on the edge of Bass Strait, 240km south of the Australian mainland, is the island of Tasmania.
Once mostly known for its crisp apples and the endemic Tasmanian devil, the island state is now a destination associated with rugged landscapes, a wealth of biodiversity and World Heritage sites that have stood the test of time. And when it comes to enticing you with its unbridled spirit and varied leisure options, Tassie – as the locals call their home state – is just getting started.
There are trails to be traversed, unspoilt grounds to picnic at and colourful coastal towns to explore. For those planning a family road trip, Tasmania's east coast promises stirring experiences and rejuvenating pit stops – just what fatigued urbanites need to refresh mind, body and spirit. So get behind the wheel and savour the sights, sounds and smells as you make your way from Hobart to Launceston, via the Great Eastern Drive.  
IN AND AROUND HOBART 
If you're a knowledge buff, it might pique your interest to know that Hobart is Australia's second-oldest capital city after Sydney. Immerse yourself in the city's storied history with a visit to the World Heritage-listed Cascades Female Factory, a former workhouse for female convicts. Get a glimpse of its haunting past as you stroll through its yards, the matron's cottage and ruins of the perimeter wall. 
Fancy tucking into luscious ice cream made using farm-fresh milk and fine local ingredients? Look no further than Constitution Dock's Van Diemens Land Creamery. With over 50 flavours to choose from, this could be the closest you get to ice cream heaven. Take a seat on the floating ice creamery or explore Hobart's harbour as you indulge in some uniquely Tasmanian flavours, including lavender and white chocolate, and peach and lemon myrtle.
Beyond Hobart, stop at the charming town of Richmond, where elegant Georgian architecture and heritage buildings make for a picturesque photo stop. Traipse along Richmond Bridge – the oldest bridge in Australia that's still in use – and admire its stone arches reflected beautifully on the river.
THE GREAT EASTERN DRIVE
One of Tasmania's best coastal journeys, the Great Eastern Drive provides unfolding vistas of turquoise waters, peaceful bays and rolling countryside. 
Plan a stop at the scenic town of Triabunna. The surrounding beaches and coastal reserves are best enjoyed on foot. When hunger strikes, indulge in fish and chips as well as freshly harvested mussels and scallops. Triabunna is the gateway to Maria Island – affectionately dubbed Tasmania's Noah's Ark, it counts as one of the best spots for wildlife observation. Watch wombats, Tasmanian pademelons and wallabies roam while picnicking on its white-sand beaches. Make time to also wander the grounds of the island's old penitentiary.    
As you continue your travels along the east coast, you'll reach one of the route's highlights – the Freycinet Peninsula. Contained within Freycinet National Park, the area is best known for its dramatic pink granite peaks, secluded bays and white-sand beaches. Spend a lazy day basking on a quiet shoreline. Alternatively, have some fun in the water swimming, snorkelling or kayaking. Embark on a Wineglass Bay Cruise for an easy and relaxing way to take in the peninsula's striking granite coastline. 
Continuing northwards, you'll reach Bicheno – a family-friendly seaside town. Gasp in wonder alongside the kids as seawater erupts from the Bicheno Blowhole like a geyser. Hop on Bicheno's Glass Bottom Boat to discover hidden marine life, or watch penguins in their natural habitat on a Bicheno Penguin Tour. For more wildlife adventures, visit East Coast Natureworld – a 150-acre sanctuary that cares for some of Tasmania's orphaned and endangered wildlife, including echidnas, wombats, Tasmanian devils and Forester kangaroos.
The Great Eastern Drive ends off near St Helens, the largest town on the east coast. Here, outdoor activities take centrestage, including game-fishing and mountain biking. St Helens boasts some of Tasmania's most scenic mountain bike trails, among them the epic Bay of Fires Trail, with its mountain-to-sea terrain. For a more contemplative activity, take a quiet coastal stroll in the nearby larapuna / Bay of Fires area, which is famed for its awe-inspiring sunrises.
JOURNEYING TO LAUNCESTON
Even as you move away from the coast and head west towards Launceston, there are no lack of noteworthy pit stops.
A half-hour drive from St Helens lies the 90m St Columba Falls. One of Tasmania's highest waterfalls, a leisurely walk to its base through a shady rainforest takes just 15 minutes. The cascades will leave you feeling invigorated with a renewed sense of calm. 
If you're seeking a dose of excitement, stop by Hollybank Wilderness Adventures for some forested fun. The sprawling adventure park has activities catering to a spectrum of thrill appetites, including zipline and Segway tours, tree ropes courses and mountain biking. 
You know you've entered Launceston when you see the city's immaculately restored Georgian and Victorian buildings. Soak in the old-world charm at your own pace by embarking on a self-guided heritage walk. Be sure to check out its thriving food and drink scene – Launceston has been designated a UNESCO City of Gastronomy.
For a slice of nature in the heart of the city, head to Cataract Gorge and hop on the world's longest single-span chairlift – an excellent way to spot wildlife while appreciating the gorge's natural splendour. Visitors can also embark on mindful walks, swim in the pool at the First Basin and take a cruise up the gorge. 
With its fascinating mix of vast open spaces, striking coastline and outdoor activity options, Tasmania provides the ideal setting for a family road trip to remember. You can go as fast, or as slow, as you want. 
It's time to turn on that out-of-office notification. Embark on an epic road trip and Discover Tasmania.