DRx Aesthetics revamps with an enhanced menu of bespoke treatments and certified solutions
A stalwart in the non-surgical aesthetic treatment space, the homegrown company aims to deliver effective skin and hair solutions.
Beauty and haircare trends come and go, so it's no small feat that local brand DRx Aesthetics has maintained its stronghold for 24 years. Established in 1999, the company pairs meticulous service with top-of-the-line equipment to create the best possible outcomes for customers. In 2020, Natureland Group acquired DRx Aesthetics, which saw the coming together of two heavyweights, resulting in a seamless blend of knowledge, skills and resources. 
Testament to its quality offerings, DRx Aesthetics was recognised in both the Medical Aesthetic Clinic and Medispa of the Year categories at the Global Health Asia Pacific Awards 2022. 
DRx Aesthetics – which comprises DRx Clinic, DRx MediSpa and DRx Trichology – is cognisant of the importance of staying relevant in a competitive market. DRx Clinic Orchard and DRx MediSpa have both undergone a revamp, with upgrades to their premises and treatment menus.
Leveraging the expertise of dermatologists and other medical experts, the group uses clinical-grade products that have been certified by the Health Sciences Authority to have met safety standards. DRx also recently launched an e-shop, providing greater accessibility for customers looking to care for their skin at home.
"We aim to differentiate ourselves by combining treatment protocols designed in-house with cutting-edge technology," said Ms Eunice Chua, general manager of DRx Aesthetics. "Providing clients with exceptional service in a luxe environment is also a priority." 
MINIMISING BLEMISHES AND FINE LINES
DRx Clinic specialises in non-invasive laser treatments that help target scarring, blemishes, spots, wrinkles and fine lines, shared Ms Chua.
"The procedures are performed by our trained doctors using FDA-approved technology," she elaborated. "Our doctors carefully evaluate each patient's unique needs and medical history to develop a personalised treatment plan."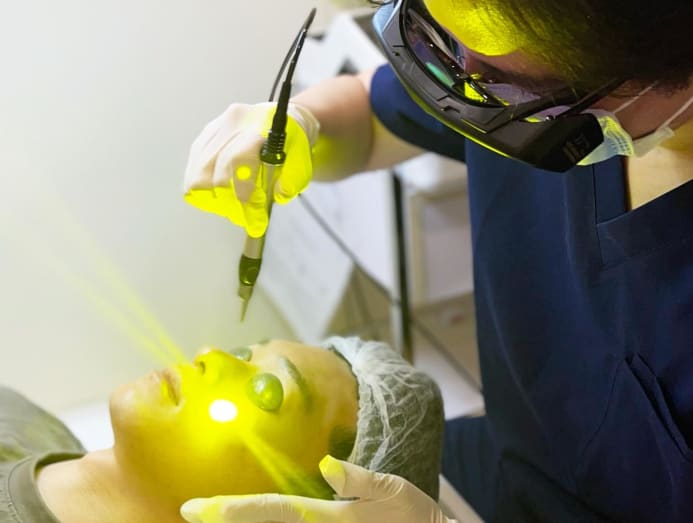 One of the clinic's more versatile solutions is the DRx XT Pro Laser, which uses four laser and toning treatments to rejuvenate the appearance of ageing, damaged and acne-prone skin. There's minimal to no downtime for this treatment, said Ms Chua. 
Achieving optimal results involves eight to 10 sessions followed by regular treatments every two to three months. Ms Chua also stressed the importance of maintaining good lifestyle habits to prolong the results of the treatment. "Wearing sunscreen every day, staying hydrated and taking care of your overall health are essential for keeping your skin looking and feeling its best," she said.
FOR DEWY, REJUVENATED SKIN
Results may take a while to show with laser treatments, so clients in need of a facial perk-me-up can turn to DRx MediSpa. The face-and-body specialist has a wide range of facials designed for customers with all skin types. 
Facials typically involve the use of nourishing, hydrating serums and masks, along with facial massages to promote circulation and reduce puffiness. Some treatments may involve the use of oxygen or radiofrequency therapy.
According to Ms Chua, the DRx Essential Re/juvenation Facial is an award-winning treatment that is especially popular among brides-to-be. It harnesses FDA-approved derma-electroporation technology to deliver a potent cocktail of skin actives deep into the hypodermis layer of the skin.
Ms Chua explained: "The proprietary Essential Skin Re/Solution contains a fermented extract that aims to alleviate ageing effects caused by city living. The facial is designed to address multiple skin concerns such as dehydration, dullness, fine lines and uneven skin tone." 
There's no one-size-fits-all template for facials at DRx Medispa – treatment steps are customised according to one's skin needs. To maintain that post-facial glow, Ms Chua advises customers to load up on beauty sleep. "Adequate sleep is essential for cellular repair and regeneration," she shared. 
FOR A HEALTHIER HEAD OF HAIR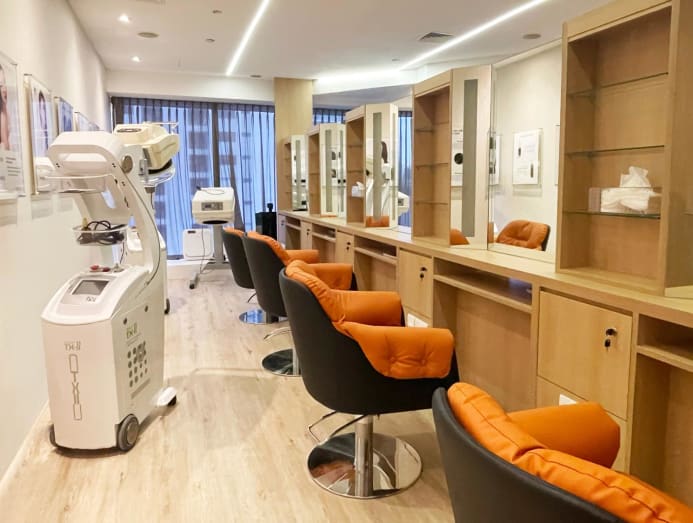 Hair loss and thinning tresses are two major hair-related problems faced by men and women, according to Ms Chua. DRx Trichology has a selection of non-invasive treatments to help remedy these issues, including DRx Hair Rescue.
The therapy aims to stimulate hair follicles to improve microcirculation and hair growth with the use of a "copper tripeptide" blend and capsaicin, she said. 
"Many clients find the process relaxing and rejuvenating. It is suitable for all hair types and can be tailored to address specific hair loss concerns."
Beyond improving hair and scalp health, treatments can offer a confidence boost, too. One customer, who had been struggling with bald patches for years, decided to give the Hair Rescue Treatment a try. After undergoing several sessions over three months, she saw an improvement in the thickness of her hair, and even noticed new baby hair growing in previously bald patches.  
On top of professional treatment, Ms Chua advises customers to eat a balanced diet for optimal hair health. "Your hair needs nutrients like protein, iron and vitamins to be strong and healthy. Be sure to include plenty of fruits, vegetables, lean protein and whole grains in your diet."
The newly renovated DRx Clinic Orchard and DRx MediSpa are now open. Book your appointment today