The essence of city living is at the root of single malt Scotch whisky Auchentoshan
Auchentoshan unfurls its latest global urban branding with a bar takeover and workshops perfect for the city slicker. Brought to you by Beam Suntory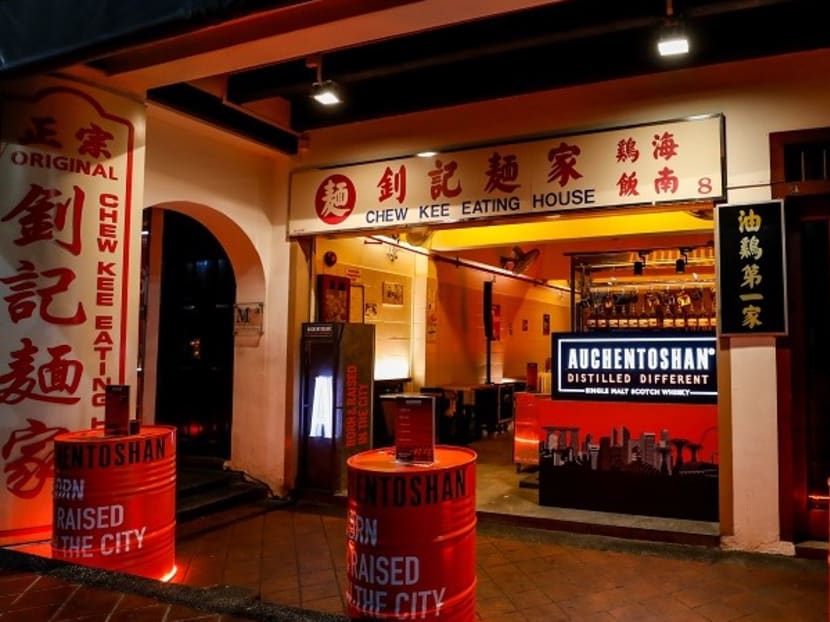 What does it mean to be a city dweller, to be born into a buzzing collection of human activity and experiences? Encased in cement, glass and bitumen, the person who walks among these elements can be said to balance grit and flair in character, and move with ease through the busiest noise.
Auchentoshan, a single malt Scotch whisky born in the heart of energetic Glasgow, conjures the spirit of being "Born and Raised in the City" with a transformative pop-up experience in the heart of Singapore's Chinatown, and urban sessions across the island at WeWork offices.
TRADITION TURNED TIPPLE
As a common meal-time destination for office folks and residents in the area, the Original Chew Kee Eating House prides itself on its famous soya sauce chicken. But this August, don't be surprised when the no-frills eatery flips theme after sundown and becomes a trendy pop-up bar serving the unconventional Scotch.
Auchentoshan will be serving five distinctive cocktails that interpret our city vibes. There's Kueh-so Nice, Otokichi Sour, Orchard Highball, Kelapa Sea, and Flowers by the Bay. With cocktails being such an integral part of urban socialising, Auchentoshan has designed this vibrant menu to upend traditional whisky stereotypes, and to showcase the versatility of this smooth single malt.
But purists need not fear; the Auchentoshan whisky flights are ready to please. The flight comprises a dram of 12 Years Old, Three Wood and 18 Years Old – all for just S$30. And should you wish to continue your delicious journey, you'll find similarly attractive prices extended to the bottles, too.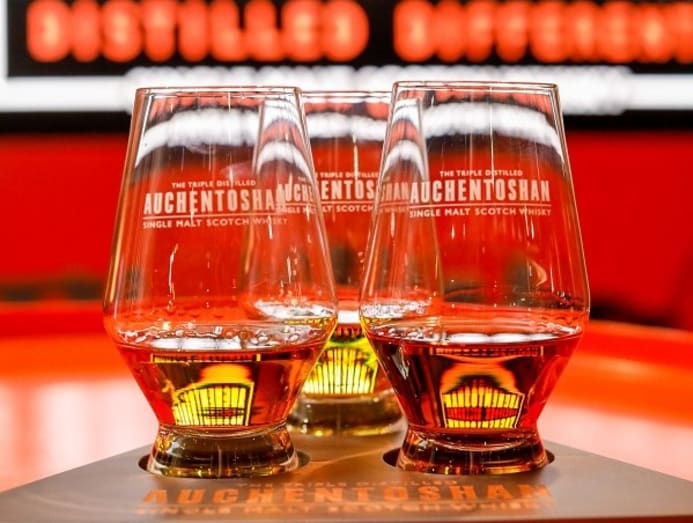 The takeover happens every Wednesday to Saturday, from 7pm to midnight, and will last till the end of August. Come by every Friday and Saturday for some extra cheer with a live band.
ESSENTIAL SKILLS FOR THE URBAN DWELLER
Navigating through the concrete jungle requires mad soft skills. With its urban roots, Auchentoshan knows it takes a particularly savvy individual to thrive in the community.
In tandem with trendy co-sharing workspace WeWork, Auchentoshan will be looking to equip those seeking to accelerate their skills at Urban Sessions. The series of eight workshops will fire up engagement, starting with Striking Meaningful Conversations with Strangers, at WeWork's newest outlet at Funan.
As a distillery uniquely located in Glasgow city, the urban malt maker is tapped into developing civic behaviours. Choosing WeWork is a deliberate nod to the rising sharing economy and echoes Auchentoshan's own progressive, vibrant DNA.
The interactive sessions, which include other topics such as urban gardening and public speaking, will enrich the community element so vital to a healthy lifestyle, and end with a networking session featuring delicious Auchentoshan cocktails, of course. Sign up for these workshops here.
BORN AND RAISED IN THE CITY
Auchentoshan's global campaign is a herald to the dynamic vision of the Scotch. Founded in 1823 on the outskirts of Glasgow, the triple-distilled whisky offers an exceptionally smooth drinking experience, with a delicate taste that masters balance.
The unique flavour means Auchentoshan has the distinction of being one of the few single malt Scotch whiskies that make for outstanding cocktails, yet commanding enough character for aficionados. The company hopes to launch inclusive gatherings and encourage sharing among friends, and welcome a new generation of whisky lovers with its new campaign.
So pop by 8 Upper Cross Street for the bar takeover to compare notes with rookie and seasoned drinkers, or meet up with other lively folks at the Urban Sessions and finish a toast with new friends. It's your call to join the urbanite lifestyle in the most delicious way possible.
For those who can't partake in these events, Auchentoshan will continue to make the special cocktails and flights available at bars around the city in conjunction with the "Born & Raised in the City" campaign.