Find your brilliance in bespoke: Discover custom diamond rings that reflect every facet of your love story
With its new LVC Diamond Concierge service, Love & Co invites every couple to express their love journey through personalised engagement rings. Brought to you by Love & Co.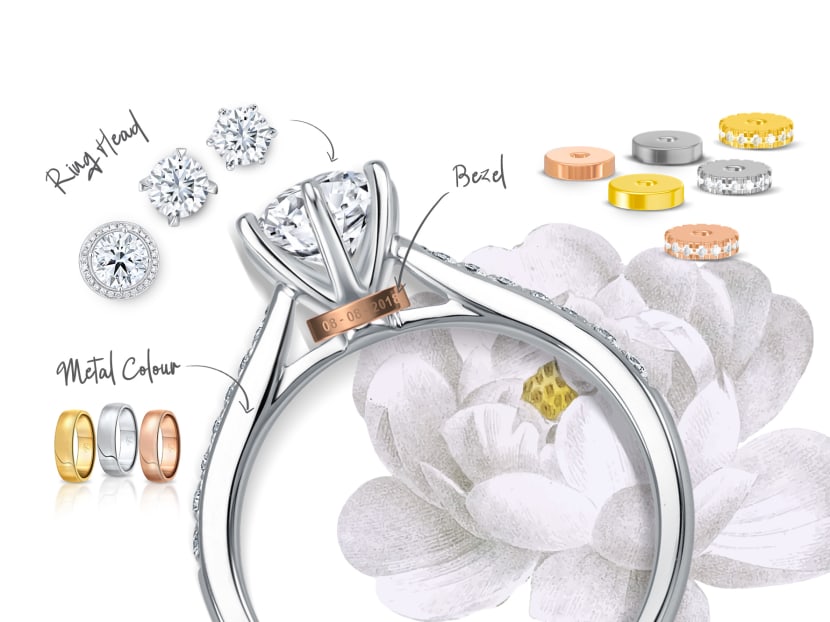 The diamond wedding ring has been emblematic for everlasting love all around the world. Its light inspires – a lucent reminder – while its strength is an aspiration to the special relationship forged between the partners. It is tradition, yes – but more so than that, it represents the couple's emotional journey visually, in all its brilliance.
Bestowing a whole new dimension to this storytelling is Love & Co's LVC Diamond Concierge service – a bespoke experience that guides you through an exclusive customisation to express your love journey.
YOUR RING, YOUR STORY
With LVC Diamond Concierge, you and your partner can choose from precious materials and meaningful details to reflect your unique bond at all Love & Co stores.
If the ring is the language of love, then having over 30,000 design combinations should prove abundant as vocabulary. Your commitment can now be fully explored through meticulous decisions to conjure a ring that will convey your one-of-a-kind tale of love.
"At Love & Co, we believe that a ring speaks a thousand words," shared Ms Angelina Lau, general manager of SK Jewellery Group, International Operations. "We value the celebration of love and the LVC Diamond Concierge offers more choices for personalisation for our younger consumers in need of meaningful and unique personal experiences."
At Love & Co's flagship store at Jewel Changi Airport, your appointment will take place in a plush and intimate setting, where jewellery specialists will guide you and your partner through the entire process of not just selecting, but co-creating your unique band.
SEEING IS BELIEVING
Shaping your ring is one thing. Having to visualise it from drawings is another.
Love & Co understands the need for couples to be assured of their investment, and so has introduced a bespoke service that will ensure every design decision made is the perfect one. An elaborate and extensive system has been created for couples to not only pick out their preferred option, but allows them to assemble every component physically, so as to have a fully-realised creation on the spot. What you see, glittering in front of you, is what you'll get.
With this tailor-made experience, the jeweller is going beyond the standard 4Cs of Colour, Clarity, Cut, and Carat. It respects the need for Confidence, and introduces Customisation and Choice to make 7Cs, re-establishing the boundaries of luxury. The Diamond Concierge service serves to align the couple's expectations as they select their sparkling statement piece, and creates yet another special chapter before the main event.
PICK YOUR DIAMOND
There's the lustrous mined from Mother Nature and the stunningly pure shaped by science and technology – which one will you pick? No matter your choice, a diamond is a diamond at Love & Co, and will form the crowning glory to your ring. 
On top of the prestigious Lovemarque, the jeweller is proud to be the first chain retailer to offer the breakthrough Star Carat Collection – a sustainable diamond made from a carbon seed, and honed to immaculate standards through cutting-edge science.
Culminating over 30 years of industry knowledge, Star Carat diamonds may be borne from a lab, but are optically, chemically and physically identical to their natural counterparts. What it accords is exceptional radiance forged from alchemical purity, a diamond that undergoes the same stages of polishing and cut, yet gives a larger carat for your investment.
Love & Co's diamond selection from either collection not only undergoes a stringent process of grading, but is handpicked for its remarkable quality. All Star Carat Diamonds are certified by the International Gemological Institute, headquartered in Belgium, guaranteeing your valued purchase, which can begin at S$2,999 per 1-carat diamond.
EVERY STEP YOU TAKE
Creating your perfect ring comes with a myriad of options, and Love & Co has streamlined the process into an eight-step journey. The LVC Diamond Concierge service will take you from a preliminary introduction to picking out ring and prong materials like an expert.
It is through this journey you will discover the exacting process of what makes an engagement ring special, and be involved in the pivotal role of imbuing your style and story through the design choices you make. Explore minute details like prong positions and ring head type that will best showcase your diamond. Or experiment with the bezel, which can be adorned with diamonds or engraved with a significant date of choice upon the edge.
Love & Co's bespoke service will ensure every design decision made is the perfect one. Video: Love & Co