The first step to getting lustrous healthy tresses this festive season? Try exfoliating your scalp
PHS HAIRSCIENCE's signature bestseller, the ADV Elixir, uses patented stem cell ingredients and pure botanicals to target scalp issues and support healthy hair growth. Brought to you by PHS HAIRSCIENCE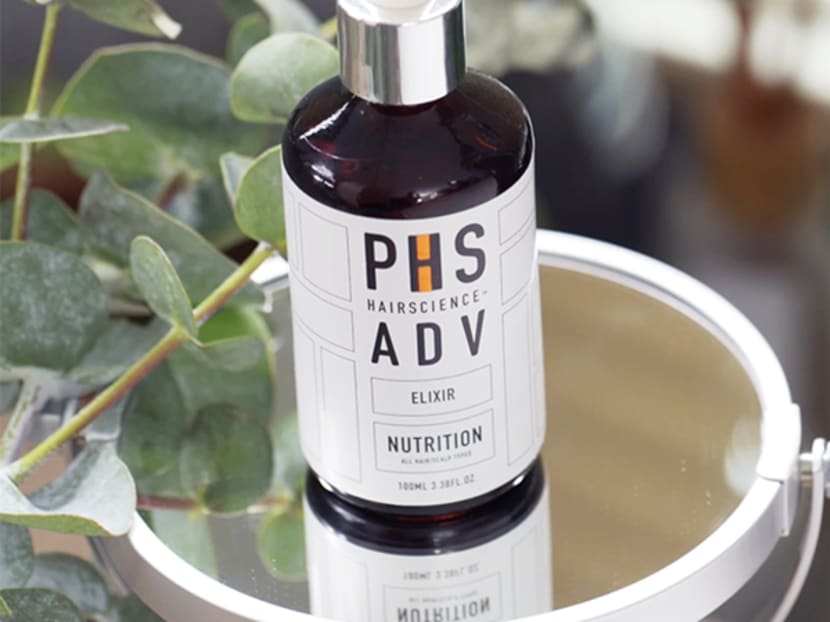 You've booked your last-minute facial and purchased all the daily sheet masks you need for an intensive pre-festive skin boost. You've chosen your party look and gotten your hands on all the shimmer you need for a party glow.  
Have you done anything for your hair? Whatever fabulous hairstyle you choose to rock this festive season, there is one thing you need to achieve that stunning 'do – a healthy scalp.
Unfortunately, an accumulation of dirt, sweat and hair products on your scalp can get in the way of healthy tresses and a great hairstyle. Natural skin cell renewal may also cause dead skin cells to build up on the scalp, leading to clogged pores.
When pores on the scalp are clogged, vital nutrients cannot be absorbed effectively. This may impair the way the scalp functions and disrupt the hair growth cycle, said the experts at PHS HAIRSCIENCE, a scalp and hair care brand that uses research-based solutions in its products and treatments.
The result? You may experience scalp disorders (think dry, flaky dandruff and a persistently itchy scalp), lacklustre hair and even potential hair loss.
WHY EXFOLIATE?
The first step to getting healthy scalp and healthy hair is to give your scalp some tender, loving care by exfoliating it regularly.
Just as you would exfoliate your face and body, say weekly, to get rid of dead skin cells, it is just as important to do the same for your scalp.
How frequently you need to exfoliate may depend on the condition of your scalp, how much hair styling product you use and the type of products you use. For most individuals, the experts at PHS HAIRSCIENCE recommend exfoliating the scalp at least once a week, similar to a weekly exfoliation for the face.
A GENTLE, NATURAL FORMULA
Even if you have no time for a professional scalp treatment, fret not. Help is on the way in the form of PHS HAIRSCIENCE's bestselling product – the ADV Elixir, a weekly home treatment that aims to boost scalp health and set the foundation for shiny, beautiful hair.
The scalp exfoliant uses patented stem cell ingredients and botanicals to target scalp conditions in order to support healthy hair growth. Formulated by certified trichologists, the ADV Elixir contains a 70-per-cent concentration of active ingredients such as rice stem cells, green tea extract and ginseng root extract. It does not contain parabens, benzophenone, mineral oil and artificial colourants that may worsen scalp and hair issues.
With its anti-bacterial and anti-inflammatory properties, the ADV Elixir aims to give the scalp a good cleansing by sloughing off dead skin cells, excess oils and dirt.
According to the PHS HAIRSCIENCE experts, you can pair the serum with a head massage to help stimulate scalp circulation. Restoring balance in scalp health can help support healthy hair growth. A cleansed scalp may also be able to better absorb nutrients from subsequent scalp care products and treatments.
To get your scalp and tresses in tip-top condition this festive season, PHS HAIRSCIENCE recommends you use the ADV Elixir once a week before shampooing. Apply a few drops of the product evenly onto your scalp and massage gently using your fingers in circular motions. Leave it on for 10 minutes before shampooing as usual.
Start using ADV Elixir now to get the healthy scalp and hair you've always desired, just in time for Christmas. Visit phshairscience.com or facebook.com/PHSHAIRSCIENCE/ for information and updates.