A force for good, one coffee at a time
Nespresso's sustainability initiatives and the latest Vertuo Next – the brand's most sustainable machine yet – augment over a decade's work supporting global ecosystems and minimising carbon footprint.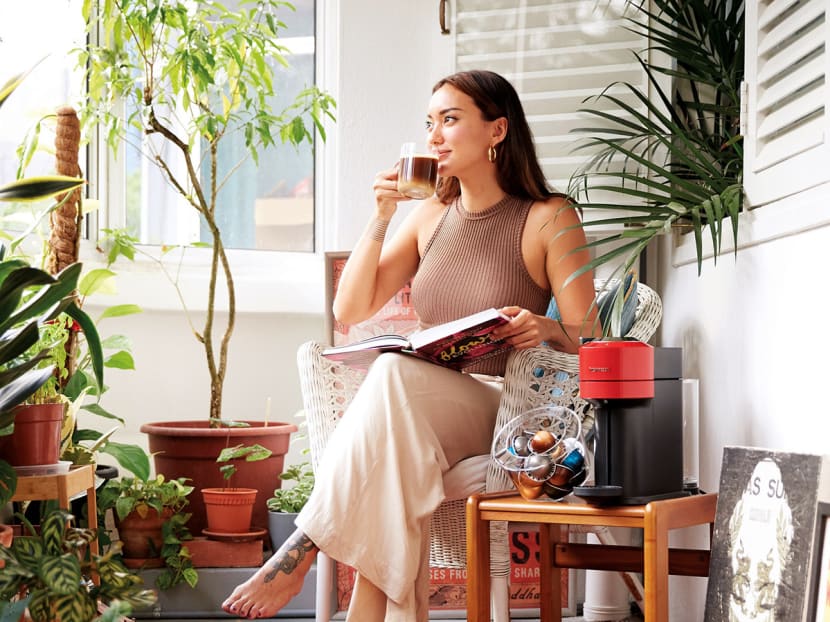 People drink coffee for a number of reasons. According to online health information provider Healthline, the caffeine content in coffee could improve energy levels, mood and various aspects of brain function. It's also a social drink around which routines and interactions are built. Last but certainly not least, people simply love the taste of a good cuppa.  
As the world turned inward, many are now finding joy in home coffee rituals rather than daily coffee runs. 
With this comes a rising interest in the finer aspects of coffee, particularly when it comes to the origins of each cup. In fact, this extends beyond flavour and quality. Eco-conscious consumers are now seeking to better understand the journey behind each cup and how coffee beans are sourced.
Can small daily habits like drinking coffee make a difference? For brands like Nespresso, the answer is a resounding yes – which makes investing in bringing sustainable coffee to the masses the next step forward.
BUILT ON BETTERMENT
The Nespresso story started with a game-changing premise: Make brewing barista-style coffee accessible to everyone. 
Since 1986, the brand has continued to innovate alongside the evolvement of its original vision. Not one to rest on its laurels, Nespresso has expanded its mission to focus on issues pertaining to ethics, including farmer welfare, as well as sustainability.
"Climate change is a reality and our future depends on going further and faster on our sustainability commitments. I truly believe that both our business and the coffee industry can be a force for good in the world by tackling this pressing issue," said Mr Guillaume Le Cunff, chief executive officer of Nespresso.
In 2020, the coffee titan further solidified its commitment to sustainability with the announcement that every cup of Nespresso coffee – from both its home and professional range – will be carbon-neutral by 2022. 
THE ART OF REDUCING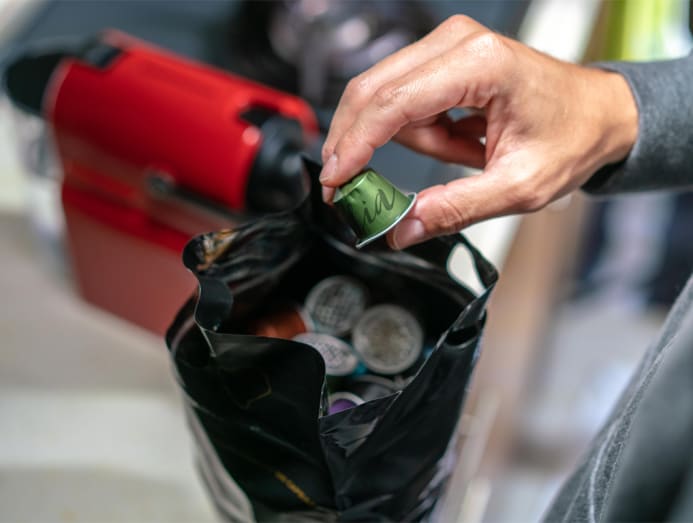 Nespresso has made great strides over the last 10 years to ensure that producing high-quality coffee comes at minimal cost to the environment. 
The use of recyclable capsules and the precision-consumption system in its machines work in tandem to minimise the waste you can see, and the resources you can't. 
As brewing each cup of Nespresso coffee uses a precise amount of ground coffee, water and energy, resources are optimised and waste is reduced – resulting in a consistently low carbon footprint.
REUSING AND ITS BENEFITS
Did you know Nespresso chooses aluminium for its capsules because it's the best material to preserve the quality, taste and freshness of coffee? The material is also infinitely recyclable and can be reused to create many other second-life items such as pens, coasters and even bicycles. 
Last year, the brand changed the composition of its capsules as part of its journey towards circularity. Its goal is to have the full Nespresso range of coffee capsules made using 80 per cent recycled aluminium by the end of 2021. 
In order to maximise the reusability of product materials and minimise waste, all used capsules collected by Nespresso are given a second lease on life, creating infinite possibilities for future use. 
Nespresso lovers also stand a chance to be rewarded with these second-life items when their used capsules are recycled, including limited-edition coasters that are made of 45 recycled capsules – perfect to use with your daily cup of coffee.
NESPRESSO'S RECYCLING PROGRAMME
The brand encourages the recycling of its used capsules through its One Pod At A Time initiative – a local recycling programme that makes it convenient for Nespresso lovers to recycle, and gives used coffee pods a second life.
Simply fill any recycling bag at home with used Nespresso capsules that you can easily drop off at the nearest Nespresso boutique, or pass to the delivery person at the next coffee delivery.
Used coffee grounds are transformed into compost at local partner farms like Sky Greens, the world's first low-carbon, hydraulic vertical farm, and used in the soil to give life to organic vegetables like cai xin. 
Nespresso also works closely with local businesses to collect their used capsules through recycling bins placed at major hotels, restaurants and offices. Sofitel Singapore Sentosa Resort & Spa, Labyrinth and Julius Baer are some examples of the brand's corporate partners. 
A SUSTAINABLE ADDITION TO A HOME CAFE 
Get up-close-and-personal with Ms Hoefer's home cafe.
Looking to level up your eco-choices at home? Take a leaf from international host and model Hanli Hoefer, whose home reflects her strong belief in doing her bit for the environment. 
"I try to live as sustainably as possible with a zero waste mindset," she shared. 
The Vertuo Next checks all the boxes Ms Hoefer is looking for in a coffee machine; it serves a wide variety of blends from the comfort of home. The appliance is also made from more than 50 per cent recycled plastics, with recyclable packaging made out of 95 per cent recycled material.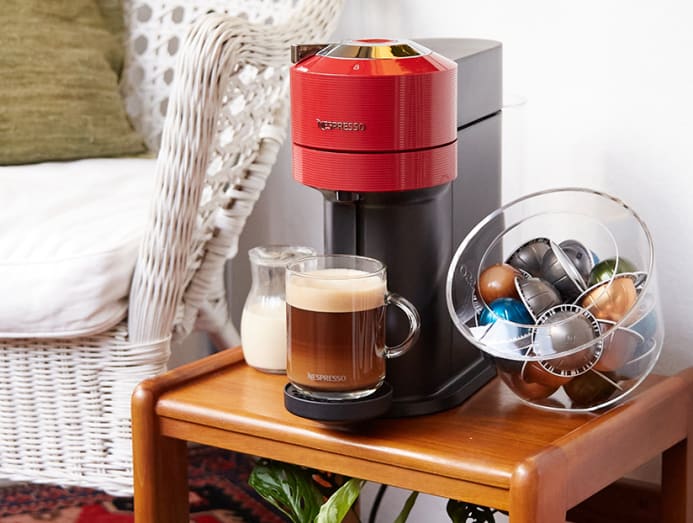 Additionally, the machine consumes less energy, thereby generating a smaller carbon footprint. It comes with a two-minute auto shut-off and a short 30-second heat-up time. 
The intuitive coffee machine reads the unique barcode on each capsule to automatically optimise the brewing parameters, including volume of water and temperature every time – placing Ms Hoefer's favourite java style just one touch away.
What's most heartening to Ms Hoefer is that great coffee doesn't have to come at great cost to mother nature. A little less plastic, a little less power consumed and a little more recycling go a long way. 
Starting a new home or looking to make barista-style coffee a part of your daily morning routine? Explore an eco-friendly coffee machine in the new Nespresso Vertuo Next.