Fulfil that tall laundry order with the LG WashTower
It's stacked, smart, and serves all your modern-day washing and drying needs.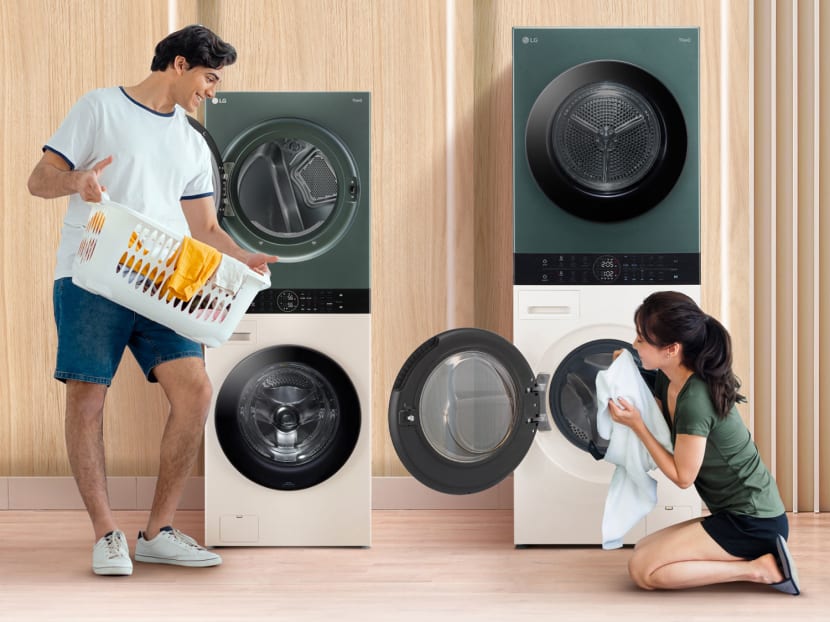 The home of today is a vastly different creature from the one two decades ago. Between choosing interior design styles like Japandi or mid-century modern, one has to consider smart fittings that meet your needs and ease today's hectic routines.
Technology has introduced smart bulbs and voice assistants, but where it shines most is when it helps with chores. Laundry can be one of the more tedious tasks, no thanks to the mind-numbing sorting required and the complicated wash cycle assessments that different fabrics call for. And when all's freshly washed, there's the drying part of the laundry equation to contend with, a job that's made even more challenging with Singapore's mercurial weather.
LG Electronics' latest offering – the LG WashTower – aims to make laundry simpler and faster. The combined washer and dryer unit is not just an aesthetic addition that will complement most home designs, it also incorporates a host of intelligent features to save you time and energy.
A STREAMLINED TOWER
The best design decisions are sometimes small but impactful. The LG WashTower relooks the laundry process by integrating traditional stacked machines to reduce footprint and dimensions while optimising its internal structure to maintain a generous capacity.
The 27-inch model is able to complete 21kg of washing and 16kg of drying in a single round, while the 24-inch model comes in at a respectable 14kg of washing and 10kg of drying. For a household with a weekly load of bed linen, bath towels and clothes, this can be an incredible timesaver.
Compared to the traditional stacking method, combining the washer and dryer in one body reduces its height by some 80mm on average, allowing the unit to fit easily in modest spaces – an important consideration in the context of today's limited BTO flat space. Not only does the service yard look more spacious, those shorter in stature can ditch the step tool when accessing or transferring loads. The control panel, located between the washer and dryer for easy access, lets you adjust your preferred settings in a few touches.  
Beyond its practical and cosmetic virtues, the integrated design sports another bonus. The dryer can be preheated to minimise laundry time, and the in-built smart pairing technology helps to determine the dryer load after the wash cycle is completed.
THE SMART LAUNDRY ASSISTANT
One of the most precarious steps when it comes to washing is choosing the right laundry cycle. Rather than fuss if a garment belongs in the regular or delicate category, AI Direct Drive technology from the WashTower taps into 20,000 big data points to recognise the weight and softness of the fabric, then automatically applies the optimal washing pattern for your load. According to LG, this reduces the risk of damage and provides up to 18 per cent more fabric protection for greater peace of mind.
Protecting your laundry doesn't mean cleanliness is sacrificed. With TurboWash, one can get a thorough clean in just 39 minutes, thanks to four strategic nozzles that power the cycle as well as Steam technology that eliminates up to 99.9 per cent of allergens and dust mites. LG adds that you can expect clothes with 30 per cent reduced wrinkles, and we all know that reducing time on that ironing board can only be a good thing.
The LG ThinQ app streamlines your household chores further. On top of granting its users remote control to start and stop washes, it lets one check the status of the WashTower, download new cycles and monitor energy usage.
ENJOY YOUR FAVOURITE PIECES, ALWAYS
Our tropical weather can be temperamental, and a prolonged wet spell can mean laundry routines that quickly spiral out of control.
Fortunately, the LG WashTower guarantees a steady laundry schedule rain or shine. Imagine having your favourite pieces ready to go in an hour. Built-in moisture and temperature sensors precisely detect moisture levels to set optimal drying time, while the Heatpump Dryer introduces fabric protection with its gentle warmth.
An Auto Cleaning Condenser ensures the dryer runs optimally, by running water sprays during cycles to eliminate micro dust particle blockage that can hamper efficiency. This also translates to hassle-free maintenance.
For those who are looking to reduce utility bills and water consumption, the WashTower comes with a water efficiency rating of four ticks, which means it uses 6L of water or less per kilogram load.
By cutting out guesswork and approaching efficiency through smart integration, the LG WashTower saves homeowners not just effort, but time and cost as well.
The LG WashTower is available in two sizes – 27 inches and 24 inches – at authorised retailers, including Audio House, Best Denki, COURTS, Gain City, Harvey Norman, Mega Discount and Parisilk, as well as online at LG Flagship store on Lazada and Shopee.
Detailed disclaimers apply.