Give your skin a restorative boost while you sleep
With YSL Beauty's Pure Shots Night Reboot Serum, you could look forward to waking in the morning with smoother and more radiant skin.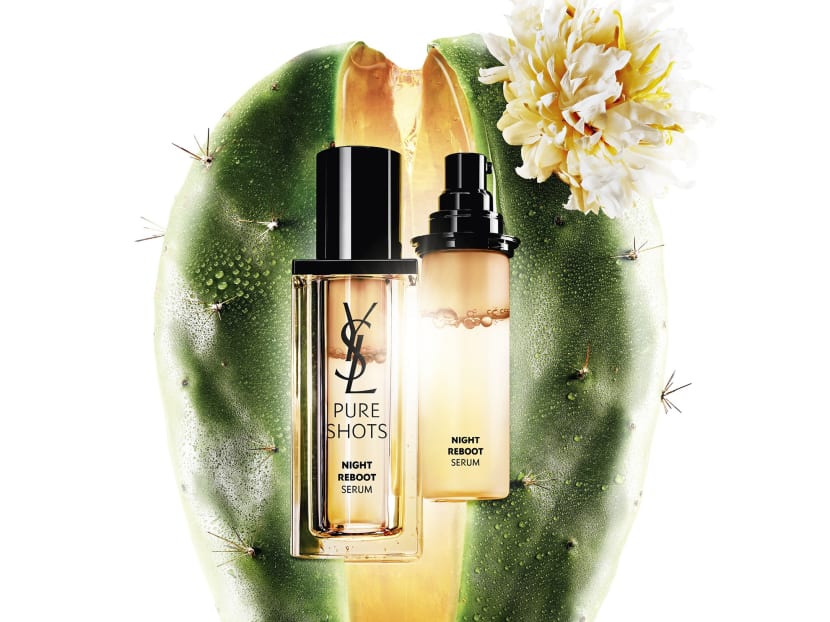 To keep your skin looking as good as it should, it all comes down to allowing it to regenerate – which it does every 28 days or so. But a fast-paced lifestyle, coupled with insufficient (or bad) sleep, can upset this natural scheme of things.
 
For starters, stress prolongs the 28-day renewal cycle, causing our epidermal (surface layer) cells to accumulate instead of being replaced by new ones that contribute to glowing skin. What happens next: A deregulated body clock depletes essential elements like Vitamins C, E and B, peptides and hyaluronic acid that are components for healthy skin. Additionally, as ageing sets in, the skin loses its ability to rebalance the concentration gradients of these vital building blocks. 
But all this isn't just about skin on its own; it's also about your lifestyle in general. YSL Beauty's Scientific Advisory Board – made up of dermatologists, urban lifestyle experts and botanists – found that a busy life overworks and unbalances skin, after analysing over 150 scientific publications and studying more than 5,000 women in their everyday environments.
The team posited that ageing can be accelerated by 30 per cent when life gets the better of us. What this translates to on the visages of everyday women: Tired-looking, dull skin with visible pores and dark spots, and "an overall impression of fatigue", said dermatologist Dr Thierry Michaud.
THE SECRET GARDEN
Based on this discovery, YSL Beauty developed a new approach to skincare, combining the best of science and nature, with the Pure Shots range that is formulated with potent botanicals from the YSL Beauty Ourika Community Gardens. Dedicated to experimental research and the sustainable cultivation of the finest ingredients, this unique space allows the brand to work closely with its partners in formulating its premium skincare range, from planting through to harvesting and extraction. Located in the arid, mountainous Ourika Valley in Morocco, the YSL Beauty Ourika Community Gardens uses a traditional gravity-fed irrigation system to grow the ingredients used in the Pure Shots range.
The line includes products such as the Pure Shots Night Reboot Serum that rejuvenates skin and lends it a young and fresh appearance. Women looking for moisturised, smooth and plumped up skin could give the Pure Shots Lines Away Serum a try. The Pure Shots Light Up Serum harnesses colour-correcting micro-pearls to brighten skin tone, while the Pure Shots Y Shape Serum strengthens skin and redefines face contours with firming peptides.
FOR WELL-RESTED SKIN THAT GLOWS
The moonlight cactus, a species native to Central America, is said to bloom during the night for only six hours once every year. It is during this rare occasion that the plant releases a potent sugar, which is carefully harvested through an exclusive cold and slow extraction process. This sugar is said to support skin health by regenerating skin cells and protecting them from oxidative stress*.
Powered by the moonlight cactus extract, Pure Shots Night Reboot Serum repairs skin from damage caused by external aggressors. Moonlight cactus was chosen by YSL Beauty to help combat the stressors of modern-day living as it works in a way similar to melatonin – a molecule found in our bodies that regulates skin's metabolism and regeneration. An optimal dose of 3.4 per cent glycolic acid is also used in the Pure Shots Night Reboot Serum to exfoliate skin, renew and smooth the complexion. 
According to a consumer study on 68 Asian female panellists over 28 days, participants reported healthier, less tired and more radiant-looking skin after the first night of use. After 28 days, 100 per cent of the ladies indicated an improvement in skin quality. 
Pure Shots Night Reboot Serum has a unique bi-phase exfoliator-in-oil formula, a breakthrough combination that is readily absorbed by skin. And for those who prize clean formulas, the Pure Shots range of products is free from parabens, mineral oil and other harmful components. 
Try Pure Shots Night Reboot Serum for yourself by registering for a seven-day sampling kit today. 
*Based on in-vitro tests on epidermal cells conducted by YSL Beauty.