Home for the holidays – the art of a safe staycation while having endless hours of fun
Approved hotels for staycation bookings, such as The Fullerton Hotel Singapore, are affording peace of mind for guests and staff alike. Brought to you by the Ministry of Trade and Industry.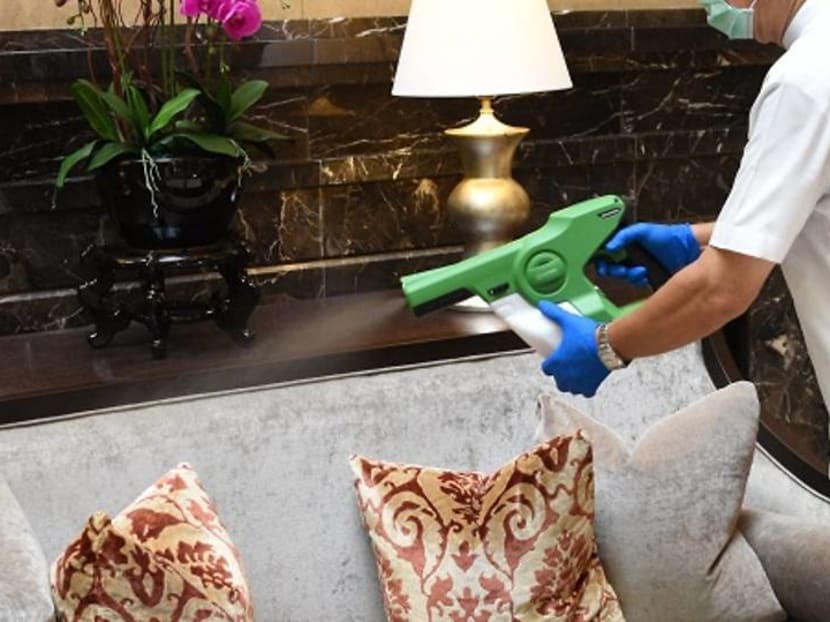 With border shutdowns still the norm worldwide, the trend of embarking on a local getaway is on the uptick in many countries.
Singaporeans are among the most well-travelled in the region. With the Singapore Tourism Board recently launching a S$45 million domestic tourism marketing campaign, bookings are expected to increase as vacation-deprived locals seek out away-from-home escapades to jazz up their weekends.
Learn more about what hotels like The Fullerton Hotel Singapore are doing to keep guests safe. 
However, for some, coming out of their homes is easier said than done – especially in times where safety is of utmost concern. In a bid to allay fears, industry players such as The Fullerton Hotel Singapore have sought to establish a high standard in hygiene and cleanliness in line with government advisory.
Bearing the SG Clean quality mark, The Fullerton Hotel Singapore has made safeguarding the well-being of guests and staff its topmost priority.
REDESIGNING THE DINING EXPERIENCE
To ensure the safety of guests and diners, a slew of precautionary initiatives has been implemented in all its restaurants.
Buffet lines have been replaced with individually plated meals that are served to guests at their tables. Floor plans have also been redesigned to ensure a maximum of five diners per table, with more than a metre's distance between each table.
Further protective measures include providing guests with an envelope to store their masks, individually wrapped antibacterial wet wipes for hand sanitisation, and the option of either single-use menus or access to a digital menu via QR code. Contactless payment methods are available to ensure minimal physical contact.
Guests who prefer to opt for in-room dining can do so in a safe way through an interactive Tapendium digital concierge service that is available in all guestrooms. This allows guests to browse services easily and make paperless and contactless in-room requests through their guestroom tablet. 
Mr Michael Lee, assistant director of food and beverage at The Fullerton Hotel Singapore, shared that the hotel's guests and visitors have been highly receptive to the refreshed dining experience.
"Guests understand the need for these additional safeguards and feel assured, knowing that they are in safe hands when they choose to stay or dine with us," Mr Lee added.
In addition to the above measures, restaurant staff have undergone stringent and rigorous training to take on the responsibility of maintaining a high level of cleanliness. All service staff don gloves and wash their hands every 30 minutes, exemplifying their dedication to keeping guests and diners safe.
STAYING CLEAN, SAFE AND INSPIRED AT FULLERTON
From the point of arrival to check-in, guests and visitors arriving at The Fullerton Hotel Singapore will experience an elevated level of protection.
A series of safeguards that range from minimising physical contact between guests and front office team members to having all guest-facing team members don protective equipment have been in place since the hotel re-opened its doors. Touch-free hand sanitiser dispensers and air purifiers are also readily available in public spaces.  
To maintain the highest standard of sanitisation possible, the hotel harnesses advanced cleaning technology such as handheld disinfectant spray machines that utilise electrostatic spraying and high-grade disinfectants, as well as hospital-grade cleaning agents to sanitise guestrooms, public areas and facilities.
Cavaliere Giovanni Viterale, general manager at The Fullerton Hotel and Resorts, believes that these precautions are particularly important to afford guests a sense of normalcy and security amid unprecedented times.
"What we hope to achieve is that when people come through our doors, they feel that everything is normal again. It's all about the ambience and the ways in which we take care of guests, as service is at the core of our DNA," shared Mr Viterale.
Staff carry out hourly disinfection of high-touch areas at all facilities and restaurants, including lift buttons, doorknobs, tables, chairs and bartops. Deep cleaning within the hotel, restaurant outlets and in kitchens is conducted daily.
Enhanced safety and sanitation precautions in guestrooms have also been implemented. These include deep cleaning procedures and the availability of masks, hand sanitisers and antibacterial wet wipes as part of the mini bar offering.
GUIDING GUESTS ON BEST PRACTICES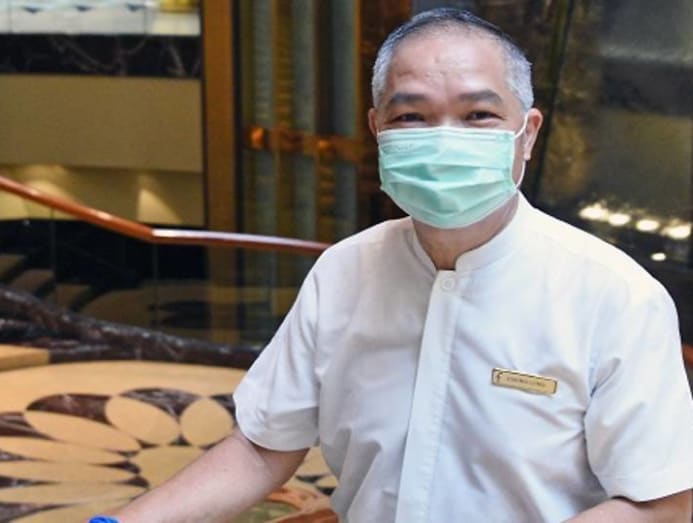 Besides the ability to meet density requirements and implementing rigorous cleaning and disinfecting regimes, hotels that have been approved for staycation bookings must be able to reduce face-to-face mingling among guests, between employees and between staff and guests, while demonstrating the ability to disperse crowds and prevent bunching.
With this in mind, The Fullerton Hotel Singapore has made it simple for guests to remember and abide by safe management measures.
Throughout the hotel and dining facilities, safety precautions and safe distancing videos, posters and stickers are displayed prominently. Additionally, the maximum capacity of each lift is limited to accommodate four individuals at any given time. The Fullerton Hotel Singapore has also implemented SafeEntry and encourages the use of Trace Together to support contact tracing efforts.
All staff have been trained to be safe management ambassadors and will encourage and guide guests to adhere to the safety measures.
Guests who book a stay at the hotel will receive a comprehensive form to indicate preferences before their check-in date. They will be able to choose from a range of options including preferred check-in and check-out as well as gym and pool access times – all to ensure that everyone maintains safe distancing at different areas of the hotel.
All around the country, members of the hospitality industry have been putting their best foot forward and pulling out all the stops for Singaporeans to resume social activities safely. With these measures in place, we can look forward to being a tourist in our own country and enjoying a staycation with peace of mind.
Find out more about safe management measures at hotels in Singapore.