Kuan Zhai Alley: The 'hot' new restaurant you have to try
Savour rich and bold flavours at this authentic Sichuan restaurant located in the heart of the bustling central business district.
Sichuan food is having a moment. From tongue-tingling mala hotpot to tangy cu liu ji (vinegar chicken) and umami-laden dandan mian (thin wheat noodles in a spicy meat sauce), it seems that Singaporeans can't get enough of the cuisine's delightfully complex flavours.
Satisfy those cravings at Kuan Zhai Alley, a new contemporary Sichuan restaurant located at Capital Square on Church Street. Named after the historic district in Chengdu, it serves up noteworthy Sichuan fare with a dash of flair. 
A SYMPHONY OF FLAVOURS
Authenticity is the name of the game here. The restaurant's chefs, most of whom hail from Sichuan province, harness traditional cooking methods to whip up a wide array of dishes. 
Said head chef Wei Huiping, who was born in the city of Guang'an in eastern Sichuan and has been cooking since he was 15: "Most of our ingredients, including chillies and spices, are sourced from China to ensure that our customers can enjoy exquisite, authentic Sichuan cuisine."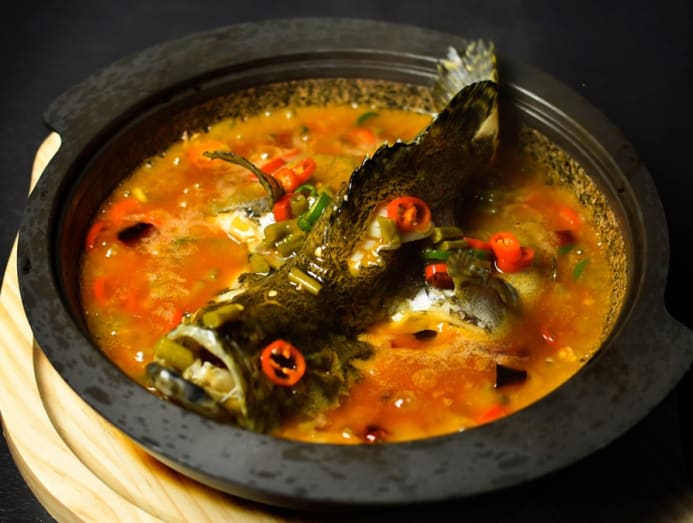 A must-try at Kuan Zhai Alley is the Braised Fish with Sour Cowpea, which features a large soon hock (marble goby) immersed in a spicy broth. The dish owes its delectably tangy flavour to the liberal use of pickled cowpeas, a type of long bean that is a mainstay of Sichuan cuisine.
Other standout items on the extensive menu include the Charcoal-Smoked Beef Ribs, which comes with a piquant spice rub on the side; the Golden Chicken Tofu Pudding, served in a broth painstakingly boiled for 18 hours; the aromatic Greasyback Shrimps with Peppers; and the Spicy Boneless Duck Webs that are blanched and marinated in a top-secret seasoning blend.
Unafraid to experiment with flavours, Chef Wei and his team have put a distinctly modern spin on some dishes. "While we offer traditional dishes such as Mapo Tofu, we also combine Sichuan flavours with other ingredients," he said. 
An example is the Golden Shrimp Balls – plump prawns glazed with citrus mayonnaise, topped with shredded potato floss and served on a tiered wooden stand. Then there is the highly imaginative Paintbrush Pastry, which looks just like the real thing. You can even dip the tips of the paintbrush – made of a nutty, flaky confection – into the accompanying pot of chocolate "ink".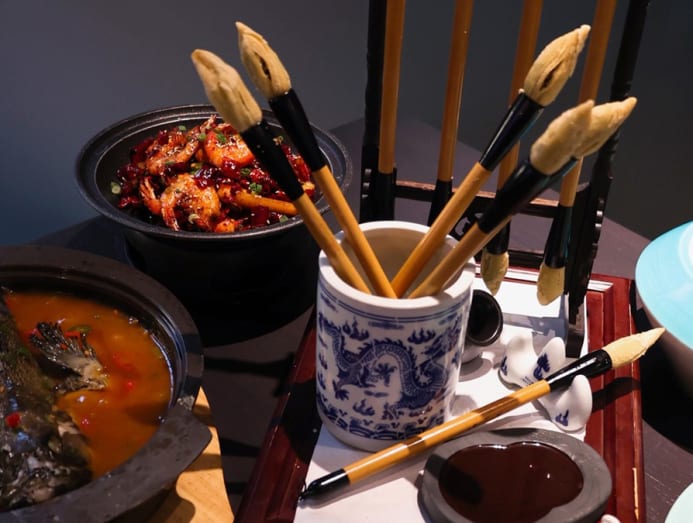 Kuan Zhai Alley's dishes are best enjoyed with the restaurant's signature cocktails. Try the KZA In-Fashioned, a heady combination of whiskey, Chinese black tea and smoked angostura bitters, or the Moutai High that blends distilled Chinese liquor, St-Germain elderflower liqueur and pineapple juice. A wide selection of beers, wines and spirits is also available. 
A MULTISENSORY DINING EXPERIENCE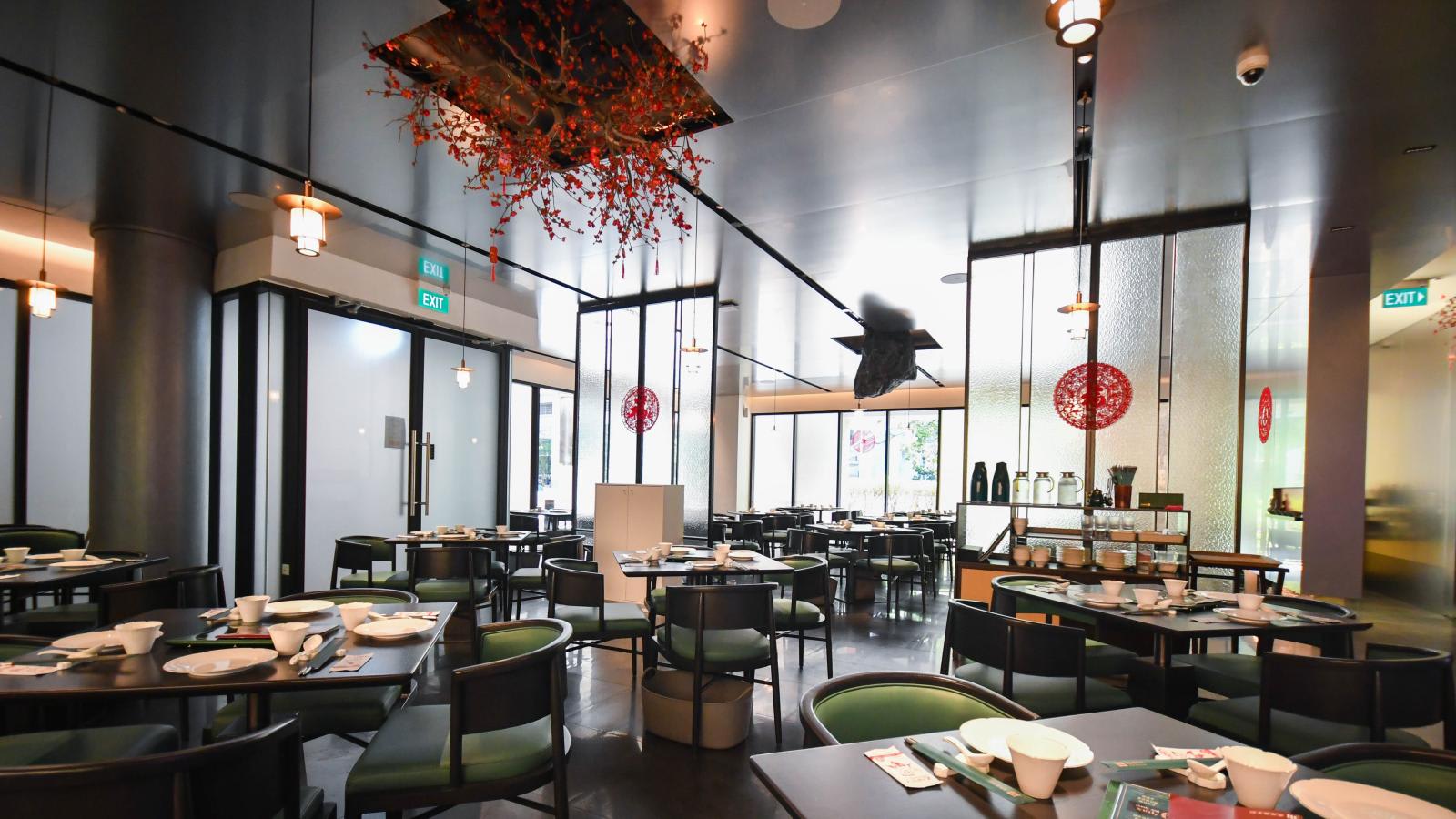 Kuan Zhai Alley's flavourful food is complemented by its atmospheric decor, which pays homage to the Chinese district of the same name. Dating back to the Qing Dynasty, the original Kuan Zhai Alley in Chengdu comprises three beautifully preserved alleys that run parallel to one another. In the same vein, the restaurant is divided into three different sections. 
The main dining room is made up of Kuan Hall (Wide Hall) and Zhai Hall (Narrow Hall), both of which are adorned with Chinese motifs and towering LCD screens displaying colourful video art. At Jing Alley (Courtyard), you'll find five private rooms of varying sizes, each with a unique theme – Bamboo Sea, Shu Kingdom and Hibiscus City, for example. "When you dine at Kuan Zhai Alley, you'll be surrounded by iconic Sichuan elements, from ancient courtyards and bamboo forests to pandas and koi," said Chef Wei. 
Whether you're celebrating a special occasion with family, hosting a team dinner, or simply want to satisfy a craving for Sichuan food, a meal at Kuan Zhai Alley will definitely be one to remember.
Embark on a unique culinary journey to Sichuan at Kuan Zhai Alley today.