Looking for a better work-from-home experience? ASUS believes its all-new, tech-laden ZenBook series could be the answer
Picking a notebook that best supports your personal and professional needs will help you stay jolly this festive season, and beyond. Brought to you by ASUS.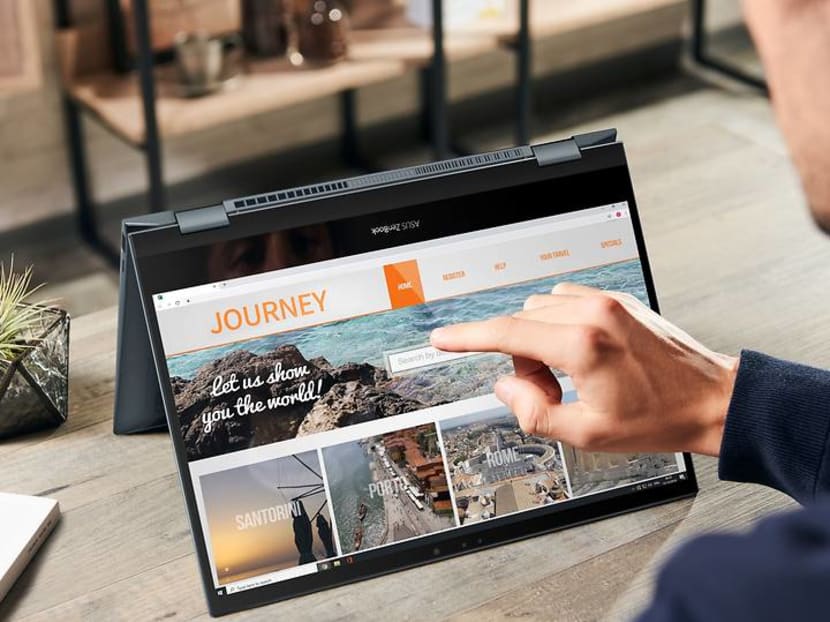 You've been nice all year and have decided to reward yourself with a new laptop. Or perhaps you're hoping to score major brownie points with your significant other.
The good news is that the world of tech devices has never been as exhaustive, offering a device for virtually every need. The bad news is that this can sometimes be confusing as the functionality and capabilities of devices like smartphones, tablets, laptops and desktops merge.
The COVID-19 pandemic has also made untethered working styles the norm, and the way users work and play on their devices has become fused.
So when shopping for a laptop, how does one find a stocking stuffer that ticks all the right boxes? Ms Emma Ou, country manager for ASUS Singapore, Australia and New Zealand, believes that "a rapidly changing world brings challenges" but that ASUS "has a proven ability to harness changes and lead the market with our innovations".
VERSATILITY IS KEY
Working on the go requires everyone to adapt. Combining portability with versatility, the ASUS Zenbook Flip 13 (UX363) is the first 2-in-1 ultra-thin 13.3-inch convertible laptop powered by the latest 11th Generation Intel core processors that includes full-sized HDMI, USB Type-A, as well as two Thunderbolt 4 USB-C ports. Each Thunderbolt 4 port is up to eight times faster than a USB 3.2 Gen 1 port and enables fast charging or the attachment of 4K monitors
Weighing 1.3kg and measuring 13.9mm thin, the ZenBook Flip 13's ability to flip fully makes it feel like a tablet that offers more punch. Crunch through your work easily with Windows software (not just mobile-optimised versions) or use the ASUS pen to dream up new designs on its precision touchscreen which supports the 4,096 levels of pressure sensitivity that the ASUS Pen offers. The ASUS Pen works with Windows Ink, allowing users to create sticky notes and capture ideas and details on the fly.
The Intel Iris Xe graphics chipset offers plenty of power for content creation. The 360° ErgoLift hinge lets it be easily used in laptop, tablet, stand or tent modes – great for multitasking. Use it as a tablet on your commute or as a laptop at the office. Tent mode is ideal for sharing content during a presentation and stand mode is perfect for enjoying a movie after a long day.
A COMFORTABLE VISUAL EXPERIENCE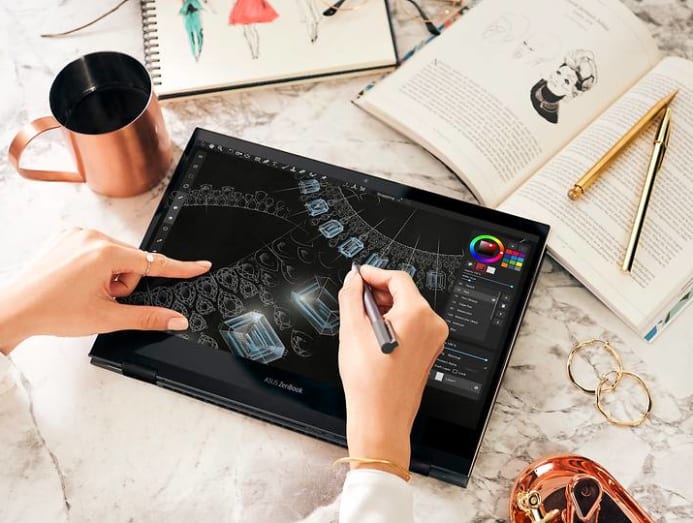 Work-from-home requirements mean that many people stare at their screens for longer periods (goodbye, face-to-face meetings), so a comfortable viewing experience is a priority.
Equipped with a 4K OLED HDR touchscreen, the ASUS ZenBook Flip S (UX371) is also the world's thinnest OLED convertible at only 13.9mm. Small wonder Ms Ou uses this for work, too: "Its slim and light design makes it easy to carry, and with up to 15 hours of battery life, I don't need to bring the charger with me."
The UX 371 uses the same 11th Gen Intel Core processors and Tiger Lake chips that are Intel Evo-certified to deliver superb visuals and outstanding power efficiency – up to 15 hours of battery life and the ability to fast-charge to 60 per cent capacity in 49 minutes
Its colour-calibrated 4K UHD OLED NanoEdge touchscreen grants realistically brilliant presentations, making anything from content creation, immersive cinematic titles to even online meetings look good.
A big plus with OLED is its ability to switch off pixels, offering true blacks and a crisp display. The ASUS ZenBook Flip S (UX371) display comes certified by German test facility TUV Rheinland, and reduces blue-light emissions by up to 70 per cent with flicker-free images for better eye comfort. It also features PANTONE Validated colour accuracy and a cinema-grade 100% DCI-P3 colour gamut.
But with a chic Jade Black finish accented by Red Copper diamond-cut highlights for its design, we won't blame you for staring all day at this eye-catching stunner.
SUPREME CONNECTIVITY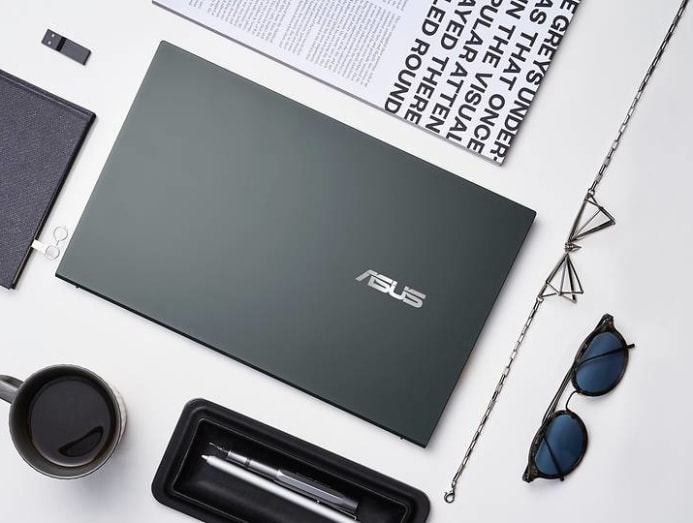 You could be working from different rooms at home, or migrating from co-working spaces to meeting rooms as your company re-configures the office. The ASUS ZenBook 14 Ultralight (UX435EGL) can help maintain your workflow in these dynamic environments.
Not only is it the lightest Zenbook at 0.99kg, it has a wide range of ports, including two powerful Thunderbolt 4 Type Cs, to ensure you never have to add more adapters or hubs.
And now you can make the best of any hotspot scenario. Said Ms Ou: "WiFi 6 allows users to load online content in the blink of an eye, and it's made even better by ASUS WiFi Master technology, which includes ASUS WiFi SmartConnect. This automatically selects the best WiFi source, so your laptop connects seamlessly to the best WiFi signal."
Half of the time, that connectivity is used for video meetings, and it seems that ASUS Zenbooks have that covered, too.
"For better tele-conferencing, we've implemented ASUS AI noise-cancelling audio that employs machine learning to isolate unwanted noise," she said.
"The ClearVoice Mic feature in the MyASUS app can filter out ambient noise and normalise individual voices in Multi-presenter mode for optimum group conference-call quality."
These features are also available on the ZenBook Flip 13 (UX363), ZenBook Flip S (UX371) and ZenBook 14 ScreenPad (UX435).
Effortless portability with always-on connectivity? We heard you loud and clear.
IT'S THE LITTLE THINGS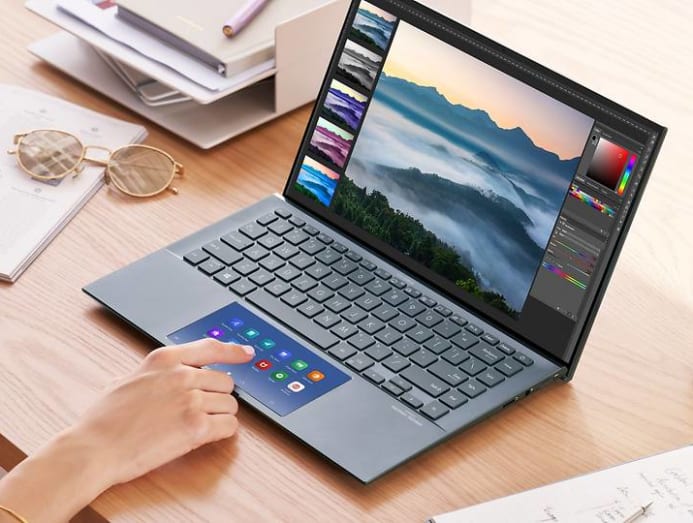 For gifting, the little thoughts often count most. And the ASUS ZenBook 14 ScreenPad (UX435) has a neat feature that will excite users wanting to maximise productivity. It's like your shortcut keys, upsized.
The ASUS ScreenPad with ScreenXpert 2.0 is a nifty secret hiding beneath the usual touchpad. The 5.65-inch colour touchscreen elevates the traditional laptop experience by coming alive with a button press. The upgraded interface can be customised with frequently used apps. You can even make phone calls with the link to the MyASUS feature, pairing your phone to your laptop.
The secondary display offers multi-tasking users more flexibility. Pull down another document to the Screenpad and continue working on the main one. It's great for referencing design work or having a chat app on standby while you work on a main task, without having to compromise your view. The ASUS ZenBook 14 ScreenPad weighs 1.2kg and is 15.9mm thin.
Approach your new laptop with the right perspective. Let ASUS guide you to the new era of portable work and play with its new collection of Zenbooks.