Made with Passion: Homegrown and home-brewed, keeping the good times flowing
A passion for creating truly Singaporean tipples keeps Brass Lion Distillery and The 1925 Brewing Co going, despite tough times in F&B.
Brought to you by Singapore Brand Office.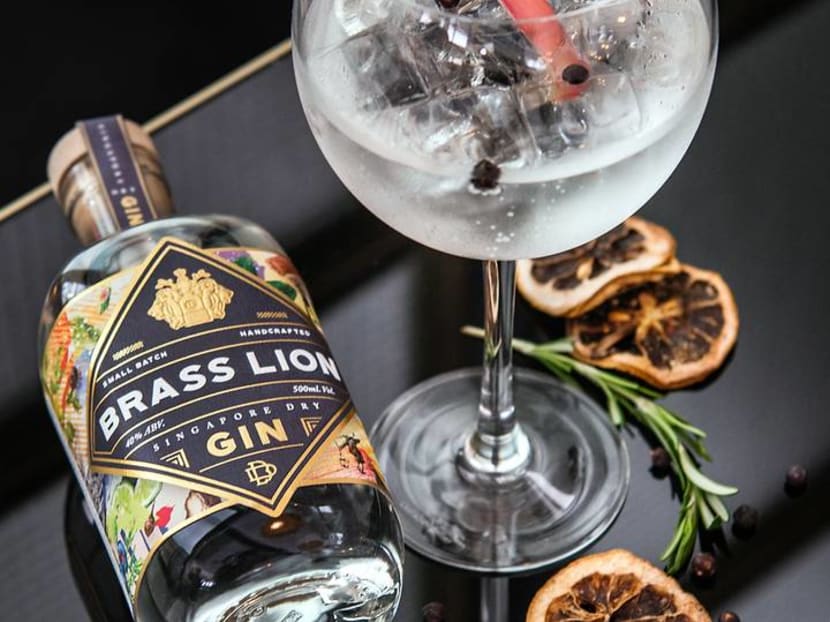 It's safe to say that 2020 made many feel the need for a stiff drink. This year, if that need persists, instead of reaching for an imported beer or spirit, why not try a local brew – especially one that pays homage to our Asian roots?
Despite the challenges of the COVID-19 pandemic and the circuit breaker last year, Singaporean spirit maker Brass Lion Distillery and microbrewery The 1925 Brewing Co persisted, and are still brimming with the passion to create unique and local tipples that can stand alongside the world's best.
FIRST DISTILLERY IN THE LION CITY
According to owner Jamie Koh, the Brass Lion Distillery is the very first full-fledged distillery in Singapore. But it's really more than that, since the gin manufacturer also offers experiences such as distillery tours, a gin school for aspiring gin makers, a retail shop and a tasting room where customers can enjoy light bites and cocktails.
The tasting room is where customers can sample Brass Lion's Osmanthus Oolong Gin, a limited-edition collaboration with the Gryphon Tea Company. "Inspired by botanicals used in both tea and gin making, a tea blend was specially crafted to complement the citrusy and juniper notes of our gin," explained Ms Koh. "With fruity, floral top notes of osmanthus and a heart of juniper and eucalyptus, this complex and delicate gin finishes with the subtle notes of oolong tea."
Though oolong might be an unexpected combination with gin, a creative spirit has always been part of the Brass Lion Distillery. When the COVID-19 pandemic struck, the distillery was hit on two fronts: First, all in-house and external events had to be cancelled, while the food and beverage (F&B) venues they supplied were shut, cutting off revenue from both customers and other businesses.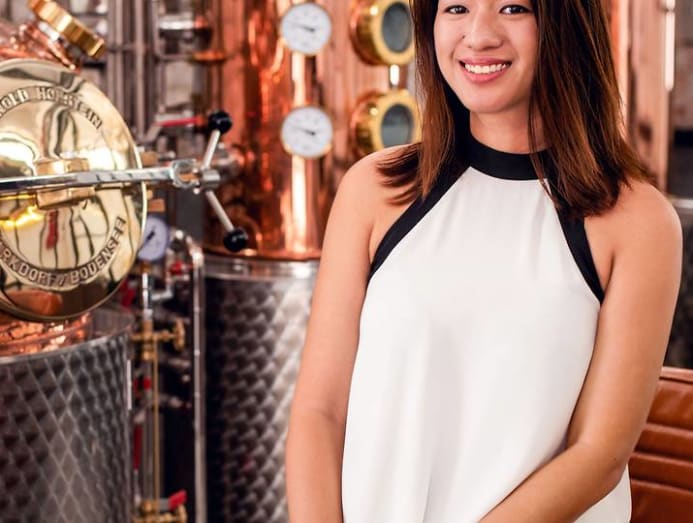 Like many other F&B providers, Brass Lion pivoted to e-commerce. Ms Koh created do-it-yourself cocktail kits for customers to purchase online, came up with a bottled cocktail series and organised private and corporate virtual cocktail classes.
But two other moves were far less orthodox.
"We collaborated with chocolate factory Benns Ethicoa to create gin chocolate! The end result was three different types of bon bons inspired by our three gins," shared Ms Koh. "We also gave back to the community by producing hand sanitiser, which we donated to people in need."
While the distillery's plans to expand overseas have been delayed indefinitely, Ms Koh remains optimistic and shared that Brass Lion was looking forward to the future.
Said Ms Koh: "We plan to spend this year building our brand and solidifying our brand story so that we are ready when the market starts to open up. In the meantime, it is also a good opportunity to focus on the local market and build brand awareness among Singaporeans."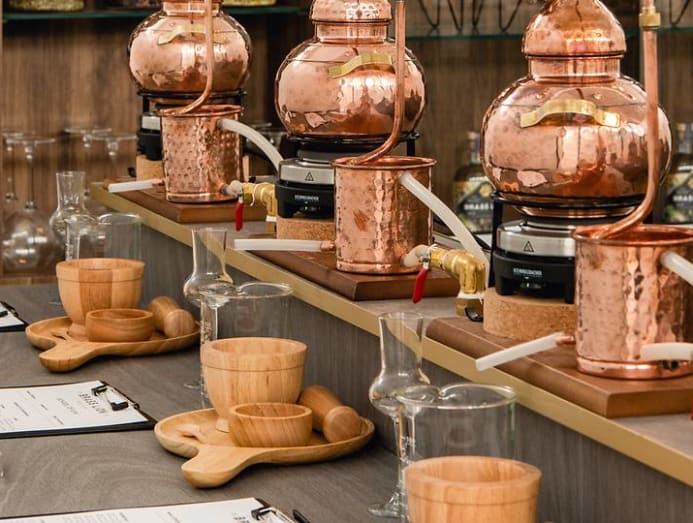 BREWING INNOVATIVE IDEAS
Being Singaporean is at the very heart of The 1925 Brewing Co, a family-run microbrewery serving up homegrown beers paired with Teochew-influenced pub grub at its Joo Chiat outlet.
"It's the diversity of our society, of our multicultural, traditional yet cosmopolitan background," said co-founder Ivan Yeo on what he finds special about being a Singaporean brand. "These traits and characteristics undoubtedly show up in the products we design – for example, the Liang Teh chrysanthemum lager."
One of The 1925's signature beers, the aptly-named Liang Teh is a crisp lager accentuated by the lightness of white chrysanthemum, inspired by the traditional teas Mr Yeo's grandmother used to brew. Paired with seafood, deep fried food and spicy food, Liang Teh is as easy to drink as the original tea.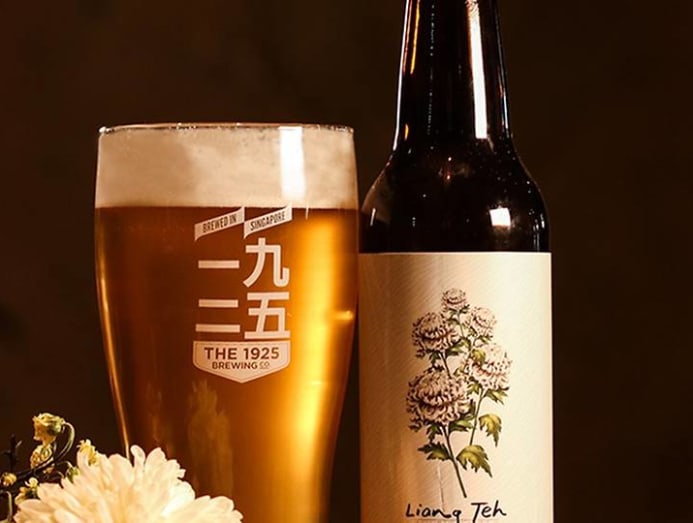 The lager is also part of The 1925's signature six-pack gift set, which was put together after the company noticed that customers were buying beer to send as gifts during the circuit breaker early last year.
"During Phase 1 and 2 of the COVID-19 pandemic, our brand actually travelled further because of this," revealed Mr Yeo, adding that it took only a week to set up the digital infrastructure, make adjustments to logistics operations and shift from targeting businesses to direct-to-customer retailing.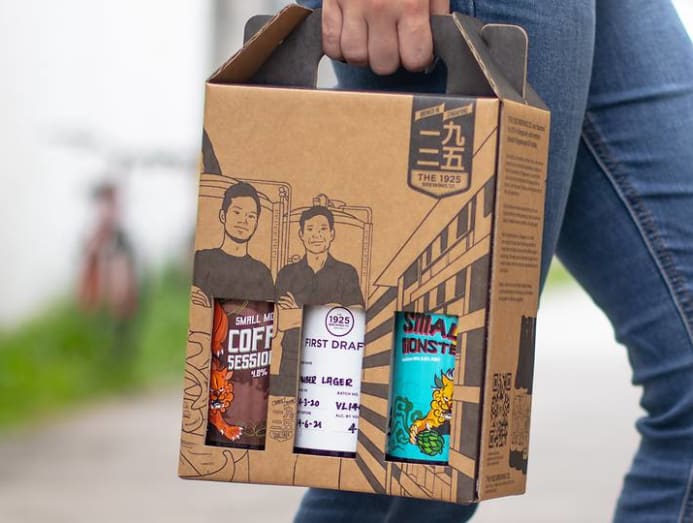 "Our brand definitely gained traction during the pandemic and our sphere of influence has expanded. Tapping into this opportunity, we are looking into how we can package our beers better so that they are not just aesthetically pleasing as gifts, but also so that customers are gifting and receiving their products at the most optimal quality."
Besides offering gift packs during the pandemic, The 1925's restaurant kept going with delivery bento boxes and newly-launched ready-to-cook products like small-batch stocks and sauces. They even dabbled in entertainment, with a weekly livestream named A Few Good Pints that hosted industry insiders about the pandemic and the F&B scene over The 1925's food and beer.
This year, The 1925 plans to adopt more technological solutions to increase automation and efficiency. It is also embracing new opportunities to consult and collaborate on projects.
Whatever happens, the company is firm on remaining true to its homegrown roots. Said Mr Yeo: "We have always felt that the brand is an extension of ourselves and our ideals. It is heartening and encouraging to see how people enjoy our brand and actually share and understand the same ideals as us. That is what keeps us going."
LITTLE RED DOT PRIDE
It's now much easier to support local brands than ever before. Both Brass Lion Distillery and The 1925 are part of the new Made with Passion initiative that looks to promote consumer awareness and support for home-grown brands.
Launched in November last year in a collaboration between the Singapore Brand Office and the Singapore Tourism Board, the Made with Passion initiative is also supported by Enterprise Singapore. On top of raising consumer awareness and appreciation, the initiative hopes to encourage other brand owners and Singaporeans to pursue their own dreams to turn their passions into a reality for a better Singapore.
The brands are categorised under four industries: Fashion and accessories, homeware and decor, beauty and wellness, as well as packaged food and beverage, where Brass Lion Distillery and The 1925 Brewing Co. sit. You can now also support some of your favourite local brands by visiting the curated online store on Shopee.