The making of a Legent: A taste of two distinctive worlds in a single bottle
Beam Suntory has been synonymous with great whiskey. With the launch of its flagship store on LazMall, it not only brings its amazing portfolio online but also introduces a unique collaboration between two legendary whiskey makers, in the Legent. Brought to you by Beam Suntory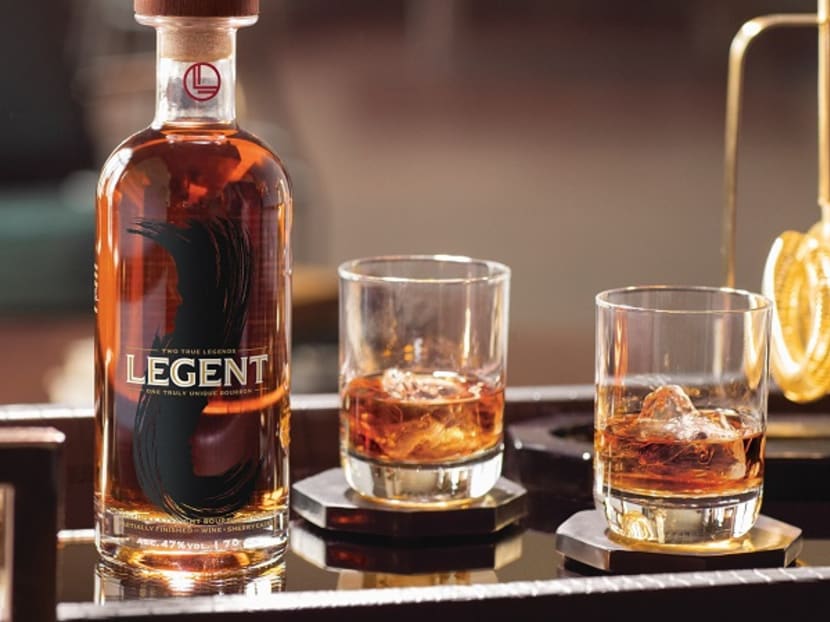 Some of the world's best inventions come from collaboration. In this case, the Legent bourbon is the extraordinary meeting of the East and West, represented by Jim Beam master distiller Fred Noe and Suntory chief blender Shinji Fukuyo.
Introducing this powerful meeting is another collaboration of its own kind. Beam Suntory now has its flagship store at LazMall, an online retailer of leading international and local brands, and it is marking the occasion by launching this one-of-a-kind whiskey.
BORN OF KENTUCKY TRADITION
Handling the grain to barrel process is Mr Noe. With seven generations of heritage behind him, the master distiller upholds the rich recipe of barley, corn and rye to create his pioneering family's distinctive bourbon.
The premium grains enjoy the calcium-rich limestone water and expert handling to become Kentucky liquid gold, before moving to select freshly-charred white oak barrels for an approximate five years.
This may be the traditional finish for the straight bourbon, but for Legent, a batch undergoes an additional aging process in hand-selected wine and sherry casks for another three years. This mulling draws out a unique spice and fruity undertone that forms the final selection for the blending.
"Legent is really something special. As a bourbon distiller, I enjoy breaking rules and creating new traditions," Mr Noe shared. "It was a real honor collaborating with Shinji on what I think is different from anything out there in the bourbon world."
FASHIONED WITH JAPANESE DETAIL
Moving from the barrel to the bottle, the various premium bourbon now has to be mixed by another expert – Mr Fukuyo – to obtain a first-of-its-kind bourbon.
"I have always been fascinated by the flavour profiles that can be achieved through innovation," shared Mr Fukuyo. "Using the historic bourbon recipe of Fred's family as a solid foundation, I was able to explore new taste profiles and reach a final product that reimagines what the future of bourbon can be."
Layering the secondary-finished bourbons with the Kentucky straight original, the final blend is every bit as rounded as it is complex – a bold, jammy nose with an approachable, smooth body that ends with a long, smouldering finish, tinged with some crispy tannin. This formula has unlocked new dimensions to the age-old bourbon recipes, and is no doubt a herald of things to come.
A MOST VERSATILE DRINK
With an extended journey on the palette and a rich discovery at every sip, Legent shows its character through any form of serving. Whether taken neat or livened up with some ice, the super-premium bourbon can be easily appreciated by all – even those new to whiskey. Shake it up with fresh ingredients for a cocktail, and you have yourself winning glasses of deliciousness.
"Legent is the perfect articulation of the amazing things that can be achieved when two great cultures come together as one, sharing a unified vision to bring true innovation and best-in-class spirits to the world," said Mr Takeshi Niinami, chief executive officer of Suntory Holdings. "This bourbon honors Fred and the Beam family's proud traditions while showcasing Shinji's award-winning blending capabilities. Quite simply, it's a bourbon no one else could create."
Marking the launch of the Beam Suntory Flagship store on LazMall, Legent is now available in Singapore at S$95. Experience this bottle that celebrates Kentucky distilling tradition with Japanese blending excellence, and with Asia's growing interest in whiskey, nothing makes for a better gift this season. Pick from an array of other Suntory favourites during this promotional period, for the best buys and stocking stuffers.