A more sustainable future with Levande by Electrolux, Singapore's first appliance subscription platform
The pay-as-you-use model lets you save money – and the planet – at the same time.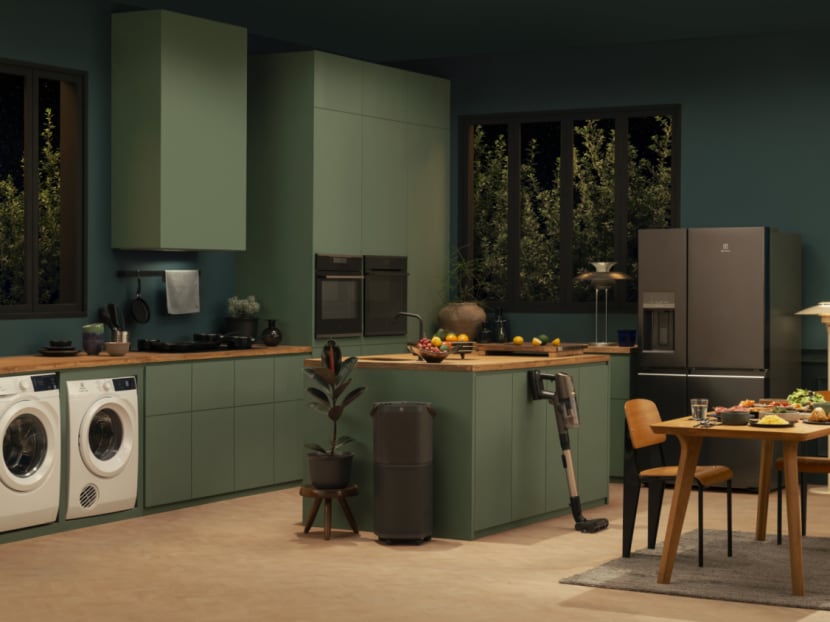 Balancing busy work schedules and household chores is without doubt one of the most challenging parts of adulting. It's no surprise that Singaporeans are increasingly looking to the latest smart appliances to streamline routines and make their lives just that bit easier. According to Statista, more than S$1 billion is expected to be spent in the household appliances market in Singapore this year. 
With an impossibly large array of home appliances calling out to us in a burgeoning market, buying one can be daunting to even the most seasoned of shoppers. How do you know if the appliance is right for you? Will the technology become obsolete in a year's time? And what if you only need the appliance for the short term?  
With its new Levande appliance subscription platform, Electrolux is boldly reshaping how we own our household appliances, from washing machines and dryers to air purifiers and vacuum cleaners.
FINDING YOUR APPLIANCE FREEDOM
Appliances can be hefty investments, especially for new homeowners or serial renters. When you add up the cost of items like a refrigerator, washing machine and vacuum cleaner, the budget often runs into the thousands.
This may lead to unhappy compromises: Should you downsize the fridge and upgrade when you can afford to? Or maybe swap that next-generation television for a slightly cheaper model? Would you need to forego other comforts, like that plush couch you've been eyeing?
With Levande by Electrolux, you can pay for your dream appliance via a monthly subscription model that is not only affordable but puts you firmly in control. A subscription to a vacuum cleaner, for example, can start at just S$6.99 a month. What's more, when you sign up for Levande via MyInfo on Singpass, you get to skip the security deposit.
Levande is not just about distributing the cost; it's also about appliance freedom. You may be anxious about committing to an appliance without knowing if it'll suit your household or fit your new place. Or you might be between homes and simply need a short-term solution to tide you over. 
Levande's subscription model means you have the liberty of trying out (the latest) appliances for as long (or short) as you want, and best of all, have delivery, installation and removal handled for you at no extra cost.
Thanks to Levande's inclusive servicing policy, maintenance is that much easier as well. If all else fails, Levande provides a like-for-like replacement policy within 48 hours, ensuring you'll never have to put your routines on hold. There's no warranty to worry about now either.
EVOLVING TO YOUR NEEDS
From lifestyle habits to temporary scenarios, Levande subscriptions aim to align themselves to their users in more ways than one.
Take, for instance, those who rent. When a unit comes lacking in appliances, the temporary resident wouldn't want to buy appliances only to potentially sell them off in a year or two. A flexible subscription service solves this dilemma.
Newly-weds who become parents may find that the appliances they started out with are no longer able to keep up with the growing household. Levande's subscription is able to evolve with you, letting you upgrade items like your washing machine so it can cater to larger loads.
It's not just about the big milestones either. Levande accommodates a myriad of scenarios. If air quality becomes a problem, an air purifier will see you through the hazy period. Bought a rug to spruce up your decor? The right vacuum cleaner will help keep the rug spotless. And if you're starting to appreciate those vintages, a wine cabinet will store your prized bottles safely.
BETTER FOR YOU, AND THE WORLD
One of the issues with growing appliance use is the e-waste it produces, and Singapore sees about 60,000 tonnes of it a year, equivalent to discarding about 70 mobile phones per person.
The problem with e-waste is two-fold. Valuable scarce materials such as silver and gold are wasted when appliances are thrown away. Harmful substances such as cadmium and lead may also be leaked over time – a threat to our health and the environment.
By subscribing to an appliance platform, you will be consuming less and wasting less. Levande's complimentary servicing also means appliances live out their best possible life cycles, and because they are paired aptly with people based on budget, lifestyle and need, wastage is minimised.
With Levande, everyone gets state-of-the-art appliance options with a flexible and affordable monthly subscription. Best of all, the planet benefits. What more can you ask for?
Discover a world of appliance freedom with Levande.