The one hair tool to rule them all: Dry, curl, smooth and straighten. Bonus: Extreme heat not required
Influencer Brenda Tan has a secret weapon that gives her the power to look perfect for all occasions. Brought to you by Dyson.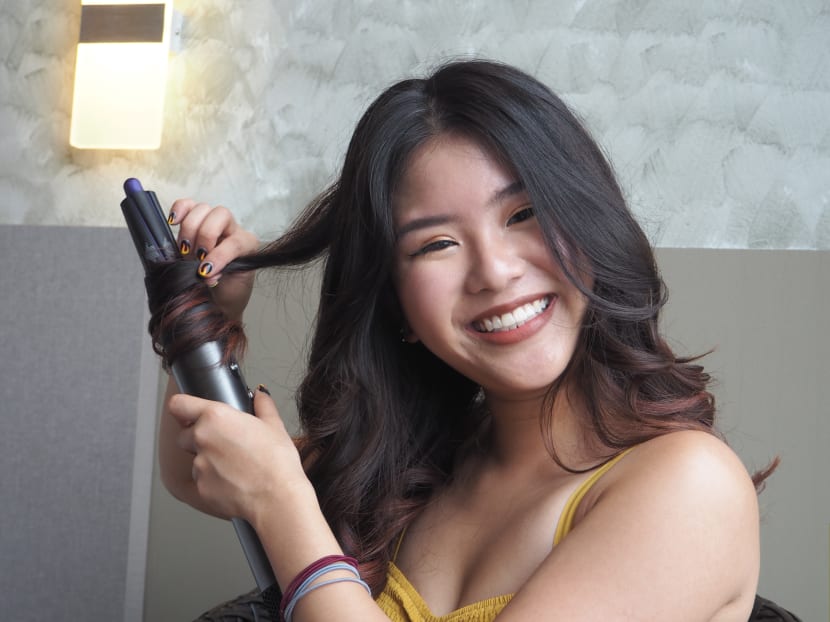 Like many women, influencer Brenda Tan likes to create different looks for her long hair and not just by simply tying it up or letting it down.
She started curling and straightening her hair for variety but found that the heat from the styling appliances was damaging her tresses.
"I think the heat damages the cuticles and shaft of the hair. I can tell by how dry and brittle the strands become over time," said the YouTube star.
Happily, she has junked her harmful curling irons in favour of the Dyson Airwrap, which uses cutting-edge technology to curl hair with minimal heat. This innovative tool allows her to curl and style her hair multiple times a day, without causing any damage.
She mused: "The Airwrap has a very luxe, ergonomic design and I love the sleek styles that I can create with it."
STYLING SANS DAMAGE
Brenda is a 23-year-old beauty and fashion vlogger with over 48,000 YouTube fans. She's built up this following through creating not only entertaining fashion and skincare focused videos, but also more personal content where she digs deep into topics such as mental health and school stress.
For Brenda, it's important for her hair to look sleek for all her social media posts and videos, and the same applies to other women who want to conveniently style their hair at home and try out different looks without worrying about heat damage.
The Dyson Airwrap uses an aerodynamic phenomenon called the Coanda effect to curl, wave and smooth hair – without the need for extreme heat. It attracts and wraps hair around a range of different-sized barrels, using just air. This keeps the hair healthy and shiny, even when it's styled often.
Brenda shows you how to get easy curls using the firm smoothing brush and 30mm Airwrap barrels. Videos: Brenda Tan
Brenda said: "I really admire the technology and research used to innovate such a sophisticated tool."
She has trusted Dyson's innovation since the first time she experienced the Dyson Supersonic hair dryer at a hair salon, when she was literally "blown away by the speed and power".
Just like the Dyson Supersonic, the Airwrap boasts Intelligent Heat Control technology that measures and regulates the temperature 40 times per second, ensuring the temperature is kept below 150°C and preventing damage to the hair.
Thanks to the Coanda effect, you can say goodbye to frizzy hair. 
A VERSATILE TOOL FOR BUSY WOMEN
Besides offering a much healthier styling option, the Dyson Airwrap gives women the option to style and dry their hair at the same time. A typical curling iron or straightener can only be applied when hair is completely dry – not a good thing if you're in a hurry.
Brenda commented: "I love that you can use the Airwrap on damp hair; it saves a lot of time, which is invaluable when you're working on a jam-packed schedule!" In fact, it can take Brenda as little as 10 minutes to dry and style her hair with the Dyson Airwrap.
Use the round voluminising brush to give hair body and volume. 
With six different attachments, women can easily create a multitude of looks for different occasions. In Brenda's case, she typically uses the round voluminising brush to add bounce and volume to her mane in the day. For a night out, she uses the barrels to create glamorous curls, which have gotten her many compliments from friends.
Brenda said: "It's an amazing experience using the Dyson Airwrap. It's definitely worth the investment if you want a versatile tool that allows you to create a range of styles on a daily basis without worrying about damaging your hair."