Party picks: A curated selection of top Australian and Chilean wines for your year-end festivities
Keep conversations flowing with choice picks from Just Wine. Brought to you by FairPrice.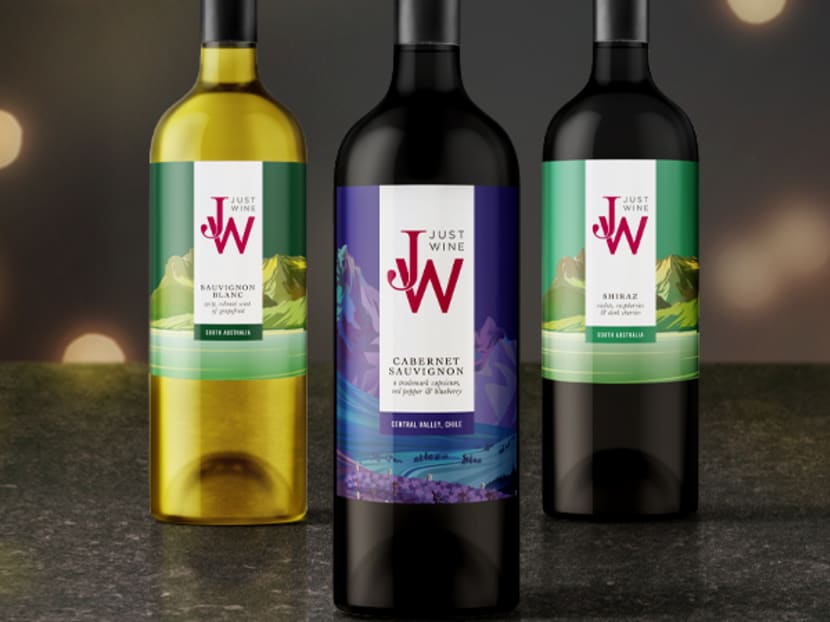 Feasts, (small-scale) house parties, and plenty of merry-making. Yes, it's that time of the year again when gatherings fill up your calendar more than your work (we hope). If there's one way to ring in the festive season, it's with the clink clink of glasses. There's a reason why the "wine" comes first in "wine and dine", no?
Established in 2017, Just Wine has made its name by being purveyors of quality wines from Australia and Chile, with line-ups that will please the wine-curious and experts alike. The selection has made its way to Singapore, benefitting from the palette of a panel of sommeliers led by wine consultant Ch'ng Poh Tiong, regional-chairman of Decanter World Wine Awards and a vice-chairman of Decanter Asia Wine Awards.
"People tend to forget that we drink wine because of the fruit of the variety, whether that be our award-winning Just Wine Shiraz, Cabernet Sauvignon, Sauvignon Blanc or any other wine," the publisher, writer and wine judge said. "To ensure the right wines get selected, the panel blind-tasted all the samples in making our final choices."
AWARD-WINNING FINDS
Leading the curated selection is an award-winning bottle – Just Wine Shiraz 2018. Ripe with the delicious flavours of violets, raspberries and dark cherries, it emerged as the bronze medal winner at the 2020 Decanter World Wine Awards. The dry and medium-bodied varietal from Australia, with its ruby red complexion, is also particularly suited for our local cuisine. Other than red meats, pair Just Wine Shiraz with biryanis or Chinese claypot rice for an added dimension of flavour.
The bottle is accompanied by two other popular Australian varietals, all made from grapes sourced exclusively from South Australia – Just Wine Sauvignon Blanc and Just Wine Cabernet Sauvignon.
If you're into seafood, the vivacious Sauvignon Blanc is a crisp partner that will delight. With a zesty freshness and grapefruit aromas, the wine is equally poised to bring out profiles in meals with dim sum, tempura and canapes. The Cabernet Sauvignon, with ripe tannins and fruity notes of blueberries, cherries and hints of capsicums, will be perfect for traditional roasted meats, casseroles and simmered stews.
The bold yet refined characters here are no accident. Explaining how the panel was looking for wines that reinforced what the label would say on the bottle, Mr Ch'ng said: "We were certainly not interested – particularly with the reds but also with the Chardonnay – for the consumer to find an oaky or woody taste.  Fruit, not 'furniture', is what we were looking for. Fruit that is reinforced by freshness and just the right amount of balancing structure."
The Australian varietals are available in party-worthy 750ml bottles (S$29.90) or a more handy 187ml bottle size (S$7.90) for personal consumption.
ACROSS THE GLOBE
Across the Pacific Ocean, Just Wine has included three Chilean varietals for their distinct profiles. 
Just Wine Cabernet Sauvignon presents its trademark capsicum, red pepper and blueberry notes, softened by a gentle grip of tannins and mild acidity, and is brilliant with red meats.
For white meats, the other red – Just Wine Merlot – will enhance the meal with a more tender character. The dry and medium-bodied bottle carries a light blueberry fruit and a whiff of mint to brighten your dishes.
Just Wine Chardonnay is one that sparkles with freshness. Delicate citrus fruits here come with notes of apple. It's an elegant wine to be enjoyed as an aperitif, or matched with dim sum, tempura, deep-fried starters and seafood.
All the Chilean varietals are available in 750ml bottles (S$28 each).
CHEERS TO A NEW LOOK AND A NEW YEAR
In honour of their birth region, Just Wine has accompanied these delicious varietals with refreshed labels that feature scenic contemporary illustrations. From the expansive and serene landscapes of South Australia to the dramatic peaks of Central Valley in Chile, the bottles now fully capture the origins of their heritage. 
Remarking upon Just Wine's dedication to uphold luscious wines for memorable occasions, Mr Ch'ng said: "Our goal is not only to deliver foremost quality at a remarkable price point, we want to also ensure that when the consumer picks up Just Wine, she or he will be armed with all the necessary information and recommendations to make their purchase of Just Wine an unforgettable experience."
Pick your bottles at your nearest FairPrice or have them delivered online. Every online minimum purchase of S$80 gets you a free Spiegelau 4-Piece Bordeaux Glass Set worth S$35.90, from now till Dec 31, 2020.