Qatar Airways' Singapore Premium Lounge pushes the boundaries of business class with its bespoke offerings
Stay impeccable for your journey with the award-winning airline's newest premium lounge. Brought to you by Qatar Airways.
Everyone wants to arrive looking like a million bucks. And Qatar Airways knows – preparation is key.
With the launch of its premium lounge for esteemed flyers at Singapore's Changi Airport, Skytrax's top airline for 2019 fulfills the promise of a luxurious flight experience, with pampering right after check-in. Be invited into an exclusive haven inspired by contemporary Arab architecture, and step off the plane with that fresh-from-flight glow.
A CLASS OF ITS OWN
Remarkable in many ways, the Qatar Airways' Singapore Premium Lounge is the first of the airline's lounges to offer its business-class passengers a first-class experience, serving as a new standard for all its premium lounges in future.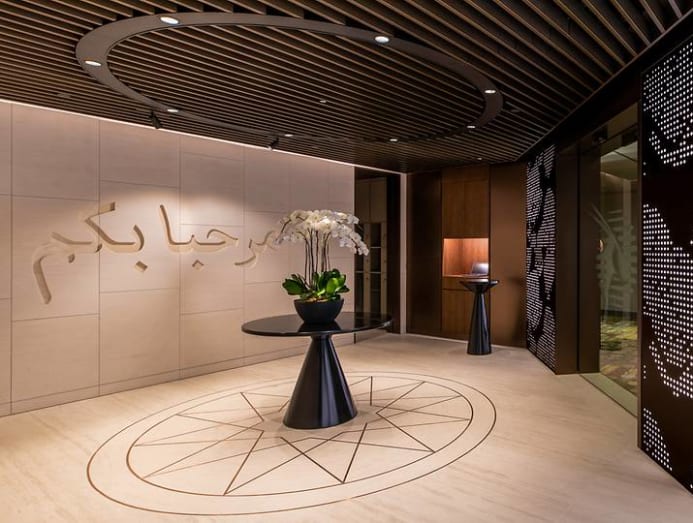 More than just a private space, the new lounge gratifies with a suite of offerings for a comfortable pre-boarding experience. Be welcomed at the lobby by a grand sandstone wall engraved with the word "marhaba", a brilliant display of white orchids and a botanical wall inspired by Singapore's identity as a garden city. Then leave your luggage at the spacious locker room so you can roam the lounge with ease.
Serving business-class passengers, the 700-sqm lounge is finished in soothing natural elements such as sandstone and soft leather. A spa-like palette of muted tones calms the mind – something drawn from the same elements found in the award-winning Al Safwa First Lounge at Hamad International Airport. Exploring the principal lounge area, one will encounter thoughtful design and luxurious details that easily draw guests into a state of relaxation.
RETREAT AND CONNECT WITH EASE
For a respite from transits and busy crowds, Qatar Airways' passengers can take their pick from seven different seating areas based on their mood and needs.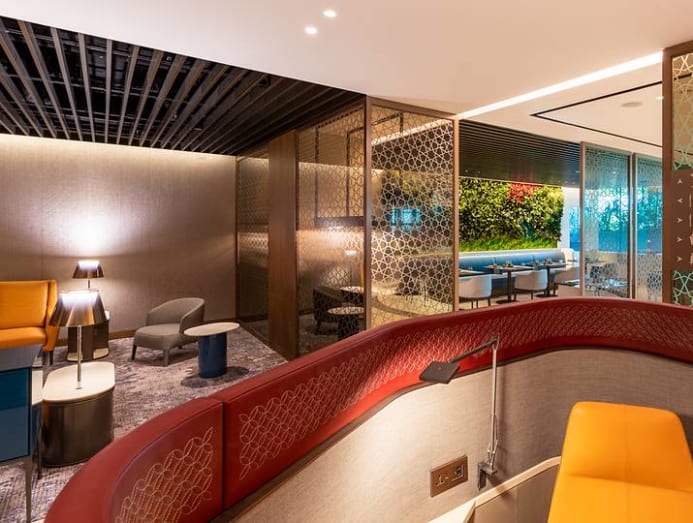 Apart from the principal lounge, the private lounge and dining venues, an exceptional escape awaits at the five Quiet Pods – inspired by the airlines' award-winning Qsuite: exclusive business-class suites with doors. Retreat into cosy confines of these semi-private cabins and enjoy moments of peace. Reading lights and universal charging ports are installed in the soundproof cocoon, so hang up your coat on the provided hanger and just unwind.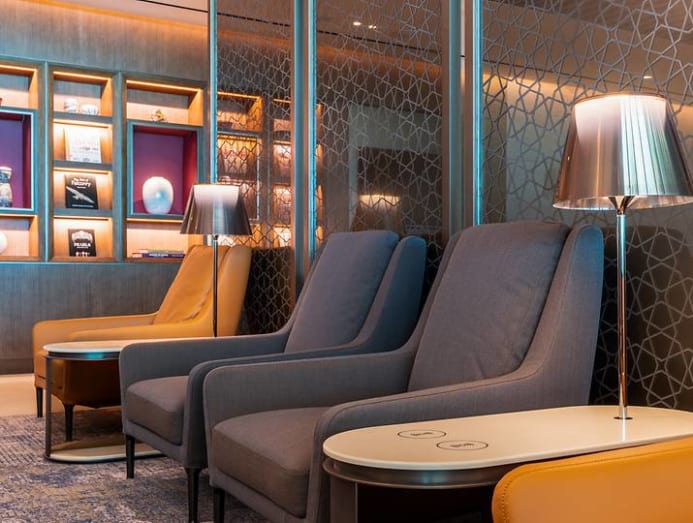 For those who prefer the open, Qatar Airways has fitted custom furniture pieces at strategic points to allow ready access to essentials such as soft lamps for reading, universal plug points and even compartments for storing small handbags and personal belongings. Whether you need to correspond with your business associates or share your lounge experience with your family and friends, wireless charging available at every side table will ensure your devices are always powered. Every whim is catered to, no matter where you choose to relax.
SHAKEN, STIRRED AND SERVED
An elevated gourmet experience awaits in the premium lounge, with four appointed dining areas for that distinctive meal.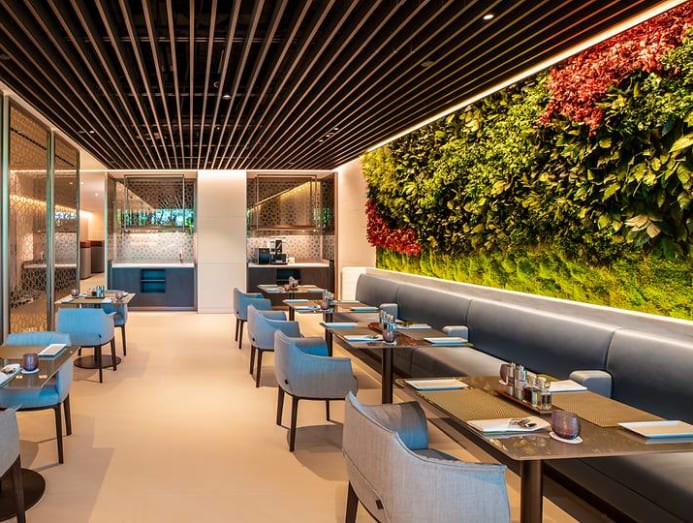 A full kitchen serves up an epicurean indulgence to all guests, with à la carte orders freshly prepared to order at the Brasserie – a formal and sophisticated space similar to a fine dining restaurant. For something a little more relaxed, the Garden Bistro, flanked by a wall of plants, immerses you in greenery as you dine in style. A gastronomic cold buffet is also always available, with an international selection to satisfy the palates of its well-travelled guests.
Finished in crackle bronze, mosaic and marble, the centrepiece Martini Bar attended by a dedicated mixologist affords an exclusive view of Changi Airport's Cactus Garden for an ultimate five-star experience. Lounge in the circular bar draped in a luxurious glow – courtesy of the bespoke glass chandelier – and enjoy a delightful cocktail and mocktail selection that will stir your soul.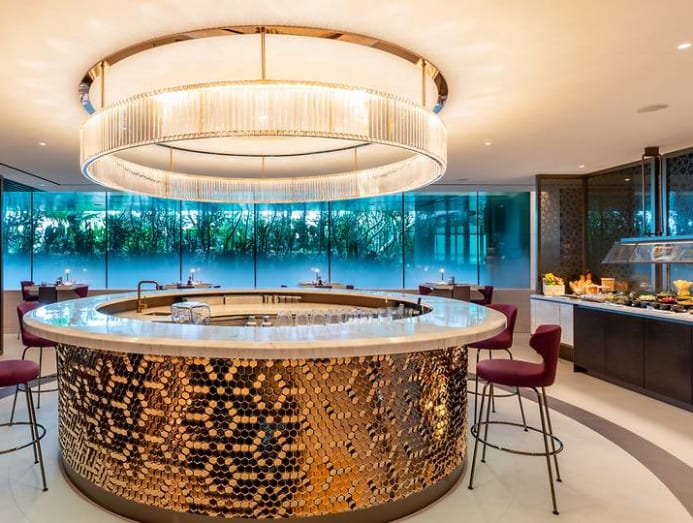 Bring the drink over to the sleek high seating spot, and be soothed by the generous natural light that pours through the windows. As you sip on your crafted drink, order some savoury hors d'oevres before continuing your journey on your Qatar Airways flight.
Expect signature Qatar Airways service to always be at hand, and let this exceptional welcome define your pleasurable journey with the airline.
Enjoy a bespoke pre-flight experience at Qatar Airways' Singapore Premium Lounge when you fly business class from Singapore to over 170 destinations worldwide on Qatar Airways' Airbus A350-1000. Check in at qatarairways.com/sg today.