Reconnect with your significant other amid the rugged charms of Tasmania
It's time to dial down the pace and go west.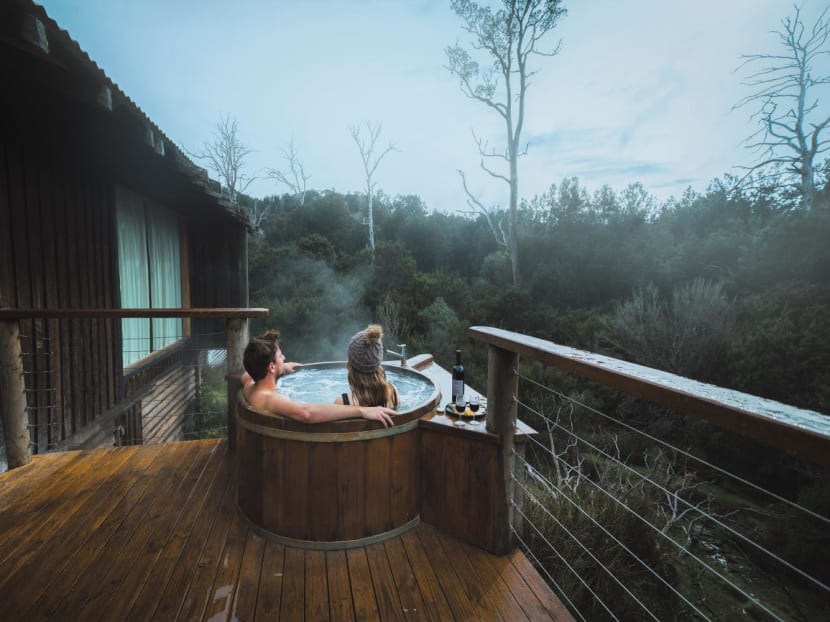 For many of us, our days are accompanied by a cacophony of incoming notifications, video calls and social media chatter. 
A way to get some quiet headspace is to lose ourselves in the lush embrace of Mother Nature. Think towering mountains, majestic trees and glacial lakes – nature's best could help us find that inner peace. 
For such untamed inspiration, look to Tasmania – Australia's southernmost state. On the island's west coast, you and your other half can immerse in picturesque landscapes that are as cinematic as they are storied. Spirit away to another place and time in atmospheric small towns. Take a steam train journey through magnificent rainforests, or refresh mind, body and soul at an adults-only wilderness retreat on a lake. 
Whatever your preference, a Tasmanian west coast road trip with a loved one is a sure way to slow down and reconnect with each other. 
SCENIC STARTS AND TASTY TREATS IN AND AROUND HOBART
Cruise to a leisurely start by spending time at Australia's largest private museum, the Museum of Old and New Art (MONA). Carved into sandstone cliffs by the water, the subterranean venue enthrals with its bold and thought-provoking contemporary exhibits. Take a break between collections and sip on small-batch, premium Moorilla wine or Moo Brew craft beer at MONA's bars and restaurants. 
When it comes to good tipple, Tasmania is known as the Australian state with the highest number of whisky distilleries. Visit one of the island state's oldest commercial outfits –  Sullivans Cove Distillery – and taste its award-winning French Oak Cask HH0525. Collectors can also bring home choice bottles.
There's something particularly charming about going on a scenic picnic date. With its port city positioning, picturesque spots are a dime a dozen in Hobart. If you find yourself in the Tasmanian capital on a Saturday, head to Salamanca Market and fill your picnic basket with fine local produce, ranging from local gins to artisanal cheeses and ready-to-eat lunches. On the lookout for a travel memento? Take time to browse through woollen products, jewellery and homeware crafted by resident artisans.  
Soak in the wholesome goodness of nature on kunanyi / Mt Wellington with its rich flora and fauna and rejuvenating alpine environment. Bus, drive, walk or ride your bike up to the summit via Pinnacle Rd for a stunning view of Hobart and its surrounds. 
As you begin your journey to the west, make time for a spot of forest bathing at Mount Field National Park, one of Tasmania's oldest national parks. Meander through towering tree ferns and giant eucalypts as you stroll towards the three-tiered Russell Falls. If you're lucky, you may even spot a platypus frolicking in the creek. 
WILDERNESS EXPERIENCES AT QUEENSTOWN AND STRAHAN
With its soft curves and sweeping mountain views, the '99 Bends' section of the Lyell Highway near Queenstown is touted as one of Tasmania's most scenic roads. The road introduces you to the almost lunar-like landscape of the area surrounding Queenstown, made barren as a result of its mining past. Learn more about the town's rugged history by taking an underground mine tour or by visiting the
Eric Thomas Galley Museum
. Far from bright city lights, conditions in this small town are ideal for a quiet evening of stargazing. 
Over at Strahan, embark on excursions that bring you back to days of yore. The Gordon River Cruise leads you to the UNESCO Tasmanian Wilderness World Heritage Area, with an invitation to take a deep dive into the natural history of the west coast. Another way to discover the area's colourful past is by taking a trip on the West Coast Wilderness Railway. Savour the old-world charm of chugging along on a steam train as you and your beloved journey through ancient rainforests and the spectacular King River Gorge. 
ONWARDS TO CRADLE MOUNTAIN
As you continue your road trip, make a pit stop at the mining town of Zeehan. Its main street features a sprinkling of grand historic buildings, including the 1898 Gaiety Theatre with its quaint chocolate-box facade. If you and your partner are up for an exploration in the dark, walk the 100m-long Spray Tunnel hand in hand. At its far end, come nose-to-nose with relics of buildings and abandoned boilers from the west coast's mining past.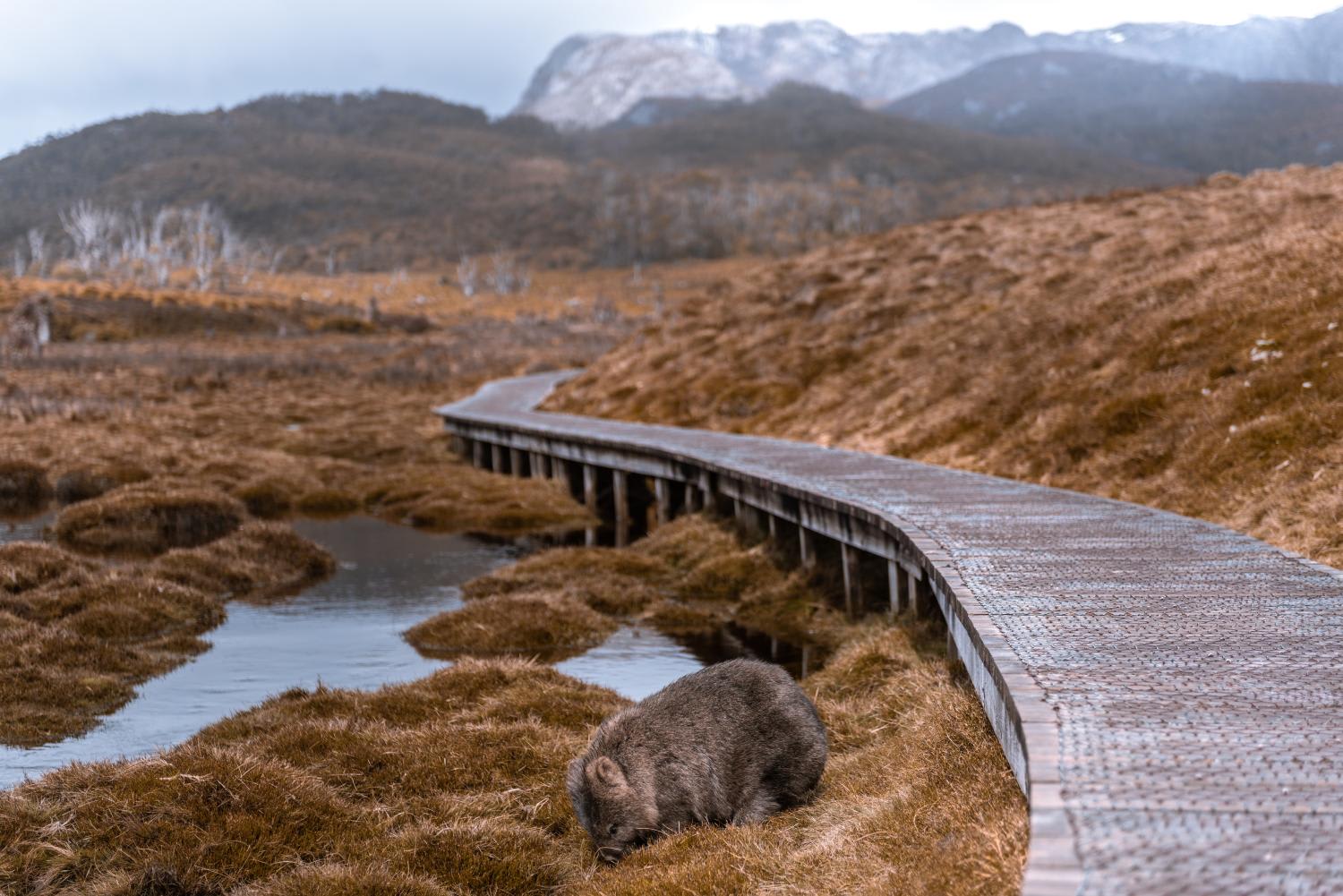 Immerse yourself in the healing properties of nature at Cradle Mountain-Lake St Clair National Park. Walk the 6km Dove Lake Circuit around a glacially carved lake and opt for an overnight stay at Cradle Mountain Lodge. The resort features the Waldheim Alpine Spa, a luxury treatment centre with a couple's therapy room, hot tub and cool plunge pool, as well as a relaxation lounge with uplifting views of the alpine environs. 
To further realign your inner compass, check into the adults-only Pumphouse Point, perched elegantly on Lake St Clair surrounded by century-old myrtle forests. Explore the area on electric bikes, glide across the lake on a rowboat, or commune with fellow guests around a log fire at dinner.
ROUNDING OFF AT TAMAR VALLEY AND LAUNCESTON 
No visit to Tasmania is complete without encountering the endemic Tasmanian devil. Stop by Trowunna Wildlife Sanctuary and join one of its three daily free tours to touch a devil, meet a wombat and view a Tasmanian devil social feeding. 
 
Centred around the fertile banks of the kanamaluka / River Tamar, Tamar Valley is recognised as one of the world's top 10 wine routes. Over at the Josef Chromy Winery and Restaurant, partake in the art of making sparkling wine and take home a bottle of your own blend. Don't forget to also get a bottle or two from House of Arras – Australia's most awarded sparkling wine brand. 
Learn more about local culture and cuisine with a stay at ForknFarm Homestead. Participate in workshops and try your hand at making artisan cheese, sourdough and salami. Join one of Hinton Bay Kitchen's classes and learn how to whip up tasty Tasmanian-Italian fare. 
Continue your epicurean food trail in Launceston, a designated UNESCO City of Gastronomy. From farm-fresh brunches to wild-caught seafood meals, getting to know the city through its culinary offerings is a fitting way to wrap up your west coast road trip. 
With its rich history and expansive beauty, a getaway in Tasmania could just be what you and your partner need for some heart-to-heart moments, away from it all. 
Start planning that long-awaited holiday with your other half. Discover Tasmania.