Reimagining the cafe experience at home
Andrea Chong and Hanli Hoefer share how they have brought home brewing to the next level with Nespresso Vertuo Next.
With interiors inspired by different cultures of the world, stepping into your favourite coffee spot can whisk you away to the laneways of Melbourne or the wood-panelled comforts of Italy's traditional joints. There's a certain magic about being in a cafe. 
Amid new ways of living, homes have become multi-functional spaces where we live, work and play. It's not surprising that Singaporeans are now investing more in their living quarters, going as far as designing personalised spaces that align with individual aesthetics and values. 
For coffee afficionados Andrea Chong and Hanli Hoefer, the home cafe concept was the next step forward in their home improvement journeys. They share more about their cafe-inspired experiences at home, with help from the Nespresso Vertuo Next, the latest addition to Nespresso's range of coffee machines.  
THE MINIMALIST – LESS IS MORE
When Ms Chong and her husband laid eyes on a heritage property two years ago, its black and white facade spoke to the digital content creator immediately. 
Instead of rushing to furnish the space extensively, Ms Chong was guided by her personal philosophy of minimalism.
"Less is more, but it certainly doesn't have to be boring," said Ms Chong. "To me, minimalism is living with intention and accessorising purposefully."
Approaching the project with the measured hand of a curator, Ms Chong deliberately kept the interiors clean, selecting only accent pieces that spark joy. One of her most treasured items is a piece of crochet art made by her mum who lives overseas. It hangs on a wall and serves as a constant reminder of her beloved mother.
"Minimalist living is all about finding joy in what you keep," Ms Chong added. 
In line with her philosophy, Ms Chong appreciates how the Nespresso Vertuo Next offers a wide range of coffee styles in one machine. 
"It can help you brew over 30 blends across various cafe-inspired styles. So if you love an espresso like my husband, or you just want iced coffee like myself, the Vertuo Next can do it for you. It's a dream for any minimalist," she said.  
A feature of Nespresso Vertuo Next she appreciates is the barcode scanning technology that delivers the perfect cup every time.
Ms Chong said: "With the touch of a button, the machine detects the barcode on your capsules to optimise the amount of water needed, as well as the ideal temperature to brew your coffee." 
A specialty of her home cafe? An iced mint latte, using mint grown in her herb garden. It's an indulgence she often savours while working at the outdoor dining area.  
"With this new coffee machine, I feel like I'm working at a cafe since I can have my coffee anywhere I want," she reflected.
SUSTAINABLE LIVING
Get up-close-and-personal with Ms Hoefer's home cafe.
The multi-hyphenate Ms Hoefer wears many hats – she hosts, models, acts and helms her own podcast. Used to being perpetually on the go, Ms Hoefer had a firm vision when it came to designing her home – she needed to create an oasis, a place where she could recharge and soak in tranquility.
"I love nature, I love being outdoors. So I figured that I was going to try bringing as much of the outdoors into my home as possible," she said.  
Her aesthetic reflects her strong belief in sustainable living. Blessed with a keen eye for discarded gems, her home is a delightful collection of pre-loved and upcycled items from vintage stores and pieces passed down from her parents. The result is a bohemian and earthy space reflective of Ms Hoefer's personality.
"I try to live as sustainably as possible with a zero-waste mindset. For example, I use leftover coffee grounds as compost," she said. 
Unsurprisingly, the Vertuo Next, Nespresso's most sustainable machine yet, has found resonance with Ms Hoefer.
"More than half of the Vertuo Next is made from recycled plastic, and it's got a quick 30-second heat-up time with two-minute auto shut-off, which basically means this machine has a smaller carbon footprint," she explained.
"And since the Nespresso capsules are recyclable, I usually hand them back at the boutique or pass them over during the next online delivery," she said, encouraged that aluminum is recycled into second-life items like pens and coasters, while coffee grounds are sent to local farms like Sky Greens, an urban vertical farm, to grow organic vegetables.
After a long day on set or at a studio, you'll often find Ms Hoefer on her balcony enjoying her go-to coffee – the Reverso.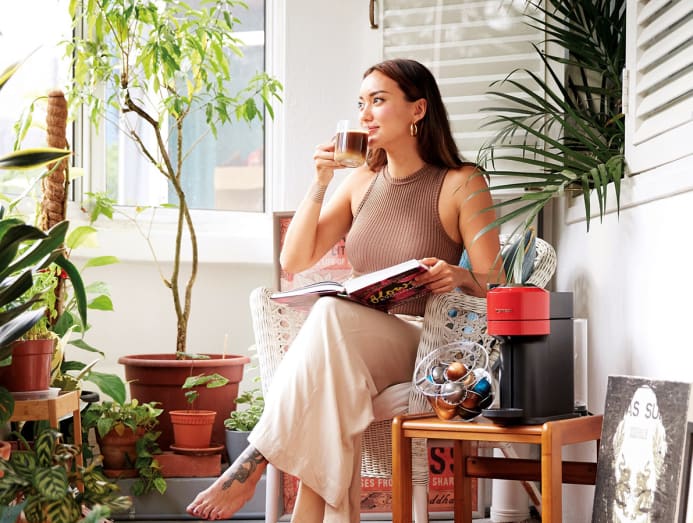 "It's a simple and easy way to enjoy a creamy cup of coffee. All it needs is a dash of milk before you extract your coffee over it because the crema is already infused with a milky taste," she shared. 
The green enthusiast pairs her cuppa with oat milk as it has a lower environmental impact compared to dairy milk. 
Dotted with rescued plants and planters, the balcony is Ms Hoefer's version of an indoor garden cafe, a space where she can relax and enjoy the stillness.
She said: "This is my 'me corner' – where I read, drink my coffee and meditate. And when my friends come over, this is where we hang out and catch up."
Looking to set up your own home cafe? Find out how the Nespresso Vertuo Next can add to your home cafe experience.