Ring in a smooth start to the Chinese New Year with the sweet taste of Auchentoshan
The triple-distilled scotch will keep all the right kinds of conversations flowing. Brought to you by Auchentoshan.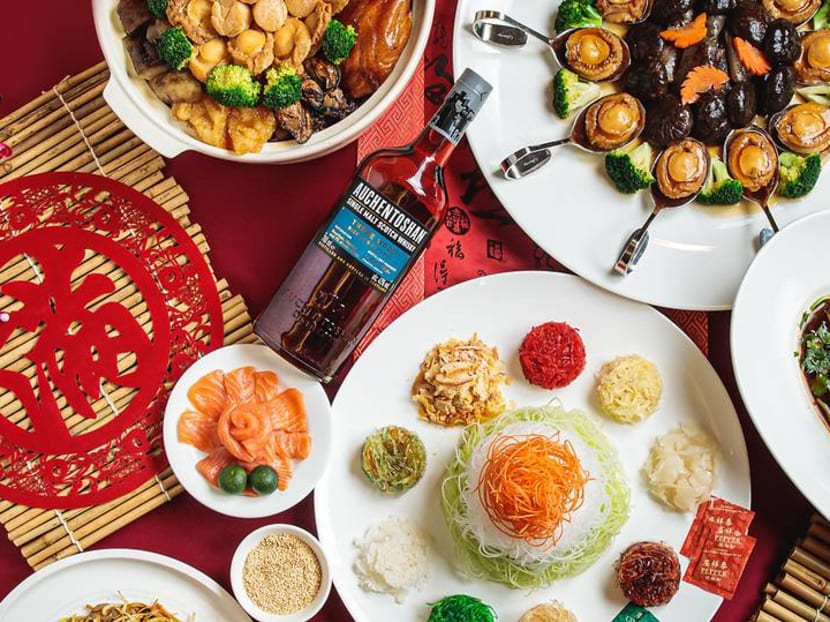 Traditions can be a double-edged sword. On one hand, celebratory rituals like those on Chinese New Year are welcome augurations to the year ahead. On the other, things can sometimes get a little... dare we say, monotonous?
To kick it up a notch, Auchentoshan is inviting the ones who dare to spice up Chinese New Year with a dash of liquid gold that's different. Triple-distilled for twice the smoothness, the whisky is delicate enough for easy drinking, but delicious enough to embolden flavours. And yes, that's anything from abalone and garoupa to roast pork and pen cai.
An urban-dweller's whisky. Video: Auchentoshan
Auchentoshan knows a thing or two about balancing tradition with modernity. It was founded in 1823 on the outskirts of Glasgow, but it honours the attributes of an urbanite with its city distillery in the heart of Clydebank, Scotland. This Chinese New Year, find out how you can include a little modernity in your celebrations.
MIX UP YOUR DINING DIALOGUE
With masks in place and no cheering at the yu sheng table, one becomes inventive at raising good vibes. Rather than resort to pre-recorded proclamations, turn cheer to "cheers" with the addition of Auchentoshan's presence at your get-togethers.
Teaming up with some of the island's best restaurants during this festive period, have your celebratory outing with an elevated pairing of traditional Chinese cuisine and delicious Auchentoshan to stir up better conversations.
The award-winning Famous Kitchen in Sembawang is offering four Prosperity Set Menus. Starting at S$426++ for four persons, expect a Nanyang-style meal to invite auspicious blessings with dishes like Prosperity Salmon Yu Sheng and Double Boiled Herbs Kampung Chicken. All sets include the Auchentoshan Three Wood 70cl Gift Pack and are available from Jan 27 to Feb 26.
Over at Clarke Quay, invite abundance with Mimi's Full of Huat pen cai. A symbol of luxury, the treasure pot of delicacies includes 10-head abalone, scallops, sea cucumber and tiger prawns, simmered for 12 hours for a heady broth. The pen cai is paired with Auchentoshan's Three Wood 70cl Gift Pack. The set is only available for delivery or self-collection from Jan 27 to Feb 28 (with the exception of Feb 12) with a three-day advance order. The set caters for eight to 10 persons, and is priced from S$728+.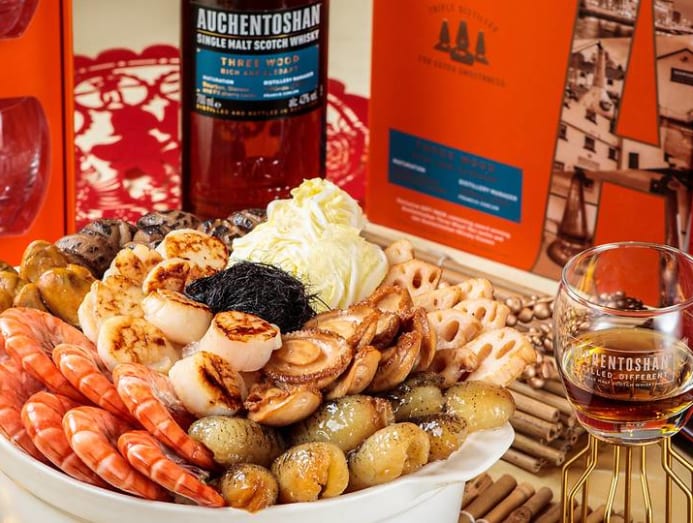 Finally, Empire Fine Chinese Cuisine flies in chefs from Michelin Star restaurants for a pop-up menu radiating with top-notch Cantonese and Teochew goodness. The restaurant in Orchard will include a six-course feast that includes Prosperity Hamachi Yu Sheng, Braised Shredded Sea Cucumber and Fish Maw in Thick Soup, and Braised 10-Head Abalone with Dried Oyster and Lettuce. At S$768++, the limited menu for six persons is complemented with Auchentoshan's Three Wood 70cl Gift Pack.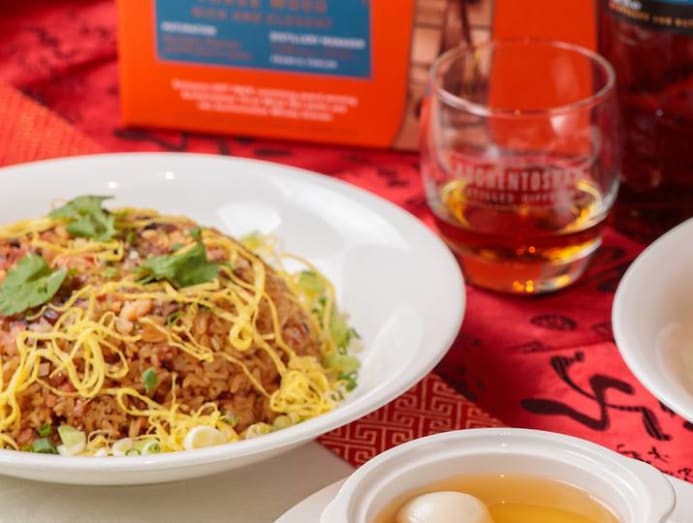 Famous Treasure at City Hall leans into nostalgic re-creations of Teochew, Hokkien, Cantonese and Hainanese cuisines. Try dishes such as the Steamed Cod Fish with Cordycep Flowers, Braised Abalone with Dried Oyster and Black Moss, and Crispy Roasted Duck in its Auspicious Sets, accompanied with the Auchentoshan Three Wood 70cl Gift Pack. The offer runs from Jan 25 to Feb 26, and starts from S$596++ for four persons.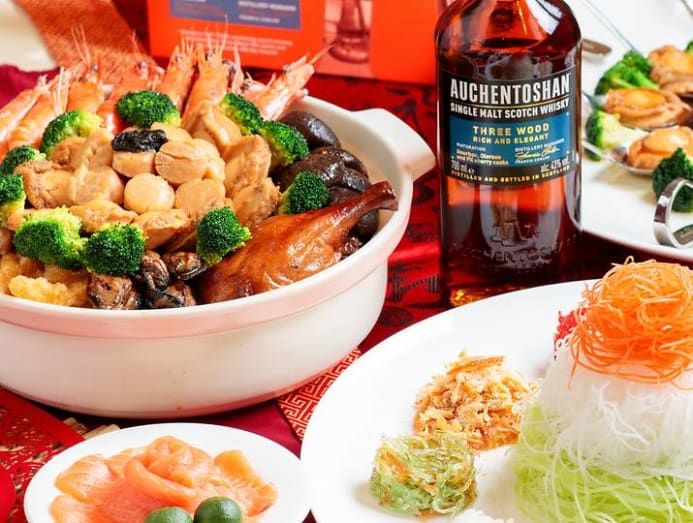 DOUBLE DRAMS OF DRAMA
The silky smooth Auchentoshan Three Wood exudes an air of sophistication with a golden brown colour, thanks to its maturation in quality bourbon and sherry barrels. Your guests will be delighted by how the triple-distilled process makes the single malt an easy drink.
Even folks new to whisky will find a surprising and complex profile within the Three Wood, rife with fruit and syrup notes of hazelnut and butterscotch, with the aromas of blackcurrant, brown sugar, orange, plum and raisins.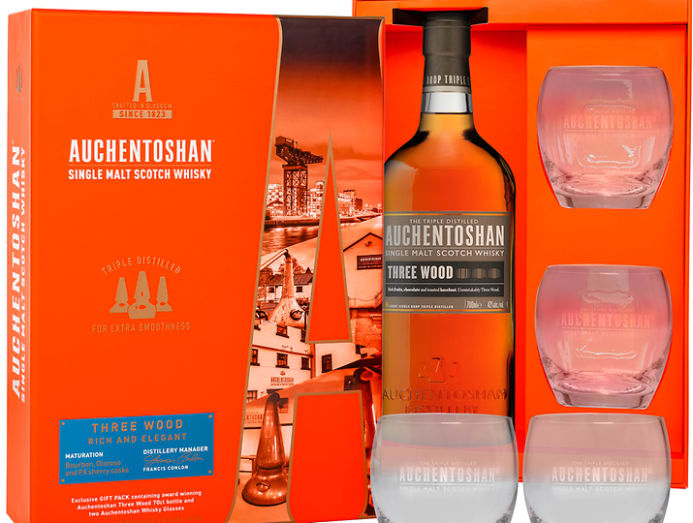 The Auchentoshan 18 Year brings in an even more distinguished presence. A deeper summer barley – a result of complex maturing in barrels over 18 years – comes with an electrifying character of floral freshness, followed by a signature zest. This lingering drink comes with aromas of fresh tobacco leaves, with hints of caramelised sugar, green tea and almonds.
Both bottles are available individually and as gift sets for the festive season.
EASY COMBINATIONS
Fulfilling the promise of matching today's pace, serving up an Auchentoshan can be done in a heartbeat.
Punctuate intervals with neat shots to appreciate all of its profile, then add a chaser (it doesn't have to be water) and have another refreshing go.  For those who want a little less bite, add equal parts of whisky and mineral water, and include ice. This half rock version allows the aroma and flavours to bloom just as nicely.
Go full on-the-rocks for a sure-fire way to satisfy purists – just ice and whisky. Here's a tip: Chilled glasses and a large ice ball help to maintain an even drinking experience.
Finally, for a most refreshing take, serve one part whisky to two or two and a half parts mineral water. It makes for a tipple that raises the buzz without the fuss.
Inject personality into every feast with Auchentoshan, and make that reservation today.