Saddle up and experience the Gangnam lifestyle you never knew
Beyond its shiny upscale facade, this district in the heart of Seoul is also a trendsetting cultural hub.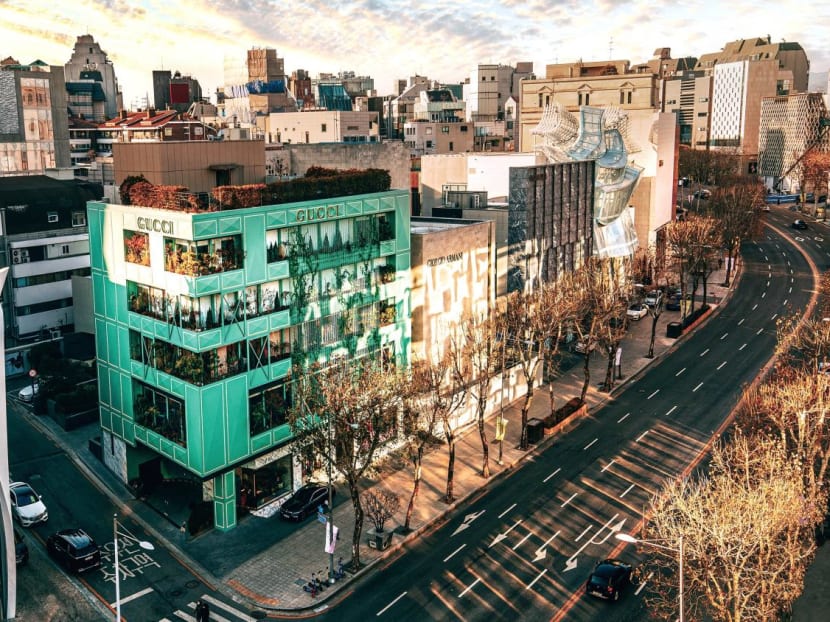 Designer digs and a very catchy song aside, many visitors to Seoul know Gangnam for little else beyond its reputation as an expensive postal code. The district is sometimes skipped over for other areas – unfortunately so, because Gangnam packs some choice experiences unique to its locale.
The chequerboard district includes both historic and happening spots, taking one from tree-lined boulevards and monument parks to international art galleries and sumptuous eats within a few strolls. Sure, there's fashion and shopping, but Gangnam's cosmopolitan allure is so much more, a burgeoning secret just waiting to be explored. 
REWARD YOURSELF INSIDE OUT IN APGUJEONG
Apgujeong is an age-old shopping destination popular with visitors and locals alike. From the 1990s orenji-jok (literally "orange tribe" in Korean) who adored their international brands to today's cool subcultures, all have found their expression in this neighbourhood.
Dive a little deeper, and you'll find it's not all about the clothes. Gangnam's point of view comes from diverse influences, and one can experience this with a stroll through Apgujeong. 
Start at Horim Art Centre. Its graceful curvature hints at the precious comb-patterned Korean pottery inside. Continue this aesthetic theme around the corner at Atelier Hermes in the Maison Hermes building, and enjoy a delicious lunch at Cafe Madang – also known as the world's only Hermes cafe.
Then, it's a short walk to the flagship store of Sulwhasoo, one of South Korea's top beauty brands, for its full product range, VIP consultations or treatments in private rooms overlooking Dosan Park. Down at the lush park, peek into Opera Gallery to see examples of contemporary art, with originals from Pablo Picasso and Marc Chagall. The park itself is named after Dosan Ahn Chang-ho, a prominent Korean independence activist, and the area contains his statue, memorial hall and final resting place.
Up for some tea? Drop by Nudake Haus Dosan, a cafe offering a curious menu inspired by art and fashion, with items like the Peak Cake made from squid ink. Created by luxury eyewear label Gentle Monster, this cafe concept also houses the brand's designs on the second and third floors.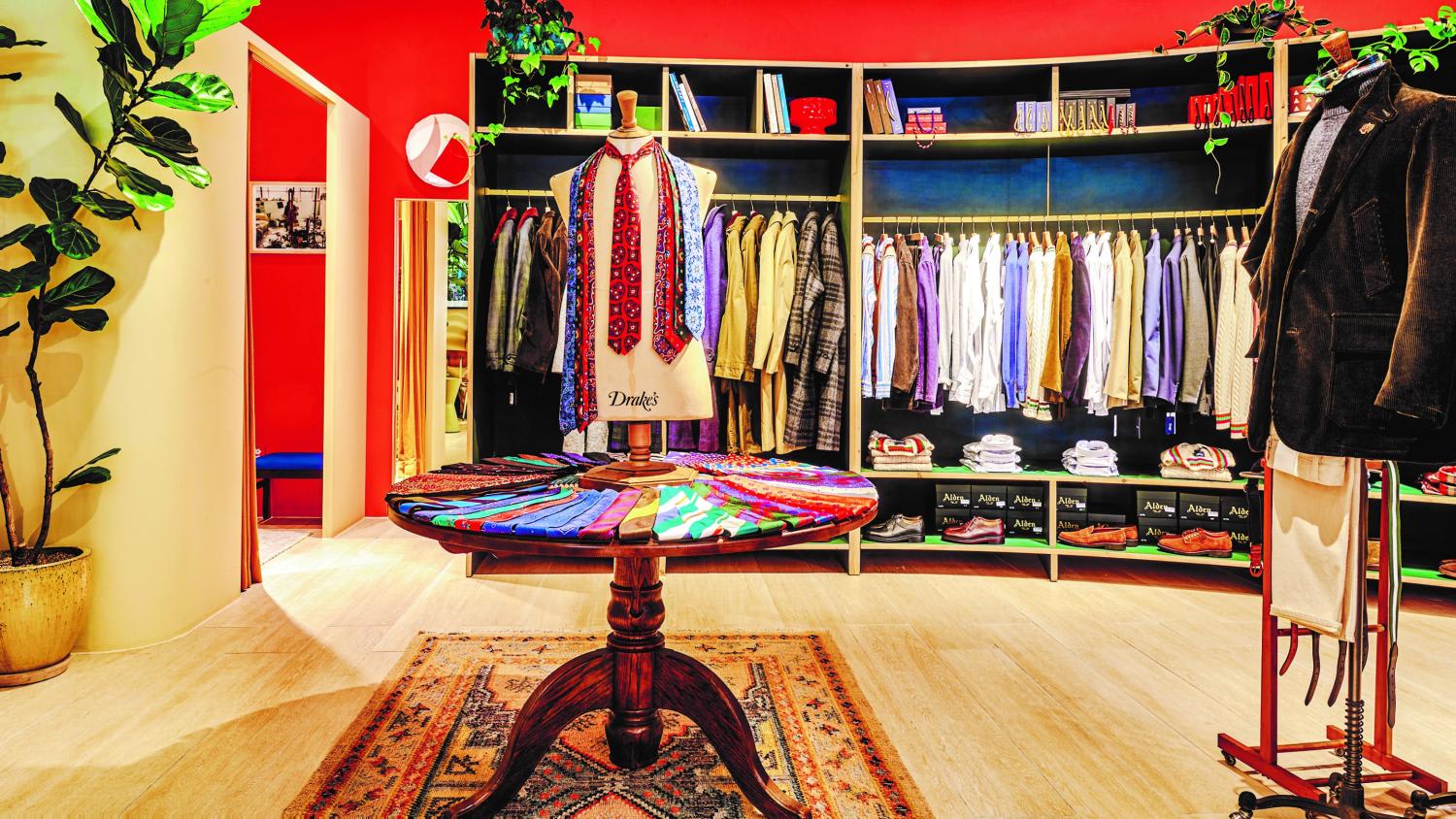 More fashion havens can be found at Amondz Lab, which claims to be the country's first jewellery boutique, offering women affordable speciality pieces by Korean designers. British cult menswear brand Drake's will put one in a dapper mood, while shoe shop Unipair completes the look with quality handmade shoes.
And because piercings are all the rage, get your statement piece at Nana Pierxing – a piercing studio popular with K-pop stars. Finish the walk with a visit to the upscale Galleria Department Store and conclude with dinner at its trendy food court, Gourmet 494.
THE WORLD MEETS IN CHEONGDAM
A glitzy prelude to glamorous Cheongdam lies past Apgujeong Rodeo Station down to Cheongdam Intersection. This is K-Star Road, where you can say Hallyu to the cute Gangnamdol (think "Gangnam" meets "idol" and "doll") modelled after South Korea's arguably biggest export – K-pop. Fans can spot 17 of their favourite K-pop groups, immortalised as 3m-high dolls. 
Then, make your way to Cheongdam's iconic luxury fashion flagship stores. Chanel's all-black, seven-storey boutique built with lava stone and black glass stands out, as do the destination stores of Dior, blooming like a flower, and Gucci, with its mint-coloured aluminium facade. The latter two also have their own cafes, and an afternoon tea there makes for an unforgettable experience. 
A few doors down, Espace Louis Vuitton Seoul – designed by legendary architect Frank Gehry – is home to exciting artwork by artists from Tokyo, Munich, Venice, Beijing and, of course, Seoul. Or experience artistry of a different manner at Pretty Salon, where a hair makeover worthy of the stars will have you looking and feeling like a million bucks.
For more adventures in art, Cheongdam does not disappoint – the neighbourhood is sprinkled with notable galleries. Konig Seoul shows off pieces from Germany along with an impressive rooftop terrace. The mixed media gallery Noblesse Collection is an artful extension of its parent company's global publications and is a great place to pick up tasteful souvenirs. Or make your way to the dramatic Songeun Building and learn about emerging young artists supported by the Songeun Art and Cultural Foundation. As you wander around these spaces, pop by boutiques like Beaker and 1LDK, where you can discover chic, up-and-coming brands.
Feeling peckish? Have your pick of crispy Peking duck from The Round, pair sashimi with sake at Tokyo Saikabo or try authentic French cuisine at The Terrace. For elevated Korean barbecue, Don Blanc is the place to go.
A WANDERER'S PARADISE IN SINSA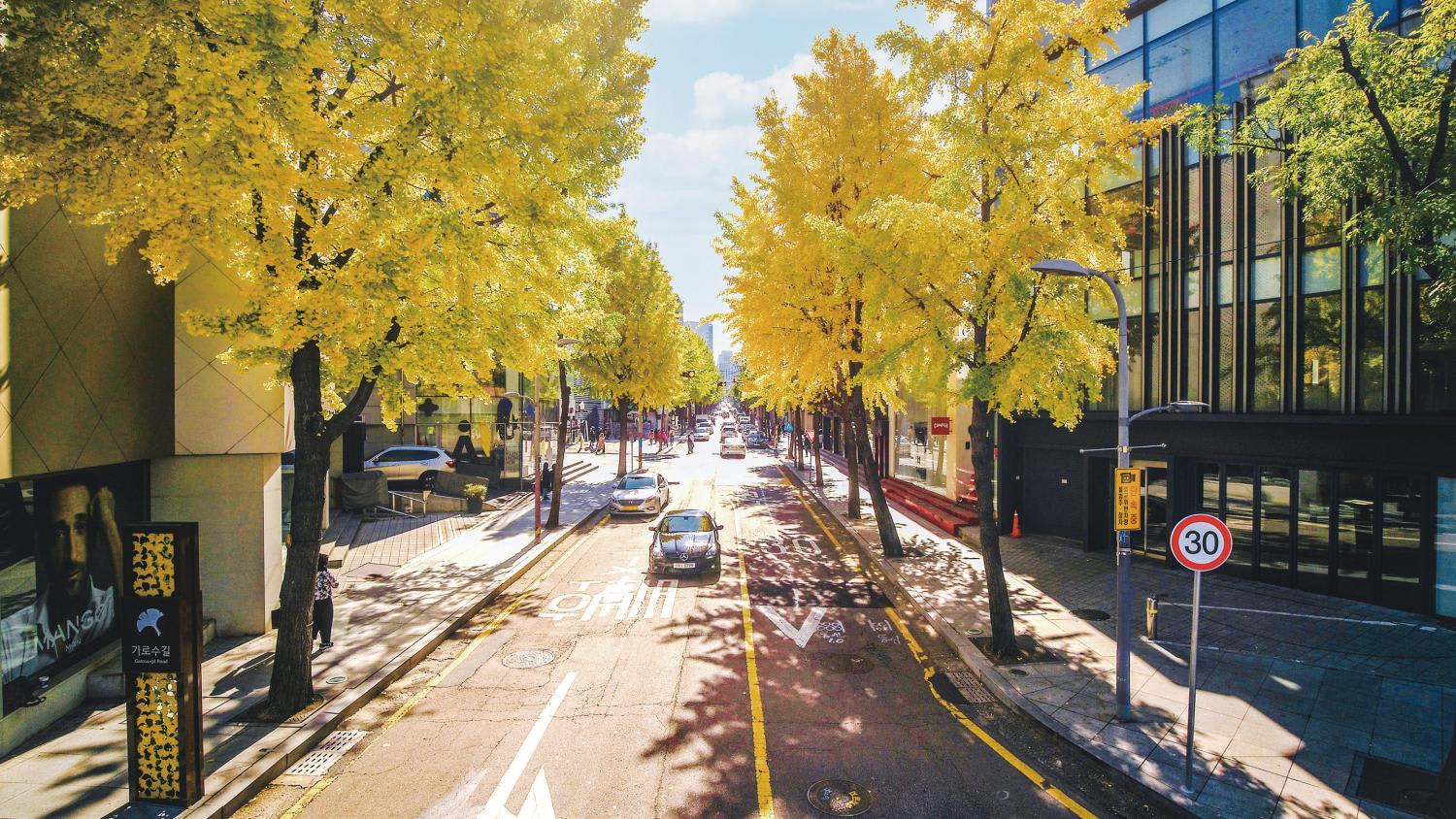 If you love the idea of chance encounters and new discoveries, Sinsa makes this easy. In the trendy Garosu-gil area, you'll find Insta-worthy moments at every turn, with golden ginkgo trees offering dappled shade to passing pedestrians. Running parallel to the main street are the back alleys of Serosu-gil, a quaint network of sophisticated shops from fabulous boutiques to alfresco cafes. 
Start south of Sinsa subway station at Harim Tower or at Espace near Hakdong Park. The two architectural sites are awe-inspiring from the outside and within. Then head to K-beauty hotspot Villa de Murir for an indulgent makeover. To maintain your new look, make a beeline for Ayurvedic aromatherapy skincare brand Ayu25, just a street away. Its products tap into the therapeutic power of essential oils and can be customised to your skin concerns. Match your glow with a healthy meal – try the halal, vegan options of fresh pita, salads and falafel at Chick Peace, or light Vietnamese fare at Quan An Dao. 
Alternatively, build your afternoon around creativity and cappuccino. Move through Garosu-gil and find art galleries like 2Gil29 and Gallery Yeh alongside coffee shops like Cafe Mula and Flash Coffee. You'll have a fulfilling itinerary browsing the captivating artworks and refuelling with fine brews, even coffee cocktails, complete with incredible rooftop views. This is the understated luxury that is Sinsa.
Step into Gangnam style and discover other hidden gems in Seoul's most famous neighbourhood.