Shake it up: Give your fitness level and health a boost with a mix of daily physical activities
Join YES 933 radio deejay Hazelle Teo as she shares how a mix of aerobic, strength, balance and flexibility exercises helps her reap the most benefits.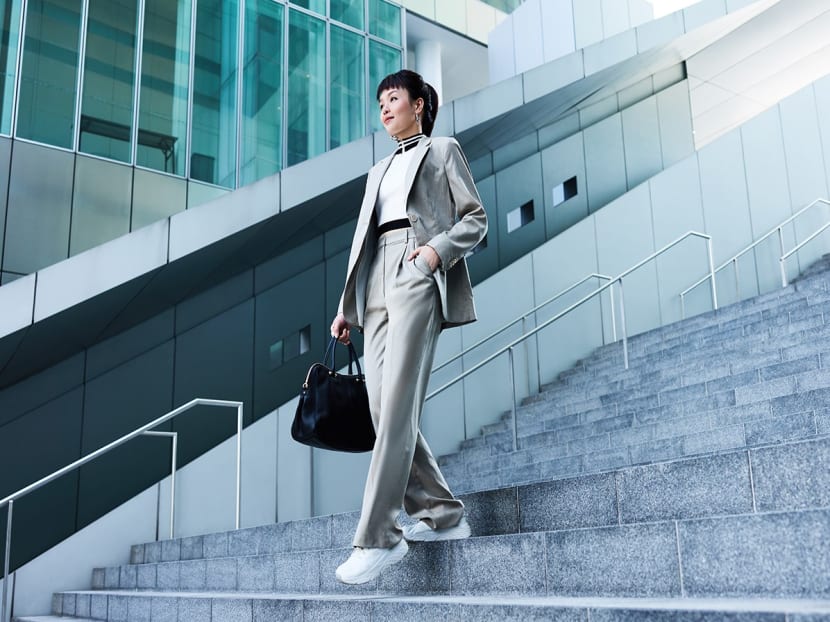 While some people have fallen into more sedentary habits during the pandemic, YES 933 deejay Hazelle Teo has, in fact, picked up the pace of her physical activity in the past two years. 
Much of her inspiration is drawn from her 100-year-old grandmother, who remains as active as she can despite her age.
"My grandmother stays active by walking around the house and doing chores such as taking care of the laundry and washing the dishes," said Hazelle, 27. "I can see how her perseverance has paid off, considering how mobile she is for her age. I would like to be like that when I grow old." 
Hazelle, a dance and fitness enthusiast, currently keeps fit through several ways, such as getting in a quick high intensity interval training (HIIT) workout or a run around the neighbourhood amidst her busy schedule. This is in addition to dance rehearsals and weekly workout sessions with a personal trainer. 
WHY GET MOVING?
Singaporeans can do more when it comes to physical activity. The National Population Health Survey (NPHS) 2020 found that only a third of Singaporeans are physically active during their leisure time. This is despite the numerous health benefits of getting sufficient physical activity. 
Dr Aaron Sim, assistant director of Health Promotion Board's Physical Activity and Weight Management Division, shared that adequate physical activity can help to lower risks of cardiovascular disease, hypertension, Type-2 diabetes and certain cancers. It also improves cognitive health, sleep quality and mental health. 
"To reap substantial health benefits, an average adult should engage in at least 150 minutes of moderate-intensity physical activities or 75 minutes of vigorous-intensity physical activities throughout the week. This can be broken down into shorter bouts of exercise, such as 30 minutes of moderate to vigorous physical activity (MVPA) daily," Dr Sim said.
Moderate-intensity physical activities refer to pursuits that cause a noticeable increase in breathing and heart rates – think brisk walking, hiking and recreational cycling where one can carry on a conversation, but not have enough breath to sing.
Vigorous-intensity physical activities, such as jogging, aerobics and sports like football and badminton, cause the breathing rate and heart rate to increase significantly. Those engaging in such activities will have difficulty holding a conversation, although they are not out of breath.
SIMPLE LIFESTYLE TWEAKS TO GETTING FITTER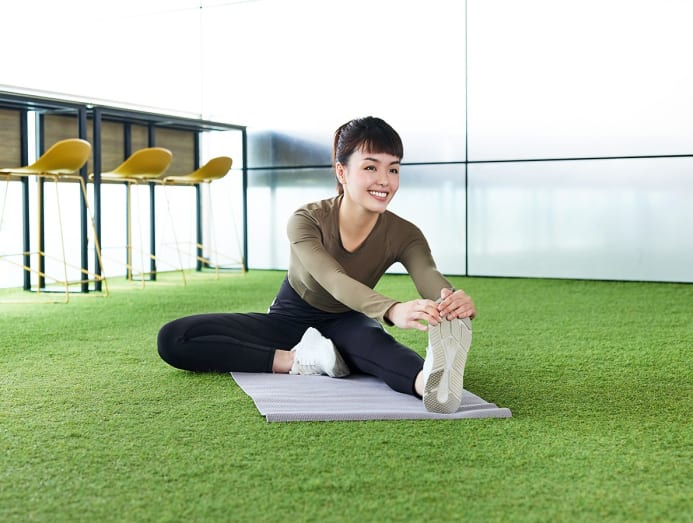 So how can time-strapped people get started on improving their fitness?  
According to Dr Sim, breaking up exercise into achievable bite-sized bouts of physical activity and integrating them into one's daily routine will help. For example, you can schedule a 15-minute mid-day HIIT workout, choose to reach a nearby destination on foot rather than take public transport, or make time for a 30-minute brisk walk around your neighbourhood after work. Engaging in effortful household tasks such as vacuuming and mopping counts as part of MVPA requirements as well. It is also important to get up and move for five minutes for every hour of sedentary behaviour, he added. 
For Hazelle, she counters long periods of inactivity during work by standing throughout her three-hour radio shift. She also does flexibility exercises, such as splits and touching her toes, while watching videos online. Whenever possible, she takes the stairs instead of the lift.
"A little a day goes a long way. Don't underestimate that extra flight of steps you climb every day," she said. 
MIX IT UP 
Dr Sim also recommends incorporating a variety of physical activities on top of aerobic-based exercises such as walking and cycling. These include strength, balance and flexibility exercises, each with its own health benefits. 
"Each type of exercise provides co-benefits to the other. For instance, being strong and flexible may facilitate better balance and form, and help prevent injuries as one partakes in aerobic activity," Dr Sim said. 
Aerobic Exercises 
According to Dr Sim, aerobic exercises improve cardiovascular health, reducing the risks of cardiovascular diseases and high blood pressure. They also lower the risk of Type-2 diabetes and certain types of cancer.
Hazelle clocks in an aerobic workout at least once a week to get her heart pumping. This can be in the form of following a 15- to 35-minute video workout or a 5km run around the neighbourhood. 
"At times, my work schedule can stretch up to 15 hours a day. Aerobic exercises improve my endurance and stamina, which in turn makes everyday life a breeze, be it rushing to the radio conty from the drama set or standing for long hours at work," she said. 
Strength Exercises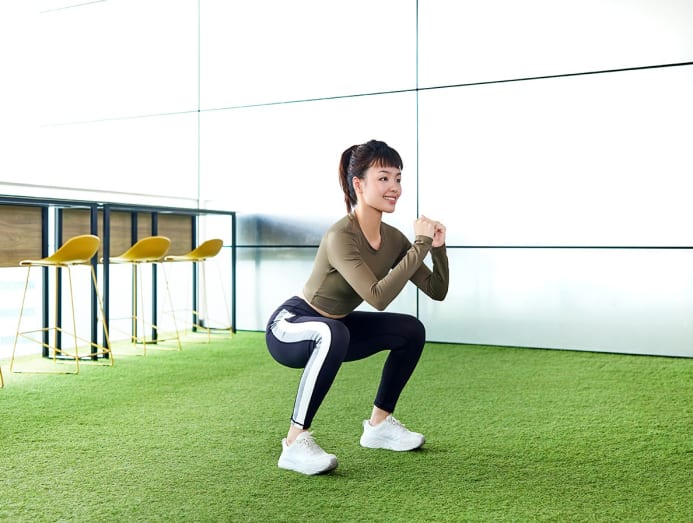 Strength exercises strengthen bones and muscles, reducing the risk of injuries. Hazelle's go-to strength exercises include squats and push-ups that allow her to have greater control of the muscle groups in her body and lift heavier objects and groceries more easily. 
Together with a good sense of balance, having stronger muscles also helps Hazelle reduce the risk of injuries during her dance rehearsals, which may last two to four hours each time.  
Balance Exercises 
Balance exercises strengthen muscles to improve stability and coordination, and that can help to prevent falls. 
Planking on an exercise ball and knee lifts are some exercises Hazelle performs to improve her sense of balance. "Having good balance helps me to stand right up on my feet when I accidentally trip. I find that it also improves my proprioception – the body's ability to sense movement, action and location – and that's so important for a dancer," she said. 
Flexibility Exercises 
To improve posture and balance as well as increase range of motion, flexibility exercises are key. Hazelle maintains her flexibility by stretching and doing yoga, such as the bridge pose on an exercise mat. 
"Flexibility is particularly important when it comes to acting or hosting. It improves my posture and helps me look natural on screen. Stretching also helps to relieve the tension in my body from maintaining the same posture for long periods during work," she said.  
Hazelle believes that an active lifestyle not only reduces the risk of diseases, it also allows people to live well. "We have to be comfortable in our own body before we can enjoy life to the fullest. An active lifestyle ensures that we can live our best lives and get around with ease," she said.
Be sure to start slow and increase the difficulty and intensity levels progressively when starting any new physical activity. For people with existing health conditions, it is advisable to complete an exercise readiness survey, such as the Get Active Questionnaire. 
Get moving now with free online exercise resources from the Health Promotion Board.