Spread a Dash of festive cheer with e-gifts from the heart and be rewarded this holiday season
Everyone's a winner with Singtel Dash's Dash it, Shake it, Share it campaign. Brought to you by Singtel Dash.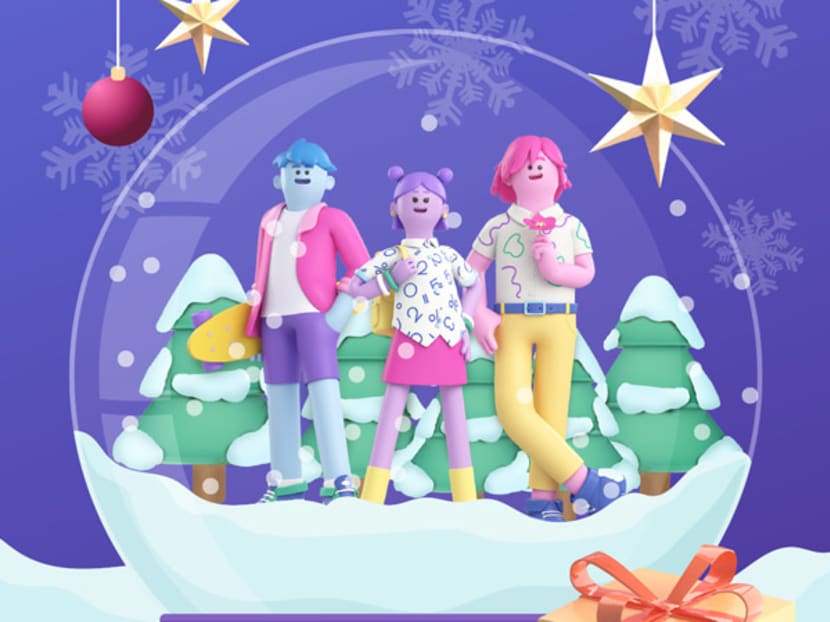 The year-end holiday period of Christmas and New Year gives one all sorts of feels. For one, it's about gifting, feasting and merry-making; and the other, a heartfelt wish to begin anew with a better year ahead. Amid the revelry and resolutions, the true joy we seek sometimes lies in fostering relationships we may have neglected in the year.
While parties become downsized with restrictions, connections can still happen with thoughtful actions. Singtel Dash opens up an avenue for you to surprise someone with its latest Dash it, Shake it, Share it campaign. By completing transactions such as purchases with the e-wallet, remitting home some love, or topping up someone's Singtel mobile cards, you'll find several bonuses waiting for you this season, including a top prize of 1 million Dash reward points.
PICK UP THE TAB
Holiday food hampers are always welcome, but meeting up for some feasting is even better. And when one opts to be the gracious host and foots the bill, Singtel Dash rewards the payment with generous points – up to six points for every dollar spent. This is on top of ongoing deals with merchants such as Cat & the Fiddle, Tiger Sugar and foodpanda. Fave dining merchants even include up to 20-per-cent cashback bonus on top of the reward points that you'll be getting.
Use the points to redeem vouchers from Shopee, Zalora, Style Theory or Swensen's and treat your loved ones to a Christmas gift or a meal, changing reward points into brownie points.
Adding on to the festive gifting feels, the Dash it, Shake it, Share it campaign stacks up on wins. Whether you're dining at a restaurant or ordering food deliveries, every transaction of at least S$10 made via Dash will earn users a game chance for a sure-win prize. Open up the app and you'll be greeted with a cheerful snowglobe. Simply tap the glass bauble and see it shake up a storm, then reveal what you've won. Prizes include 1 million Dash reward points and many merchant cashbacks for use during your next visit.
HOME IS WHERE THE HEART IS
Limited travel options mean that some families will spend this year-end festive period apart. And while nothing can replace the warmth of a physical reunion, sending some love home using Singtel Dash's remittance service can still be a way of letting everyone celebrate.
The app allows users to easily send money back home to the Philippines, Indonesia, Malaysia, Myanmar, India, Bangladesh and China. Available 24/7, the service gives users the safety and convenience of remitting from anywhere, anytime, while benefiting from lower fees and better exchange rates. Users will also enjoy 100 Dash reward points and be protected with complimentary 30-Day Dash Protect insurance coverage* with each eligible transfer.
For the campaign, remit at least S$400 (excluding fees) and earn one game chance to shake the snowglobe on the app.
MEANINGFUL CONNECTIONS
Surprise recipients with a top-up on their Singtel prepaid Hi! Cards and let them enjoy some extra airtime with their loved ones, especially if they can't be with one another. It's a thoughtful and novel way to show someone you care. For yourself, it also means an additional game chance with a minimum top-up of S$20.
For those who miss their loved ones overseas, a minimum top-up of S$10 for international prepaid airtime earns you the same.
It's a small action done virtually, but the impact is all real.
TREATS WORTH SHARING
No matter how you Dash it, Shake it, Share it, you'll be reaping the holiday benefits every time you use the mobile wallet. On top of the 1 million reward points, there are over 300,000 cashback prizes in the sure-win shake. What's more, your cashback wins can also be gifted to other Dash users, giving you opportunities to offer treats like useful vouchers from Lazada, Shopee, Pomelo and Qoo10.
Discover the ways in which you can keep festive connections lit with Singtel Dash. Terms and conditions apply.

*Policy terms and conditions apply for Free 30-Day Dash Protect.  The free insurance coverage is underwritten and issued by NTUC Income. Protected up to specified limits by SDIC. For terms, conditions and exclusions of this insurance plan, refer to income.com.sg/dash. For claims, contact NTUC Income at 67886616. The remittance service in the Singtel Dash app is provided by SingCash (CRN: 201106360E). Click here for full terms and conditions.