A suite holiday: Your palatial invite awaits on the open waters
The Palace luxury club aboard Resorts World Cruises' Genting Dream gives new meaning to sailing the high seas.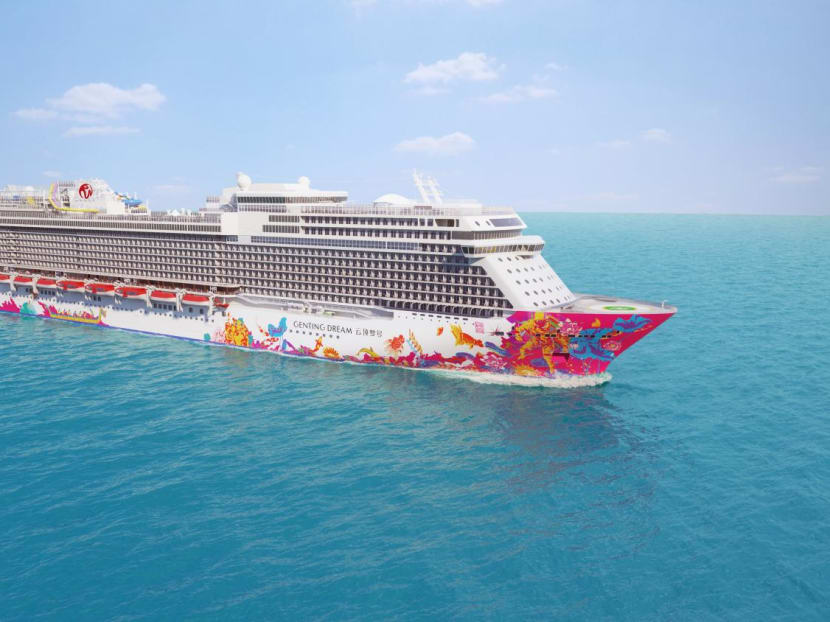 A rewarding vacation means distinct things to different travellers. For some, a million-dollar view is non-negotiable; for others, it's about taking their senses on a journey of global cuisines. And while many travellers love an exciting itinerary, hopping from adventure trails to live entertainment venues, there will be those who want nothing more than retreating to a comfortable room and dipping in a private pool to soak in the sun.
Promising all this and more is The Palace on Resorts World Cruises' Genting Dream – an all-suite ship-within-ship enclave that is also reportedly the largest luxury club on a cruise liner. An unforgettable holiday unfolds here with personalised service and stylish amenities, along with the indulgent ease that helps one settle into the holiday mood.
ARRIVING LIKE A VIP
The best journeys start with a warm arrival. The Palace members are treated like royalty even before boarding the Genting Dream, with a VIP lounge awaiting them at the cruise terminal for a relaxing check-in.
Sit back and skip the lines as a butler takes care of all your check-in requirements. Your priority access includes expedited luggage processing and fast-track security clearance.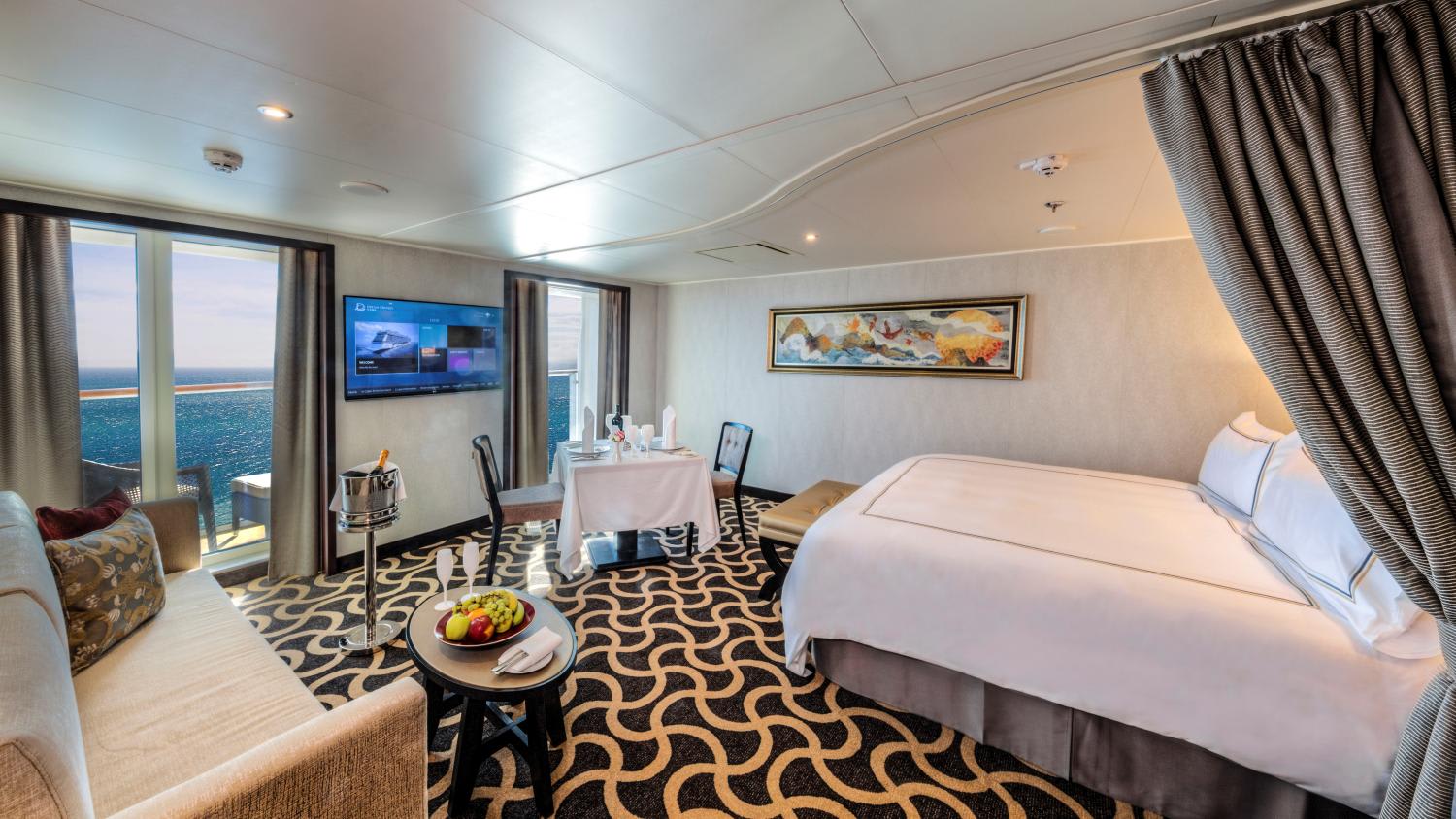 The Palace on Genting Dream offers five plush all-suite categories for its members, ranging from the 400 sq ft Palace Suite to the top-tier Palace Villa at 2,400 sq ft – about the size of two five-room flats. Regardless of which you choose, expect opulent living with fine furnishings, premium bath amenities, gourmet coffee as well as dream beds and Italian linens from Frette for the deepest slumber.
Thoughtful additions elevate the cruise experience even as you enter, with a fully stocked minibar and a welcome basket of fruit and delicious treats. Clothes pressing services ensure you look impeccable throughout your stay, while a bundled Wi-Fi package keeps you connected to those who matter. Palace Penthouse and Villa guests even wake up to fresh flower arrangements.
But perhaps most appreciated of all is the 24-hour butler concierge service. Rather than spend your time checking for available slots for activities on the ship, let a butler coordinate the bookings for you.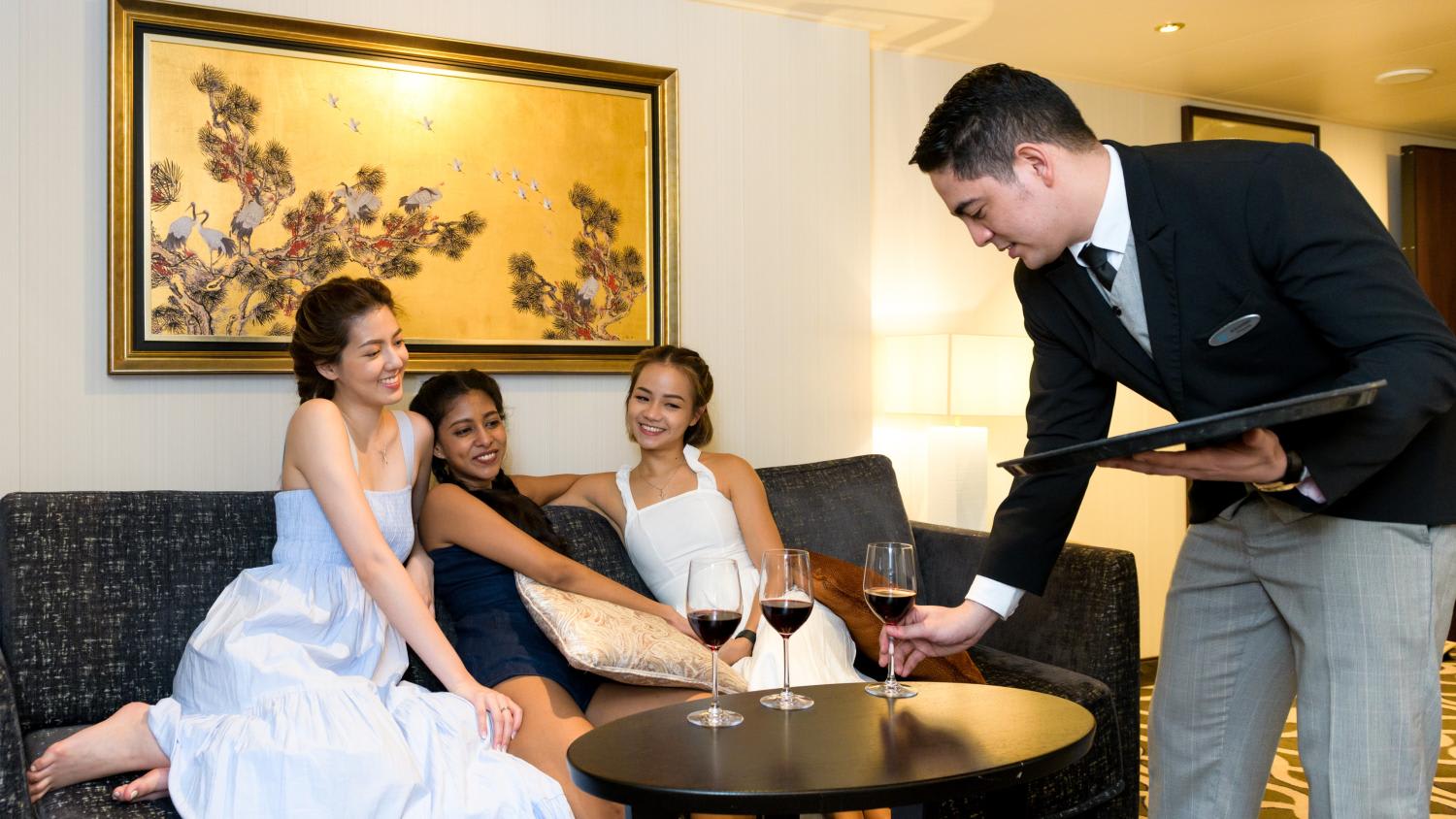 One of the facilities you won't need to reserve is time at the pool. The Palace touts its own private pool for Palace guests only – a top-deck escape offering sunny holiday vibes.
AN ELEVATED MENU
Nothing makes for a satisfying cruise vacation more than indulging in choice cuisines on-board. The Palace guests can enjoy all-inclusive gourmet meals at the exclusive The Palace restaurant, with an international menu featuring tempting delicacies.
For more culinary adventures, opt for set meals at speciality restaurants on the cruise liner – there's western fare at Bistro, Chinese fine dining at Silkroad, and Japanese teppanyaki at Umi Uma. If hotpot on the seas hits the spot for you, there's that, too. Genting Dream also has halal-friendly menus and caters to speciality diets like Jain vegetarianism, so everyone can be included in the feasts no matter.
There's a free-flow choice of chilled juices, teas and coffee to keep one hydrated throughout the day. And during Happy Hour, The Palace guests enjoy a complimentary selection of wines, beers and non-alcoholic beverages at selected venues – a perfect time to relax and watch the sunset.
Private soirees can also be catered for, with priority bookings for the Chef's Table in the Vintage Room. For Palace Villa guests, there's the option of complimentary in-suite dining, for cosy bonding time away from other guests.
FROM ENTERTAINMENT TO ENRICHMENT
An afternoon scaling a rock wall or whooshing down a 35m over-the-water zipline? The choice is yours. At your butler's call, your next event can be planned conveniently, even if it's an impromptu need for thrills. And with priority access to live production shows, the world-class acts of the Zodiac Theatre performers will always be made available to you. Additionally, The Palace guests have access to a line-up of bespoke enrichment programmes, including talks on wellness and investment.
Parents looking for some time to themselves will appreciate the exclusive Kids Programme for The Palace guests. A planned itinerary will send the children out for hours of supervised fun, while Dad and Mum can enjoy a long-earned date by themselves. And if you want to spend some me-time in your private gym, spa or other facilities, the afternoon is yours.
For those seeking exuberant escapades, The Palace on Genting Dream delivers a luxurious hospitality experience on the high seas with its tailored services and elevated offerings.
Set sail with The Palace and its luxurious club setting on Resorts World Cruises. For enquiries, call 800 852 8188. Book now and enjoy 25 per cent off for the third and fourth passengers.