Taking street art to a new level, and into the future
Urban visual artist Toby Tan, better known, as Tobyato, set out to discover what happens when tradition meets the future, with some help from the Hyundai IONIQ 5.
Toby Tan, the urban visual artist known by his moniker Tobyato, may not be a household name, but his vibrant works have undoubtedly caught the attention of many.
With a portfolio spanning larger-than-life murals and street art installations scattered across Singapore, his bold and colourful designs draw inspiration from diverse sources, including pop culture and traditional motifs.
Aside from working with local organisations to create street art and products that showcase the city's unique character and culture, Tan has played a pivotal role in shaping Singapore's street art scene and raising awareness of the importance of public art and its potential to spark dialogue and inspire change.
Urban visual artist Toby Tan, better known, as Tobyato, set out to discover what happens when tradition meets the future, with some help from the Hyundai IONIQ 5.
Pushing for change and opening new doors are notions that the Hyundai IONIQ 5 electric sport utility vehicle (SUV) captures as well. When Hyundai announced in January that it would start assembling IONIQ 5s in Singapore this year, it marked a surprising turn for car afficionados in Singapore.
Car production had ceased in Singapore in 1980 with the closure of the Ford factory at Bukit Timah. Few had expected that a car would once again be assembled in Singapore, let alone one as futuristic as the IONIQ 5.
"I was blown away when I first heard about it. A car is such a luxury in Singapore and the idea of one being made here seemed improbable," Tan said. "I am also made in Singapore and it's something I identify with."
STATE OF HIS ART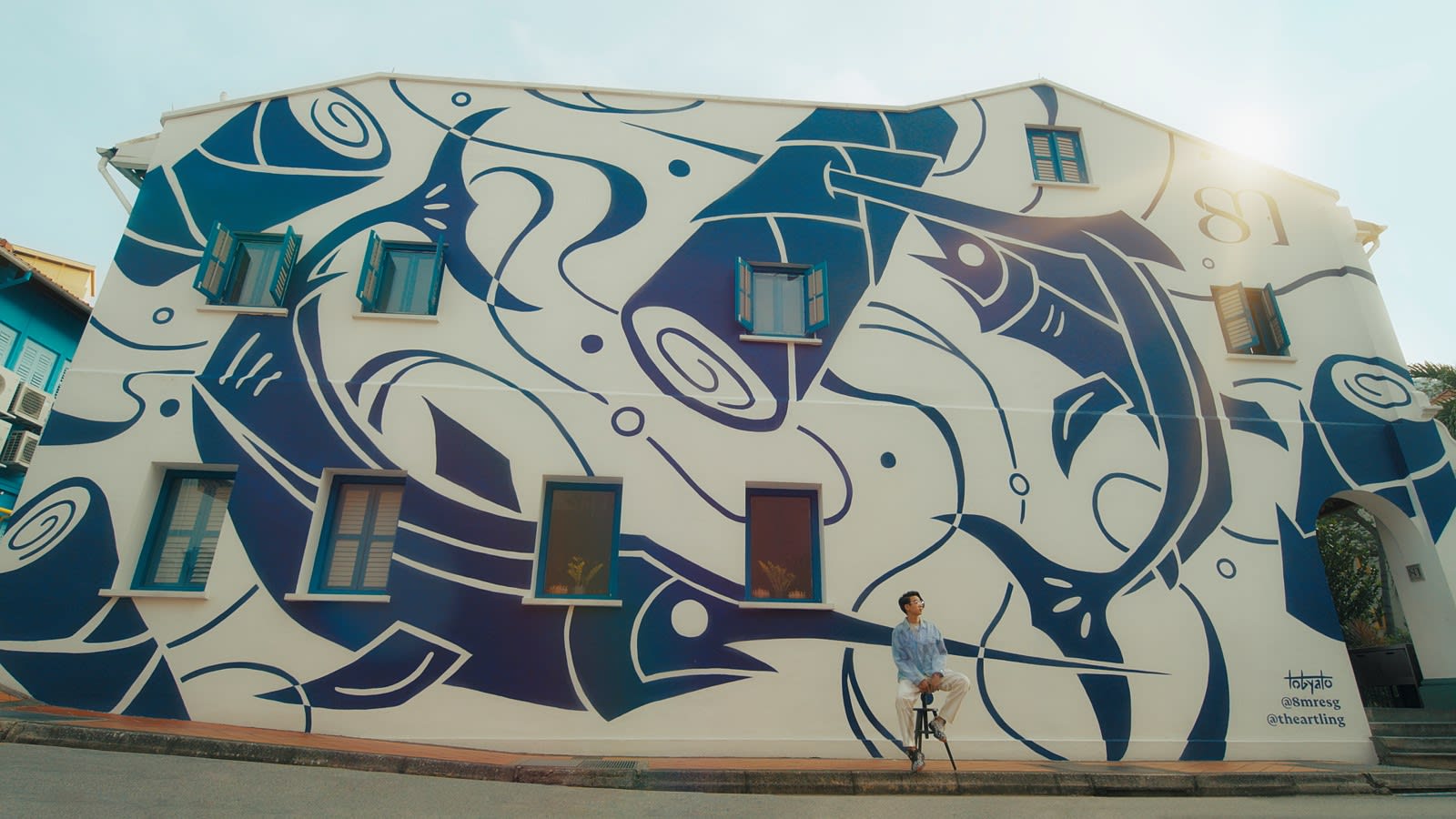 Whether it's a car like the IONIQ 5 or his own heritage, having something he could identify with served as an anchor point and provided a framework for his creative process. "I like to say there has to be a box so I can think out of the box," Tan shared.
Tan's earliest links to his artistic style can be traced back to his childhood, when his parents would bring him to visit temples. "When I was young, I was enamoured with the decorative elements of these temples. As I grew older, I realised it was part of my personal culture. As an artist now, I think it is very meaningful to be able to tap into my personal heritage and culture."  
These influences have helped to shape his style as an artist – which he says can be interpreted in numerous ways.
"Style is perceived very differently by different people. Everyone has their own perception of what my art might be. It may range from something that's bold to something colourful, to something that's Asian-inspired. And all of these interpretations are true." 
Just as his heritage has formed an anchor point for his artistic style, so too has Hyundai's pixel design – which Tan found particularly intriguing.
A departure from the smooth curves and lines found in many modern car designs, the IONIQ 5 uses a series of pixelated shapes to create a bold, distinctive exterior. This unique visual language unifies the IONIQ family of pure electric cars and makes it easy to recognise the IONIQ 5 at a glance.
"It's a very bold move," Tan said, recognising the strength of the design.
FROM PONY TO PIXEL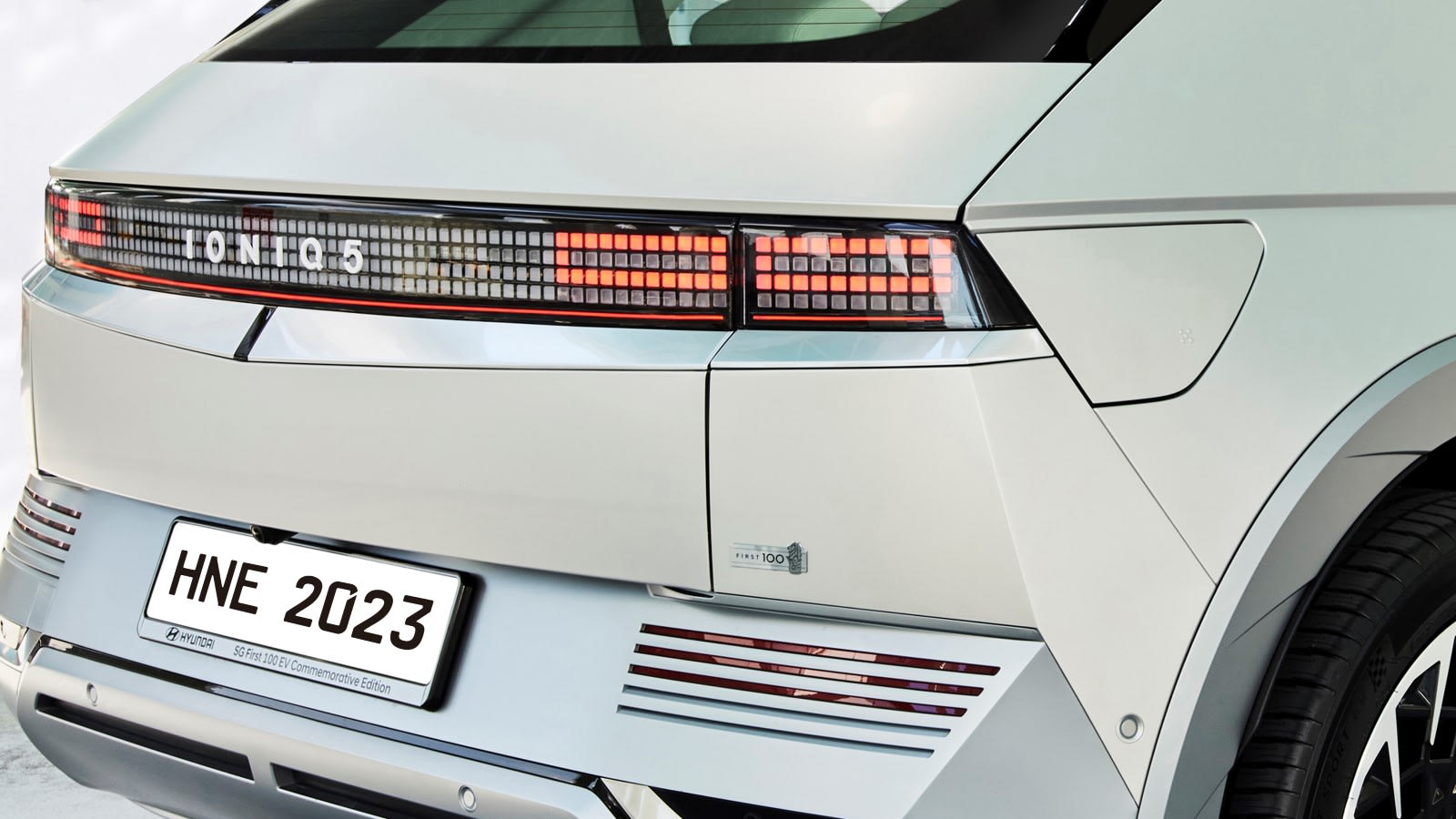 The Hyundai IONIQ 5 looks to the future while paying homage to the past and it's a philosophy Tan can relate to.
The IONIQ 5's design was inspired by the Hyundai Pony, the company's first mass-produced car. Designed in the 1970s, the Pony emphasised the use of origami-like geometric lines that created an outstanding visual impact. The IONIQ 5's pixel design updates this aesthetic while incorporating cutting-edge technology and features.
"Paying homage to a retro car and how it influences the now, and bringing heritage elements to a car made for the future, is something I deeply respect and align with, in terms of my journey as an artist," said Tan.
AN APPRECIATION OF FUNCTION AND FORM
For an artist like Tan, creativity is at the core of his work. So, it might come as a surprise that it was the practicality of the IONIQ 5's interior – which Hyundai describes as a living space – that captured his attention.
The car's Electric-Global Modular Platform is Hyundai's dedicated EV platform which features a long wheelbase and flat floor that maximises space within the car. It also offers a flexible cabin with seats and a large centre console that can be customised to accommodate passengers and cargo.
This is good news for a urban visual artist who's always on the go. "As someone who moves around a lot, one thing I struggle with is finding a comfortable place to work. To me, a car like this makes it possible to work anywhere."
The IONIQ 5 shows that when heritage meets future, something remarkable can emerge. As Tan's experience with the car demonstrates, the future doesn't have to erase the past. Instead, the two can co-exist and combine to create something truly powerful, meaningful and stylish.
Find out more about the made-in-Singapore IONIQ 5.