For travellers with a green heart: Enjoy nature's wild embrace in New Zealand
From flight to fiord, travellers can explore New Zealand's languid escapes sustainably, with Air New Zealand.
A new breed of travellers is emerging, and they want to leave the places they go to unchanged or even better than before their visit. Born from a growing awareness of climate change and the impact of travel on the environment, these green travel enthusiasts seek to reduce the footprint of their activities and are deeply respectful of the natural environments they visit.
New Zealand, with its vast array of spectacular natural landscapes spanning fiords and glaciers, offers restful escapes that provide healing experiences for both travellers and the planet alike. According to a YouGov study published this year, New Zealand is the second top destination for responsible travellers in Singapore. Now, when you fly with Air New Zealand, you're committing to this new era of travelling green as soon as you book those tickets.
GREENER AND BETTER
Being the flag carrier of the nation, Air New Zealand is intent on delivering the Tiaki promise – a care commitment to protect the lands of New Zealand and preserve them for future generations to come.
As part of its mission to achieve a circular economy, the airline has swapped out single-use plastics, switched to sustainable serviceware, and reintroduced sealed and untouched products back into service. These initiatives are expected to remove an estimated 28 million in-flight single-use plastic items a year.
To decarbonise long-flight flights, Air New Zealand has started using sustainable aviation fuel while it continues to look into electric and hybrid fuel sources. Last year, it signed a memorandum with Airbus to study the feasibility of hydrogen-powered aircraft technologies.
While the notion of sustainability is sometimes linked to compromises in personal enjoyment, that isn't the case with Air New Zealand. In fact, its three seat categories offer passengers extra comfort, so one can start that indulgent journey right at check-in.
With the Air New Zealand Premium Economy and Business Premier class, a more spacious experience onboard awaits, along with added perks of free standard seat selection, a bigger luggage allowance and more expansive inflight menus, including a choice selection of New Zealand wines from the onboard cellar.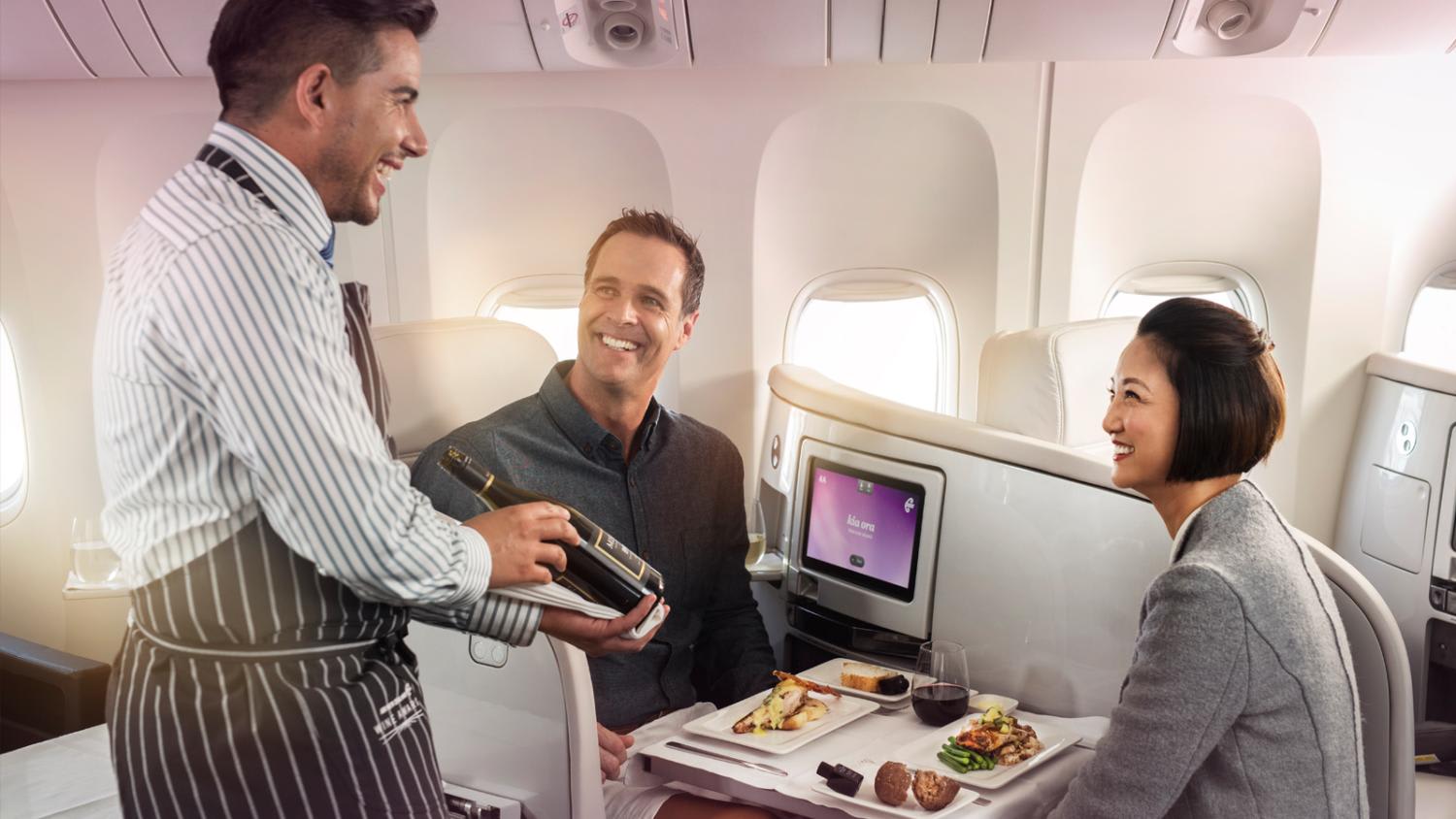 Available on Boeing 777-300 and 787-9 services, Premium Economy travellers can expect the largest seat pitch in its class and extra legroom, plus 50 per cent more recline than Economy. With Business Premier, you get direct aisle access and a plush leather seat that transforms into a flat-bed experience. Have a restful sleep in the skies, cushioned by a memory foam mattress, two full-sized pillows and a duvet.
For solo travellers, couples or families wanting more comfort in Economy, try the Air New Zealand Skycouch – a world first. Be greeted by a row of Economy seats that the attendants will convert into a couch once you're in the air. The long configuration invites one to snooze better or share more room with up to two others comfortably.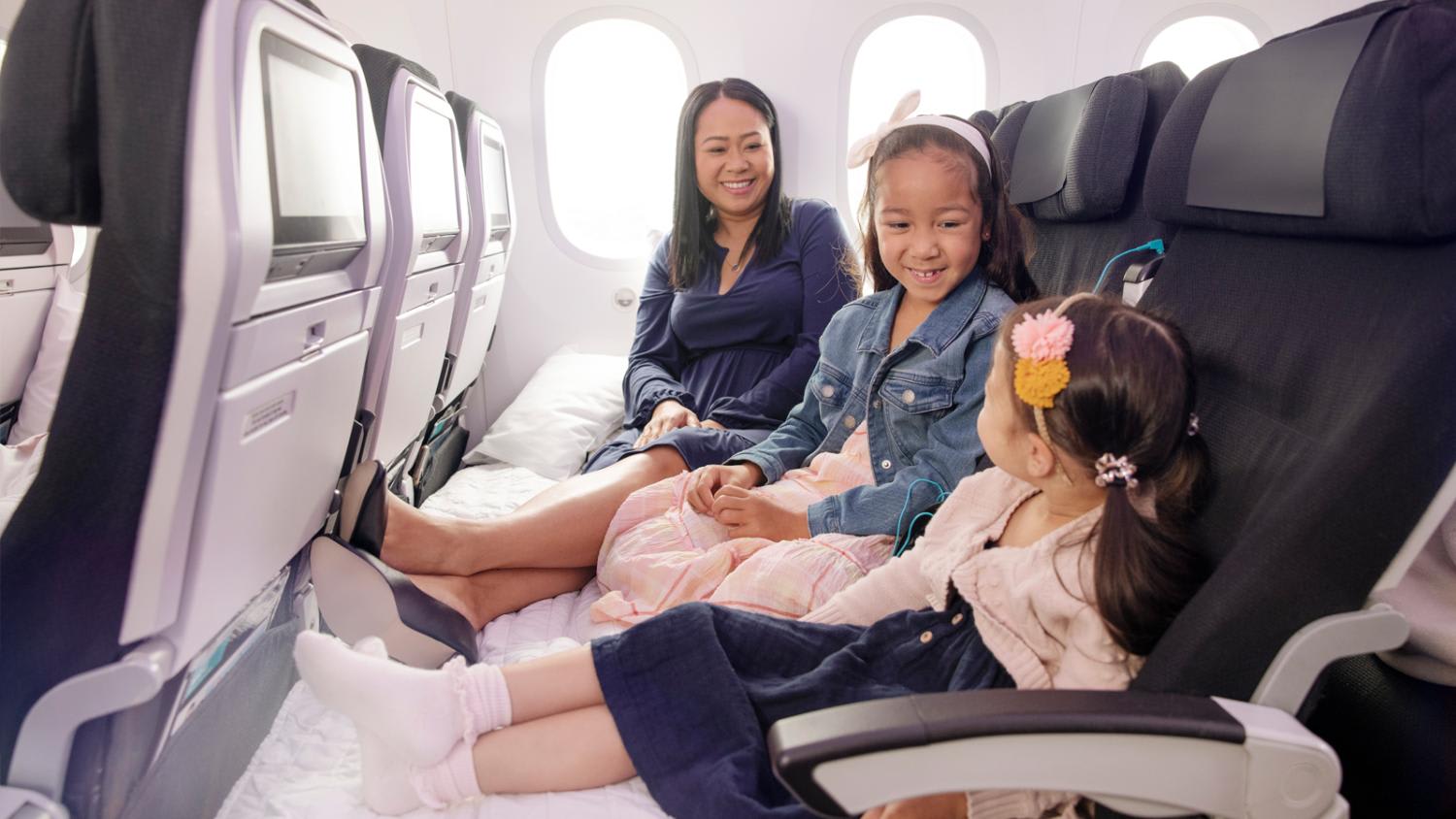 Whichever you pick, you can be assured that you're helping Air New Zealand commit to its Flight NZ0 goal, achieving net zero carbon emission by 2050. Who said you can't have comfort and be conscientious?
THE SOUND OF NATURE
Now that you've arrived in New Zealand, your itinerary should be rewarded by the pristine sights you're helping to preserve. And there's no better place to start than at Milford Sound.
Local Maori legends have it that the area was formed by a godly figure named Tu-te-raki-whanoa who shaped the fiord with his mighty axe. One can admire the sculpted glacial valley with a cruise on the newly refurbished Milford Haven. Atop an open rooftop deck, you'll encounter sheer rockfaces and thundering waterfalls with a cast of dolphins, seals and perhaps even the rare Fiordland crested penguins.
Inside the boat, creature comforts accompany the moving vignettes. Enjoy craft beer and local wine at the bar or settle into cafe-style offerings in the jewel-toned restaurant, where everyone gets a window seat.
Milford Haven's design is intentional. While allowing for better people flow and inviting spaces that enhance the visitor experience of the area, it also clinches a nod for visitor sustainability, which is part of the country's Tourism Sustainability Commitment that aims to see every local tourism business committed to sustainability by 2025. By promoting mindful tourism with inspiring visuals of Mother Nature, this is one exemplary model of how green travel can be accomplished to the benefit of all.  
FREEWHEELING THROUGH FORESTS
For the landlubbers, the Timber Trail awaits. Journey through the Pureora Forest Park via an 84km trail and witness the results of a conservation success story that has rejuvenated the birds, wildlife and plant life endemic to the lands.
Best experienced with a two-day mountain bike ride, the historic track takes one through an ancient podocarp forest featuring suspension bridges, stunning vistas and historic logging tramways.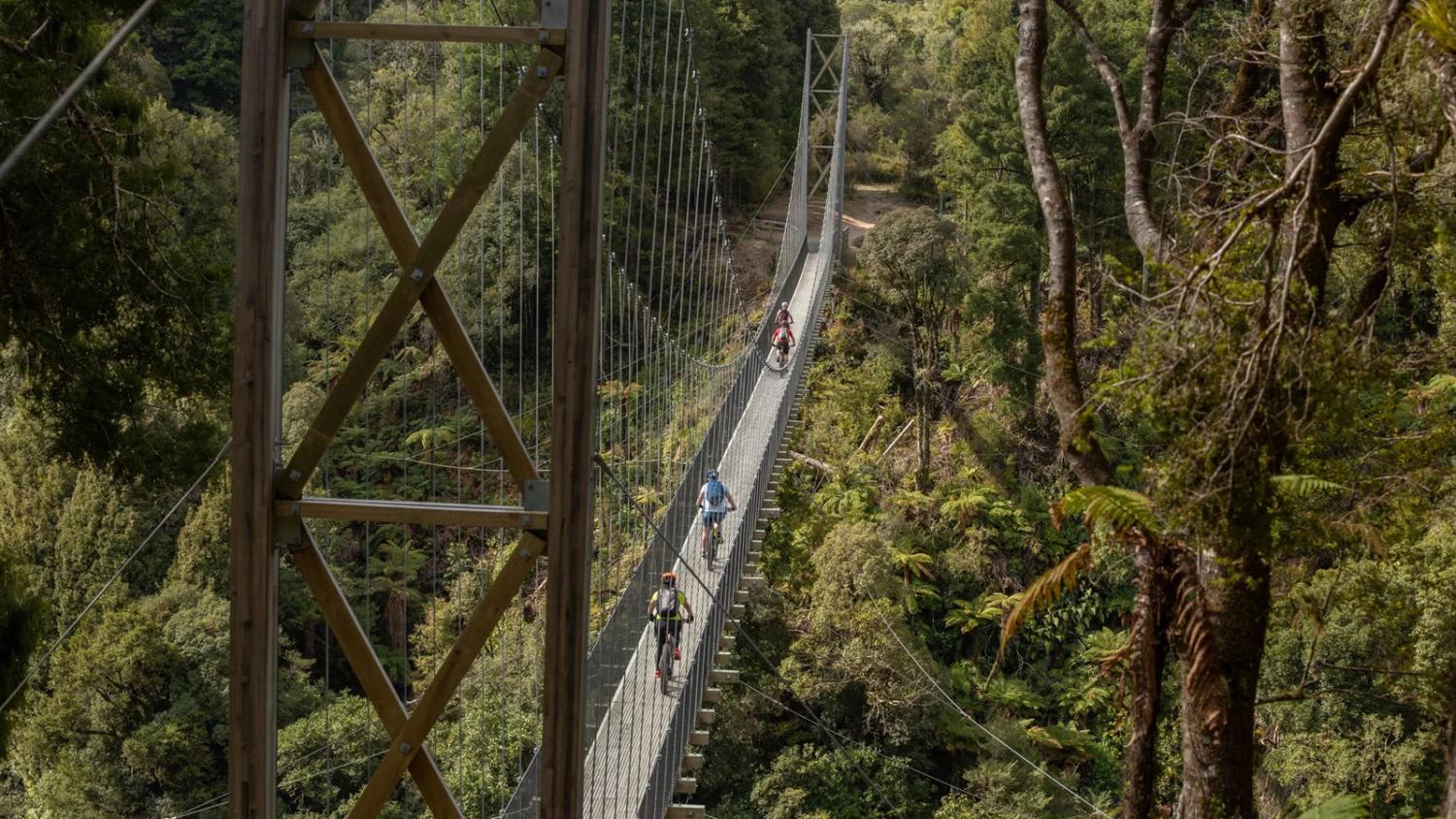 The Timber Trail Lodge is a wonderful base to plan for this adventure. Dreamt up by a group of outdoor local enthusiasts, their offering of biking packages lets you focus on the sights as they manage the logistics in a way that is both authentic and sustainable. Their passion for sustainability can be seen in the design architecture and their efforts in water conservation, energy efficiency and waste management. And while the environmental impact is kept to a minimum, none of the enjoyment is reduced.
The lodge offers cabins of quietude with a large deck area dotted with seating and beanbags. Inside, a lounge with a fireplace welcomes you with books and games. The fully serviced lodge is a retreat into nature's zen, while allowing one to enjoy exploration of the pristine nature park with modern amenities.
Many operators and agencies respect the indigenous wisdom of the Maori, and their offerings are often world-leading when it comes to those seeking a zen getaway with green outcomes. Experience this with Air New Zealand, and begin your escapade with mindfulness and a full heart.
Fly into your next luxurious escape and start your zen aboard Air New Zealand.