A year-end celebration made better with the finest feast and gifts
Whether for office or home, FairPrice Finest gathers an assortment of treats to conjure the holiday buzz everyone is looking forward to.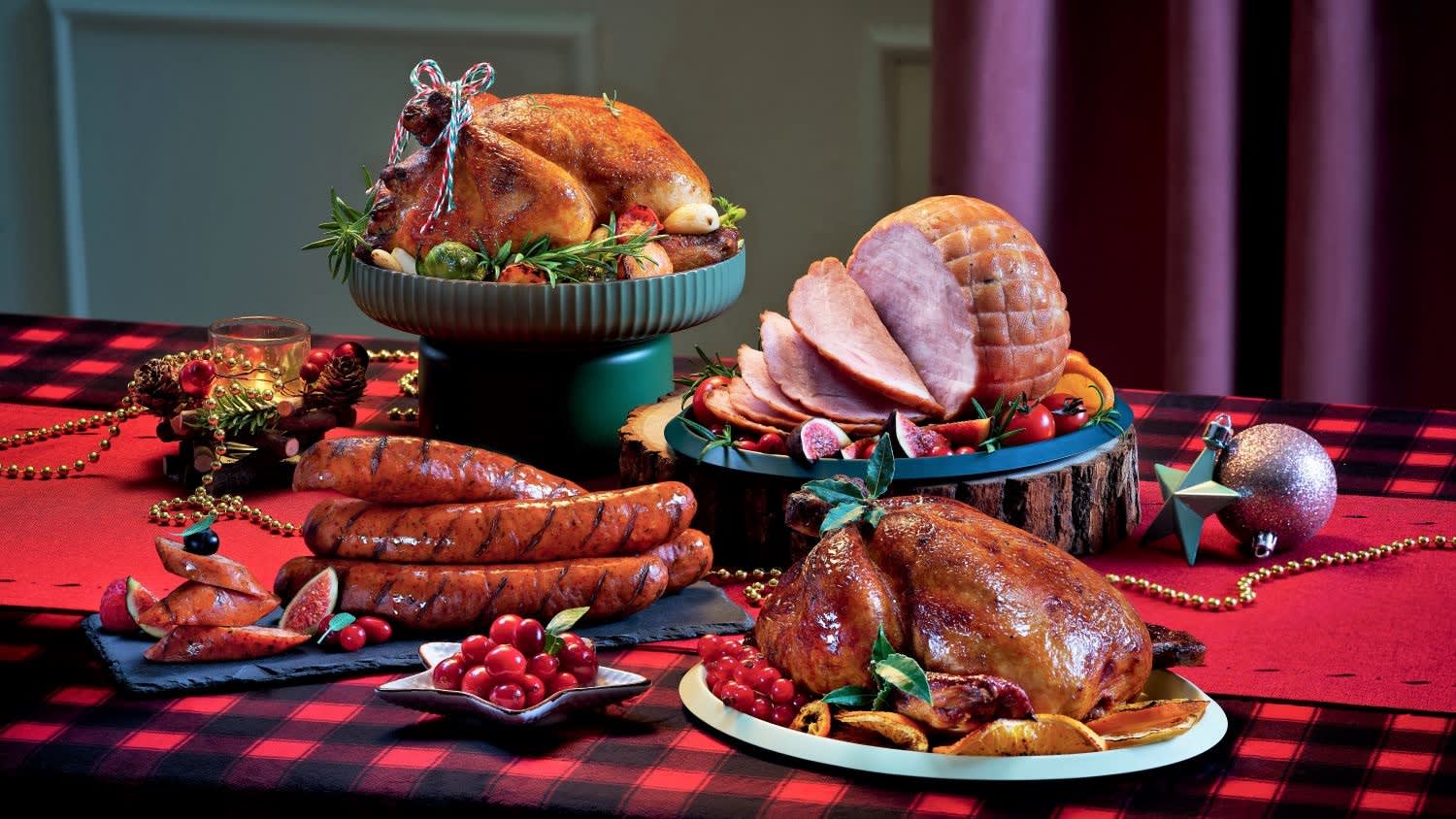 Christmas has long been a joyous festive celebration synonymous with sharing, gifting and feasting.
Having delighted shoppers with its annual offerings, FairPrice Finest returns this year with another bevy of treats to bring cheer and bountiful tables to year-end parties. With options for every budget, the selection ensures that no one misses out on their special celebrations.
CLAIM YOUR MAINS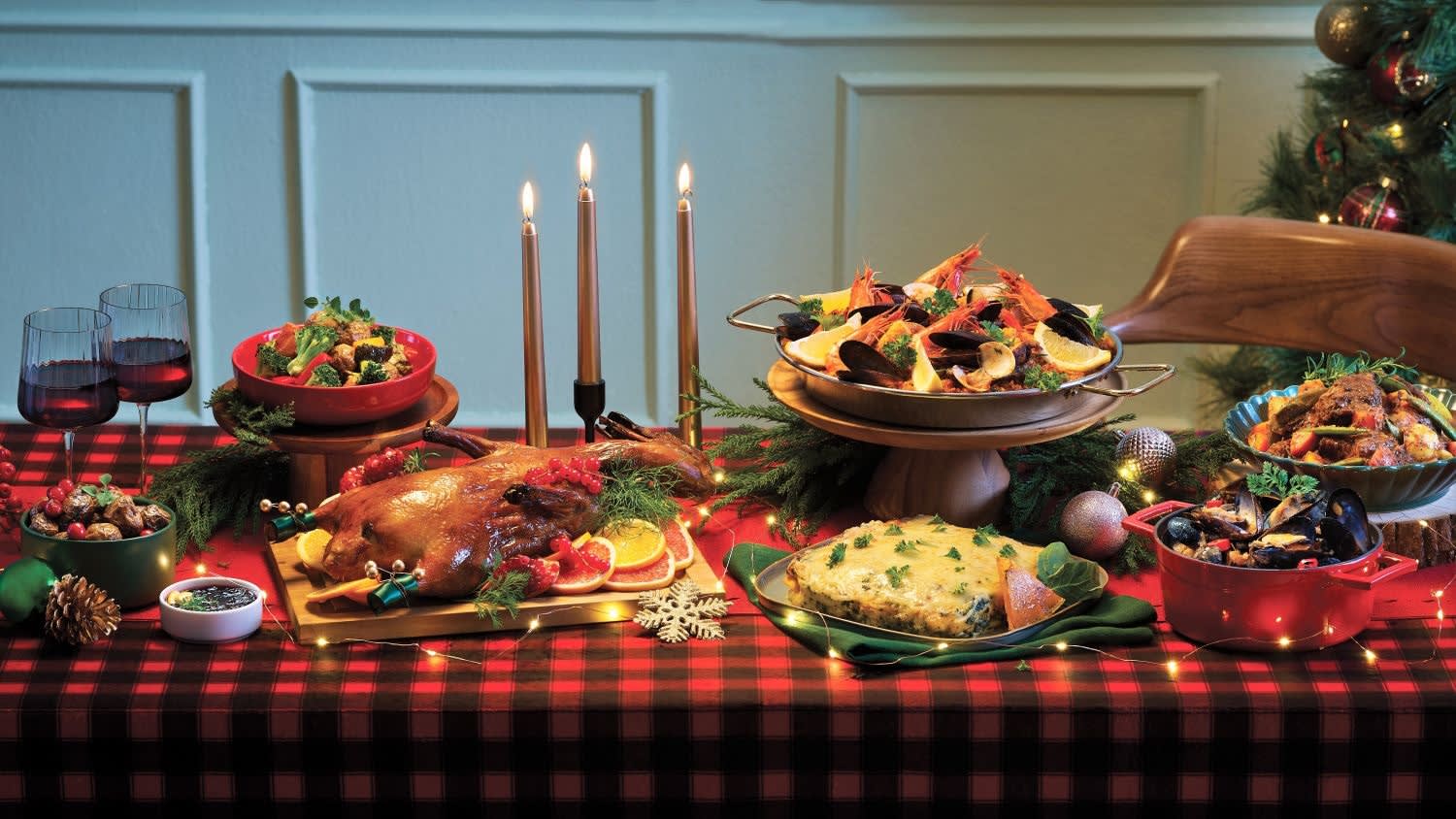 Will it be a traditional table of glistening turkey and ham? FairPrice Finest helps you set the mood with sumptuous feasts that cater to any kind of gathering.
The lavish Culina Christmas Set 1 (S$368) serves eight to 10 people and features a centrepiece Turkey with Chestnut Stuffing and Cranberry and Gourmet sauces on the side. The set also includes Honey Baked Ham, Roasted Ribeye and Ruffino Chianti.
Prefer a smokier meat? The London Fat Duck Christmas Roast Duck Bundle (S$118) won't disappoint. The roasted duck pairs perfectly with Roasted Truffle Baby Potatoes and Honey Glazed Roasted Vegetables, and comes with a fruity Irish Mixed Berries Sauce to soften the rich flavours.
If your gathering is smaller than six, or you're seeking an equally delectable feast on a budget, then the S$68 Swiss Butchery Christmas Set B: Christmas Feast is for you. You get two savoury Honey Roast Chickens, a fragrant Truffle Ham and a side of Spicy Italian Pork Sausages. All you need to do is whip up some potatoes and vegetables and you're ready to go.
And whether it's to cater to more diners or offer more variety, there's plenty of a la-carte add-ons to create a customised meal. The Soup Spoon Spinach Pumpkin Lasagna (S$45) serves six to eight people and is a great vegetarian take on a classic pasta favourite. Then there's The Soup Spoon Seafood Paella (S$58) – a hearty platter of seafood and chicken bratwurst with their flavours baked into the rice. With entrees this delicious, you can just add them to any meal to conjure up a feast.
The Culina and Swiss Butchery sets can be ordered from their respective counters in the deli area at FairPrice Finest stores.
A SWEET TOAST TO THE YEAR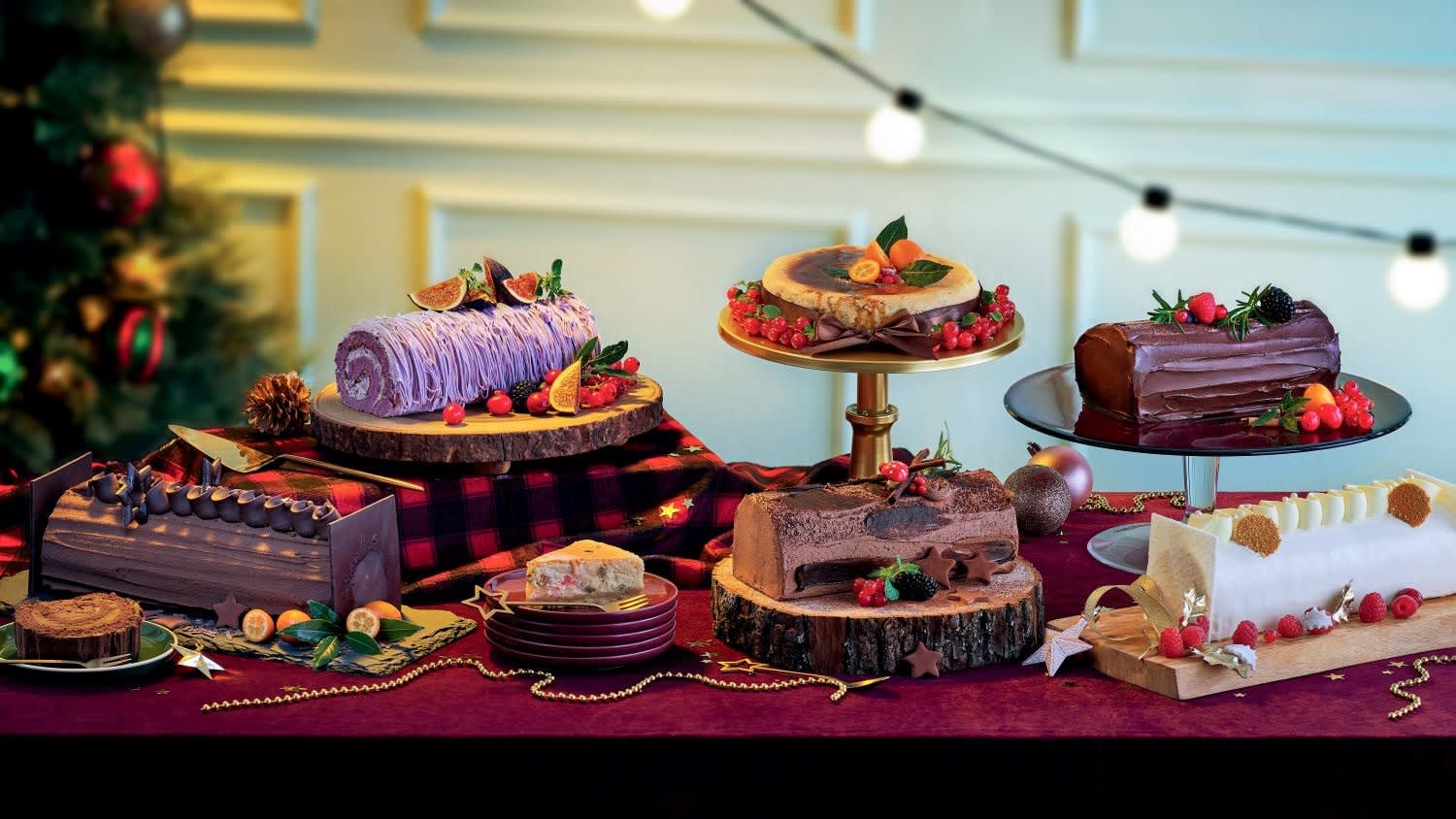 Regardless of how the year went, it's important to end it on a good note and toast to a better year ahead.
Originating from ancient traditions that involved burning a special log for good luck, the log cake has become a staple dessert today at year-end parties. Choose from the Hayley Cherry Truffle Log Cake (S$42.90) with a chocolate truffle cake base hiding poached cherry compote, or the Swissbake Citrus Coconut Yule Log Cake (S$55) with lime and coconut mousse on a bright lemon sponge cake and a coconut crunch base.
For another traditional take, try the Borgo de' Medici Panettone (S$59.90). This bread-like cake with its distinctive silhouette is infused with gin, spritz or sambuca – a welcome addition to any party with adults. The GranArt Panettone (S$43.90), imported directly from Italy, comes in original or chocolate flavour. You can also get it in smaller versions – an 80g Pandoro or a 100g Mini Panettone.
For a sweet, cool dessert, treat your guests to a Milk Bar ice cream, which is exclusive to FairPrice Finest. Each pint is S$14.95 and flavours include Cereal Milk, Cornflake Chocolate Chip Cookie Dough, Peanut Butter Cookie Crumbs and the custard-style deep vanilla ice cream pie.
Close the year with a hearty toast by picking up some choice bottles. Whether to serve guests during a gathering or as a gift, the Lanson Black Label Brut (S$74.50) is an enjoyable bubbly made from a combination of Pinot Noir, Chardonnay and Pinot Meunier. Others might like the Tanqueray Flor de Sevilla Gin Gift Pack (S$67), which comes in a beautiful gift bag and includes two bottles of premium tonic water.
The Weber Haus Organic Dry Gin (S$148.95) is a fragrant botanical sip in a handcrafted bottle, available in original or hibiscus flavour. Those seeking something a bit more raucous – maybe for that year-end office party? – can try the Supashots (S$9.90 per pack of three). The vodka-based shots come in a variety of flavours and can be served in a dual shot glass.
THOUGHTFUL GIFTS
Gifting is made easier with FairPrice Finest's curated selection. Disney fans will love the assortment of branded goodies, ranging from edible treats like the Disney Tsum Tsum Real Fruity Butter Cookies (S$39.95) and Disney Mickey Assorted Chocolate Set (S$34.95) to the Skater Mickey Mouse kitchenware (from S$48). The latter includes pots, stove-to-table pans as well as sandwich, takoyaki and pancake makers, adding adorable flair to the kitchen.
The Hook Coffee Christmas Advent Calendar (S$59.90) is an incredible way to enjoy a cuppa while giving back to society. A portion of the proceeds goes toward ART:DIS, an arts charity dedicated to creating opportunities for persons with disabilities.
If one's out to impress, a hamper is a sure-fire way to do so. FairPrice Finest at Centrepoint and Bukit Timah stock cash-and-carry hampers available from S$80 to S$300.
The Divine Selection gift hamper (S$218) for instance, features a generous selection of healthy premium nuts and pantry favourites, paired with a bottle of FairPrice Finest's best-selling Shiraz Merlot red wine and a bottle of sparkling wine.
Want to add an extra special touch? Work with its concierge team to create hampers that suit your recipient to a tee. FairPrice Finest also offers specialty gift boxes from S$12.90, so no one will be left out of sharing their love during this wonderful season.
Complete your festive needs and make the holiday period great again at FairPrice Finest.