Bringing back the bounce in a safe environment for jumpers, guests and staff alike
Attractions like Bounce indoor trampoline park are putting in place new safe management measures with patron safety and hygiene as top priorities. Brought to you by the Ministry of Trade and Industry.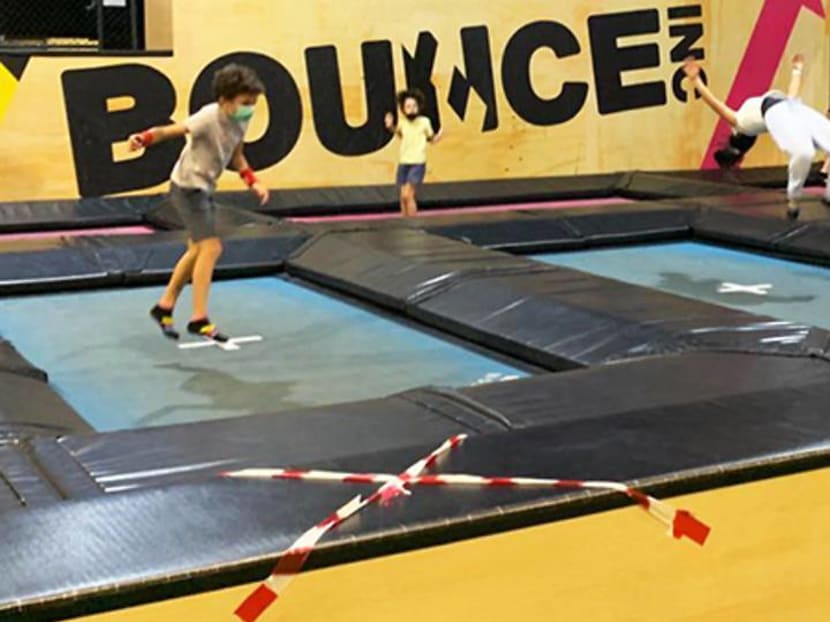 The team at Bounce indoor trampoline park takes fun seriously, and safety even more so.
When Bounce opened its doors following the commencement of Phase Two re-opening, it did so with great care and consideration to ensure that the right measures are in place to mitigate risks and safeguard the health of its jumpers, guests and staff.
In order to afford jumpers the space needed to stay a metre apart from one another, Bounce currently operates at 25 per cent of the venue's original capacity. What this means is that there are only 33 jumpers per session to accommodate safe distancing requirements.

Bounce is one of the many attractions that have safe management measures in place.
In addition, only one person is allowed on a single trampoline at all times, which helps to ensure jumpers are safely distanced from one another.
To encourage patrons to adhere to the guidelines, Bounce has assigned dedicated safe management officers and on-ground staff to reinforce the message through friendly interaction. Efforts include encouraging jumpers to sanitise their hands from the get-go, conducting pre-session safety briefings and ensuring that patrons do not congregate in big groups.
Besides this, a number of programmes that involve larger group participation have been paused. These include corporate bookings, birthday parties and Saturday Night jams. Bounce Flight Academy, which provides trampoline classes for jumpers of all skill levels, has also seen a reduction in class sizes – it now accommodates a maximum of four students to a single coach.
General manager of Bounce Singapore, Mr David Lim, said that knowledge sharing within the international Bounce network was instrumental to establishing clear, effective operating guidelines.
"Singapore was one of the first places within the Bounce universe that was majorly affected by COVID-19 – so we had many learnings to share with the headquarters. With 26 locations around the world, and each location dealing with different authorities and circumstances, we got together and put together these learnings on how to operate trampoline parks under these new conditions," he shared.
"For 'high-touch' attractions such as Bounce, the onus is on us –  the operators – to instil confidence in customers and the wider public that we are safe, and that they can trust in how we operate," he added. 
ROUND-THE-CLOCK DEDICATION
Besides controlling capacity and limiting higher-risk programmes, Bounce is also meticulous in its precautions to maintain a high level of hygiene.
With a temporary reduction in the duration of jump sessions from an hour to 50 minutes, Bounce has been able to allocate an hourly timeslot catered to wiping down surfaces before the next session. The venue also carries out regular disinfection and deep cleaning.
Mr Muhammad Nor Bin Md Yusop, a team leader overseeing maintenance and heading the operations team at Bounce, notes that much credit goes to his frontline team members who have gone above and beyond the call of duty for health and safety reasons. As they adapted to the need to operate differently, he highlighted that communication and teamwork were key.
"Initially, it took some getting used to as we were not familiar with the new cleaning procedures. But it is important to make sure our customers have a peace of mind that the area is safe and sanitised. As of today, there is a 100-per-cent buy-in from the team about the extra steps we have to take," said Mr Yusop.
As an added safeguard, Bounce has implemented contactless measures to minimise the need for physical contact between staff and patrons. This includes encouraging contactless payment methods and accepting only online bookings.
EVERYONE PLAYS A PART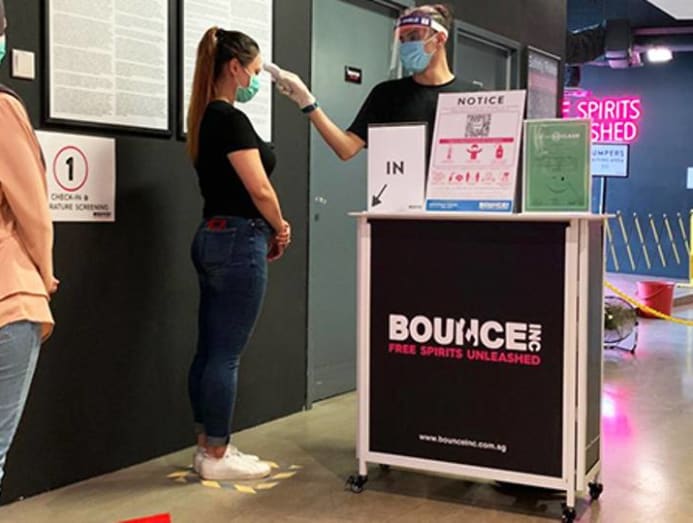 When it comes to fighting the spread of COVID-19, everyone plays a part. Bounce actively advises its patrons to comply with the slew of measures to keep themselves and other patrons safe.
For one, it is mandatory for face masks to be worn at all times except during the execution of strenuous stunts. Bounce also advises jumpers to take frequent breaks during sessions. Last, but certainly not least, patrons are required to check in and out using SafeEntry to support Singapore's broader contact tracing efforts.
Bounce also conducts mandatory temperature screening checks for both patrons and staff. People who have returned from overseas in the last 14 days, or who have been in contact with a confirmed COVID-19 patient or someone who is serving/has served a quarantine order, stay-home notice, or have been issued a medical certificate for respiratory symptoms in the last 14 days, will not be allowed to enter the premise.
Even so, Bounce has established a quick response protocol to isolate any persons who have been identified to be at risk while on the premise.
"Staff will escort affected individuals to a holding area in a closed-off section of the venue. All activities will be halted and the park will be evacuated. Building management will then be contacted to take over, who will escort the customers to the building's own isolation area and take the necessary next steps from there. Finally, a deep cleaning of the entire space will be undertaken," Mr Lim elaborated.
Thus far, Bounce has not had any encounters with jumpers displaying respiratory symptoms.
Mr Lim is grateful that the Bounce community has been understanding and cooperative amid the implementation of the new initiatives.
"Our customers are fantastic and absolute champions. They have been careful, respectful and considerate of those around them. Some customers do need reminders at times, but when we speak to them, they respond positively," he said.
Find out more about safe management measures at attractions around Singapore.