Savour the hallmarks of traditional Teochew cuisine with two new Paradise Group openings
Paradise Teochew welcomes diners with fresh and elegant flavours at Takashimaya and Scotts Square. Brought to you by Paradise Group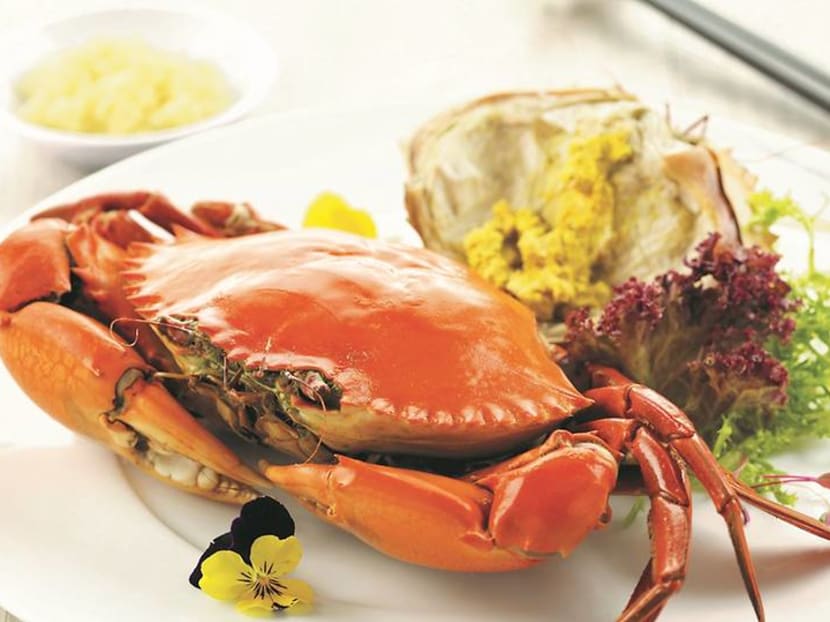 Chinese cuisine has evolved from the lands and its people – a legacy of food that is vibrant yet coloured so distinctly by geography and culture, with each dialect group tweaking every dish a little differently.
Teochew cuisine lays claim to its expertise with white meat – mainly seafood and poultry – and an emphasis for drawing out natural flavours fully. To obtain the clean and sweet flavours, every Teochew chef worth their salt knows to focus on freshness and the right cooking technique – from steaming to poaching and braising.
Paradise Teochew honours this delicious heritage with not just one, but two openings this month, suitable for couples, friends, families or business luncheons alike.
The first is a brand new dining destination in Takashimaya and the second at Scotts Square, after a facelift. To celebrate this double launch, Paradise Group invites diners to experience all-day Teochew fine dining and Hong Kong dim sum lunch options with an exclusive Duo Celebration promotion for a limited period.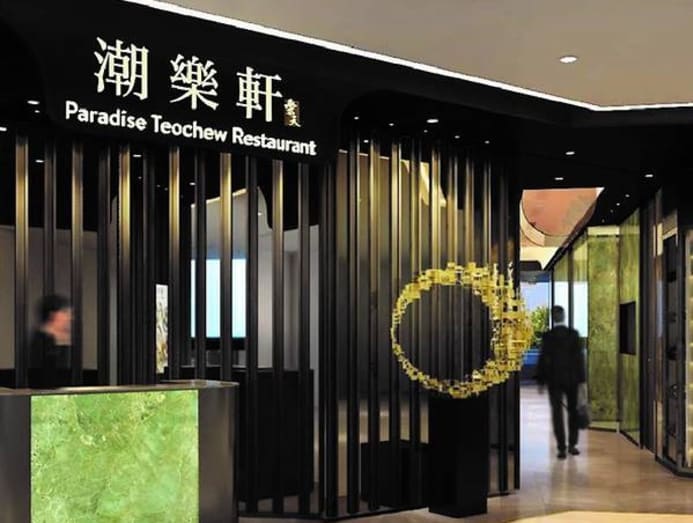 DIM SUM DELIGHT
The chatter over a dim sum lunch is only matched by the clatter of the dishes exchanged between tables and trays. It's a classic Chinese restaurant experience that celebrates variety, dished out in small parcels, each offering a burst of flavours.
Paradise Teochew brings these lunchtime scenes to life with the first part of its Duo Celebration, offering 20 handmade dim sum offerings at S$3.80 each. This affordable spread is calling out for your favourite meal kakis, especially after restrictions ease.
Look out for the traditional Steamed Glutinous Rice Roll in Teochew Style – a rare treat that owes its taste to painstaking effort and its core ingredient, the peanut. The Steamed Dumpling in Teochew Style is another tasty morsel, made elegant by the delicate pleats that hide a generous filling of peanuts, mushrooms and bamboo shoots.
For more classic Hong Kong-style dim sum entries, opt for the fluffy and gooey bundle that is the Steamed Molten Salted Egg Yolk Bun, or have a go at the Steamed Spare Rib with Black Bean and Diced Yam. Fork-tender ribs dance in the happy combination of the savoury black bean and sweet yam bits and is a flavour bomb that will have you reminiscing the electric vibes of Hong Kong.
FULLY REPRESENTED AT DINNER
The celebration offers aren't just limited to lunch or tea. Paradise Teochew has selected 10 of its signature dinner dishes and is offering them at only S$20 each for the second part of the celebration. Even Grandma will approve.
The Teochew Style Braised Duo Combination Platter is a bold starter, presenting the prowess of the braise with two meats – Irish fat duck and pork belly. The trademark earthiness of the sauce comes across differently through the two textures, and is lifted by the bed of silken tofu beneath.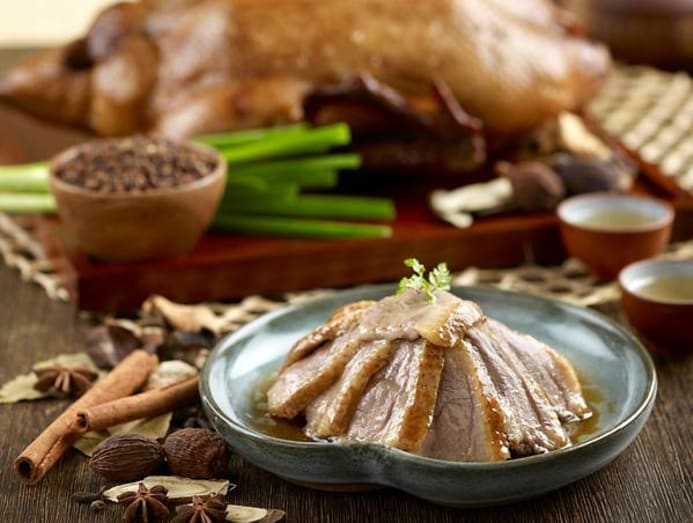 Other appetisers to try include the Handmade Traditional Teochew Pork Roll and Prawn Ball, each focused on bringing out the original flavour of the meat.
A beloved highlight at the Teochew table is fish. One can't go wrong with the Stir-fried Pomfret Fillet with Tomato and Salted Vegetables. The sweetness of all three ingredients complements one another naturally, and proves that healthier food options need not be bland. For something equally delicious, the Teochew Style Chilled Steamed Mullet is suitable when you wish to impress your guests, given that it's a classic that's rarely seen on the menu.
Even the greens have their day in the sun. Get your vitamins in by ordering the Braised Mustard Green with Shredded Conpoy and Shrimp Roe, a savoury combination from farm and sea. For dessert, the iconic Mashed Yam with Gingko is always a good choice, with the smooth, sweet paste delivering a comforting finish to the meal.
Together with the dim sum lunch promotions, the dinner menu selection is valid for all dine-in orders from Jul 12 to 25, and available to all Citi credit or debit card members, and Paradise Group Rewards members.
AUTHENTICITY AND INNOVATION
The extensive menu at Paradise Teochew holds over 100 items to choose from, but the selection was carefully curated by its resident executive chef, Chef Cheng, and his hardworking team.
Born to a family of Teochew chefs, Chef Cheng brings with him 39 years of culinary experience and like his father and grandfather before him, advocates the expression of Teochew cuisine's hallmark pillars without shying away from innovation.
One such example is the Crispy Pumpkin, Yam and Sweet Potato Strip. Smitten after his first encounter with the traditional street snack from Shantou, Chao Shan, the chef channeled his skills to experiment with different techniques over 10 days before the dish earned a spot on the menu. The result is a delightful combination of pumpkin, yam and sweet potato strips, deep-fried and sprinkled with peanuts and sugar.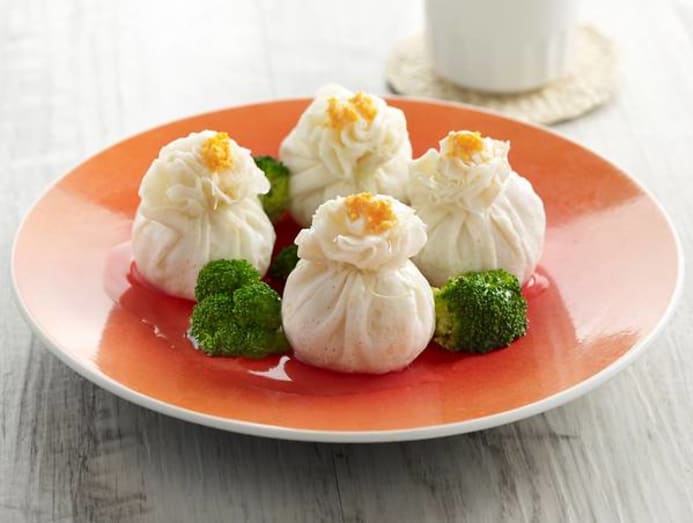 He brings authenticity through time-honoured favourites like the Steamed Diced Chicken wrapped in Egg White Crepe. Diners will marvel at the patience demonstrated with this skillful presentation – a cloud of egg white crepe hides a savoury mix of chopped chicken bits, Chinese ham, diced water chestnut and bamboo shoots. The dish is a testimony to Chef Cheng's commitment, as well as Paradise Teochew's claim to a remarkable destination for the cuisine.
Make your reservation at any of the two Paradise Teochew outlets at Takashimaya or Scotts Square to enjoy the Duo Celebration opening promotion. Terms and conditions apply.