5 things about House of Bijan: The brand of a handbag seized from Najib Razak-linked residences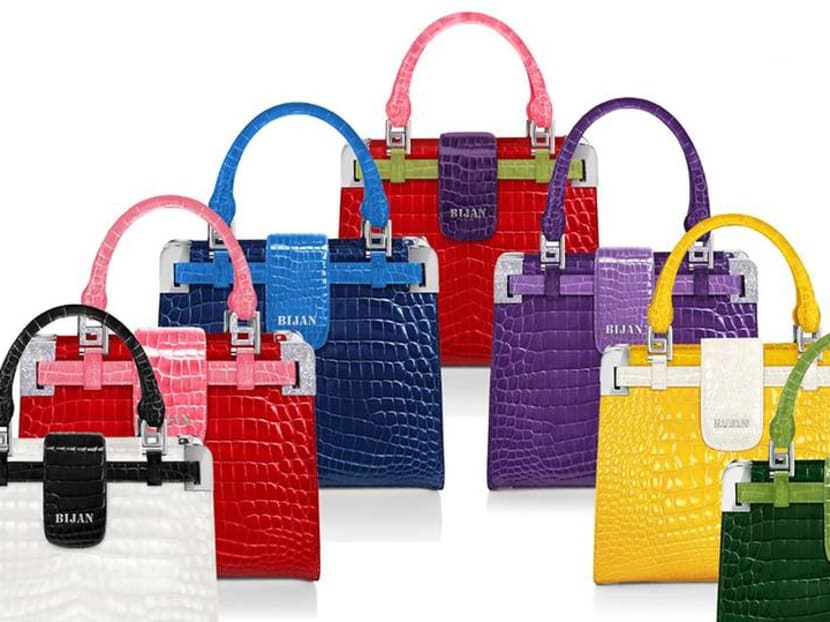 SINGAPORE: What is a Bijan handbag?
Many Malaysians heard the name for the first time on Wednesday (Jun 27) after it was mentioned at a press conference that revealed the list of luxury items seized from residences linked to former prime minister Najib Razak. 
Malaysian authorities had conducted raids at residences linked to Najib in connection with investigations into the scandal at state fund 1Malaysia Development Berhad. 
The total cash and value of luxury items seized came up to about RM1.1 billion (US$270 million), it was said at the press conference. Among the items that raised eyebrows were tiaras - 14 of them - and a custom-made Bijan handbag. 
The name was unfamiliar even to reporters at the press conference, one of whom had to ask Amar Singh, the Chief of the Commercial Crime Investigation Department who was leading investigations, to spell out the brand name. 
Seeing that Bijan spells out as N-A-J-I-B in reverse, many netizens were also quick to question if the brand was actually owned by the former prime minister himself. 
In actual fact, Bijan is a product of the House of Bijan, a boutique store founded by the late American-Iranian designer Bijan Pakzad in Beverly Hills, California. 
The House of Bijan, which claims to be the "world's most expensive men's store", has dressed powerful men such as former United States presidents Barack Obama, George and George W Bush, and even Russia's Vladimir Putin.
Here are five things you should know about the ultraluxury brand:
1. Bijan handbag
The custom-made Bijan handbag that was mentioned at Wednesday's press conference stood out from the other luxury brands such as Hermes, which are commonly associated with Najib's wife Rosmah Mansor. 
But after a quick look at Bijan's handbags, which are structured similar to the Birkin range of bags from French brand Hermes, it's little surprise that Bijan's collection would suit Rosmah's fancy.
Bijan handbags come in a variety of vibrant colours and some of them are made with crocodile skin. However, it's unclear how much they cost. 
2. Bijan's link to politicians
As earlier mentioned, the brand has dressed a slew of influential men both in Hollywood and in the world of politics. 
The House of Bijan boutique, located on Rodeo Drive at Beverly Hills, California, is decorated with framed photos of these men, from Sir Anthony Hopkins and Michael Jordan, to Prince Charles.
There is even a dressing room dedicated to the Bush family, with walls adorned with a poster signed by George W Bush and a framed photo of his family, all decked in House of Bijan clothes and accessories. 

3. Bijan: Home of the US$1,000 tie
While it's unclear how much Bijan bags cost, the curious can gauge the price tag based on the brand's other items - such as its US$1,000 ties.
In an interview with Forbes in 2017, House of Bijan heir Nicholas Bijan said their range of exclusive of ties are produced in limited numbers for each design. This means that there may be only two ties of the same design in the whole world. 
He also showed a jacket made of silk and leather that costs US$10,000.
4. Bijan's luxe boutique
A limited edition Rolls Royce parked outside the boutique is a sure sign that the store is only for the "filthy rich", as described by other media. 
A crystal chandelier embellished with dozens of Bijan's bottled perfumes take up the centrepiece of the two-storey boutique, which also prides itself over an original 1968 painting by Colombian artist Fernando Botero that hung on one of its trademark yellow walls. 
It has been reported that shoppers who go to the boutique spend an average of US$100,000 each.
5. The Bijan business
Bijan Pakzad died on Apr 26, 2011, due to a stroke. The House of Bijan's Rodeo Drive store was sold to LVMH, the French multi-luxury goods conglomerate, in 2016. 

His son, Nicholas Bijan, is the new face and leader of the brand, which reportedly doubled its revenue in 2016 to nearly US$30 million in the year it was sold.