IN FOCUS: Singapore-Malaysia VTLs a comfort for families seeking reunion but Omicron has other plans in store
It has been more than a month since air and land VTLs were launched between Singapore and Malaysia. CNA speaks to people across both sides of the border on the impact and how Omicron has disrupted the reopening.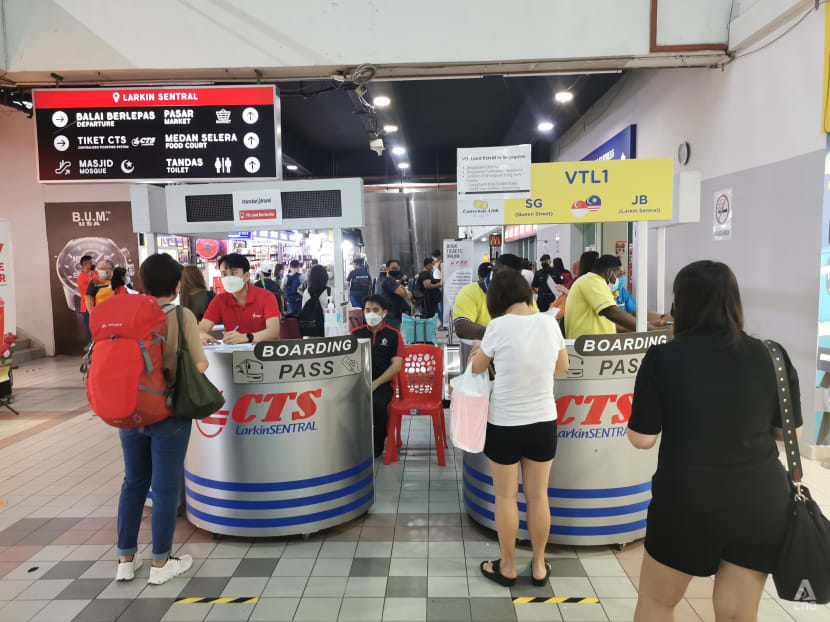 KUALA LUMPUR: Until very recently, Singaporean Muhammad Afiq Yahya had not seen his wife and two children since March 2020.
The 56-year-old has been living in the family's three-storey house in Johor Bahru while his two sons who are still schooling live with their mother in Singapore amid prolonged border closures due to COVID-19.
"We bought this house to live together on weekends and share happy memories," said Mr Muhammad Afiq, who runs several businesses in Malaysia.
"But for most of the last two years, it has just been me living here alone."
Fortunately for him, Singapore and Malaysia launched air and land vaccinated travel lanes (VTL) on Nov 29, allowing those who are fully vaccinated to travel between both countries, and be subjected to COVID-19 tests in lieu of serving quarantine or stay-home notice.
Under the air VTL, there are designated flights between Changi Airport and Kuala Lumpur International Airport.
There is also the land VTL which permits people to commute between Singapore and Johor Bahru by taking designated buses across the Causeway.
The initial daily quota for the number of travellers via the land VTL was 1,440 people in each direction.
With the launch of the land VTL, which was later expanded on Dec 20 to allow Singapore citizens to enter Malaysia and Malaysian citizens to enter Singapore, Mr Muhammad Afiq's wife and two sons, who are all Singaporeans, could finally visit him in Johor Bahru.
His family arrived on Christmas Eve before heading back to Singapore on New Year's Day via the land VTL.
"They only spent a week here but it was precious that we could finally reconnect after being away for so long," said Mr Muhammad Afiq.
"We are hoping to be able to use the VTL more often, and we don't have to wait ages to meet one another again - perhaps for Hari Raya," he added.
Generally, the VTL scheme has been welcomed by families who have been separated. From the tourism and retail businesses' perspective, however, there has been little sign of an uptick in sales given the volume of travellers.
With the Omicron variant spreading, sales for flight and bus tickets have been suspended, dampening Chinese New Year travel plans and the recovery of the aviation sector.
Looking ahead, experts predict border reopening efforts to continue, albeit rather cautiously.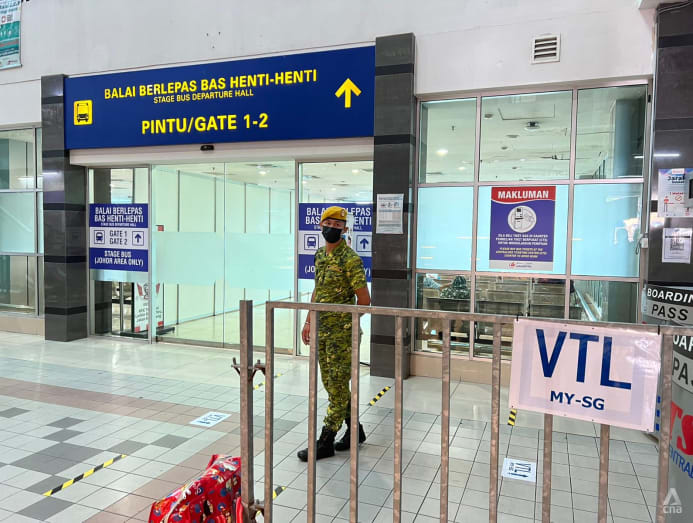 Another traveller who benefitted from the VTL was Malaysian Alice Peoh. The 33-year-old was able to use the air VTL to attend her brother's wedding in Singapore on Nov 30.
Ms Peoh and her two elderly parents were on the first VTL flight from Kuala Lumpur to Singapore on Nov 29.
"If there was no VTL, we would have missed the wedding. It wouldn't have been possible with the quarantine (restrictions in place)," she said.
However, some travellers have voiced concerns over the costs of the  required COVID-19 tests.
For a round trip on the air VTL, an individual traveller would need to fork out around between S$300 and S$650 on swab tests.
Meanwhile for the land VTL, an individual traveller would need to spend between around S$120 and S$170 for a two-way trip.
Ms Peoh said the cost of swab tests for her trip to Singapore was around S$400 per person.
"My parents had never done a swab test before, so to do four in one week was quite painful for them," said Ms Peoh, who was in Singapore for one week to attend the wedding.
"While the price of air tickets was relatively affordable, the PCR tests increased the expenses. It hurt both our noses and my (wallet)," she added.
Singaporean Hamzah Hassan echoed similar sentiments.
In December, the 54-year-old travelled via the air VTL with his wife and daughter to see his in-laws who live in Shah Alam, Selangor.
He expressed hope that the swab protocols for the VTL can be loosened slightly, pointing out how he spent S$450 each for each family member just on COVID-19 testing procedures alone.
"These kinds of costs will deter people from travelling," said Mr Hamzah, who works as a manager in the aviation sector. 
Responding to CNA's queries, a spokesperson from Singapore's Ministry of Trade and Industry said that as of Dec 31, around 30,000 people have entered Singapore from Malaysia via land VTL. 
On the other hand, 30,489 travellers entered Singapore from Malaysia under the air VTL as of Dec 31 at 11.59pm, the Civil Aviation Authority of Singapore's (CAAS) Director (Airport Operations Regulation and Aviation Security) Margaret Tan told CNA. 
The travellers comprised 14,356 Singapore Citizens and Singapore Permanent Residents and 14,036 Vaccinated Travel Pass holders, of whom 10,081 are short-term visitors and 3,955 are long-term pass holders. There were 2,097 children aged 12 years and below, Ms Tan said. 
When asked how many travellers who entered Singapore via the VTL with Malaysia had tested positive for COVID-19 at the entry points, Singapore's Ministry of Health told CNA that there were 42 imported cases from Nov 29 to Dec 31.
Of this, 26 cases were detected through on-arrival tests and the rest were detected subsequently through Singapore's enhanced testing regime, said the ministry. Of these 42 cases, four people from Malaysia were later found to have been infected with the Omicron variant, it also said.
 
IMPACT ON MALAYSIA'S BUSINESSES MINIMAL: INDUSTRY PLAYERS
The launch of the VTLs was expected to be a slight boost for businesses in Malaysia, especially those in Johor Bahru. Yet, given the small number of travellers, the impact has not been apparent, said those interviewed by CNA.
Johor Tourist Guides Association chairman Jimmy Leong observed that this initial phase of the land VTL was meant to allow families who had been living apart to reunite without the need to serve quarantine.
"The VTL as it stands is not for visitors to come to spend money for a holiday or to go shopping," said Mr Leong.
He said that keeping in mind costs of swab tests and the hassle of getting bus tickets, it would not be worthwhile for short-term holiday goers from Singapore to come to Johor Bahru via the land VTL.
Malaysian Association of Hotels CEO Yap Lip Seng said that since the VTL kicked off, the increase in Singaporeans taking up hotel rooms across the country was "minimal".
"The increase because of the VTL was minimal when it first commenced and the emergence of the Omicron variant had resulted in travellers being more cautious even before the suspension," he said, adding that Singaporeans made up a big percentage of visitors in destinations such as Johor, Melaka, Genting, and Penang.
JOHOR RETAIL SCENE STILL IN THE DOLDRUMS
At Johor Bahru's Angsana Mall, a once-popular haunt for Singaporeans to buy snacks and clothing, the atmosphere was somewhat muted and most of the shops were empty when CNA visited late last month.
Manager for the Sues Home Bakers Enterprise stall in Angsana, who wanted to be known only as Mdm Atik, told CNA that the land VTL has not resulted in any apparent uplift in business.
"Before COVID-19, our daily earnings were around RM7,000 (US$1,672), with the bulk of sales coming from Singaporean visitors. But today, we are lucky to hit RM2,000," said Mdm Atik.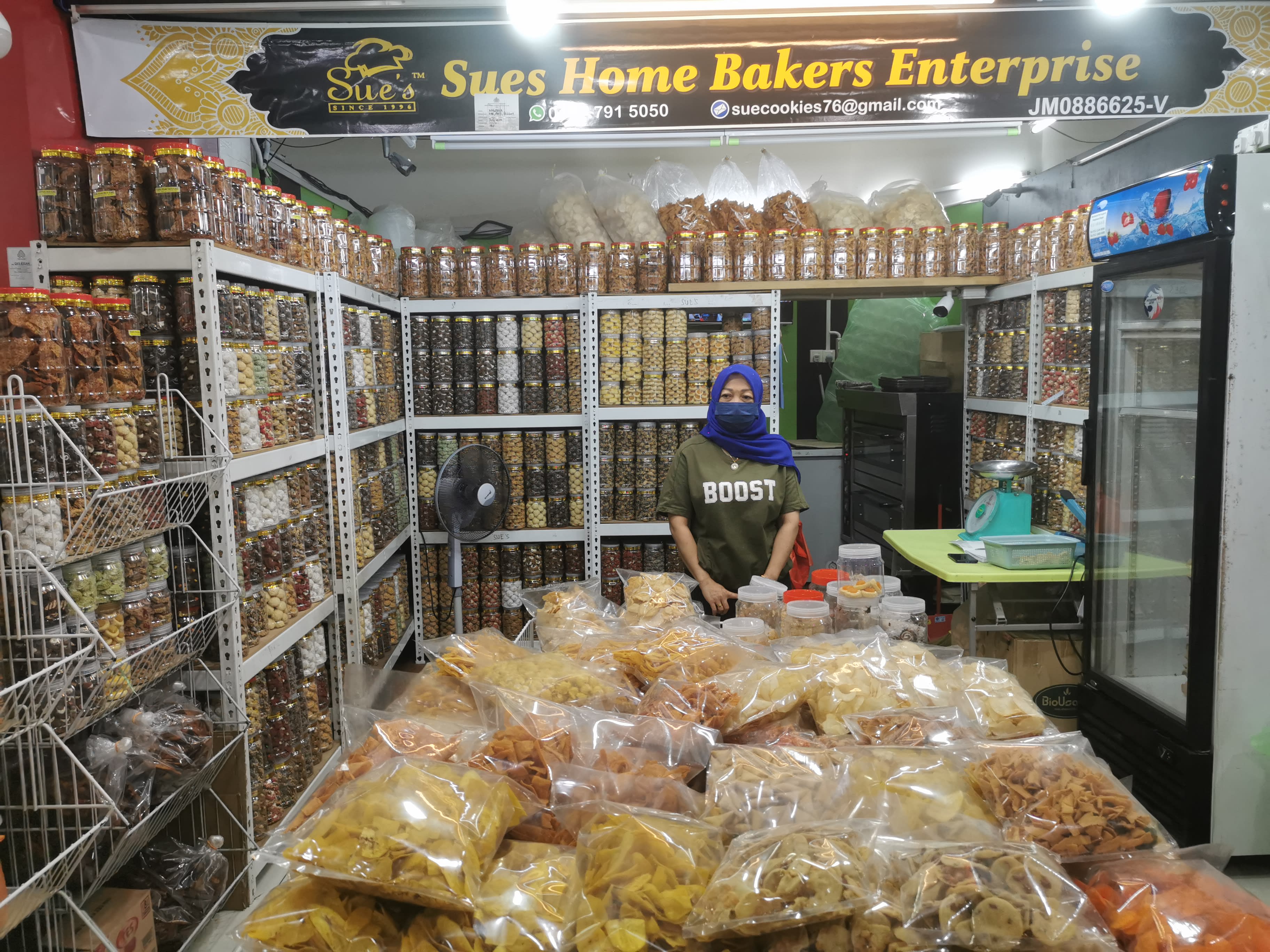 "When they announced that the land VTL would allow Singaporeans to come, we were encouraged. But there has not been any change in business earnings," she added.
Johor Bahru Chinese Chamber of Commerce (JBCCI) president Low Kueck Shin told CNA that businesses, especially in downtown Johor Bahru, have seen a slight improvement with the land VTL.
He noted that eateries, in particular, were seeing more customers as travellers from Singapore could visit for the year-end holidays. However, he maintains the overall business for retailers has been "very quiet".
Mr Low stressed that the recent move by both governments to reduce the quotas for the land VTL has further underlined the need for many businesses in Johor Bahru to be cautious in their expectations.
"It'll be good if the government could increase the daily quota to 5,000 travellers soon. To be fair, the objective of the VTL is to reunite families who have been apart," he said.
"But after that, let's try to kickstart the tourism industry, encourage people to come for leisure by allowing for organised tour groups for instance," Mr Low added.
"It will be a win-win situation. Singaporeans get an avenue to release stress and businesses in Johor Bahru can rejuvenate operations," he said.
Businesses in Johor are also calling for the land VTL to allow for travellers to use private vehicles. Before COVID-19, many Singaporeans would drive over in their own cars.
The Arani car wash facility, which is located less than 1km from the Causeway, previously saw business from around 200 cars daily pre-COVID-19.
However, manager for the facility, Mr Mohasin Yusof, told CNA that these days, he is lucky if he gets to clean two cars. He said that 95 per cent of his business were typically Singapore cars.
Neighbouring car wash facilities have closed. They have gone bankrupt with zero sales, said Mr Mohasin.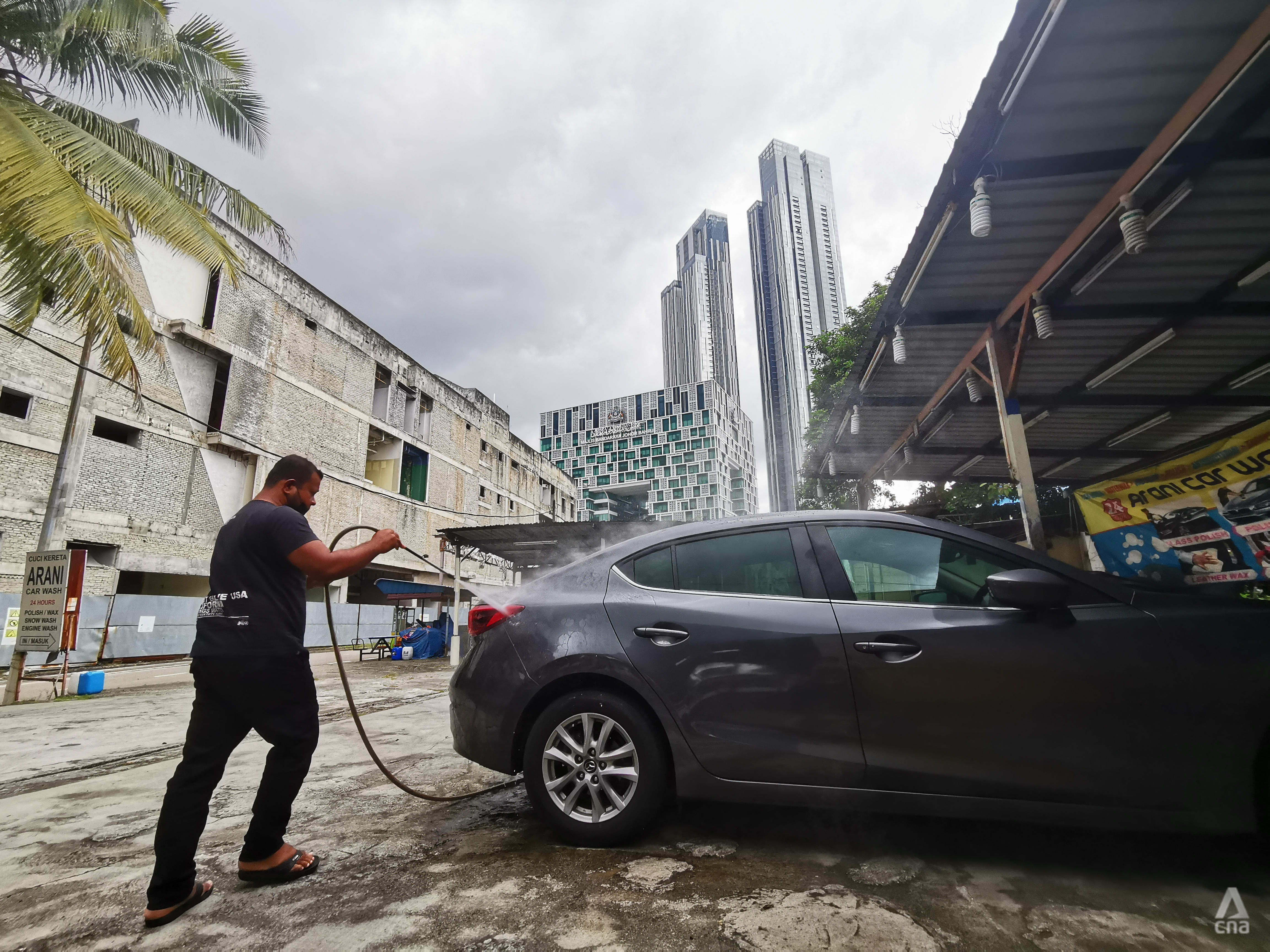 "The VTL makes no difference to car wash facilities in Johor Bahru unless they allow Singaporeans to drive in," he said.
"It's not a sustainable situation for us to remain open for much longer," Mr Mohasin added.
TICKET SALES FREEZE DERAILS CHINESE NEW YEAR PLANS
Amid fears of the spread of the Omicron variant, both countries announced that they were freezing all new ticket sales for VTL flights and buses between Dec 23 and Jan 20.
Thereafter, the capacity and ticket sales for VTL land travel into Singapore or Malaysia from Jan 21 will be cut by half. For some travellers, this has affected plans for Chinese New Year.
Malaysia's Minister for Transport Wee Ka Siong said on Dec 31 that the fate of the air and land VTL between Malaysia and Singapore will be decided at least 48 hours before Jan 20, when the temporary suspension is due to end.
He added that the decision on whether the temporary suspension would be extended would depend on the COVID-19 situation in both countries, including the spread of the Omicron variant.
On Jan 7, Dr Wee was quoted as saying by Malaysian media: "In the next few weeks, we will make further assessments. If both parties decide to stay with 50 per cent, then we will stick to it or if the situation improves, it will be otherwise."
Earlier this week, Malaysian Health Minister Khairy Jamaluddin tweeted that there is a high possibility of an Omicron wave starting in Malaysia, as has been seen in other countries around the world. "There have been data references showing that Omicron is not as severe as Delta. This seems to be true," wrote Mr Khairy.
"But the infectiousness of Omicron is higher than Delta. If the case denominator is larger, definitely hospitalisation and ICU cases will go up.
"The Health Ministry wants to avoid crippling the public health system. Strategy: slow down Omicron," said Mr Khairy.
In a Facebook post on Jan 3, Singapore Health Minister Ong Ye Kung wrote that Omicron cases currently make up around 17 per cent of local COVID-19 infections in the country, and that a wave of the variant is "imminent". He also said that Singapore must be prepared for it.
On Jan 5, Singapore's COVID-19 multi-ministry task force co-chair Lawrence Wong said that Singapore may have no choice but to tighten measures if COVID-19 transmission is amplified by "unnecessary" risks and the healthcare system is overwhelmed.
Although the freeze of VTL tickets does not apply to passengers who already hold a VTL flight or bus ticket and meet all other VTL requirements, some travellers expressed concern that the decision had been made soon after the travel lanes were launched.
Singaporean Mr Muhammad Afiq, who owns a house in Johor Bahru, told CNA that the latest announcement has derailed his short-term plans, especially around the Chinese New Year period in early February.
He said: "We were just discussing the possibility of me going back to Singapore for Chinese New Year but that prospect now appears bleak."
Others noted how the lower quota of tickets available for land VTL from Jan 21 onwards would make it more difficult for them to secure tickets. Right now, people are still allowed to purchase tickets for travel from Jan 21 onwards, amid the reduced quota.
Malaysian nurse Darmaraj Vasudevan who works in Singapore has not seen his baby daughter since March 2021 and had planned to return to Negeri Sembilan for Chinese New Year via the land VTL on Jan 30.
Mr Vasudevan told CNA that the decision to lower the quotas for land VTL tickets after Jan 21 meant that he has been having a "very frustrating" experience trying to get bus tickets.
He claimed that he was kept on the waiting list on the Causeway Link bus ticket website from morning until 11.30pm. When he finally managed to enter the website, he could not make payment.
"It's a terrible experience," said Mr Vasudevan.
"The plan to launch the VTL was well-intentioned, but authorities need to look again at the processes for selling bus tickets. Buying a plane ticket to the US (from Singapore) is easier than buying a bus ticket to Johor Bahru with the website repeatedly crashing," he added.
He pointed out that it was now difficult for him and his wife to make plans, and work around his duty roster given the unpredictability of whether the scheme will continue throughout the year. 
Singaporean Mr Hamzah also told CNA that his plans to travel again to Selangor during the Chinese New Year and Hari Raya festivities are now hanging in the balance.
"I hope that the VTL will be made available as an option to travel throughout this year, but there's no certainty that this will be the case," he added.
AIR VTL SUSPENSION HITS MALAYSIA'S AVIATION SECTOR RECOVERY
The recovery of Malaysia's aviation sector has also suffered a blow with the recent announcement by both governments to freeze the sale of tickets for the air VTL until Jan 21, said Mr Shukor Yusof, head of aviation consultancy Endau Analytics.
"There was a very enthusiastic response I would say but the temporary suspension is a bit of a dampener.  I think when they announced it (the temporary suspension), it was just to err on the side of caution," he said. 
Malaysia Airlines told CNA that since the VTL opened, it recorded a "healthy load factor" especially for demand for flights tickets during the year-end festive season.
The national carrier operates one daily return VTL flight between Kuala Lumpur and Singapore. 
"We saw positive trends following the uplift of interstate travel restrictions within our domestic sectors and implementation of VTL by air between Malaysia and Singapore," the airline told CNA.
However, it said that Omicron has created demand uncertainties, particularly with the reintroduction of strict travel restrictions and requirements such as new testing rules, border closures and extensive quarantine measures in certain countries.
"This will also impose operational challenges to airline operators. We must continuously monitor and adjust our processes and policies according to the latest developments pertaining to health and safety SOPs from various authorities of respective countries," Malaysia Airlines said.
"Our priority remains in ensuring the safety and wellbeing of our customers and our staff."
Singapore Airlines (SIA) Group, which operates both SIA and Scoot, said that generally there has been a strong demand for all VTL flights, across all cabin classes and various travel segments that include leisure, families and business travel.
An SIA spokesperson said it strongly supported all efforts to open international travel between Singapore and Malaysia in a safe and calibrated manner.
"It is an important step as we rebuild from the COVID-19 impact on our business and support the ongoing recovery of the airline industry," the spokesperson told CNA.
However, Mr Shukor believes that the situation is fluid and evolving. He expects the VTL arrangement to fully resume soon, especially once authorities learn more about the Omicron variant and are comfortable in dealing with the health protocols.
He said that the flights between Kuala Lumpur and Singapore are critical to re-establishing air connectivity between two countries.
"Flying to KLIA is important because it connects (travellers) to other parts of the country. I think a lot of Malaysians and Singaporeans were looking forward to this. Most people have family in both countries," he added.
OPTIMISM DESPITE OMICRON: EXPERTS
Despite the spread of the Omicron variant, there is optimism among health experts that Malaysia and Singapore would resume the sale of VTL tickets after Jan 20.
On Nov 29, during the launch of the VTL scheme with Malaysia, Singapore Prime Minister Lee Hsien Loong said both countries want "more open borders" even if Omicron disrupts VTL plans.
Speaking at the same event, his Malaysian counterpart Ismail Sabri Yaakob said the two prime ministers also spoke about expanding the land VTL to include bus services on the Tuas Second Link, trains operated by Keretapi Tanah Melayu, and "gradually" to personal vehicles such as cars and motorcycles.
The leaders also discussed launching a sea VTL, possibly between Tanah Merah ferry terminal in Singapore and Desaru in Johor, and expanding the air VTL to include destinations such as Penang, Langkawi, Kuching and Kota Kinabalu.
Responding to CNA's queries, a spokesperson from Singapore's Ministry of Trade and Industry said that Singapore "will continue to safely expand cross border travel and re-connect with the rest of the world" in 2022.
"As such, we are continuing to work with Malaysia to study extending the VTL (Land) to Tuas Second Link and additional modes of travel, when the public health situation has stabilised," the spokesperson said. 
Commenting on plans for the sea VTL, Singapore's Ministry of Transport that Singapore is taking a step-by-step approach to revive international transport links, balancing the need to restore Singapore's connectivity and managing the associated public health risks.
"We hope to progressively expand the VTL scheme to more destinations in the region and to include sea transport," the ministry said. 
Professor Teo Yik Ying, dean of the National University of Singapore's Saw Swee Hock School of Public Health, told CNA that the recent reports on the impact of the Omicron variant on fully vaccinated people have been "mostly positive".
This suggested that existing vaccines continue to be effective at reducing the risk of disease and death upon an infection, especially when a person has received the third booster jab, he noted.
"This certainly boosts the confidence that countries are able to relax their border and community restrictions again, provided their healthcare systems are not overwhelmed with the number of COVID-19 patients that require hospital care," said Prof Teo.
"As such, I am optimistic we will be able to lift the suspension on the VTLs soon, but continue to monitor the situation in the local hospitals," he added.
Meanwhile, the president of the Malaysian Public Health Physicians' Association Professor Mohamed Rusli Abdullah warned that governments should take a cautious approach on reopening borders as there is no certainty how wide the impact of Omicron will be.
"We have to realise the spread of the Omicron variant, and other potentially new variants, meaning that the situation is dynamic," said Prof Rusli.
"We need to know a lot more about these variants before we decide to loosen measures or be stringent. We must also remember that data from other countries are just another guideline for us. Even though Omicron cases appear to be mild (in other countries), the spread could be a cause for concern (in Malaysia)," he added.
Prof Rusli acknowledged that it was key for Malaysia to reopen borders as it would help boost the economy. However, he maintained that this should only be done if the government was confident that it has "an effective system" to curb the spread of Omicron and other variants.
Travellers are awaiting to see if the two governments will loosen VTL measures and press ahead with the reopening of borders after Jan 21 and beyond.
In the meantime, workers like Malaysian nurse Mr Vasudevan will be watching developments closely.
"It has been close to 2 years we have been going through life with the pandemic and the VTL has fulfilled the dreams of thousands of workers," said Mr Vasudevan.
"At this point, we hope the two countries will continue to work towards the reopening of borders," he added.
"At the start of the COVID-19 pandemic in 2020, the authorities did not have a clear idea on how to go about to fight COVID-19. But today, the situation is different," said Mr Vasudevan.