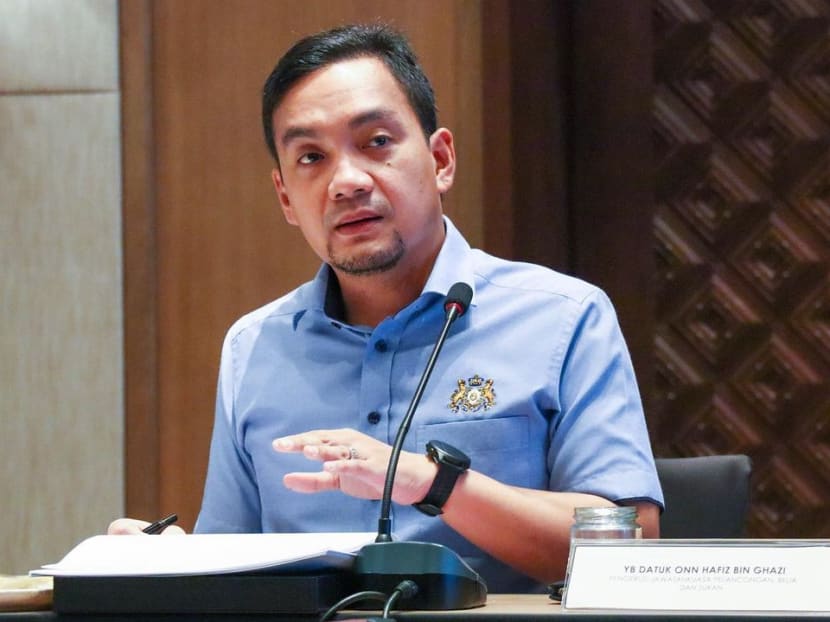 JOHOR BAHRU: Mr Onn Hafiz Ghazi was sworn in as Johor's chief minister on Tuesday (Mar 15) afternoon. 
The 43-year-old is the southern state's 19th chief minister, taking over from Mr Hasni Mohammad, who is Benut assemblyman. 
Mr Onn Hafiz, who is married with four children, will lead the next state government after the Barisan Nasional (BN) coalition cruised to victory in the Johor polls last Saturday.   
Here are five things to know about Mr Onn Hafiz: 
1. Political lineage within UMNO
Mr Onn Hafiz is related to key political figures in the United Malays National Organisation (UMNO).
UMNO is the biggest component party within the ruling BN coalition in Johor. The party has also dominated Malaysia's politics since independence. 
Mr Onn Hafiz is the great-grandson of Mr Onn Jaafar, the founding father of UMNO. 
The late Mr Onn, who was a journalist, was credited with unifying a divided Malay community in the face of British rule to form UMNO in May 1946.  
Mr Onn Hafiz is also the grandson of Malaysia's third prime minister Hussein Onn, a respected politician who was referred to as the country's "Father of Unity". 
The chief minister is also nephew to Malaysia's current Senior Minister and UMNO vice president Hishammuddin Hussein.
When Mr Onn Hafiz was first fielded as an UMNO candidate in the 2018 general election, he was quoted by the New Straits Times as saying: "I hope to do my level best to serve the people, as did the late Datuk Onn, the late Tun Hussein, and Datuk Hishammuddin."
"I hope to continue their legacy in serving the people," he said.
His great-great-grandfather Jaafar Muhammad, father of Mr Onn, was Johor's first chief minister. 
Mr Onn Hafiz is also the deputy chief of UMNO's Simpang Renggam division in Johor.
2. Former state tourism executive councillor
Prior to his appointment as chief minister, Mr Onn Hafiz served as the state's tourism, youth and sports committee chairman between February 2020 and January 2022. 
His tenure was during a challenging period for the tourism sector in Johor, which has been impacted badly by the COVID-19 pandemic and border closures with Singapore. 
In December 2020, Mr Onn Hafiz confirmed that 13 hotels had been forced to shut in the state due to the COVID-19 pandemic. 
Under his leadership, Tourism Johor launched various initiatives to boost domestic tourism. 
Among them was the issuance of 15,000 vouchers worth RM100 (US$23.75) each to domestic tourists to encourage them to engage in tourism activities in Johor.  
In November 2021, Mr Onn Hafiz said hotel occupancy rates in Johor Bahru and Muar have increased by up to 80 per cent since interstate travel resumed after Malaysia loosened COVID-19 restrictions. 
3. From accountant to two-term state assemblyman
Prior to being a state lawmaker, Mr Onn Hafiz was a professional accountant. 
He graduated with an accountancy degree from the University of Hertfordshire in the United Kingdom. He previously attended Royal Military College in Kuala Lumpur. 
He worked at PriceWaterhouseCoopers and was director at steel firm Chin Well Holdings. 
He joined politics in 2006 and was first fielded as an UMNO candidate in 2018 for the state seat of Layang Layang. 
In the election where UMNO sustained major losses and lost control of the Johor state government for the first time in six decades, Mr Onn Hafiz narrowly won his seat by just 364 votes over his nearest challenger Mr Murugan Muthu Samy of Parti Keadilan Rakyat (PKR).  
Instead of defending his seat in Layang Layang against PKR candidate Mr Maszlee Malik, who was touted as a possible chief minister candidate for the Pakatan Harapan coalition, Mr Onn Hafiz was next fielded in Machap. 
In last Saturday's polls, he won the Machap seat comfortably, garnering 11,029 votes while his nearest challenger Mr Azlisham Azahar from Perikatan Nasional won 4,486 votes.
4. WITNESS IN NAJIB'S 1MDB TRIAL 
In April 2019, Mr Onn Hafiz was a witness in former prime minister Najib Razak's corruption trial, which involved millions of ringgit linked to state fund 1Malaysia Development Berhad (1MDB).
According to local media reports, Mr Onn Hafiz testified to the Kuala Lumpur High Court that his company Vital Spire received a cheque for RM240,000 from Najib to launch the Malaysian Digest portal.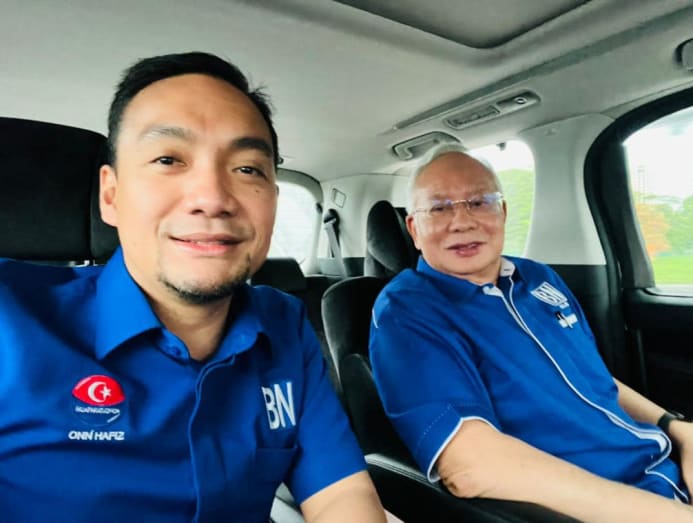 Mr Onn Hafiz reportedly said he received the cheque on Jan 30, 2015 to  "disseminate news and combat fake news". The portal was shut down in July 2018.
Najib was a key figure for BN's campaigning efforts in the 2022 Johor state election, going to the ground in various constituencies to rally support for the candidates. 
He was also seen campaigning alongside Mr Onn Hafiz in Machap.
5. Leader of youth movement
During his tenure as the state's tourism, youth and sports committee chairman, Mr Onn Hafiz also led youth movement group Southern Volunteers. 
The group, which local media estimated to have around 20,000 youth volunteers, was set to be folded under Johor's state disaster management committee.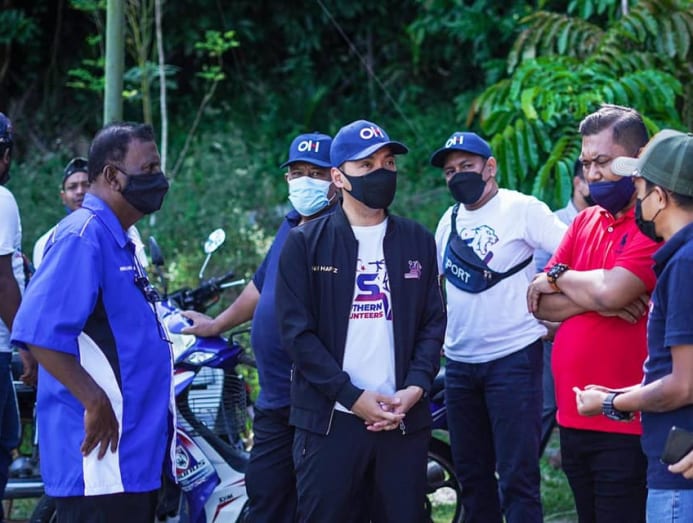 Over the last year, the Southern Volunteers was mobilised by Johor Crown Prince Tunku Ismail Sultan Ibrahim to help in COVID-19 vaccination efforts. 
The group was tasked to help Johoreans register for vaccines and volunteer at immunisation centres. 
The crown prince also mobilised the Southern Volunteers for flood relief efforts when areas like Segamat and Tangkak were affected in December 2021. 
Mr Onn Hafiz led the mobilisation efforts, coordinating the Southern Volunteers with district offices and other government agencies. 
He was also pictured on the ground overseeing humanitarian work by the Southern Volunteers.