KUALA LUMPUR: The atmosphere was quiet but busy at Chen Tiang Cake House as the bakers concentrated on the morning pastry rush. 
Working quickly, they kneaded the dough, divided it into smaller portions and spooned in fillings from kaya spread to desiccated coconut. 
Each tray of pastry was placed in a 2m-high stacking trolley and wheeled into a proofing chamber for the dough to rest before baking. 
At the storefront, Han Phei Yee, daughter of the bakery's late owner Han Yooi Kong, attended to walk-in customers as well as enquiries and bookings over the phone.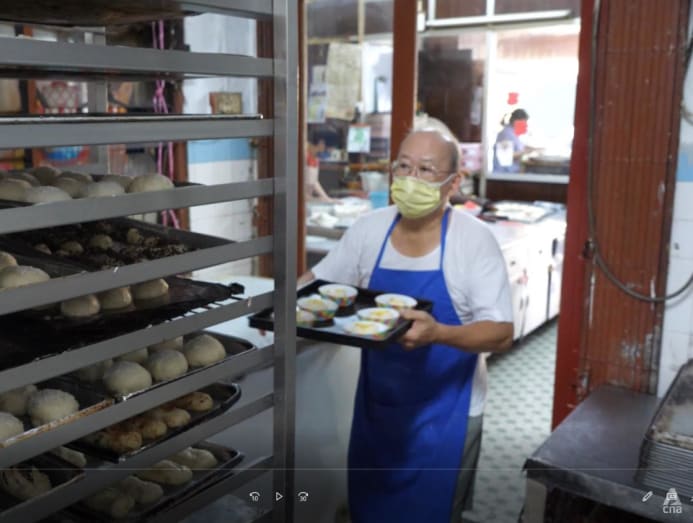 The cake house, located along the busy Jalan Sungai Besi in Kuala Lumpur's Pudu area, has been in business since the late proprietor first began selling cakes in 1961 in a stall next to its present location. 
Despite the emergence of modern bakeries and dessert shops, as well as new tastes and trends in the Klang Valley's food scene, Chen Tiang Cake House has somehow withstood the test of time for 60 years. 
While the bakery is doing its best to weather COVID-19's impact, this pandemic has also inspired the bakery to bring back a slice of nostalgia for younger consumers in the form of mini pieces of cakes.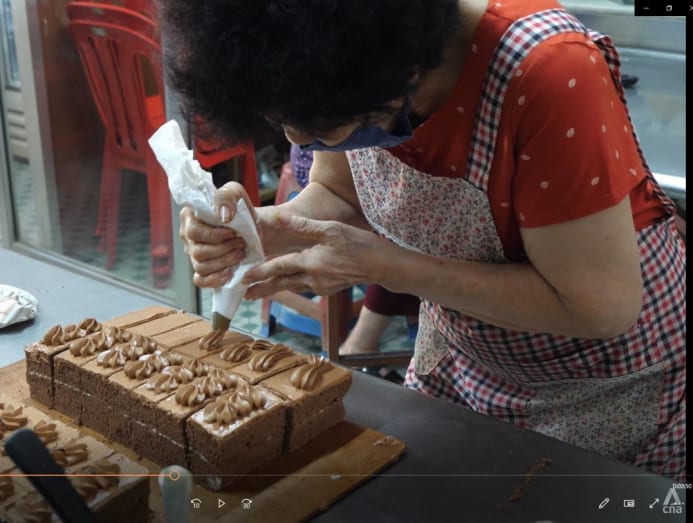 This has proven to be the right move during the pandemic, with these snack-size offerings a hit among the shop's customers, both old and young. 
Having been through it all, the late owner's wife Wang Ying, 75, said it was very difficult to just let the bakery go, as she held a lot of deep emotions for the business. 
Between the COVID-19 pandemic and the Asian financial crisis back in 1997 and 1998, she felt the latter was much tougher. 
"At that time the economy was very bad, until even my husband had thoughts about giving up on the business."
"But in the end, we said, 'We have always been in this line, if we do not do this, what else can we do?'" 
ORIGINAL EQUIPMENT AND RECIPES
Over the years, Chen Tiang has kept its original store layout and equipment to produce its baked goods. 
"All the equipment you see here, including the mixers, were all passed down from my late father, and we have been using them for more than 50 years," said Han. 
That is not to say that Chen Tiang has refused to change, she said, but the goal was to preserve the traditional taste. 
"As you can see, most of our employees are elderly, and they refuse to get rid of the equipment.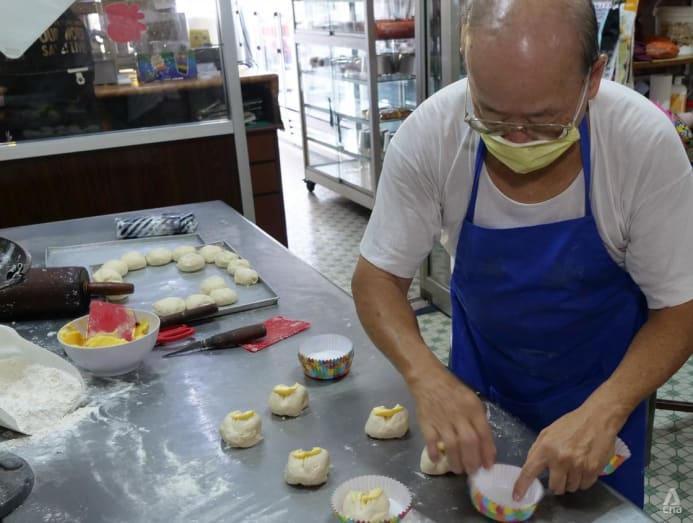 "Even our tiles are the same since the beginning!" she said. 
At the height of Chen Tiang's business from the 1980s to the 1990s, the shop had 10 employees.
"In the 1980s, there were a lot of changes, that's when styles like Black Forest, blueberry and others became popular."
"We didn't know how to make them at first, so it was like starting over again, but business was very good. That was the trend at that time," Wang Ying said. 
These days, however, Chen Tiang aims to distinguish itself from other bakeries and cake shops in the Klang Valley by focusing on traditional cakes and pastries.
"We still do siew pao, curry puffs, apple pie and so on, and everything is handmade by my 'sifu' (chef), my mom and my aunt," Han said.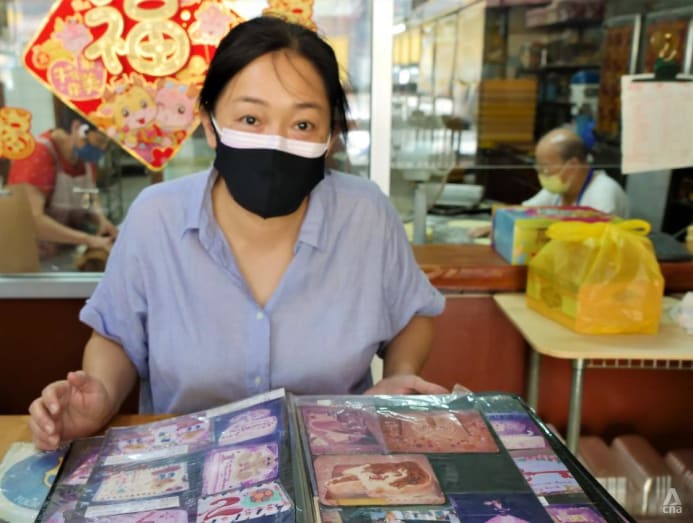 BRINGING BACK NOSTALGIA
The bakery used to sell sandwich cake slices - two layers of sponge cake with a layer of cream in between and cream decoration piped on top - which were popular for wedding banquets and tea parties.
The buttercream came in different flavours from coffee and chocolate to more local ones like pandan, with dabs of jelly providing contrasting colours and tastes.  
The line was discontinued three years ago as these cakes were considered "old fashioned", said Han. But when the pandemic hit, they decided to bring these cakes back. 
"We wanted to re-attract our old customers, and at the same time, let the younger generation know we are still selling these 'old-school' cakes."
"So we discussed it with our chefs, and decided to relaunch the product and shared it on social media," Han said. 
The cakes are made with the bakery's tried-and-true methods, from mixing the cream and piping the decorative cream on top of the cake slices, mainly done by Wang Ying's sister Wang Ah Mah. 
Now, these cake slices are among Chen Tiang's best sellers.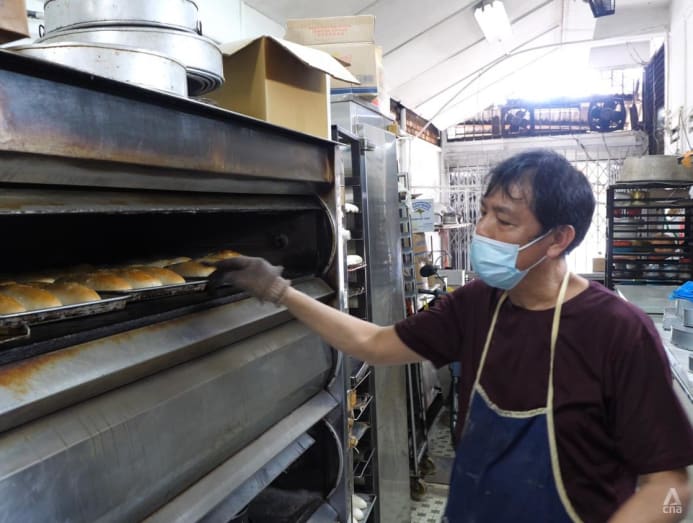 HOW LONG DOES THE BUSINESS HAVE? 
However, even with the recent renewed interest in its cakes, one worrying prospect is how long the bakery can keep running, as Wang Ying, her sister and the other two employees are already in their golden years.
Furthermore, certain tasks such as piping the cream decoration freehand are skills which take years to master. Han said it was difficult, if not impossible, to find younger people to take over. 
"I do not think anyone will have the patience or willingness now to work in an old and stuffy environment, when they can easily find better alternatives out there," she said. 
"To be frank, if you were to ask me how long we can retain this business, we really have no idea," she said.
Another aspect is employing modern marketing techniques for Chen Tiang in this social media age.
"I'm not good with computers, but my daughter and my family encouraged me to use social media and post on Facebook, Instagram to introduce the shop," Han said. 
Putting Chen Tiang on food hailing apps is also out of the question as they do not have the speed to produce their handmade goods on a large scale, she added.
At the end of the day, as the only sibling who runs the business, Han's main worry is still about continuing the business.
"We are worried that 10 years later, will the shop still exist?" she said.
But if the shop were to modernise, its offerings would not be authentic anymore, Han said. On top of that, its profit margins were not high and the shop was just able to cover its expenses. 
"Because our main purpose is to let everyone in the community have a taste of our tradition."