Malaysia government to halt export of 3.6 million chickens per month until domestic prices stabilise ​​​​​​​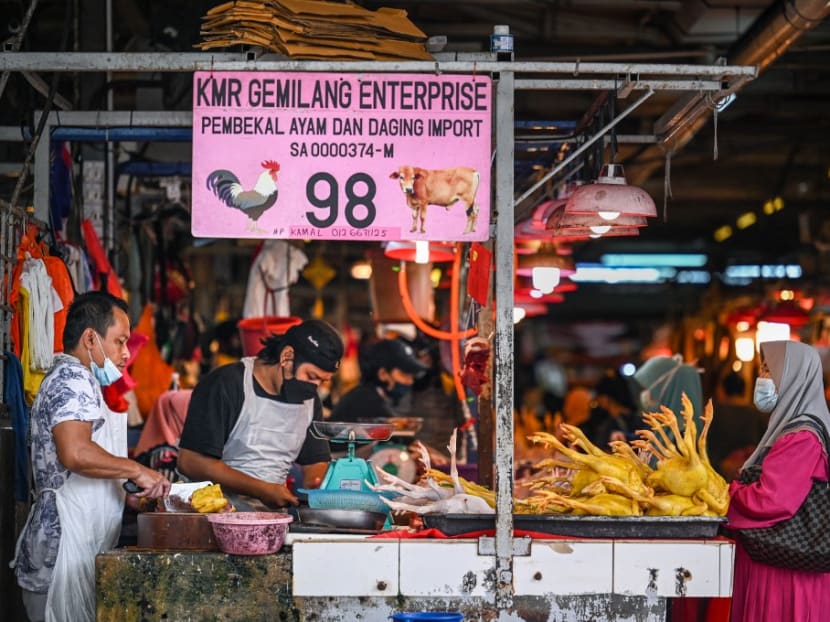 KUALA LUMPUR: Malaysia will curb the export of chickens from Jun 1, among other measures to address the domestic supply shortage, said Prime Minister Ismail Sabri Yaakob. 
He made the announcement on Monday (May 23) following a Cabinet meeting on the rising prices of essential goods and the chicken supply issues.  
"As a short-term measure, the Cabinet meeting today has made a few decisions on the current supply and pricing issues of chicken, including halting the export of up to 3.6 million chickens a month beginning Jun 1, until domestic prices and production stabilise. 
"The government's priority is our own people," he said in a statement. 
The prime minister added that the government would also create a buffer stock of chicken, and optimise existing cold storage facilities under the ownership of the country's Ministry of Agriculture and Food Industries (MAFI) and agencies. 
Malaysian consumers have complained of rising chicken prices amid a supply shortage. Some retailers have to resort to rationing their sales.  
In his statement, Mr Ismail Sabri said other additional moves included simplifying the subsidy claims process for chicken producers and recognising overseas slaughterhouses to increase the production of the country's chicken supply.
The approved permit (AP) for importing whole and cut chicken has also been abolished, he said, which aimed at increasing food supply. 
He added that the ministers also raised proposals on corn cultivation as an alternative for chicken feed in the Cabinet meeting. 
According to statistics on the Federation of Livestock Farmers Associations of Malaysia's website, Malaysia's export of live birds has grown from 40.19 million birds in 2007 to 59.08 million in 2020. 
It imported over 62,770 metric tonnes of cut chicken and exported 18,320 metric tonnes of cut chicken in 2020. 
According to Singapore Food Agency data, about one-third of Singapore's chicken supply is imported from Malaysia. Other major sources include Brazil (49 per cent) and United States (12 per cent).
RETAILERS IMPOSE PURCHASE LIMIT 
Some retailers in Malaysia who are facing a supply shortage said they have to impose a limit on the number of chickens sold to customers.  
"To cope with the supply shortage, we have had to limit chicken sales at our outlets to just two birds a customer," Mr Ameer Ali Mydin, the managing director of the Mydin chain of hypermarket and retail outlets, told CNA. 
The 66-year-old said the chicken supply situation had been ongoing since the start of the year.
Mydin's weekly chicken orders, which usually amounted to about 100 tonnes for all outlets, have been slashed to 40 tonnes, Mr Ameer Ali said. 
Mr Lai Wai Loon, a chicken supplier and wholesaler based in Petaling Jaya, told CNA that due to the supply shortage, he has to prioritise his business customers' orders and ration sales to walk-in customers. 
"If consumers walk in to order a few birds, I have to limit them to half their orders," the 30-year-old said. 
Mr Lai explained that he has to take care of his long-term business clients, who run restaurants and food outlets, but the stock he receives currently is barely enough to fulfil their orders.
He said his weekly deliveries from farm suppliers have been cut to just over 300, from over 500 in the past. 
Smaller retailers further down the supply chain also face the same issue. 
Mr Ishak Shaifuddin, a chicken seller at the wet market in Larkin, Johor, said he only received 10 per cent of his usual supply on Monday morning. 
"We usually get around 500 chickens, but only received around 40 today," he said. 
EXPENSIVE CHICKEN FEED
A farmer based in Johor said one issue affecting the supply is the rising costs of chicken feed. 
Mr Irwan Samad, who rears a farm with around 500 kampung chickens in Kota Tinggi, told CNA that the price of chicken feed has gone up twice over the last month. 
"Before Ramadan it was RM110 (US$25.06), then it went up to RM130. Now it's RM150 for a single bag," he said. 
"Our costs have gone up by a lot but when we sell, we are unable to price the chickens above the price ceiling set by the government. So this is a very difficult situation for farmers now," he added. 
Mr Irwan said that farmers have little choice but to rear only a limited number of chickens at a time. 
He sells his chickens to local wet markets and roadside stores, and acknowledged that over the last month, he has not been able to meet the demand of these retailers. 
The price ceiling for chickens has been set at RM8.90 per kg. 
Mr Ameer Ali, the owner of Mydin, said the price ceiling, which has been imposed for four months, will end in early June, but it has "distorted the market" when selling prices cannot be raised to cover the rising costs of chicken feed. 
He said for Mydin, the chickens are brought in at a cost price of RM8.70.
"However, once you account for overheads and the chicken's water weight, we are selling at a loss right now. Luckily, we are able to absorb," Mr Ameer Ali explained.