'Even if it's for just one day': Some Malaysians return home to meet family on first day of interstate travel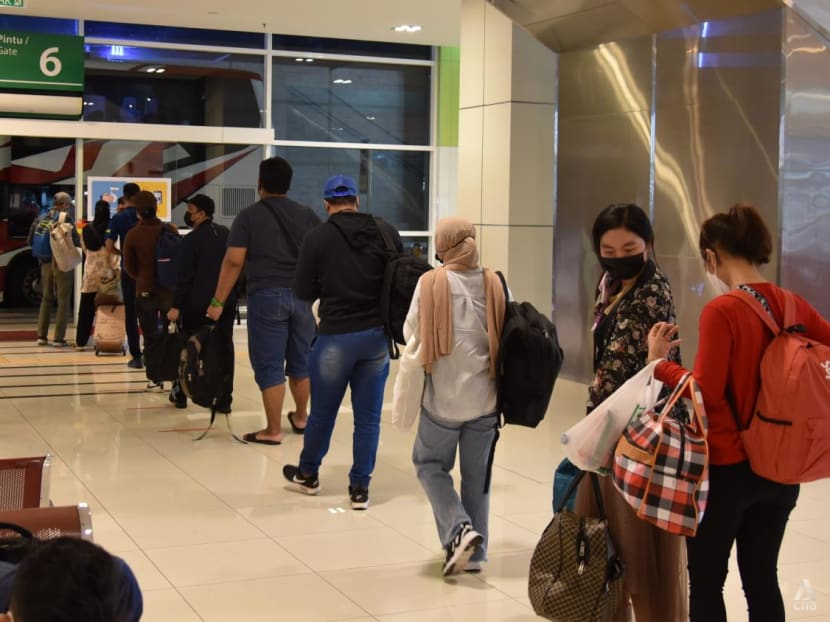 KUALA LUMPUR: Yasmin Affandi, a sales advisor based in Kuala Lumpur, has not been back to her hometown Muar, Johor, for nearly two years. 
When the Malaysian government announced that interstate travel would be allowed from Monday (Oct 11) following months of travel restrictions across the country to curb the spread of COVID-19, she immediately made plans to head home. 
Yasmin could only afford to spend one night with her family as she had to return to KL for work the following day. However, even with such a tight time frame, she bought a bus return ticket for the 180km journey and began her trip on Monday morning.
"I haven't gone back to my hometown in nearly two years. It just so happened that today is my day off, so I decided to just head home, even if it's for just one day," said Yasmin when met at the Southern Integrated Terminal in Bandar Tasik Selatan in Kuala Lumpur. 
"Then I'll take the early morning bus back to Kuala Lumpur tomorrow. It feels really happy to be able to finally go back and see my family," added the 26-year-old. 
Yasmin was one of many Malaysians across the country who welcomed the announcement by Prime Minister Ismail Sabri Yaakob to resume interstate travel for residents who are fully vaccinated.
As of Sunday, 90.02 per cent of the adult population has been fully inoculated.  
The ban on interstate travel was first imposed in March last year when a nationwide lockdown was announced. It was lifted several months later in June when the COVID-19 situation improved, but reintroduced in early January amid a spike in infections. 
Yasmin said she regretted not returning to Muar last year when interstate travel was permitted. 
"I thought I would have more time, so I didn't rush home last year. I didn't realise the situation would change and I wouldn't be able to go home again for another extended period," said Yasmin. 
"Felt really regretful and sad then," she added. 
Meanwhile, Johor Bahru's Larkin bus terminal was bustling with activity on Monday morning. Travellers with bags and haversacks were queueing at ticket counters in the dozens and there were lines of taxis waiting outside for customers. 
One traveller was Mohd Firdaus Ismail, who was heading back to his hometown in Temerloh, Pahang, to see his wife and young son. Mohd Firdaus works in a factory in JB. 
"I've been separated from my wife and young son for 10 months, almost a year. Of course I miss them," he said. 
Mohd Firdaus recalled that having to spend the last few months, including Hari Raya Aidilfitri, apart from his family has been difficult for him. 
"Luckily my boss was kind enough to give me leave for two weeks after the interstate announcement was made. I'm looking forward to seeing them later," he added.
Taxi driver Muhd Shafi Appandi told CNA that he had already picked up two customers from the bus terminal on Monday morning. 
He planned on spending the entire day ferrying passengers at the terminal. 
"This place has not seen so many travellers in such a long time," said Muhd Shafi. 
HIGHWAY OPERATORS READY FOR INTERSTATE TRAVEL
In a statement issued on Sunday, Malaysian Inspector-General of Police Acryl Sani Abdullah Sani said police would shut down their roadblocks at state borders from midnight onwards, following the announcement on interstate travel. 
He added that although there were no more interstate roadblocks, the police would still mobilise teams to ensure the public adhered to COVID-19 standard operating procedures (SOPs). 
"These checks will be done randomly by the authorities at locations with a high concentration of people," he added.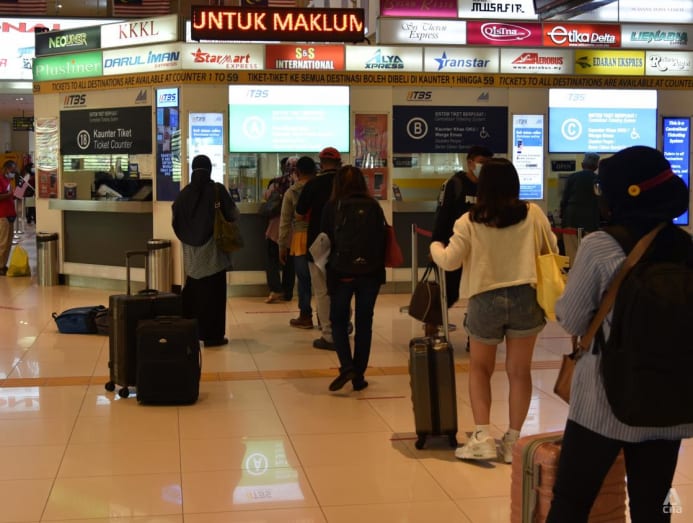 PLUS Malaysia Berhad, which manages the North-South Expressway linking major cities such as Kuala Lumpur, Johor Bahru, Ipoh and Penang, stated that traffic on the highway was expected to increase between 1.1 million and 1.3 million vehicles daily when interstate travel resumed. 
In a statement issued on Monday, PLUS's chief operating officer Zakaria Ahmad Zabidi said the concessionaire's highways were prepared for the resumption of interstate travel, and all 94 toll plazas across the northern and southern regions were ready for the influx of vehicles. 
Likewise, Lebuh Raya Pantai Timur 2 Sdn Bhd, which manages the Jabor-Kuala Terengganu stretch of the East Coast Expressway 2, projected an increase of between 38,000 and 45,000 vehicles daily with the resumption of interstate travel.
The concessionaire projected that many residents would seize the long-awaited chance to travel and reconnect with friends and family and friends in other states, the statement added.
The Malaysian Highway Authority, meanwhile, expected the number of vehicles on the country's highways to increase from 3.5 million to 4 million a day, especially during the weekends and the public holiday next Tuesday. 
TRAVELLERS TAKING PRECAUTIONS 
With interstate travel permitted again, some people said they would be heeding the authorities' advice to take extra precautions as the virus still lurks. 
Muhammad Faizal Bin Abdul Rahim, a 42-year-old who works for an oil and gas firm based in Kuala Lumpur, told CNA that he has decided to bring his wife and two children to reunite with his parents next week. 
"We are thankful, thank God. After the prime minister made the announcement yesterday, we immediately made plans to head back to my kampung in Negeri Sembilan for 10 days from next Thursday," he said. 
"I've not seen my family for more than a year -  my parents, uncles, aunties, We've been video chatting but it's not the same as seeing them physically," he added.  
Although he was looking forward to the trip, Muhammad Faisal maintained that he would adhere to health protocols and avoid attending or hosting large gatherings with his family members in Rembau. 
He also planned to use antigen rapid test kits before and after his trip to ensure that he and his family members are not infected with COVID-19. 
Lifting the restrictions on interstate travel was a positive move, said Adrian Beh, a 31-year-old actuary who took advantage of the announcement to head to a two-week forest retreat in Taiping, Perak, which he had booked in July. 
"The freedom to go out and about again feels good," he told CNA while waiting for the boarding call at the integrated terminal in Bandar Tasik Selatan. 
He said he was lucky that the announcement came in time and that he had made an "educated guess" on the resumption of interstate travel before he signed up for the retreat. 
During the pandemic, he has been taking precautions personally, like watching how often he dines out or goes out for groceries, Beh added. 
He expressed concern that he might be risking infecting himself and others by travelling, even though he was already fully vaccinated. 
"After this retreat, I'll be staying at home again," he said.