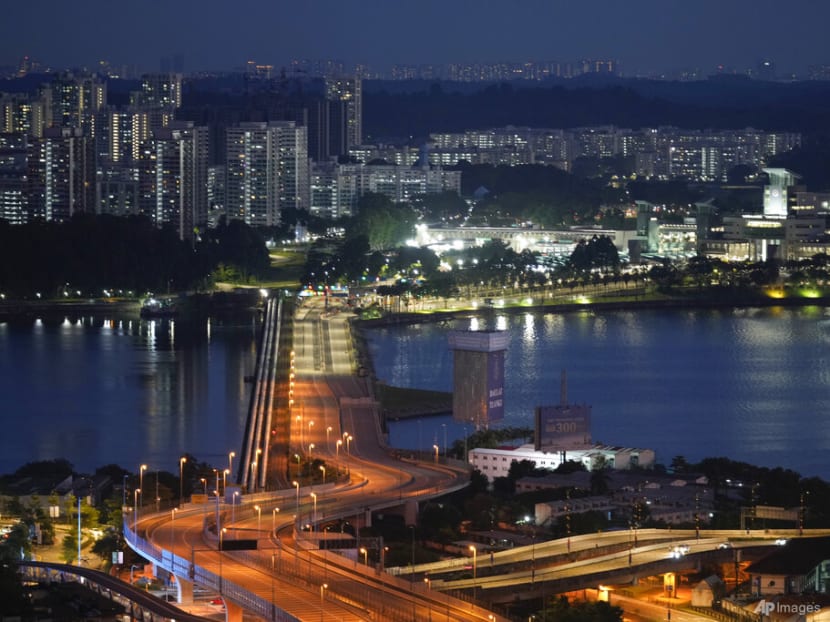 JOHOR BAHRU: Mr Mohd Muhsin Abu Baker, who manages a money changer store at B Point, could not believe that the Johor Bahru-Singapore land border will reopen at last, two years after the COVID-19 pandemic hit. 
"Is it really true? The border reopening on Apr 1? Finally, this is happening. It's good, Alhamdulilah (praise be to God)," the 48-year-old told CNA. 
B Point is a popular rest stop for Singaporeans as soon as they enter JB via the Causeway. There are restaurants, money changer and car wash, among others. 
Mr Mohd Muhsin said the business of his store has been so bad that it almost shut down, but his owner was patient. 
"He said one day, the border will reopen and business will be good again, so we kept the store open.
"These days, we only get two or three customers a day. Pre-COVID, it was customers coming every five minutes.
"I think on Apr 1, it will be all hands on deck, perhaps even rehire some staff that were laid off. Hopefully everything will return to what it was soon," he added. 
On Thursday (Mar 24), Malaysia and Singapore announced that fully vaccinated travellers will be able to cross the land border between both countries in their own vehicles again beginning Apr 1, without the need for quarantine or COVID-19 tests.
There will be no quota for all modes of travel when the border reopens on Apr 1, and the land checkpoints at the Woodlands Causeway and the Tuas Second Link will also operate 24 hours daily, according to Health Minister Khairy Jamaluddin.
Malaysia's Ministry of International Trade and Industry said the full resumption of land travel between both countries will catalyse business activities and provide a strong impetus for the country's post COVID-19 economic recovery.
In a statement on Friday, the ministry said the reopening would also boost external trade and employment, which in turn will contribute to the 2022 gross domestic product growth projections of between 5.5 and 6.5 per cent.
"The full travel resumption will further enhance bilateral trade and investment with Singapore towards further vibrant growth and sustainable economic recovery of both countries," it said. 
While expecting an uptick in trade with the reopening of the land border, businesses in Johor are optimistically cautious that it will take time for activities to return to usual as people will be wary at first. 
There are manpower issues to overcome, they added.
Malaysia has reported more than 4.07 million COVID-19 infections and over 34,600 deaths since the start of the pandemic. 
Singapore's total caseload, meanwhile, surpassed the 1 million mark last Saturday. It has a death toll of more than 1,200.
"WILL TAKE TIME TO ADJUST" 
Johor Bahru Chinese Chamber of Commerce and Industry president Low Kueck Shin told CNA that the long-awaited announcement was a relief for businesses.  
"As most of the population is vaccinated, it is considered safe to open. But we can only hope that the virus doesn't turn into something more dangerous and that there are no new surprises," he said, in reference to the different mutations of the coronavirus.   
He said that many shops, especially in the JB town area near the Causeway, had already shut down, while others had transformed into other businesses.  
"It will take some time and there won't be a miracle where people come in overnight. It will take time to adjust.
"It is, however, a good sign for those working in Singapore and businessmen who have investments on either side of the Causeway," he said, adding that friends and family could also see each other now.
Johor Indian Muslim Entrepreneurs Association (Perusim) secretary Hussein Ibrahim also welcomed the announcement and hoped this would mean a rise in business. 
He said the reopening of the Causeway would help some Malaysians look for work in Singapore. 
"Besides the Singaporeans coming in, Malaysians who can get jobs in Singapore will be able to spend their money here. We hope the economy will be more vibrant when the borders open," he told CNA.
MANPOWER SHORTAGE
Mr Low of the Chinese chamber of commerce said that businesses are facing manpower shortage as their workers have returned home or found new jobs elsewhere.
"It has been too long, and no one can survive without income and therefore workers had to be let go," he said, adding that the tourism business was the worst-affected.
Mr Hussein also said that they were facing a shortage of workers and urged the government to allow businesses to bring in foreign labour immediately. 
"The restaurants won't be able to open for long hours as before because the workers we have now won't be able to cope. We urgently need more workers," he said. 
Mr Hussein owns a restaurant in Kota Tinggi that has seen a drop in business since the Causeway was closed in March 2020.
He said that during the lockdowns, business dropped to about 30 per cent but it is now about 60 per cent of pre-COVID-19 days.
He estimated that about 200 mamak restaurants in Johor, including 40 in JB, closed because of the pandemic.
"Johor Bahru is very affected. If you go there after 7pm, it is like a ghost town. It depends very much on Singaporeans," he said. 
Mr Wahid Omar, 48, who is the manager of 786 Car Wash in Bukit Chagar, told CNA that he hoped for better business soon.
He said that he used to earn about RM3,000 (US$711) a month when Singapore cars could come in, but his income has been slashed to less than half of that since the closure of the Causeway. 
"Business has been so sad. We had 200 cars a day at our peak pre-COVID, but now we are lucky to get 20. This whole area is shut. Now we close at 8pm every day. Last time it was 24/7.
"Many of my colleagues have quit and gone to work at factories. Maybe we can ask them if they are interested in coming back. I pray the border won't close again, ever. If it closes, there will be no more livelihood and I probably would have to go back to Bangladesh," he said.