Langkawi travel bubble: Airlines, hotels see positive reception but some residents wary of COVID-19 setback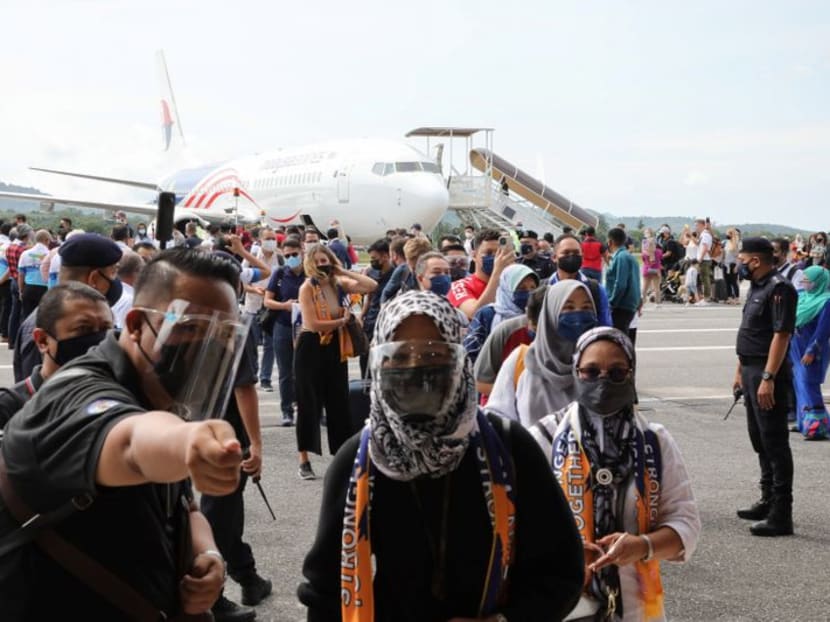 LANGKAWI: Tourism operators have reported strong interest from visitors on the first day of a domestic travel bubble to Malaysia's tropical island destination of Langkawi in Kedah.  
Local airlines, which have rolled out attractive fare packages, said flights to the archipelago of 99 islands were full on Thursday (Sep 16) morning, while accommodation providers also saw positive take-up rates. 
Budget carrier AirAsia told CNA its maiden flight from Kuala Lumpur to Langkawi, which departed at 9.50am, was 100 per cent full, signifying a "strong rebound for domestic travel". 
It would be resuming 90 weekly flights to and from Langkawi, departing from Kuala Lumpur, Penang, Johor Bahru, Ipoh and Kota Bharu. 
Similarly, Malaysia Airlines (MAS) said its inaugural flight which departed Kuala Lumpur International Airport at 9.35am was also full, carrying a maximum capacity of 160 passengers. 
A total of 3,200 tourists were expected to arrive in Langkawi on Thursday, according to Utusan Malaysia. Of these, 2,200 were expected to arrive by air while 1,000 travellers were expected to arrive by ferry from Kuala Perlis. 
Berjaya Langkawi Resort told CNA that bookings have accelerated when airlines announced resumption of flight services in early September, after Prime Minister Ismail Sabri Yaakob said in a statement that Langkawi would open to local travellers from Sep 16. 
The Langkawi domestic travel bubble was the first to be implemented in Malaysia, months after an interstate travel ban was imposed to curb the spread of COVID-19 infections. 
"We can conclude that Malaysians are eager and ready to travel again after a long lockdown," said the hotel's acting manager Rizal Yaacob. 
Homestays also reported a big uptick in reservations. Homestay Kampung Tok Lembut, near Cenang Beach, told CNA that it has already received 48 bookings for its four villas since early September. 
Sales executive Mohd Rizal Abdul Rahman told CNA that business was even better than pre-COVID-19 times, and this could be partly due to the discounts it was offering. 
"We are offering a special promotion of RM200 a night for September and RM220 a night for October. The standard rate (pre-COVID-19) was RM320," he said.
Wise Lee Holidays, which operates sunset cruises, told CNA that sales have been "very good", with its vessels 80 per cent booked on Thursday. 
"It's the first day and already we are seeing so much interest," said manager Joanne Teoh. 
HEALTH PROTOCOLS IN PLACE 
Tourism, Arts and Culture Minister Nancy Shukri has said that the Langkawi tourism bubble pioneer project would be a yardstick to determine the reopening of other local tourism destinations. 
"If this is successful then, god willing, the other tourism bubble projects will be easier for us. The others are waiting for the result in Langkawi," she said during a media conference on Wednesday. 
The island located in the northwestern coast of Peninsular Malaysia recorded a tourist arrival of 3.9 million in 2019. 
With international and domestic travel curbs due to the pandemic, the number had fallen sharply in 2020. It received about 1.28 million visitors from January to August last year, according to the Langkawi Development Authority.  
Only fully vaccinated tourists were allowed to visit Langkawi, and in addition to this, all travellers aged seven and above must be tested for COVID-19 before departure.  
As of noon on Thursday, five Langkawi-bound travellers tested positive for COVID-19 after undergoing screenings prior to departure, said Health Ministry director-general Noor Hisham Abdullah. 
All the positive cases are asymptomatic, and have been ordered to isolate for 10 days, he said in a statement according to Bernama. 
A total of 2,546 people have been screened thus far. Dr Noor Hisham said six people who underwent their own tests before arriving at the airport tested negative, while 12 children under the age of six did not take the test and were allowed to leave with their families. 
Airlines and tour operators which CNA spoke to stressed that they were adhering to health protocols outlined by the government. 
AirAsia said it would be utilising a self check-in system which integrates data from certified healthcare providers to verify a traveller's travel eligibility based on their test certificate and vaccination certificate. 
Berjaya Langkawi Resort's Rizal said all of its employees have been fully vaccinated. They would be wearing "Fully Vaccinated" button badges "so that guests would feel more at ease", he said. 
He added that the resort would also ensure that public areas with high touch points and guest rooms were thoroughly sanitised. 
Teoh from Wise Lee Holidays said all passengers aboard the yachts would be required to wear masks and practise safe social distancing with other guests.
LOCAL RESIDENTS WARY OF SPIKE IN CASES 
However, some residents in Langkawi were concerned that the influx of travellers to Langkawi from all across the country could lead to a setback in the area's battle against COVID-19. 
Although more than 80 per cent of Langkawi's adult population have been fully vaccinated, it has been reporting a steady number of COVID-19 infections. 
According to the Langkawi health district office, 42 new COVID-19 cases were reported on Wednesday. There are now more than 700 active cases there. 
Lawyer Muhammad Afifi Adnan, a Langkawi resident, told CNA that he was concerned that the tourism travel bubble could lead to a sharp increase in the number of active cases, and ultimately the residents of Langkawi would bear the brunt of the consequences. 
"I am definitely concerned. I heard that more than 3,000 tourists are expected to arrive today and 400,000 by the end of the year," said the 39-year-old. 
"Thank god I am fully vaccinated but I have two young children who are not, and I'm worried for them," he added. 
Business owner Shafiq Mohd Azman echoed similar sentiments. The 42-year-old said that if the tourism bubble fails, Langkawi residents would pay the price. 
"It will be unfortunate if the number of cases worsens in Langkawi. As a community, we have already worked hard to ensure it is stable. Many of us are fully vaccinated, and it will be a setback if the number of daily cases goes back to the hundreds or thousands," he added. 
Malaysia reported 18,815 new COVID-19 cases on Thursday, 98.8 per cent of which were either asymptomatic or had mild symptoms. 
The country has reported more than 2 million COVID-19 cases since the start of the pandemic, with more than 22,000 fatalities.